Sponsored by the experts at Interski

Andorra's Pyrenean peaks have long been a huge favourite with beginners and early intermediates, and with its compact ski area, highly acclaimed English-speaking ski school and lively, unpretentious nightlife, Arinsal presents a very good choice for families and all-ability groups.
Arinsal is the principal ski resort village in the Vallnord ski domain, located in the north-western parishes of the Principality of Andorra, and is just 10km drive from Andorra's bustling little capital city, Andorra la Vella. Vallnord is the collective name for the linked ski areas of Arinsal and Pal (La Massana), plus the separate expert domain of Arcalis in the neighbouring parish of Ordino - sadly not on the same lift pass.
Pal-Arinsal consists of two separate areas that are linked by cable car, but there are no linking pistes. The main slopes and service lodges are sited high above the villages at a snow-sure altitude of 1,950m, accessed via gondola lifts based in the centre of Arinsal village (for the Arinsal sector) and in the parish town of La Massana (for the Pal sector) lower down the valley.
Arinsal - Ski Map & Pistes:
The lift-linked sectors that form the combined Pal-Arinsal ski area are quite distinct in character, but taken together they offer a fair variety of terrain, albeit a bit limited in extent.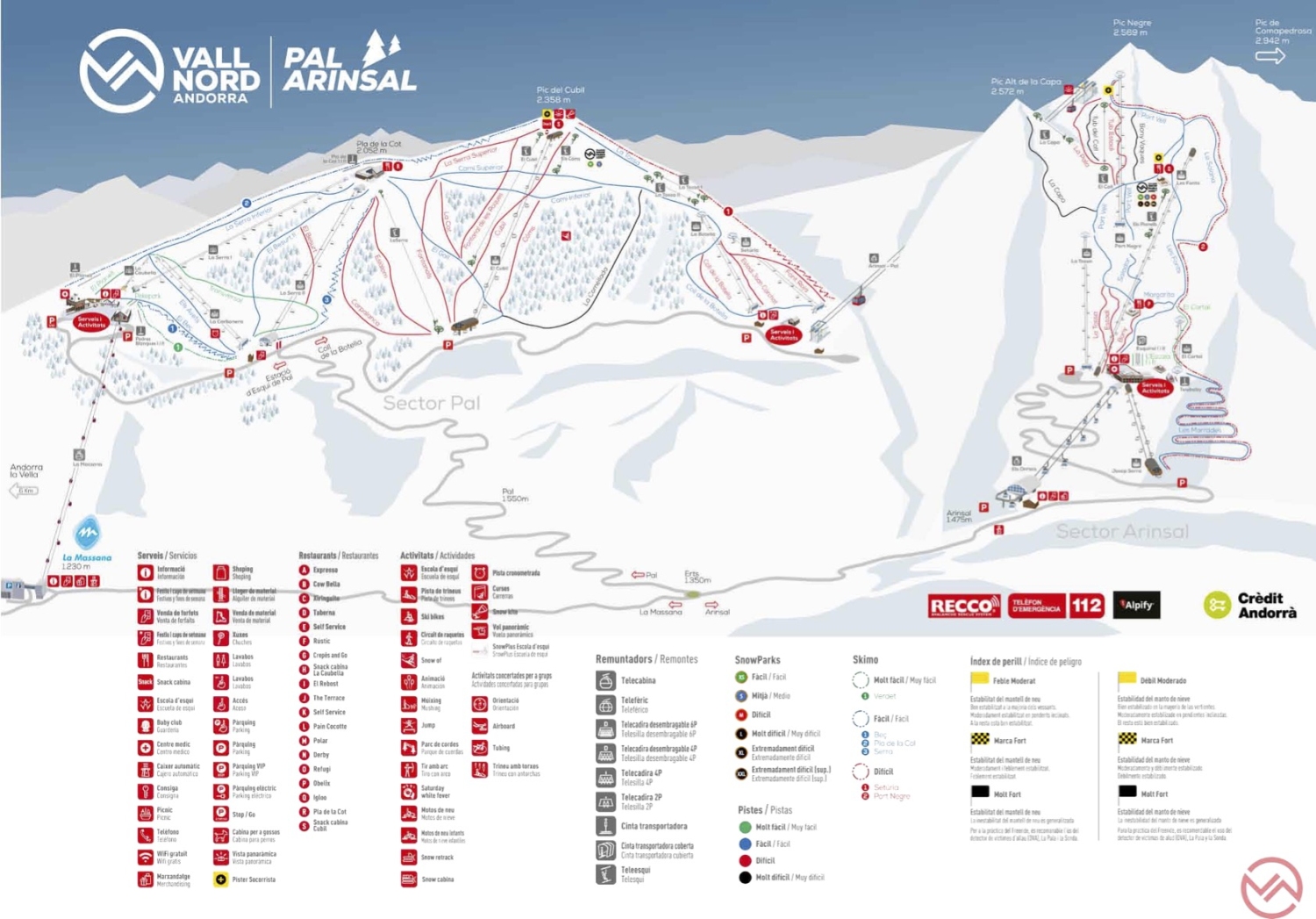 When snow conditions are at their best, with sufficient cover down to village level, the Arinsal sector can boast the greatest vertical drop in Andorra: 1,010m from the highest lift-served point on Pic Alt de la Capa down to the lowest chairlift base at Arinsal's Cota 1550 suburb, more than 3,000 ft of non-stop on-piste descent from top to bottom.
Arinsal's core ski area is centred on an elongated bowl, surrounded by the summits of Pic Alt de la Capa, Pic Negre, and the nearby Pic de Coma Pedrosa (Andorra's highest peak). The uppermost slopes on Pic Alt de la Capa and Pic Negre offer some short red and snappy black-graded runs. This upper zone also houses a well-maintained snowpark, and the cable car link for the connection with the Pal ski area.
However, the principal slopes at Arinsal are focused around a straightforward pair of long blue pistes which funnel down from the upper bowl to the busy service-lodge complex at Arinsal's mid-altitude base area.
The Pal sector is more extensive and offers greater variety: gentle green and blue-graded traverses, enjoyable blue and red-profile cruising, mogul fields, and some freeride.
-- Great hotels and chalets at the best prices - Browse Arinsal deals now!
Arinsal - Off-Piste, Backcountry & Ski Touring:
There is a gladed freeride area in the lift-linked Pal sector, with the majority of runs through attractive wooded slopes, and a guide can show you a good time off the back of Pic Negre. But, frankly, if you're scouring the hills of Arinsal for off-piste, backcountry and ski touring, you're looking in the wrong place. You should catch the bus to the neighbouring parish of Ordino and go wild at the small ski station of Arcalis, the freeride capital of Andorra. Arinsal is for the holiday part of ski holidays. Arcalis is where you get your turns in.
The Freeride World Tour competition stops off at Arcalis every year, and even a flying visit will show you why - there are huge areas of off-piste accessible from some of the main chairlifts, such as Les Portelles, which let you explore the many bowls and gullies. Or alternatively you can head towards La Coma, where you'll find a long itinerary with more glorious powdery bowls.
Arinsal - Restaurants, Bars & The Town:
Arinsal's proximity to Andorra la Vella is appealing, particularly for anyone wanting more than a solely ski-focused holiday. The local bus routes via nearby La Massana open up connections throughout the principality and put the fabulous 'Caldea' thermal hydro-spa complex and glitzy shopping attractions of the capital within easy reach of the resort. The 4-star Princesa Parc hotel complex in Arinsal village also houses an excellent hydro-spa suite, as well as a popular tenpin bowling and games arcade.
You can zip around on a snowmobile or snow-bike or hit the dog-sled circuit, and over at Pal there's a laser-combat battlefield (similar to paint-balling).
In the evenings, the focus for fun shifts away from the mountains and turns towards the resort's many friendly and great value bars. Most stay open until 3am and many offer regular live music and themed entertainment. The key pubs are El Moli, Cisco's and Irish bar El Derby. There aren't really any proper nightclubs as such in Arinsal, but Argentinian-owned Surf caters for those who want to boogie.
-- Want hassle-free car rental? Book now
Arinsal - Ski Hire:
There are plenty of options for ski hire in Arinsal, including multiple outlets of Pic Negre and Esports St Moritz.
Arinsal - Ski School:
The Arinsal Ski School and Snowboard School has built up an excellent reputation for the quality of its teaching and lots of native English-speaking instructors makes it a great option for learning to ski in Andorra. Arinsal ski school is the only one in Andorra to offer children's group lessons from 4 years of age.
// HIGHLIGHTS //
Airport
Barcelona (3hrs 15)
Train station
L'Hospitalet-pres-l'Andorre (1hr)
beginner
intermediate
expert
// USEFUL LINKS //
Tourism and Ski Area