Hakuba isn't so much a ski resort, as a cluster of ski resorts. A broad valley that offers access to ten separate ski areas, it's a brilliant place to go if you want the complete Japanese ski experience.
Situated in Japan's Nagano prefecture, Hakuba is probably the second most famous ski domain in the country after the powder capital Niseko. Of its ten ski areas, there are three main ones: Happo One, with 52km of runs - including the slopes used in the 1998 Winter Olympics - the smaller Hakuba 47/Goryu with half the ski area but a good range of skiing, and Iwatake snowfield, with 50km of pistes, but lower vertical.
Most of the skiing at the main resort, Happo One, is of intermediate standard accessed by a gondola to the middle station at 1,400m, however Happo One does have much tougher terrain than most Japanese ski areas and more terrain full stop. Add in the touring potential from the top lift, and it's probably the best place in the country for skiers who enjoy a properly technical challenge. Its great snow record ensures a long season through to mid-May most winters.
Hakuba - Ski Map & Pistes:
All of the ski resorts in Hakuba cater for beginners and intermediates, Hakuba 47 has decent intermediate runs, Goryu has more, but Happo One is arguably the best in this regard, providing plenty that novices can enjoy.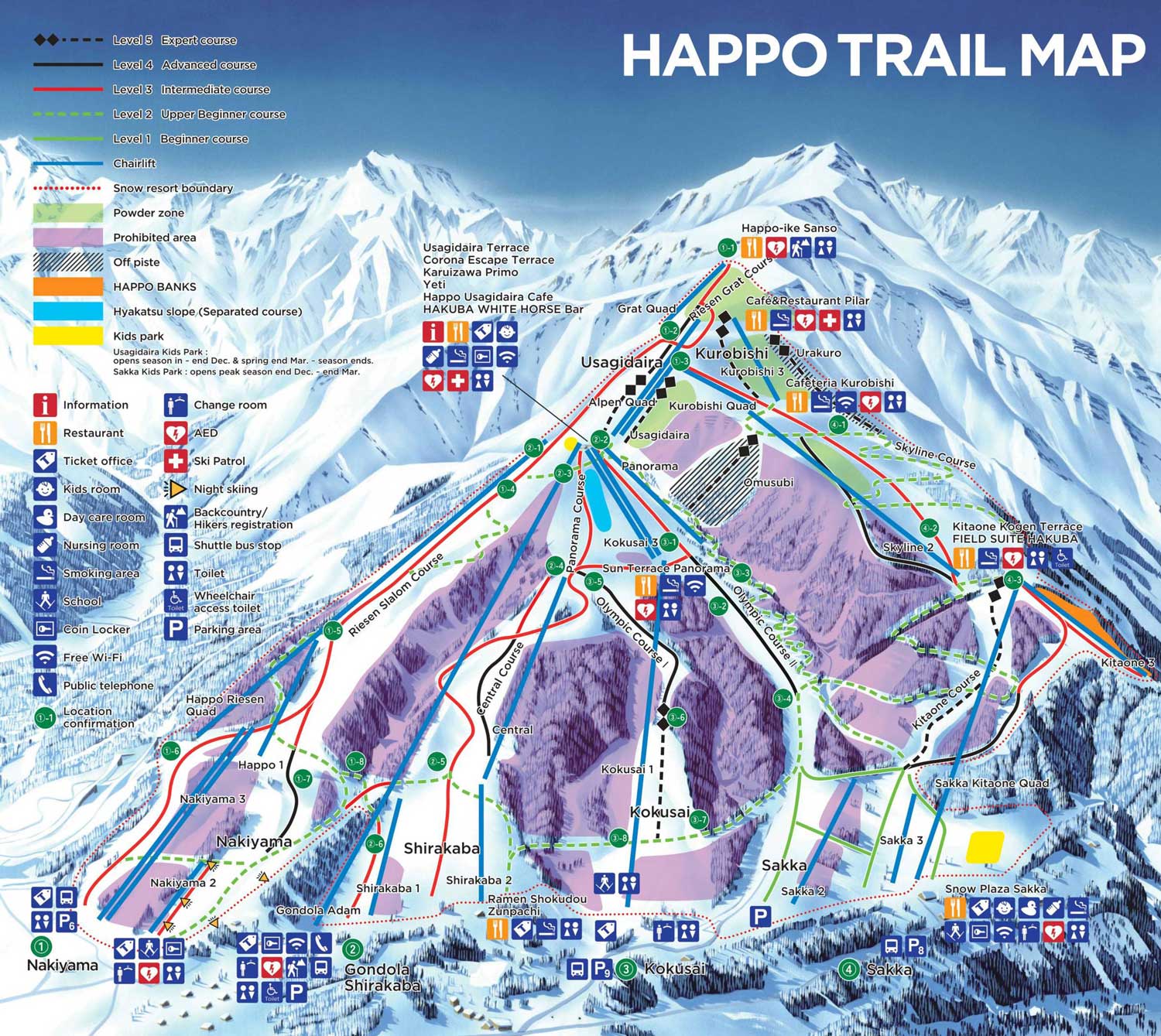 Much of the terrain here on both the lower and upper slopes is accessible for intermediates. On-mountain lift links in Hakuba Valley can be hit-or-miss, but there are endless shuttle bus options to help you get around. To be honest though, if you're after blues and reds, you'll spend most of your time in Happo One. It is, after all, a large scale ski resort with more than 1,000m of vertical. If you are a complete beginner, or an intermediate who loves to cruise the pistes you will find plenty to explore.
If Happo One had to be described in one word it would be "variety"; exploring its maze of lifts and runs is always an adventure. Terrain goes from gentle beginner-friendly glades of the Saka area on the northern side, to mogul fields and steeps at higher altitudes. The world-class halfpipe and fun park in the Nakeyama area of the mountain provides excitement and adventure for snowboarders and spectators.
However, if you are going to travel halfway around the world from the UK to go skiing, we assume that you're probably there to take advantage of Japan's legendary powder snow. And it's expert skiers who will get the most of Happo One, and indeed all the ski resorts of the Hakuba Valley, which offer some of the best skiing in all of Japan, with everything from bumps, to superb off-piste.
Hakuba - Off-Piste, Backcountry & Ski Touring:
For advanced and expert skiers and snowboarders, the tree skiing in Hakuba Valley is a revelation. Within the ski resort boundaries there's some great inbound off-piste areas. In particular, Iwatake's Hikage zone, the open bowls at Hakuba 47/Goryu and the Kurobishi off piste area at Happo-One.
Hakuba 47 has some epic tree zones, while Goryu offers acres of ungroomed in-bound terrain, meaning you don't have to look far for some glorious powder skiing. But again, Happo One is probably the king in this regard. Hire a guide and bring your touring skins because there is a lot of backcountry to explore here.
Ride the highest chairlift, the Grat Quad, up to the top and strap on your skins. From here, you can continue touring up the ridge, almost all the way up to Mount Karamatsu, the 2,698m peak at the top of Hakuba if you want. Both left and right there are an endless array of open gulleys to drop down, with broadly spaced trees making them perfect powdery playgrounds.
The routes out of the bottom of these require a certain amount of navigational knowledge, as many of them end in streams and require a taxi back, so you definitely want a guide. Evergreen Backcountry are a good, locally-based operation.
Hakuba - Restaurants, Bars & The Town:
The restaurants on the mountain are mainly fast food joints, serving well priced fried rice, noodles and curry. The town itself is crammed with a variety of restaurants with menus usually available in English due to the high population of English-speaking workers - mainly from New Zealand.
Described by some as "the perfect party town," Hakuba village is crammed with bars, restaurants, souvenir shops and karaoke bars. One of the main Japanese après-ski activities is a visit to the "onsen" - a place where hot water with medicinal properties comes gushing out of the ground 24 hours a day. Happo has an abundance of these hot spas, and at a hot spring inn any time is bath time - the perfect way to relax after a strenuous day on the slopes.
Traditional guesthouses, which you can find scattered throughout Hakuba village and up and down the Hakuba valley, are the order of the day in terms of accommodation.
Hakuba - Ski Hire:
There are multiple outlets for ski hire in Hakuba, including Ski Hire Hakuba, Central Snowsports with three branches, NBS in Happo-One and snowboard specialists The Boarding Co.
Hakuba - Ski School:
English language ski and snowboard instruction can be organised but must be pre-booked as with private lessons. Group lessons are usually only taught in Japanese. The Hakuba Snow Sports School has many international instructors and offers instruction in English. Other options include the Evergreen International Ski School at Iwatake. The Happo-One Ski and Snowboard School only offers private instruction in English.
// HIGHLIGHTS //
Airport
Shinshu-Matsumoto (1hr 20)
beginner
intermediate
expert