Talk to anyone in North America about skiing in Europe, and Chamonix is the first thing they mention. The lure to ski here is understandable, as Chamonix is not only iconic: it's epic too. There are gnarly high alpine chutes high up near the summit of Mont Blanc, alongside excellent tree skiing in both the Grand Montets and La Tour ski areas.
But what draws many here is the Vallée Blanche. While not an extreme ski (although you do need a head for heights to descend the infamous Aiguille du Midi snow ridge on foot), the Vallée Blanche is Europe's longest off piste run at 20km, with an unrivaled vertical descent of 2700m.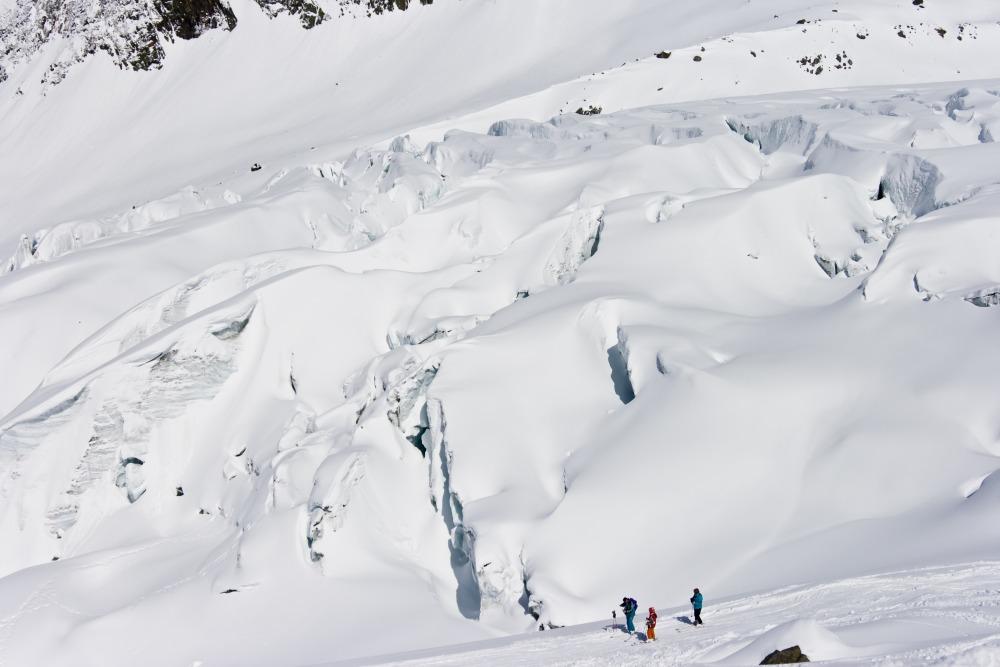 BOOK IT
Vent d'Emotion offers expert guiding and local knowledge for the 23kms of epic riding through the stunning Vallee Blanche from £320 for a group of four.
La Grave, France
La Grave means 'The Serious' in English, and there's every reason for such a name. There are no pistes here at all - just a single cable car that takes you up an off piste extreme paradise.
La Grave needs to be treated with the upmost respect. No one should even think about skiing here without a guide, as cliffs, terrain traps and bloody long hikes out, or worse back up, are instore for those who make a wrong turn. But head in the right direction, and hit La Grave on a powder day, and you'll get steep alpine and tree skiing to match any place on the planet.
BOOK IT
Alpine Guides runs week-long packages to La Grave including breakfast, evening meals and guided skiing every day.

Zinal and the Val d'Anniviers, Switzerland
Zinal sits at the top of the wonderfully and surprisingly expansive Val d'Anniviers in Switzerland, which includes the resorts of Grimentz, St-Luc and Chandolin. The Val d'Anniviers is sandwiched between the busy and world renowned ski areas of Zermatt and Verbier, but unlike those two, Zinal keeps its head down and its profile low. You wouldn't even know it was there as you speed down the autobahn from Geneva. But those that do hit the indicator, and sneak off into some of the least travelled and easily accessed off piste anywhere in the Alps.
For open powder take the Corne de Sorebois chair, from which there's a route off the back side towards a dam; or for a real mix of alpine and tree skiing, hit the front face all the way down to the resort of Grimentz.
BOOK IT
Back Country Adventures runs guided small group day tours to explore Zinal's hidden powder stashes from £82 per person.
Revelstoke, Canada
No 'Epic Resorts List' would be complete without an entry from British Colombia's Powder Highway, and as such we've chosen Revelstoke. It's often missed by many, due to it being almost equidistant from Calgary and Vancouver, and the fact that to get here, you pass a lot of legendary resorts along the way. Yet none of the others hits the mark in the same way Revelstoke does. Firstly, it gets 12 to 18 metres of powder every season; secondly, it has the longest lift accessed vert in North America at 1,713 metres, and thirdly, it's the resort that just keeps on giving.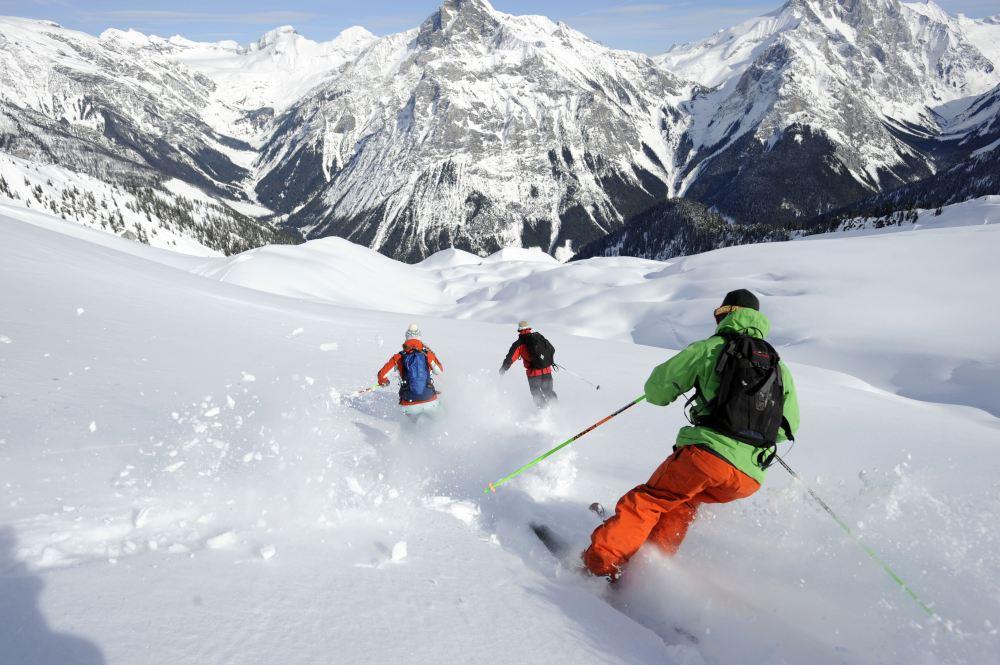 There are huge pine trees to shred almost everywhere; there are steep open powder faces leading to tight nooks and crannies. If all that's not enough, there's lift-accessed cat-skiing in a designated zone, which it simply perfect for long powder blasts and quick cat journeys. Finally, for those with the cash, there are heli drops within the Selkirk Tangiers range.
BOOK IT
Kicking Horse Powder Tours offers an incredible 7-night ski week tour on the powder highway from £2,895 with flights.

Silverton, Colorado
OMG Silverton rocks! An American couple, Aaron and Jenny Brill, sat around the dinner table one night and dreamed up their ultimate ski resort. Rather than sleeping it off, they got up the next morning and got on with creating it. They brought an old mining mountain and put a two person second-hand chair lift up, and voilà: Silverton was born.
Small groups of around 8 people are pulled together by a guide in the car park; you then take the lift up to access 819 acres of the U.S. of A's best backcountry skiing. Like la Grave, there are no groomed runs or trails - just acre after acre of wild mountain, often covered in the Colorado desert's dust dry powder.
BOOK IT
Silverton is guided only. A day pass is from £130 to go with a group of similar ability, so don't over-sell yourself!

Niseko, Japan
A huge volcano next to the sea, this far north, makes a recipe for only one thing - a ridiculous amount of powder snow. Niseko is probably the best freerider and skier resort in Japan, due to its lack of restrictions on backcountry access. January and February are best, with almost constant nightly dumps of fresh powder.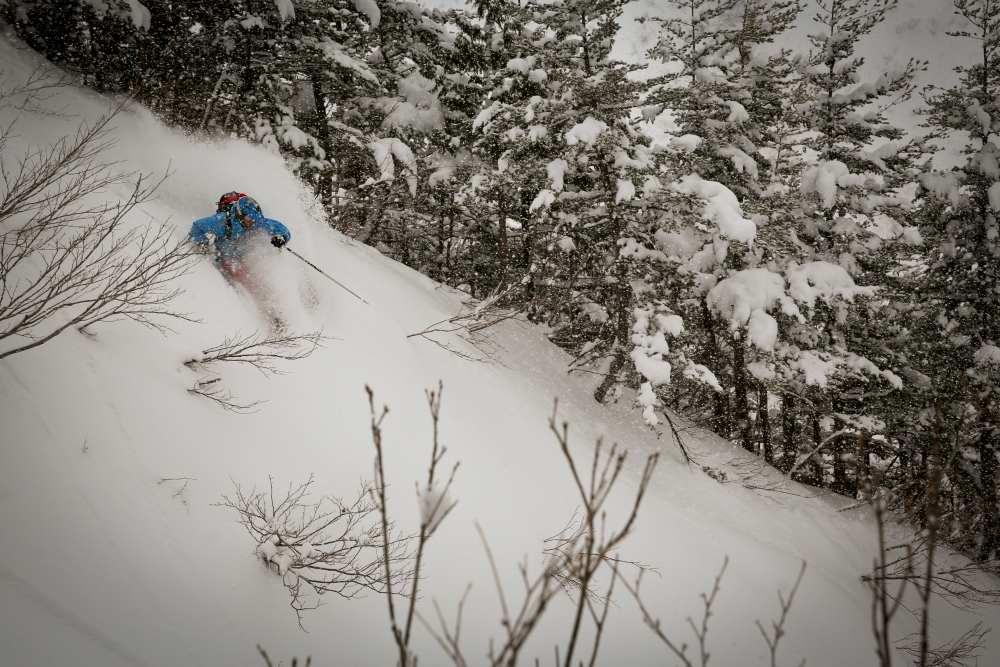 The fun doesn't even stop at sunset, as most of the slopes are floodlit until 9.00pm every night, so well that you can actually ride powder through the trees between the pistes.
A 20 minute hike from the top chair and you'll be at the summit of the volcano. With views out to the Japanese Sea, you'll have an almost 360 degree choice of lines back down the volcano's spines. It's worth wearing yourself out each day, as the local Onsen (hot springs) will rejuvenate any tired muscles.
BOOK IT
Hanazono Powder Guides provides three days of guided skiing in Niseko from £1,275 for four people. Book a tour with them - as well as a full Japan trip through Samurai Snow.

Jackson Hole, Wyoming
The pro's favourite, Jackson Hole, Wyoming, is a must for any thrill seeker or powder hound wishing to prove their worth. Jackson Hole is the main stay of most ski films; it seems no director is happy without at least a few shots from this steep and deep resort.

Jackson Hole is famed for its pillow lines, and even though it does offer up excellent skiing for everyone, Corbet's Couloir is only for those with big kahunas. Right under the main cable car, Corbet's Couloir is a seriously steep chute - which if you blowout on your first turn, you'll more than likely slide down all the way to the bottom.
BOOK IT
Jackson Hole Mountain Guides provides expert tours of the Teton Pass and Grand Teton National Park from £150. Expect tree skiing, high mountain traverses and everything in between.
Alyeska, Alaska
Skiing in Alaska is on any self-respecting back country skier's hit list, and Alyeska gives them the chance to experience Alaskan spines and chutes without a helicopter. The pistes here are mainly steep, with The North Face being the pick. There's also plenty of 'hike to' terrain in Alyeska and without too much stress, you can easily hike to some wide open bowls and some narrow and very serious chutes.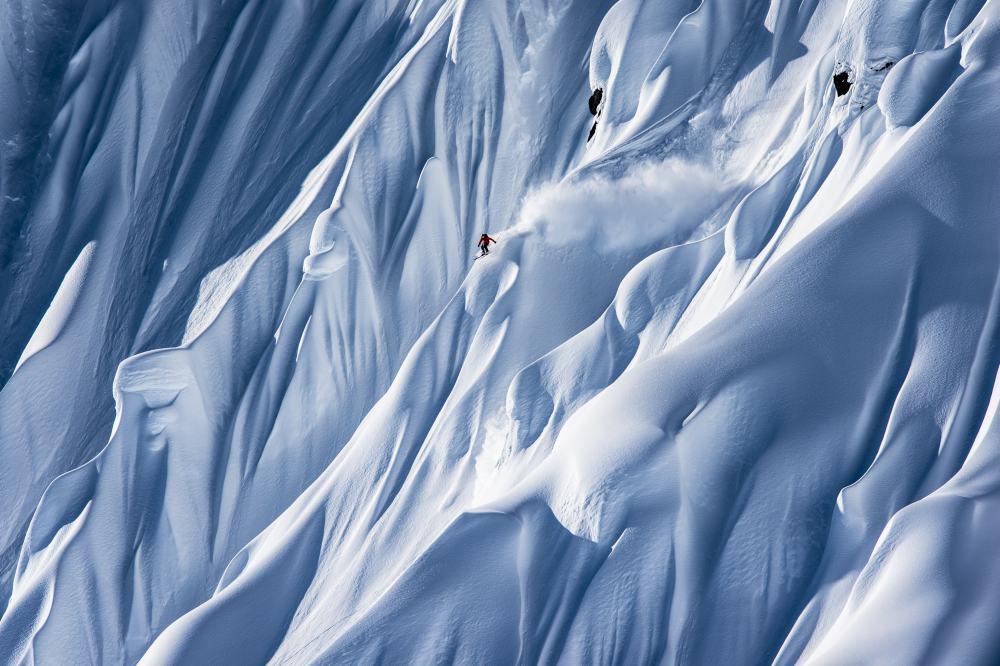 Being so close to the sea, the weather here is maritime, so it can often suffer from flat light; but with that flat light comes tons of snow, so when the sun comes out, Alyeska is legendary.
BOOK IT
Join IFMGA guide Joe Stock for a single day of touring or a full week of adventures. One full day costs £406 but there are discounts for larger parties. stockalpine.com
Verbier, Switzerland
Verbier is huge, with almost 100 lifts accessing 400km of pistes it simply had to make our list. But size isn't everything, and Verbier certainly isn't in on size alone, not by a long shot. The high alpine backcountry landscape of Verbier is world class, so it's no wonder the final round of the Freeride World tour, an extreme ski competition, is always held in Verbier. There are some crazy lines to be had here and Verbier attracts some crazy people.
But there is a drawback. With such an awesome mountain, and a worldwide reputation, Verbier is busy, often very. On a powder day you best skip breakfast if you want a fresh line, but forgo a croissants or two and you'll be rewarded with a ride of your life.
BOOK IT
Mountain Adventures provides bespoke winter excursions and courses for skiers of all levels, finding the best skiing conditions each day from £125 per person.
Whistler Blackcomb, Canada
The 2010 Winter Olympics may well have been called the 'Vancouver Games', but Whistler Blackcomb was where all the serious action was. In fact Whistler was created for the eventually failed bid to host the 1968 games. While it may have taken the Olympic committee 42 years to see Whistlers worth, it didn't take freerides and skiers long to see the potential.
Whistle Blackcomb is an all singing all dancing resort for everyone. There's pistes, bowls, chutes, cliff drops, terrain parks, ski cross, half pipes, trees, back country, high alpine powder faces... there really is something for everyone. Not just a little of this and a little of that, as there's more than enough pie here to go around everyone.
BOOK IT
Whistler Ski Guides takes all abilities on a variety of trips from straightforward to downright scary. Guides cost from £370 per day for a group of four.