efore I've even checked in to Hotel Castillan at the base of La Grave's famous gondola, I got a perfect vignette of the atmosphere of this ski-bum town: A stray dirtbag wandered into the hotel bar, sweating into his duct-tape-patched GoreTex after a hard day's shredding under spring sunshine, and asked in an American drawl, "Hey, do you know where I can take a shower?"
La Grave isn't just rough around the edges, it's rough to its heart and nothing I saw over the next few days suggested anyone wanted to pretend otherwise. La Grave has a distinctly do-it-yourself feel, as if a bunch of mates built a ski hill. Which in a sense is what happened.
The famous gondola dates back to the late 70s when it was built with alpinists and summer sight-seeing in mind. It fell into disrepair and in 1987 a 30-year lease was taken on by Denis Criessels, the engineer who originally built the lift. Even then the mountain's reputation was a slow-burner, typified by the likes of Swedish guide and legend Pelle Lang (pictured left) ditching Chamonix and placing tiny cryptic ads in US ski magazines for his fledgling Skier's Lodge. A trickle of Swedish and American visitors became diehards of the La Grave scene; Doug Coombs famously among them, relocating here in the 90s.
Around the same time the classic ski movie P-Tex, Lies and Duct Tape featured La Grave under the pseudonym 'Valley X' – ostensibly to protect it from the "exploitation a ski movie would generate" – and La Grave's semi-mythical place in skiing was assured.
La Grave is unique. Not in the sense that everywhere is unique – in the way one town has a slight variation on tartiflette, or another has a free bus service – but in the genuine, passion-led, freeride-first, "what-do-you-mean-business-plan?" sense of the word.
No wonder people are afraid for its future. On 15 June 2017, the lease was due to end, and at the time of my visit the largely in-the-dark locals' best guess was that one of the mega-resort corporations would take over…
Meeting the legend
Everything about the gondola was utterly charming. The retro-styling, the flimsy lift pass that had to be scanned, and its ponderous progress up the mountain. It would have been alarming how green the lower slopes were, except I knew there were over 2000 metres of vertical to climb.
A potential drawback of the slow ascent is the time it affords the skier to appreciate the terrain. If you're having a less-than-confident day, it could be frightening. Past the gondola's first stage the snow begins to build, the flanks of la Meije rear ever-steeper and the extent of everything dangerous about glaciers becomes clear.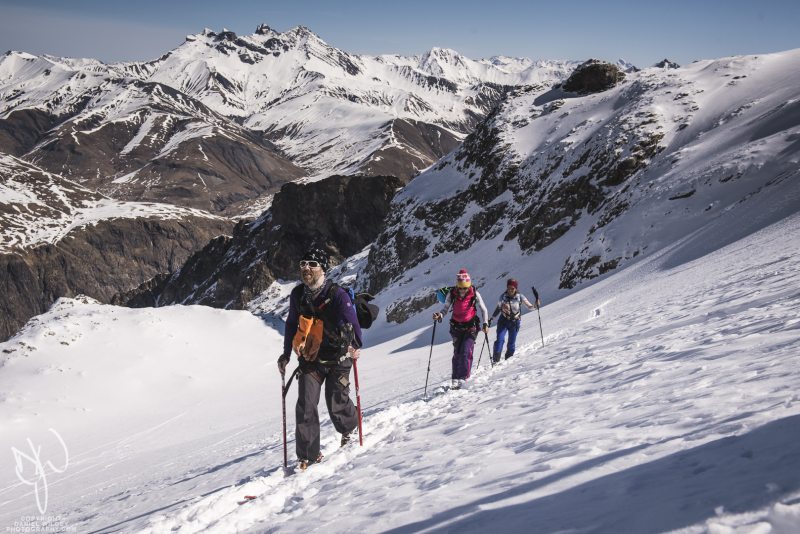 On the final stage the gondola is suddenly dwarfed by the huge chasm of the Vallon la Meije – a wide passage on the north face of the mountain, overhung by enormous seracs from the glacier above. This is the point you realise that skiing here is different. In any other resort you can push your off-piste ability as hard and as long as you like, with the reassurance of cruising a blue home-run back to resort once your legs have given up. The closest La Grave has to a motorway home-run is the Vallon la Meije. I made a mental note to save some energy.
From the top station it's a couple of hundred metres hike and skate to a snowcat, which drags you another couple of hundred metres to a Poma tow – the last piece of the ascent puzzle. It's no wonder the terms for tendering to take over the lease stipulate investment in the gondola –extending it past the drag lift to 3600 metres.
The Poma is situated in a large bowl with two short, parallel pistes – the only pistes on the mountain – and for a moment I thought this could be any resort in the Alps. But at the top of the lift we got a glimpse into the wild. The Écrins National Park lies behind la Meije and the valleys appear to stretch as far down as the horizon is distant, dominated by the peak of Barre des Écrins. The view is stupendous enough to have inspired the building of the gondola in the first place.
Apparently, we would be skiing the impossibly steep sides of that valley tomorrow, so I focussed on what passed for a gentle warm up around here… My guide was Xavier Cointeaux (pictured above) and despite heavy traffic since the last snowfall, he found us a stunning long pitch of pristine powder. It was a beautiful kind of fun but misleading; La Grave is not the place to come if you just want to ski powder. It may be called 'Freeride Mecca' to the point of cliché, but that idealistic, bluebird, champagne view of off-piste skiing simply will not do. Here you need to be prepared for whatever the mountain offers. There is no escape route.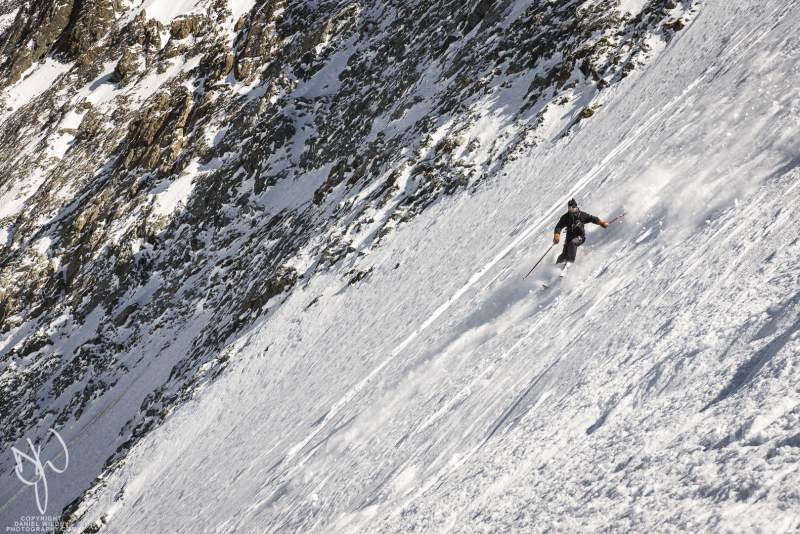 La Banane Couloir taught me that in a very elemental lesson, and if that initial powder run inflated my sense of ability, the couloir punctured it with car-sized icy moguls hemmed in by soaring granite walls.
Xavier knew how to structure an introduction and we spent the rest of the day skinning short sections to reach more powder on perfectly steep glaciated terrain that would have been tracked out days ago if the lift system was more extensive. But even in relatively gentle conditions respect is demanded; at one point I was forced to inelegantly straddle a bergschrund due to inattention.
Kim Puchek (pictured below), a 64-year-old American we met, had skied here 25 winters in a row: "Depending on your proficiency it's not a dangerous resort. But you need respect. The older I get the more I appreciate that."
Later, on the sunny terrace of Hotel Castillan – the understated focus of La Grave's après scene – we met local Joe Vallone, who summed up the learning curve: "When I came here I realised I didn't know shit about skiing." And yet Joe was already a qualified guide when he moved to La Grave from Colorado on Doug Coombs' advice.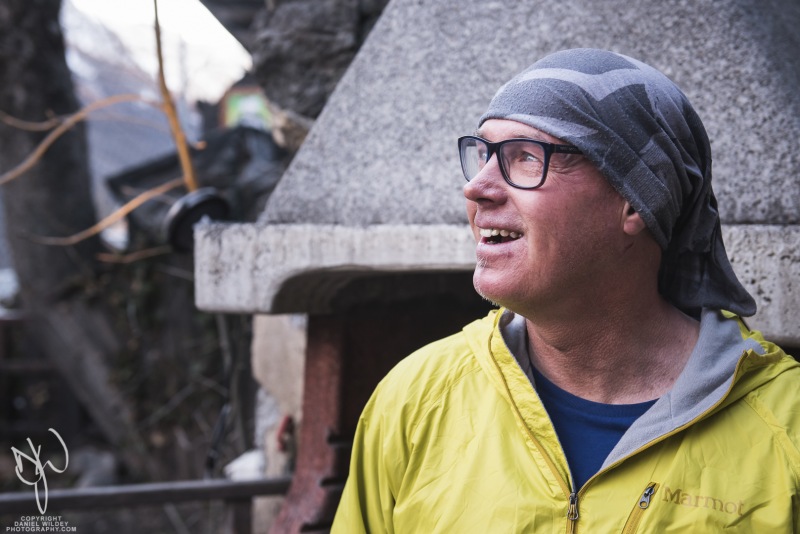 Joe expanded on what was becoming a recurrent theme among the locals; respect. "In the US they're sterilizing the mountains. Here no-one's doing homework for you, telling you where to go and when. It's sad when people come here with a list of lines they want to ski. You got to hit the lottery here, learn the mountain and put in the time. Discover it."
So it's easy to see how the possibility of a link to the nearby resort of Les Deux Alpes engenders so much fear. The mythology of La Grave, along with its lack of luxury and infrastructure, does a natural screening job on the type of skier that visits. Becoming just another area of a fully-linked mega-resort could bring obvious dangers.
On day two, we hit the sun-baked slopes of the steep southern aspects, where that danger became even more clear. As with the rest of the area, there were no signposts, no avalanche control, and nothing to indicate you would end up a 40-minute drive from La Grave. We hadn't strayed very far from the gondola on the first day, so ducking under the ropes high above the Écrins National Park felt like crossing into a new world of big mountain backcountry.
The powder was replaced by all manner of sun-affected, windblown, cruddy, and rotten snow, with occasional patches of spring-softened fun which all demanded the most careful attention. And all of this on the longest sustained steep descent I'd ever skied; a thousand metres straight down to the deserted flats of Vallon de la Selle for a sunny packed lunch and an animated re-living of what had been a superb line.
We skinned up the head of the valley for a run down a more northerly aspect with lovely consistent snow and then followed the valley a long way down to the snow line before a substantial hike out to meet our taxi. If you'd popped over from Les Deux Alpes with the kids, this would be one wrong turn you would not want to make.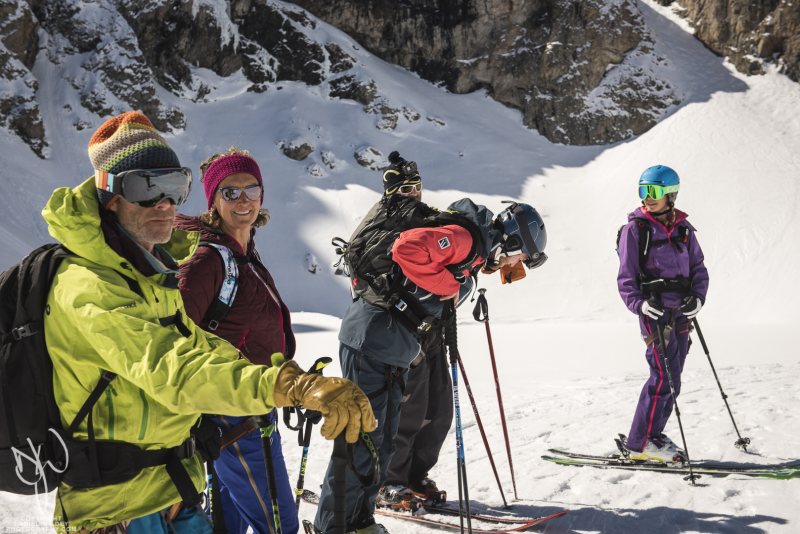 Aside from the possible Deux Alpes link, it was difficult to imagine how any of this could be tamed. I couldn't see where a piste could be built on the steep sides of the Vallon de la Selle, and the front side is strewn with seracs and crevasses. Even so, the town hall had stipulated that bidders must commit to the 'spirit of La Grave.'
But Cyril Dupyre, President of the Bureau de Guides, told me what may have been the source of all the concern and even borderline-hysteria: "They didn't ask people in the village or in the Bureau de Guides." Zero local consultation does seem foolishly short-sighted, especially in a place so community-driven.
Done deal
Only two months after my late spring visit we got answers to La Grave's now-secured future. SATA, who run nearby Alpe d'Huez, would take on the new lease.
The commercial and communications manager of SATG, the new company they set up to manage their responsibilities, is David le Guen (above), who should further allay any fears. Raised near Paris, David spent a lot of time climbing at Fontainebleau, and as a teenager made his first high mountain trip to La Grave, on the gondola he is now responsible for. Seventeen years ago he moved to La Grave, met his wife, and started a family. "I found here in La Grave what I searched for first with mountaineering, and then in skiing; plenty of space, and a beautiful landscape to share and discover with others. Here, nature is true, it's wild and it can be cruel. You can't lie. La Meije tells you to live the truth."
One source of speculation has been how any investor can recoup money without detrimental change. It's a question I put to David: "The quality of the skiing is directly correlated to the flow of the cable car. We cannot increase the skiers without damaging the descent quality, which is what we absolutely want to preserve! That's why we will work towards filling the off-peak periods with pedestrians, when there's plenty of space. We need to propose a voyage at high-altitude, a storytelling, not just a lift. The cable car is like an old lady, and we need to take care of her. Each cabin will be renovated, but we must remember its history, its identity."
David is only one man in a large company, but I found him convincing. Put simply; he gets it. SATG seem committed to the – admittedly vague – concept of maintaining the 'spirit' of the place too, and even if they harbour the secret intentions that corporate conspiracies are made of, their contract should keep them true.
So some things will change, but the important things won't. La Meije will remain "the queen, the boss" as Joe Vallone calls her. She'll still chew people up, and they'll still go back for more. They couldn't really tame this mountain, even if they tried.