Photography: Caroline van 't Hoff
Words: Julie Nieuwenhuys
Turn after turn we gracefully glide through fluffy, dry powder between birches that look like a wintry jungle, every twig of their twisting branches stacked with snow crystals. Every few moments one of us disappears behind a huge powder cloud before bursting out, face cracked into a huge smile. This might be the land of the rising sun but it's also the kingdom of the endless snow, where for days on end we have been skiing first class, feather-light, hip-deep powder.
Moments before we were taking the skins off our skis on the edge of a smoking volcanic crater - one of the 22 craters on the live volcano of Asahidake. This small unofficial ski resort runs a gondola every 20 minutes in wintertime, deep in the heart of the Powder Belt of Japan's northern island Hokkaido, and the skiing is simply incredible.
But skiing in Japan is so much more than just world-class powder; it is a truly fascinating country. For us Europeans Japan is an 'other-worldly' destination which has been virtually free of foreign influences for centuries. In this homogeneous society, with 99 percent of the country's 127 million inhabitants being Japanese, preserving the traditional culture continues to play a major role today.
This is a society that values personal responsibility and hard work, as well as modesty and a sense of solidarity within a community. The fascinating culture combined with amazing food, beautiful nature and Japanese hospitality is the reason photographer Caroline and I have come back to ski here for the third winter in as many years. We just can't stay away!
Japan just combines so many of our favourite ingredients: fresh snow almost every day, a relatively stable and seriously deep snowpack, hardly any other freeriders, beautiful birch forests filled with pillows, and more! Even if you're not a powder junkie, Japan just has so much to offer: heated toilet seats, unlimited karaoke, gyoza, toilet slippers, Asahi, udon noodles, tempura, fire festivals, beer vending machines on every corner, tiny cars and onsens to name but a few...
Southern Hokkaido - Plan 'P'
Originally for this year's visit we had intended to explore the Hakuba ski areas of Japan's main southern island Honshu but El Niño put paid to that idea, with poor snowfall there. So instead, we decided to concentrate our powder hunting on the more northern and snowsure island of Hokkaido. We'd fly into Sapporo, rent a car and spend 10 days skiing our way from Southern Hokkaido to the less explored and almost deserted Central Hokkaido.
Our first stop was Niseko, the biggest and most famous resort of Hokkaido, but to make sure we skied plenty of powder, Koji our guide from Niseko Powder Guides showed us round the much quieter resort of Niseko Moiwa. It didn't take long to find what we were looking for - just a few hundred meters hiking from the top chairlift lay a large untracked, open bowl.
As soon as I dropped in, the dry powder curled over me like a giant wave and at every turn the snow exploded in my face. Gasping for air, I skied at full throttle through the bowl and the tight birch forest at the bottom of the run.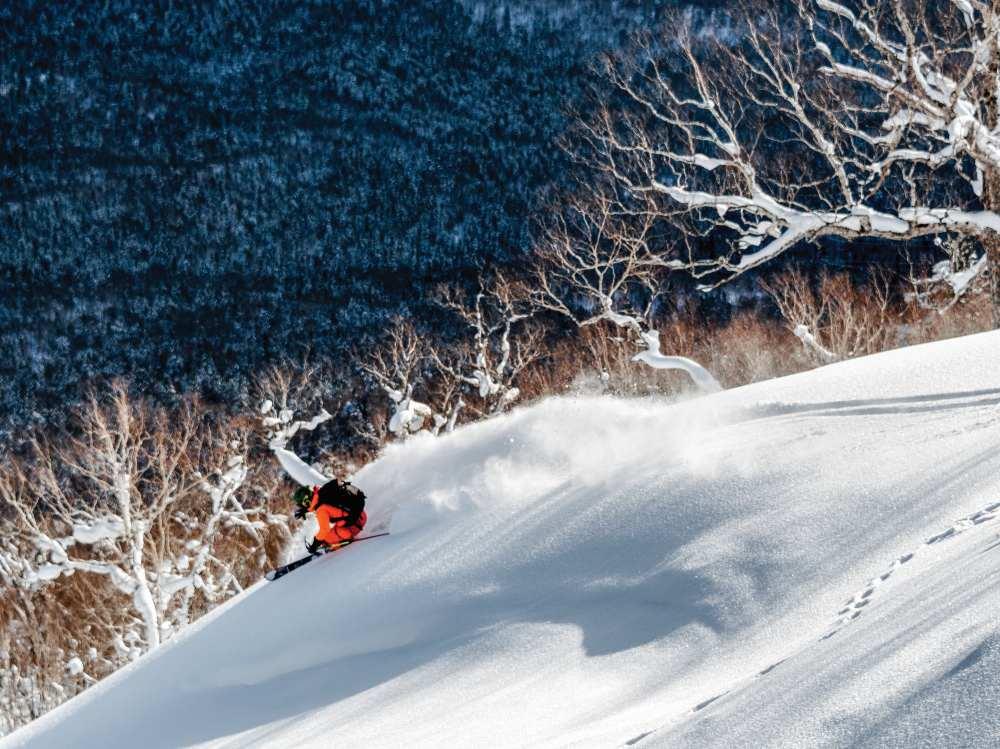 The whole day we skied varieties of this run, with the stoke growing sky high. Next year we'll be back to climb Mt. Yotei, the volcano we only partially caught a glimpse of from our apartment in the Niseko Landmark View hotel, right next to the gondola.
Back on the road, about an hour's drive northeast from Niseko we found the smaller but less crowded Kiroro. Again, just a short skin from the lift, we could ski amazing backcountry: glorious bowls with well-spaced birch trees and literally no tracks! It is the first year you are allowed to ski the backcountry at Kiroro, but only if you fill out a climbing plan before leaving the resort. Otherwise you can ski one of the many tree lines within the resort. If, like us, you still can't find a guide in Kiroro (yet), it is easiest to book one in Niseko.
Two more authentic and fairly undiscovered resorts close to Sapporo are Sapporo Kokusai and Sapporo Teine, where on a clear day you can see the Japanese sea from the hill. We spent a day in each and skied some of the best lines of our whole trip, literally the only skiers skiing off-piste. One of the highlights was a line we spotted from the chairlift with some nice open birch forest, many little drops and pillows to hit.
Hurtling a little too fast past a huge birch tree, it felt like I was flying with snow blown into my face. Everything about this descent seemed aligned. This was the perfect powder run and the quintessential moment I had been daydreaming about during summer. The snow is so light it turns my spray into a cloud that hangs in the air for a couple of seconds.
Back at the base, having worked up a ravenous appetite after a morning full of powder, we sat down in the 'resrorant' and ordered a bowl of steaming udon noodles, which we loudly slurped in keeping with Japanese custom. The healthy and delicious Japanese food had a very positive influence on our trip and, in no time, our diet consisted of miso, rice, noodles and other local delicacies.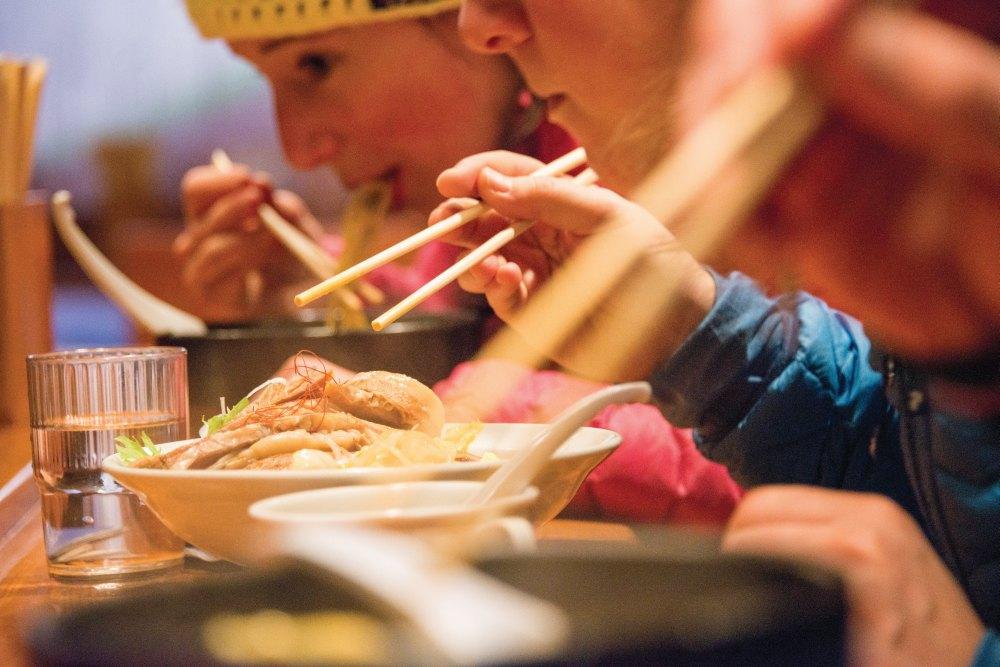 Central Hokkaido
Moving further north into the heart of Hokkaido's mountainous interior, the town of Higashikawa was our next stop in the centre of the Hokkaido Powder Belt. This is the powder Mecca of Japan, consisting of seven different ski areas and home to the driest powder in Japan. A guided ski tour was all it took for us to understand why it's known as "the playground of the gods"; the snow is divine!
We met Kanako-san, our contact from the local tourist office in the 8,000-inhabitant town of Higashikawa only to find out that our guide was to be Makato, an old friend, and the guide on our first Japan trip three years before.
Over a cold Asahi beer we discussed our plans for the next day. Makato wanted to take us touring on a pass where many Japanese ski movies are shot. He was very secretive about its location and we quickly understood why.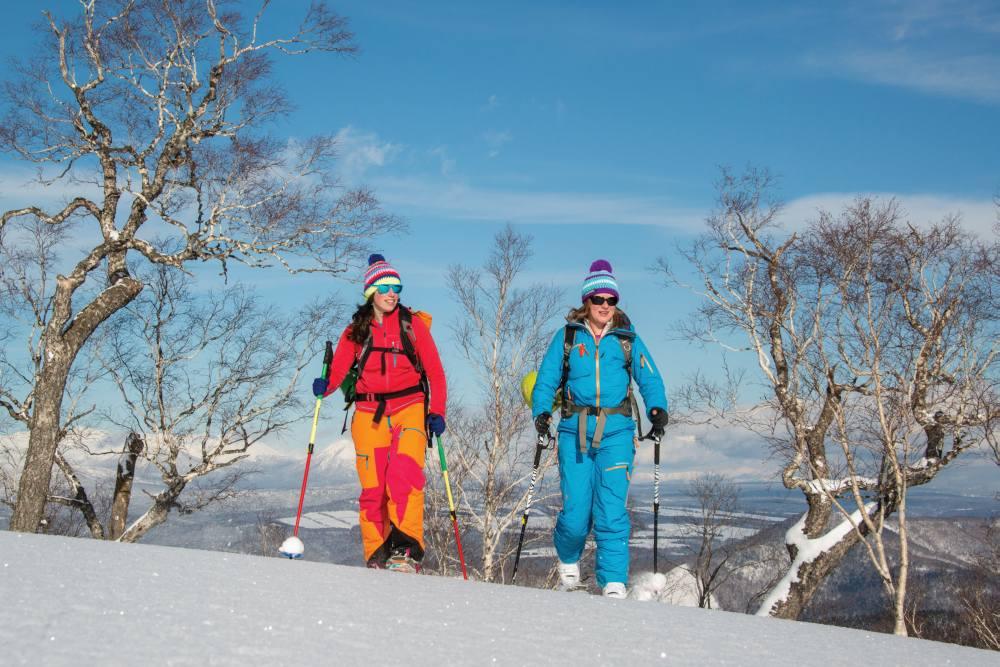 At the top of the pass we parked the car next to the road, put on our skins and after only 15 minutes of skinning, we were above a huge bowl, full of pillows and drop offs, with fresh snow still falling. After just one lap our tracks were completely filled in again! The amount of powder was almost intimidating - rarely have we seen or skied so much snow. Whenever you fell, it almost felt like you were drowning in powder. Of course we kept a close eye on each other and shot some of the best and deepest shots of this trip.
Continuing our tour the next day, we headed to Asahidake. Although not an official ski area, there is a gondola for hikers in the summer which runs every 20 minutes in winter. Of course, being unofficial, there is no ski patrol, so we did the sensible thing and booked a guide called Yasuhito Arata based out of Furano.
At the top of the gondola we fitted skins and, together with Yasuhito waited for a break in the clouds, before setting off up the active volcano. We skinned right up to two of the 22 heavily smoking craters in strong wind, looking straight into the smoking volcano before carving equally awesome lines back down the mountain.
A great place to stay is the Deer Valley Hotel, which also runs a shuttle from Sapporo airport but if like us you want to sample a typical, luxurious Japanese ryokan with its tatami-matted rooms and floor-level living, there is the Asahidake Yumoto Yukomanso, which also had the best traditional onsen communal hot spring bathing that we experienced on this trip. The Japanese believe that onsens have healing powers because of the minerals they contain. It is physically and mentally cleansing and the perfect way to relax after a long day of skiing and climbing.
Best for last
The biggest Central Hokkaido resort and our penultimate stopping point was the increasingly popular Furano to the south. Until a few years ago, skiing off-piste in Furano, as with some other ski areas, was still prohibited but is has now relaxed its policy meaning it is no longer strictly forbidden to ski off-piste.
Which is why I found myself perched above a large cliff, instinctively checking if my bindings were properly closed and if the trigger on my BCA airbag was within reach. Three hours earlier our favourite guide and friend Etori-san took us to one of his favourite lines, the west face of Furano. Before dropping in, we discussed with him what the safest line was and who should go first.
Bagging first tracks, with utmost concentration I dropped into the steep entrance of the face with the loose sluffs of poorly bonded snow setting off all around me. The adrenaline pumping through my veins I kept going, with the sluff passing me safely. As soon as it flattened out, I relaxed and took in the beautiful scenery. Straight ahead was the Tokachidake mountain range, with pyramid shaped volcanoes where we had ski toured two years before. In the distance below, a tiny dot appeared among the trees. It had to be Etori-san. Euphoric, I flew towards him with big, fast turns. Our nearly 800 vertical meters run took us all the way back to the parking lot of the Prince Hotel where we were staying.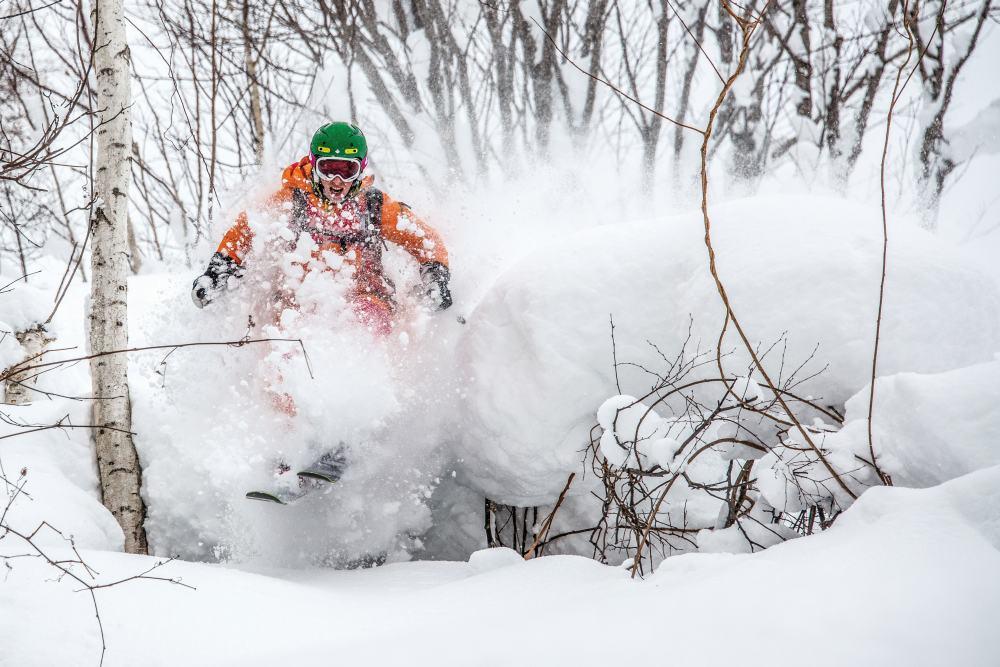 Our final destination of the trip was Minamifurano, a small village where our cool guides Hiroyuki Fukuda and Kiko took us for a snowmobile ski tour to their secret spot outside town. There's nothing like a snowmobile ride on a closed highway through 50cm of fresh powder to build the excitement. Again we didn't see another skier or track all day and were blessed with clear, breathtaking views of Furano and the Asahidake mountain range.
Back at our lodgings, the beautiful Canadian style wooded Larch Lake Kanayama hotel, we were treated to the unique experience of ice fishing, Japanese style - in a heated tent on the ice, drinking hot cocoa with Tohru, our ice fishing guide, using tiny electronic rods to catch tiny but delicious fish and frying them for our lunch.
Quirky, perfectly organized, slightly hi-tech yet delivered with the utmost warmth and hospitality, this was the perfect experience to finish off our latest Japanese snow odyssey. All that remained was to seal the deal with a dinner of steaming udon noodles later that evening, loudly slurped of course, and an epic karaoke session to end our trip on a high, if slightly out of tune, note.