At 1,930m, Obergurgl is a high-altitude snow-sure ski resort village situated at the upper end of Austria's Ötztal Valley. Lift-linked with its even higher altitude neighbour Hochgurgl, it enjoys a welcoming traditional Austrian alpine atmosphere, and both villages' ski areas are covered on the same lift pass.
Obergurgl's own two-sector ski area is actually quite small, but combined with the similarly compact Hochgurgl, you get a lot of combined mileage of pisted slopes, and more than enough off-piste terrain to keep most visitors happy for a week's holiday.
The area's biggest draw is its historically-reliable snow conditions, particularly early and late in the season. This high-altitude location does however make Obergurgl feel a bit remote at times and its slopes can be quite exposed when stormy weather sweeps in. Nevertheless, this charming community attracts a loyal following of repeat visitors drawn from a cosmopolitan mix of European nationalities, many of whom return to their same favourite family-run pensions and hotels year after year.
Many visitors tend to rate Obergurgl's friendly atmosphere and superb snow conditions above the limitations of its ski area. The skiing in Obergurgl is, however, especially recommended for intermediates, families, off-piste lovers and anyone planning to travel early or late season, and for those seeking an authentically Austrian ski holiday experience.
Obergurgl - Ski Map & Pistes:
Obergurgl village is stretched out over three distinct levels along the access road at the head of the valley. The principal ski area access lifts rise from the lower and central-to-upper residential clusters, and there are a couple of home-run pistes sweeping down to these same village-level base-area slopes, meaning access to/from the ski areas is fairly convenient.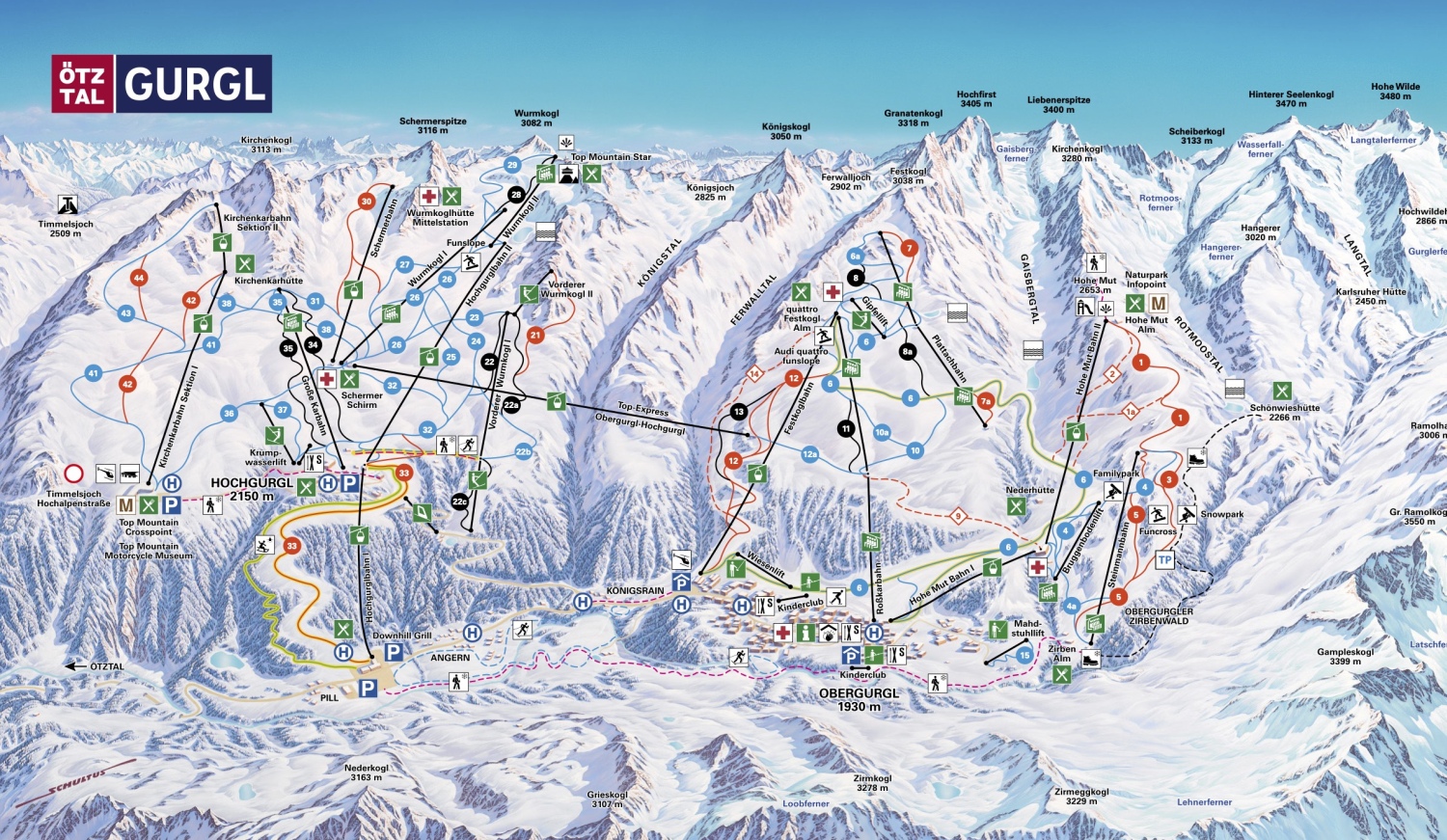 The Festkogl sector directly above Obergurgl offers a fair mix of runs for all ability levels, and the mid-mountain Top Express gondola links with neighbouring Hochgurgl, for smooth access to the extended ski area. There's also a blue piste linking towards the slightly lower-altitude Gaisberg ski sector of Obergurgl on the flanks of the adjacent Hohe Mut; this latter sector has the benefit of having some sheltered, wooded, lower slopes directly accessible by gondola from Obergurgl village, making this area the preferred choice on poor-weather days.
Keen big-mileage seekers can also opt to pay a daily supplement to access the more extensive glacier-topped ski area at the bigger resort of Sölden, just 20 minutes away by road down the valley and served by a regular bus service.
Obergurgl - Off-Piste, Backcountry & Ski Touring:
Excellent opportunities abound. Thanks to its high altitude location and snow reliability, powder lovers and freeride beginners will find this domain a winter playground from November to April, with lift access to many great runs. It's a hit with the pros too - the Open Faces 4* Freeride Contest is held in the rear Ötztal each spring.
The off-piste terrain of Obergurgl is dominated by narrow gullies and steep slopes in the area close to the summits, making this area especially suitable for experienced freeriders. Powder novices will, however, find wide open, large-scale powder slopes for their first turns in deep snow at medium altitudes in Obergurgl. Access points are right next to the ski slopes. In the lower area there is fantastic tree skiing below or along Steinmannbahn. There are great freeride routes, starting from Hohe Mut into Rotmoostal or from Festkogel into Ferwalltal.
Hochgurgl too has some very steep freeride slopes in the upper area and in the lower, wooded area. The middle section, however, is only moderately steep and provides great access to some billowing powder runs.
There are spectacular freeride routes starting from Wurmkogel, from the top station of Schermerbahn 3,000 or into Königstal side valley. Worth noting: unlike many well-known freeride areas, you don't have to hit the first lift if you want to make first tracks. Pristine slopes can be found hours after the lifts open.
Obergurgl - Restaurants, Bars & The Town:
Obergurgl is largely unspoilt - and has retained a lot of character, charm and tradition. Most of the Obergurgl Hochgurgl hotels are conveniently close to the slopes. Plus, there's a great selection of après ski bars and restaurants.
A natural ice rink and some scenic way-marked walking paths are the only off-slope attractions in Obergurgl that are suitable for non-skiers, although many of the Obergurgl hotels have excellent spa and wellness facilities.
Après ski is typically Austrian, kicking off at the slope-side Nederhutte mountain bar from mid-afternoon and building to a crescendo of cheesy singalongs and dancing on tables, before continuing with pre-dinner antics at village pubs such as the Fassl bar.
The action tends to be a lot quieter later on in the evenings though, with most guests happy to enjoy a relaxing wind-down in the more refined lounge-bars in their hotels. Younger and livelier guests seeking more animated late-night entertainment are catered for in the Josl Keller disco-bar in the basement of the Hotel Josl.
It's worth making time for a visit to the iconic Top Mountain Star restaurant at 3,080m - accessible to skiers and non-skiers alike. This striking glass-enclosed building sits perched on top of Wurmkogel in Hochgurgl and has phenomenal 360° panoramic views of the Ötzal Alps and the Italian Dolomites.
Obergurgl - Ski Hire:
There are ample places for ski hire in Obergurgl, including Riml Sports, Scheiber Sport, Ski and Schuh Mode Lohmann and Sport 2000.
Obergurgl - Ski School:
The options for ski schools in Obergurgl include the Obergurgl Ski School, which has been running since 1922, the Skischule Alpinsport Obergirgl and the Alpincenter, specialising in mountain guiding and freeride instruction.
// HIGHLIGHTS //
Airport
Innsbruck (1hr 30)
Train station
Otztal Bahnhof (1hr)
beginner
intermediate
expert
// USEFUL LINKS //
Tourism and Ski Area