Obertauern's unique claim to fame is as the ski resort where the Beatles filmed the snow scenes in Help! back in 1965. But more importantly for today's skier, this is the ultimate ski-in, ski-out resort. Located in the Salzburg region and sitting amid 100km of slopes at 1,740m, this is Austria's snowiest winter sports destination with 26 cableways and ski lifts spread over ten entry points, carrying skiers up to a high point of 2,313m, with drop-dead gorgeous views along the way.
Although Obertauern's terrain is best suited to the all-round intermediate, this is a very good choice for beginners with the wonderful wide nursery slope by the village virtually guaranteed snow through the season. As well as the superb pistes providing ample mellow skiing, Obertauern is also a freeride Mecca with some challenging steep trails with cliffs. For added excitement there is night skiing and snow-kiting, while a more romantic option is the horse-drawn sleigh ride...
Obertauern - Ski Map & Pistes:
Obertauern ski resort has established its reputation despite a maximum skiable vertical that is less than you would expect for such an internationally well known resort. And you can travel 200 times as far in a horizontal direction as you can on the vertical, a remarkable 120km of trails.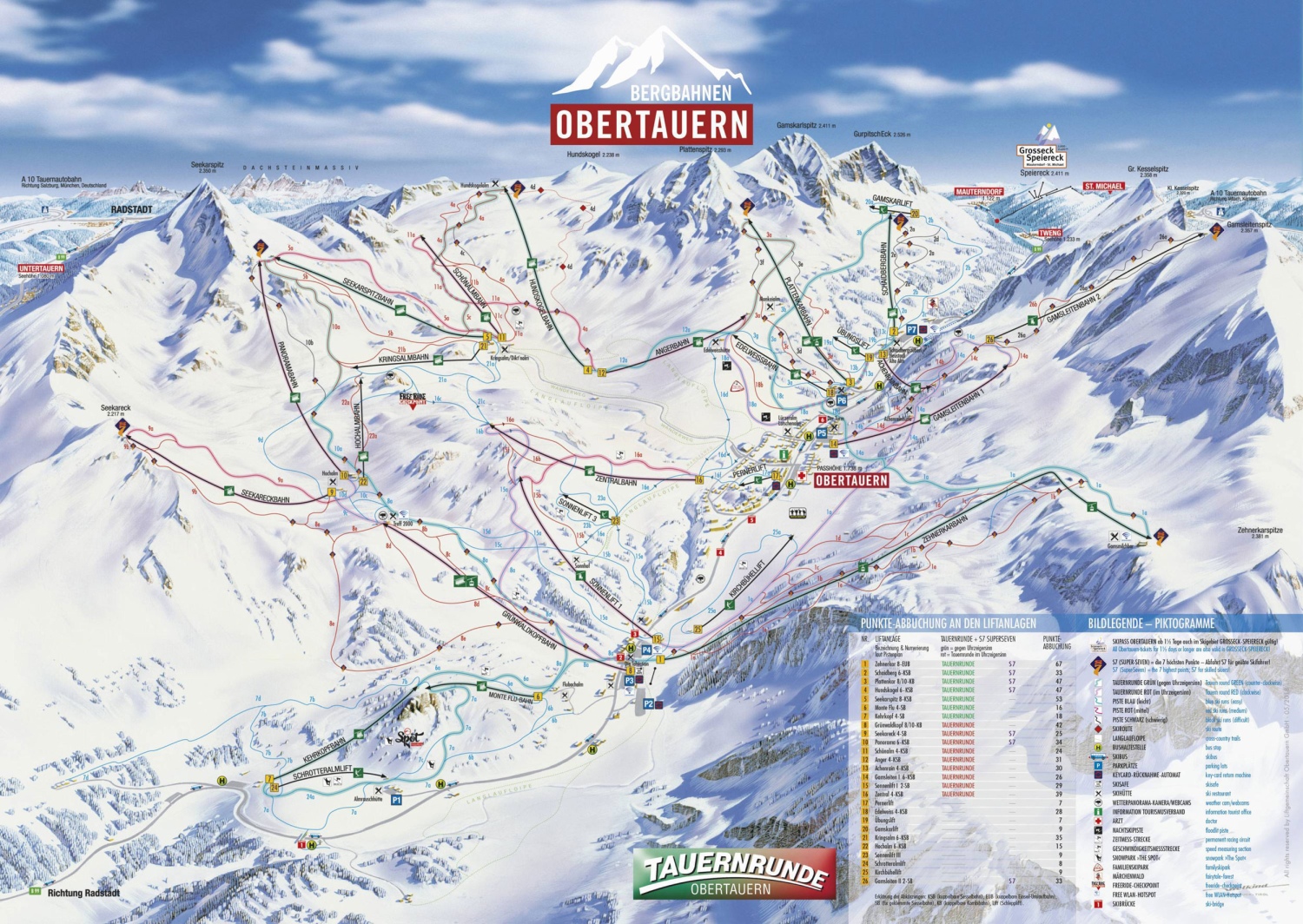 The lift system forms a wonderful colour-coded ski circuit – the Tauern Round, which can be skied in either direction. For near beginners this means the 'green circuit' (anti-clockwise, incidentally) which takes in five lifts including the Zehnerkarspitz cable car and trails specially selected for their gentle gradients. The Gamskar lift, reached by a chair ride, is a particular favourite for first-timers. Oh and the resort has a reputation for seamless grooming of its pistes, thanks to a dedicated fleet of trail grooming machines, which means you're less likely to get your skis stuck in a rut as you're trying to master that first snowplough turn.
Intermediates are spoilt the most by Obertauern's snowy expanse, with two thirds of the terrain graded at that level. The 'Pink Circuit' (ie. clockwise) takes in a vast amount of blue and red graded trails and its 30km can be skied by three different routes, making a total of 90km going around it alone.
The five black pistes include testing mogul fields (check out Garnsleiten II). There is also a self-timed slalom course. Cross country skiers have 7km of trails. The resort also has its own snow park for those who like the fun stuff.
Any Obertauern ski resort lift pass, with a validity of 1.5 days or more is also valid in the Grosseck-Speiereck ski area in Mauterndorf, approx. 15 km away.
Obertauern - Off-Piste, Backcountry & Ski Touring:
When it comes to off-piste skiing, Obertauern has definitely got the goods. It's not one of the highest ski resorts in the Alps, with the lifts topping out at under 2,500m, but it's impressively snow sure. There are high alpine couloirs if you're prepared to hike, and slopes on every aspect, meaning that whatever the weather, you'll find something decent to ride. There aren't loads of tree-runs, so poor visibility can be a limiting factor, but if you have a guide, there are a few places they can take you, and the ski resort enjoys a formidable reputation as a freeride destination for those in the know.
There are also longer itineraries, including the long descent down to the nearby town of Untertauern - although you definitely need to be hiring a guide for that one, because it's drive back, and not one you'd want to be left hiking. Many of the ski schools listed below also offer ski-touring excursions.
Obertauern - Restaurants, Bars & The Town:
Since 1942, hotels and other resort buildings have grown up along the rather desolate and treeless Tauern Pass road in a slightly strung out fashion. On the plus side, it means that the majority of accommodation offers skiing on the doorstep, and Obertauern ski resort village has dozens of cafés and restaurants, most serving very high calibre Austrian cuisine (though there is an American diner, the Lazy Flamingo, if that's more your thing).
The resort is also known for its "après ski mile" - no fewer than 25 ski lodges are lined up to tempt you to stop by, be it by day for some culinary treats or on the large sun decks in the evening. Tea dancing at the Latsch'n Stubn or Lürzeralm cafe or tavern is particularly popular and later the Römer Bar or Hotel Edelweiss are normally busy, with live music on occasion. Just make sure you don't try and sink a shot or a pint in every single one - you'd be hard pressed to stand, let alone ski the morning after that much schnapps.
The Lurzeralm keeps the crowds all night being home to one of several late-night spots, and discothèques which give night owls more choice than the norm after midnight in the Alps.
Obertauern - Ski Hire:
There are nearly two dozen recommended outlets for ski hire in Obertauern, which you can check out on the resort's own website, including Freudenhaus, Sport Erika and globally-recognised snowboard specialist shop Blue Tomato, who also run their own snowboard school.
Obertauern - Ski School:
There are seven ski and snowboard schools in Obertauern, including the Sylvia Grillitsch Ski School, the Krallinger Ski School and the Koch Ski School.
// HIGHLIGHTS //
Train station
Radstadt (20 mins)
beginner
intermediate
expert