Ski resorts can be quite strange places if the closest you've been to the white stuff in your life is a snow fight in your local park. Ski towns can be centuries old and full of gorgeous old Alpine cabins, or they can be modern clusters of slick hotels and bars. Either way, the ski resort will usually be clustered around or near a system of lifts that carry skiers and boarders up into the mountains, so that they can careen back down different 'pistes', which are flattened (or 'groomed') into easy-to-ski paths. These link together in a network a bit like a tube system. You can also hop on some lifts without your skis and simply go hiking or to a mountain restaurant – even if you just go to the top in your trainers, it's worth it for incredible views of the mountains.
How to read a piste map
Pistes are colour-coded, usually as we've explained on the right. Difficulty is assigned on how steep the piste's gradient is, and doesn't take into account how narrow it might be. Like with all sports, the best way to build confidence is to work up to each level. If it's your first day of lessons, expect to start on nursery slopes. Ask your instructor to mark which pistes they think would work for your level before you venture off on your own.
Green – suitable for learners and lessons, also known as nursery slopes and usually found in France.
Blue – beginner.
Red - intermediate.
Black – advanced.
Double black – usually found in North America and Australia and pretty hardcore.
Yellow – established off-piste/ungroomed routes that may or may not be patrolled.
Buying a lift pass
To get onto ski lifts you'll need a lift pass. This is a plastic card you keep in that skinny pocket on your sleeve that you wondered what was for. Each lift has a gate that automatically reads your pass and lets you through. You can buy passes online or in person at a lift office, but the easiest option is to arrange one with your tour operator so it's ready when you arrive in resort.
As a beginner you're most likely to be having a week of lessons, and these will take place on the pistes of your home resort. Many ski resorts are linked to other ski resorts either via lifts or public transport, allowing you to ski a wider area with a more extensive lift pass. A local lift pass will let you ski your home resort (and attend ski lessons), or you can buy a more expensive area ski pass (for the week or just a day) that allows you to explore further afield.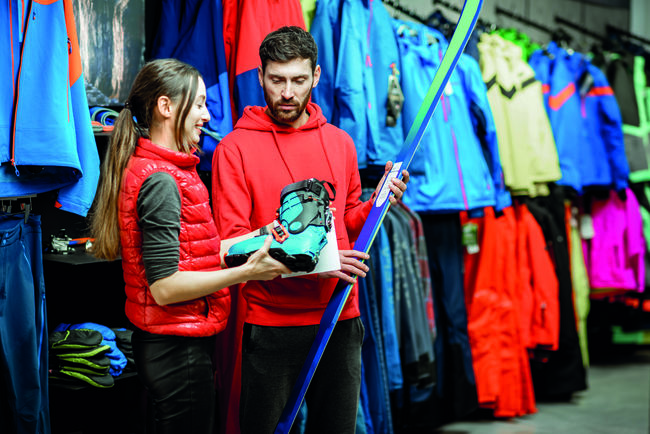 Ski & snowboard rentals
If it's your first time learning to ski you'll need to head to a rental shop in the resort when you arrive. First, you'll be issued with ski or snowboard boots. Next you'll be fitted with skis or a snowboard to match your height, weight and ability. They come with bindings attached – your boots clip into these. If skiing, you'll also need ski poles. Most outlets offer deals for week-long hires – including helmets – and booking ahead can be cheaper.
Apres ski
This is the easy bit. Basically, if you've ever stood in a bar drinking beer while very loud music plays so you have to shout to make yourself heard, you can do après-ski, which, literally means after-ski. That's because in ski resorts it's what you do after you finish skiing for the day. You come off the slopes and head for the nearest bar, leave your skis outside and go in, in your ski boots. You might even dance in your ski boots if you're so inclined.
If you've ever stood in a bar drinking beer, you can do apres-ski
Piste etiquette
Ride on pistes within your ability and at speeds you can control.
Look for riders coming from above you before joining a piste.
Watch out for skiers and snowboarders in front of you, especially wobbly beginners, and only overtake them if you have plenty of space. Skiers in front have right of way.
Obey all posted signs and warnings.
Never stop in the middle of the piste.
Types of ski lifts

Chairlifts
You stand in your skis and wait for the chair to come up behind you and then you sit, and pull the safety bar down. If you're boarding, take your back foot out of your binding. To get off at the top, lift up the safety bar and as your skis touch the ground, lean forwards and move off the chair and away.

Gondolas
These enclosed cabins vary in size but usually allow you to store your skis or board in slots on the outside of the cabin and then sit or stand inside, climbing out again and grabbing your equipment when the doors open at the top lift station.

Cable cars
These carry a large number of passengers at once between two lift stations. Skiers and boarders get in and out carrying their equipment, so they're easy to use. They can get crowded and you do need to avoid poking your neighbour with a ski pole. They won't appreciate it.

Drag lifts
As the name suggests, these simply drag you up the mountain on your skis or snowboard. They are usually found on beginner slopes. You're likely to see button lifts, in which you put a round seat between your legs, and T-Bars, which have a large T-frame as a seat, which can take two people.

Magic carpets
Beginner areas often have magic carpets, which are travelator-style belts that you simply step on and off while wearing your skis or snowboard. They usually move very slowly, so you have plenty of time to hop on.