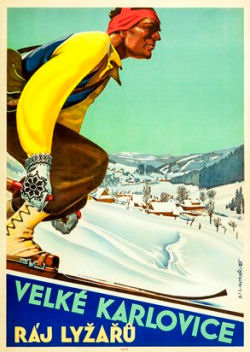 The website has the largest archive of original skiing and alpine posters – and they all come from a private family collection. Website owner Russell Johnston explains.
'The ski poster archive was originally built by my father, Robert W. Johnston, an RAF navigator stationed in post-war Europe, at which time he began the collection which passed to me in 2004,' said Russell. 'But I didn't know about his collection at first. In fact I had no idea.
'You can imagine my surprise when I discovered hundreds and hundreds of dusty old mailing tubes stacked in the family attic. Since then I have spent time carefully cataloguing and conserving the archive (a process which continues to this day), first going online in 2005.
'My dad was a real magpie. He collected everything, including so many first edition books that I can't count them. He was a professional footballer in Scotland and Canada after he was de-mobbed. He also liked skiing, watching it on TV whenever he could, but, as far as I can tell, never skied in his life!'
Ski advertising dates from the 1920s, when the first ski resorts commissioned artists of the day to create posters for travel agencies, railway stations and other public places. As the public's passion for the sport grew, the advertising changed with the times from art deco through Sixties psychedelic to the present day.
'Original ski posters have become increasingly sought after, not only because being so rare many continue to escalate in value, but also because it's a great way for skiers to remember a special holiday or re-live those fabulous experiences on the slopes,' said Johnston. 'Most customers, however, choose to buy simply because they love a particular poster, image or ski resort.'
The entire poster archive can be viewed at
www.originalskiposters.com
. Originals cost from £400 to £20,000. Bespoke fine art prints cost £125 for a full size replica.