On a snowboarding day, my favourite alarm clock is the sound of bombs going off. Unlike European resorts, US ski areas – and your travel insurers– allow you to ride off-piste everywhere within the area boundaries, so lots of time is spent avalanche-proofing the mountains. The ski patrols blast snow faces using hand charges and Howitzer cannons – powerful artillery guns – some of which have seen service in Iraq.
The North Tahoe area has the biggest concentration of ski resorts in North America. I count 12. And they get so much snow – on average 11.5m a year. Some call our particular kind of snow 'Sierra cement' because it is slightly more moist than the stuff in the Rockies, but I think it's the best in the world. The moisture allows the snow to stick to the mountain, so you can ride 55 to 60-degree pitches, plus there's less avalanche risk. Tahoe snow also recovers well from icy days – there's 'no dust on crust', as our storms tend to come in warm and leave cold, which lets the snow bond to the ice. All you need is a fresh 10-20cm and you have a bottomless, beautiful, Champagne, cold-smoke powder day.
If you're not a powder hound like me and the other locals, the resorts do a great job grooming the pistes, and there is always an intermediate groomer that you can take from the top of a mountain all the way down. Even in nasty storms there are always lifts open top-to-bottom somewhere, usually Northstar and Homewood, as they're the most tree-sheltered mountains. Plus there are special flexible passes that let you pick and choose your ski spots on a day to day basis (details follow).
There's just no excuse for you not to be skiing here!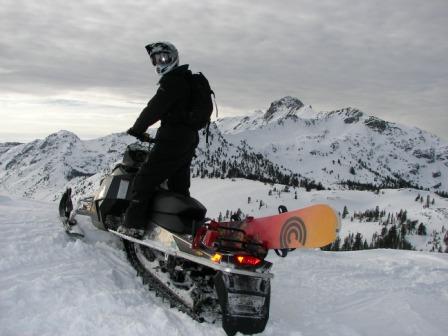 DAY 1 - Squaw Valley
Extreme skiing was born here when film-maker Warren Miller came in the late Seventies and saw nutters throwing themselves off massive cliffs, skiing chutes and supersteep terrain. I can't forget the scene last January when the first of the 5m of snow that would fall that month arrived. In the morning it was like a boardercross competition at the first lift to open, as everybody, including pro's and gold medal-toting Olympians, jostled for position, elbows out, in the race for fresh tracks. By the end of the month, everyone had relaxed as they were so tired from trying to make the most of the powder. It was hilarious. Everybody became polite – 'No, after you!'
Today, a beautiful bluebird powder day, I'm riding with my best friend Kelly, and we're doing the powder circuit. You can ski untracked powder all day long because the lifts open in a sequence. You have to keep your ears open for the sound of the ski patrol bombs moving further away. That's when you know the next lift is going to open, and it's a race to the next chair. Starting at KT22, we move on to Headwall chair, then the Siberia chair, then Granite Chief, Broken Arrow and finally Silverado. When the planets align in your favour, like today, it's amazing. Everybody whoops and hollers for us from the chairlifts as we pick apart the mountain and kick up powder plumes way over our heads.
If you're wondering where to stay in the area, Squaw Valley is a good bet because it's ski in/ski out. There's also better après here than at some of the other well known resorts of Lake Tahoe, because locals and visitors mingle together, rather than being dispersed throughout casinos, hotel restaurants and regular locals' bars. The food's great at Blue Coyote grill or you can grab a handroll and beer at Mama Sake, and hang out on the outdoor deck with live bands playing in the background – it's one big party.
Continued...
---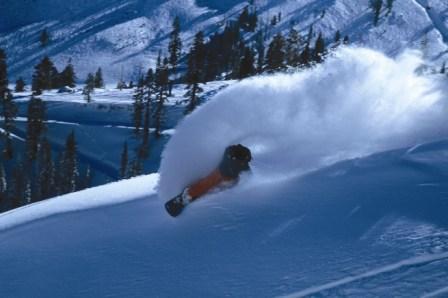 DAY 2 - Homewood Resort
My absolute favourite thing at Homewood Mountain Resort is taking powder turns on The Face. It's a low-down slope, close to the Lake Tahoe's west shore, and on its dramatic high-speed descent, views of the blue water loom between powdery face shots – a surreal experience. With its neat, wind-protected tree runs, Homewood is great for families. There is a separate ski lodge for children's skiing and snowboarding called the Snow Rangers' Centre. No expert skiers come whooshing past here, they tend to be diverted to other areas on the mountain, so it's a great area to nurture kids, helping them gain confidence and progress quickly. If I had kids, that's where I'd leave them!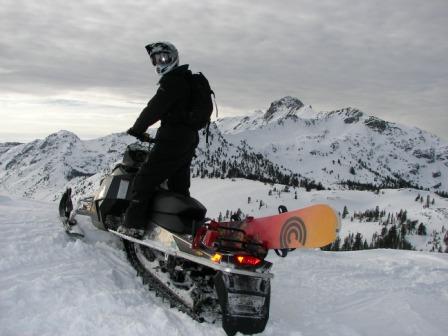 DAY 3 - Alpine Meadows
This is one of the resorts here that has an open boundary policy, which means it's not illegal to ski out-of-bounds. There are no limits and today I'm making it my own private powder playground. Once I'm done working through the in-bounds stuff, I grab my avalanche equipment (Tranceiver, check! Probe, check! Shovel, check! My pal Jeff, check!) and hike from the Scott chair to a run called Munchkins. This is expert terrain, packed with rocks, steeps, chutes, and mandatory airs, which can be drop-offs up to 10m high. Follow someone with an Alpine Meadows sticker on their helmet and you'll find you're in good hands… or in over your head… or both! Once we've made it down Munchkins, we reach the road and I put my thumb out to hitch a ride to the lift station. The second time around, we get dropped off by the lodge terrace where a few locals are having an après beer, while others whip up a barbecue in the car park.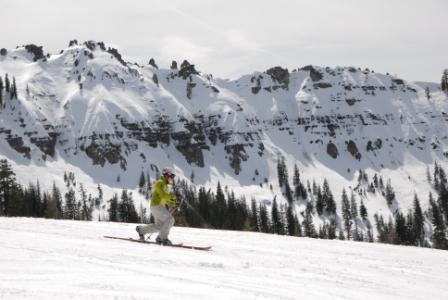 DAY 4 - Sugar Bowl
If you're heading back to San Franscisco to fly home (thankfully I'm not, just yet), Sugar Bowl can offer a dramatic way to end your holiday. Dating back to 1939, Sugar Bowl is the oldest resort in California, and for a few years was even owned by Walt Disney. There is a lot of heritage here, but in the past ten years, a new base lodge has been built and the whole lift system has been replaced with high-speed quads. I luck out with another perfect day – there's not a cloud in the sky. Sugar Bowl has some terrain for everyone, but I'm after adventure and head over a ridge to The Pallisades. This is Alaska-style terrain – ribbed spines, chutes and cliff drops, with over 300 vertical metres. One chute is so steep it's a no-fall zone. I scope it out three times from the chair, noting where I have to turn so as not to tumble over the edge of a cliff. I pull it off making a hairy turn into the dog-leg of the chute, and nail the best Sugar Bowl run of my life.
DAY 5 - Northstar
Northstar's in the ascendant right now. It has a high-end new village, although there's still older and more affordable lodging around. Another real shot in the arm came two years ago, when Jake Burton of Burton Snowboards designed and built The Stash here, a radical terrain park for boarders and skiers using natural objects as features, for instance bent-over trees for rainbow rails, and a wooden cabin whose roof is a jump. For many, the groomed runs here make it a favourite, but it's famous too for its incredible freeskiing and freeriding. Riding through old grove pine forest, with massive well-spaced trees, I crank up to three-quarters speed – in most other, tighter glades this would be suicide! I end the day sitting at the village's cute fire pit listening to live music and defrosting. As my face warms up the ice-pack from a day full of face shots melts out of my beard.
Continued...
---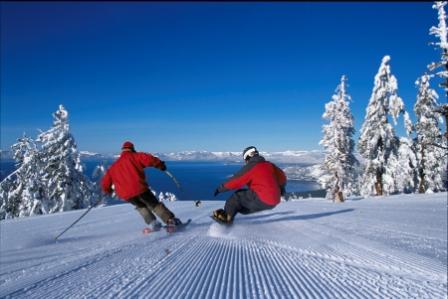 DAY 6 - Diamond Peak
At Diamond Peak, I drink in the beautiful views of the lake, backdropped by snow-choked peaks, and decide to indulge myself. The highlight is catching Last Tracks, which happens every Saturday in peak season, starting in February. At about 4pm, as the lifts start to close at dusk, I hop on the last chair to the mid-point Snowflake Lodge. Then there's a wine-tasting from a featured Californian winery and appetisers to match. As I sample a few choice grapes, piste bashers are grooming my route down for me, and as the sunset's colours unfold across west Lake Tahoe, I cruise down on perfect, fresh corduroy.
DAY 7 - Mount Rose
The radical, expert terrain of The Chutes at Mount Rose was closed for years, as the avalanche risk was thought to be too great, but this is the fifth year they have been open again to the public. They have the steepest tree runs in the Lake Tahoe area, at 40 to 50 degrees in pitch, with over 450 vertical metres. As they are north-facing, they hold new snow for two or three weeks. My pals and I nip through the gate entry to The Chutes, race to find beautiful pockets of snow that have blown in through the avalanche gates and bomb downhill, trying to cross as few tracks as possible on our way down. From the bottom of Mount Rose it's only 25 miles to Reno airport, so this bad boy makes a perfect final run of your trip if you're flying out.
Snotes:
North Tahoe Resorts, California and Nevada, USA: www.gotahoenorth.com
Squaw Valley: www.squaw.com
Diamond Peak: www.diamondpeak.com
Alpine Meadows: www.skialpine.com
Northstar: www.northstarattahoe.com
Homewood Mountain Resort: www.skihomewood.com
Mount Rose: www.skirose.com
Sugar Bowl: www.sugarbowl.com
Getting there: Fly to nearby Sacramento with KLM (klm.com) or BMI (flybmi.com) from London Heathrow American Airlines (aa.com) and Air France (airfrance.com) are frequent fliers to Reno. You can get the North Lake Tahoe Express bus from Reno to your resort. From Sacramento hire a car, it's about an hour and a half away. Further away (four hours by road), San Francisco airport is served by British Airways (ba.com), Virgin Atlantic (virgin-atlantic.com) and United Airlines (united.com)
Season dates: Dec through April (Alpine Meadows and Squaw Valley generally stay open through May)
Lift pass: All resorts sell daily passes, and the Ski North Tahoe Interchangeable Ski Pass (1-day £37, 7-day £253) gives access to all the resorts covered here. It allows flexibility as to which days you ski, valid season-long until the days you have bought run out, which is convenient if you want to hit the spa, check out the great resort of Heavenly, or one of the others not covered by the pass, take a boat trip on Lake Tahoe, hike in the backcountry, or just nurse a hangover (on the Nevada side of the lake, the bars never close!)
Image: shutterstock.com