Once Austro-Hungarian, then Italian, then German (almost), family fave Kronplatz has a unique cultural pedigree that makes a ski trip richly indulgent. So how come Brits don't know about it, asks Gabriella Le Breton
It's not yet 9am when I step out of the gondola into bright sunlight and crisp, clean air at 2,275m to take in the breathtaking 360-degree mountain views from Concordia, the peak of Kronplatz mountain. A pleasant morning ski buzz hovers as my fellow early risers tuck in, zip up, click in and attempt a few half-hearted stretches before launching themselves down the hill.
Resisting the urge to bomb straight down the beautifully groomed black Silvester and Herrneg pistes that wind either side of the parallel gondolas that whisk skiers up Kronplatz, I stop instead to admire the spectacular views from the Concordia bell tower. With the help of a bronze replica of the vista, I pick out Italy's sun-drenched Dolomites dominated by Marmolada to the south, Austria's Stubaier and Ötztaler Alps to the east, and to the north the Zillertal peaks.
'Europe's best-kept secret!', 'true hidden gem' – phrases all too often used to describe small towns near or connected to big-name resorts. Kronplatz, however, appears to be the real thing – unnoticed by most British skiers (and major tour operators) for more than 40 years, despite being a large, accessible resort that comes complete with a piste conceived by Olympic downhill design don Bernhard Russi.
The resort encompasses a mountain of the same name, 13 surrounding villages and the town of Bruneck. Located in the Dolomites just 90 minutes from Innsbruck, the ski area has more than 100km of predominantly gentle slopes, a handful of challenging blacks, one of Europe's most advanced lift systems and most extensive snow-making systems, some 40 mountain huts and restaurants, and children's facilities on and off the mountain.
So how does a resort of this size and quality elude the British ski pack for so long? Perhaps it's the slightly schizoid and quirkily charming cultural identity. Kronplatz (also called Plan de Corones in Italian) lies in the Italian Südtirol and was part of the Austro-Hungarian Empire until 1918, when it was annexed by Italy and grandly rebranded 'Venezia Tridentina.'
Under Mussolini's rule, German place names were translated into Italian and 'native' Italians were encouraged to settle in the region. It nearly crossed over again, when its German-speaking majority sought reunification with the Fatherland, but the Allies after the war denied the request. Today, most locals speak both German and Italian, as well as Ladino (an ancient Rhaeto-Romance language of the Dolomites), and the towns and villages have retained their German and Italian names. However, the mighty Kronplatz mountain, rising out of the Puster valley like a giant panettone loaf smothered in creamy mascarpone, leaves no doubt about which country's the papa here.
This visitor soon discovered the benefits of Kronplatz's multi-cultural heritage. It's as though the Südtirolers have cherry-picked the best characteristics from both Austria and Italy. Hotels are spotlessly clean and well-run but ooze warmth and atmosphere, the food is a winning combination of hearty Germanic röstis, meat and cheese dishes and rich Italian pastas and risottos, and the slick lift and ski bus systems operate with brutal efficiency ('Those who rest, rust', as they say in Germany). The attitude to skiing, meanwhile, is distinctly Italian, with more importance attached to finding the mountain's best coffee and sunbathing spots than tracking down hidden powder stashes.
Continued...
---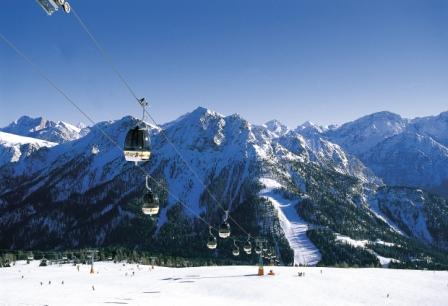 For my first time in Kronplatz, I shunned the ski in/ski out convenience of the villages of Olang and San Vigilio in favour of the bright lights of Bruneck (Brunico in Italian), a cute medieval centre that masks its 13th century origins with a sharp cosmopolitan veneer. A surprising number of trendy bars and clubs are tucked away in quiet side streets, although the choice of restaurants and shops is limited. Fortunately, my holiday address, the Hotel Post, serves good food and has a central location close to both the nightlife and the bus stop of the free shuttle that by day whisks townies off to the Kronplatz base station Reischach in under 10 minutes. Twelve minutes more on one of the two parallel gondolas and you're basking in the wraparound views from Concordia.
Kronplatz's broad plateau is ideal terrain for beginners, helping them find their ski legs in a high Alpine setting before they progress down a network of long, gentle blues that stretches across the mountain's backside. The quiet, wooded runs down its steeper sides are big with intermediates, some building up to the black pistes above Reischach and San Vigilio.
The resort's speedy lift system means confident skiers can pack in a lot of runs each day. The truly mileage-hungry can invest in a Dolomiti SuperSki pass which for a fraction more than a Kronplatz pass, provides access to a colossal 1,220km of pistes across 12 resorts, several within an hour's drive.
The children's facilities are impressive too. The local Scuola di Sci and Snowboard Kronplatz starts all its classes from Concordia, also the base for 'Croniworld', a specialised ski school for three- to 12-year-olds. Here, six different ski parks support progress from wobbly first carves to jumping and slalom races. Croniworld also operates two supervised children's restaurants, both of which offer babysitting services for under-threes, so parents can pick up fed'n'watered littl'uns at 1pm, having spent the morning burning up the slopes before a romantic lunch in a cosy mountain hut.
Although Kronplatz has escaped the UK's attention, it's very much on the radar for most Europeans, and swells with tiny people and their adult escorts each Christmas and Easter. Finding a clear line on the piste becomes almost as challenging as tracking down a seat for lunch or fighting your way onto a gondola in a sea of excited eight-year-olds.
So, if you're rearing the next Martin Bell and Chemmy Alcott and don't have to travel during school holidays, Kronplatz is right up your alp. If not, Kronplatz is still a great resort for a family – just ensure you book your accommodation and lessons in advance and reserve a table for lunch if you're eating on the mountain. And accept that your kids might come home saying 'Whatever' in three new languages.
Continued...
---
Snotes
Kronplatz, Italy
www.kronplatz.com
Getting there: Nearest airport Innsbruck (115km). Airlines include EasyJet (easyjet.com), Transavia (transavia.com) and British Airways (ba.com). Terravision (terravision.eu) operates a shuttle service to Kronplatz on weekends and Resorthoppa (resorthoppa.com) offers private transfers
Tour operators
High-end: J2ski (j2ski.com)
Mid Range: Neilson Active Holidays (neilson.co.uk)
Season dates: 29 November – 15 March
Vertical drop: 1,325m
Terrain: 105km of pistes
Snowmaking: Kronplatz has one of Europe's most extensive snowmaking systems, with 264 cannons, covering every slope
Lift passes: daily – from £29; weekly (6 days) – from £150
For advanced skiers, try the Dolomiti SuperSki pass (6-day – from £161), which gives access to nearby resorts such as Alta Badia, Val Gardena and Cortina d'Ampezzo
Mountain munchies: With 40 mountain huts to choose from, you won't go hungry. Try Huberalm, Geiselberghütte and Oberegger Alm. Best for an afternoon rest with cracking views is the Biwacco
Guiding: The Scuola di Sci & Snowboard Kronplatz (school-kronplatz.it) runs day tours for advanced skiers from £42 per person
Snowpark?: The brand-new Snowpark Kronplatz is due to open this season
Downtown: Kronplatz is unusual in that the resort encompasses a mountain, 13 villages and a town, Bruneck, which offers more in the way of nightlife. San Vigilio is atmospheric, while Olang's hotels tend to be larger and are virtually all ski in/ski out. The remaining villages are better suited for families looking to combine other activities with skiing
Hello: Hoi
Thank you: Donkschian
One sauerkraut pizza strudel with ice cream, please: A karut pizza schtrudl mit eis bitte
Highlight: The acres of gentle skiing and numerous, quick gondolas
Bummer: The hordes of children during peak holiday times
New this season: The Snowpark Kronplatz
Images: Foto Zardini, Tourism Association Kronplatz, Archive Alto Adige Marketing