Out here in the national parks of Banff and Jasper, which drape the slopes of the eastern Rockies, we're in one of the great wilderness frontiers.  Today's adventure seekers pile their possessions into pick-ups rather than wagons, but the route for many has been the same – a long trek from 'out east' across the boring plains of Manitoba and Saskatchewan, names from a school geography text book, and as flat as the page they're written on.
Marmot Basin, Jasper
Dave, my guide at Marmot Basin, Jasper's unpretentious ski resort, is from a small town somewhere in Newfoundland. He came here as a young man, loved the wild places where elk and grizzly roam and learnt to ski on slopes that slide off the mountain faces like ice cream running down a cone.
Now retired, he works as a volunteer mountain host, showing visitors like me around his local hill (Canadians do have this charming habit of calling their mountains hills: when a country is this big, everything is relative, even the bits that point up).
The arrangement suits him. In return for a season's pass, he gives up a few hours a week to ski with guests, pass on local knowledge, such as the best slopes for the morning sun and where to find the knuckle-chewing drops for the young bucks who want to hurl themselves down the steepest slopes.
Anyone can tap into this, not just visiting ski writers, and as we sit on a chair climbing over the tree-lined runs, he tells me that we have the British Army to thank for Marmot. 'Back in 1942, your army used Marmot Basin for alpine training manoeuvres,' he says. 'They built a crude trail for snowmobile and snow cat transportation of the troops, and opened up the hill.' The story since has been one of steady growth, wise investment and smarter ways to get skiers up and down the mountain.
Dave wants to check me out, so we start off on Paradise – a heavenly blue – before we set off in search of the lovely dry, fine powdery snow that had fallen a couple of days earlier, dropping into some lively black diamonds off Eagle Ridge and skiing wide open high alpine bowls off the Knob. We're not the first up here since the latest snow, but there's still plenty of room to kick up a mist all our very own.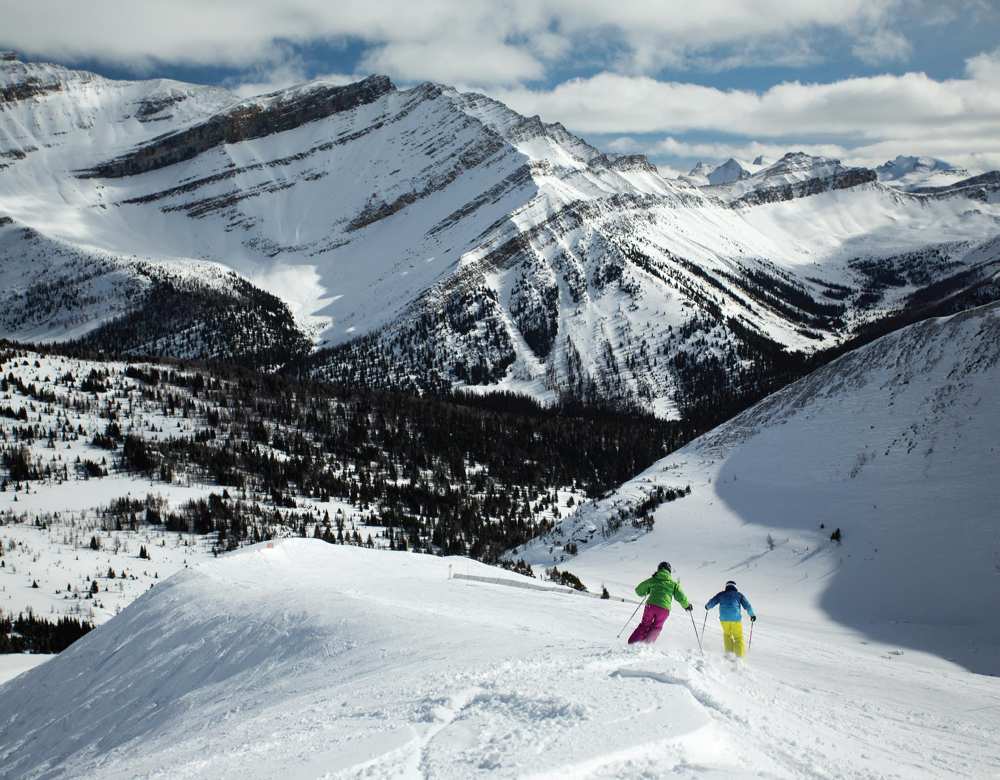 This is early March but Marmot hardly seems busy. And yet during the long ski season (early November to first week in May) some 90,000 skiers and boarders take to its slopes, which is around 3,000 a day. And they just...disappear: weekdays are quiet and you really feel you've escaped the crowds, which makes for some serene, stress-free skiing.
I skied the signature black, Jasper Avenue (but grimaced down a lumpy, bumpy black diamond called Slash). The steepest chutes were in the Eagle's East zone – a string of double black diamonds that really keep you on your toes: this may not be backcountry, but Alberta's mainstream resorts have some impressive powder-filled downhill. It's a shame, then, if you come all this way, not to explore as many of them as you can.
Coming to Canada to ski is not like going to the Alps, where you can happily fetch up at your resort, ski the week, and go home without worrying that you didn't even get to the next valley. Canada is so big that coming here and just skiing one resort is like dipping your big toe in the bath and saying you've washed.
All but a fraction of UK visitors to Alberta come to either Marmot, in Jasper, or 'the Big3' at Banff/Lake Louise – Lake Louise, Sunshine Village and Mt Norquay, located in the beauty of Banff National Park. Tight park regulations mean no over-development around the actual resorts, but it also means they all close early. No tipsy skiing down the hill from a bar on the slopes. The buses are ready to ship you out back to your hotels around 5pm. Which doesn't give you much time to linger over a few beers in the resort. Save that for the downtown bars and restaurants.
Out here, pretty much every town is a frontier town. Jasper's main street has a railroad along one side, while the other is lined with shops, bars, restaurants and hotels. It has 1,900 hotel rooms and cabins, but it's not Alpine chocolate-box cute. That said it's also a living, breathing community town. And though the grizzly and brown bears are hibernating now, you'll meet elk strolling along the frozen road.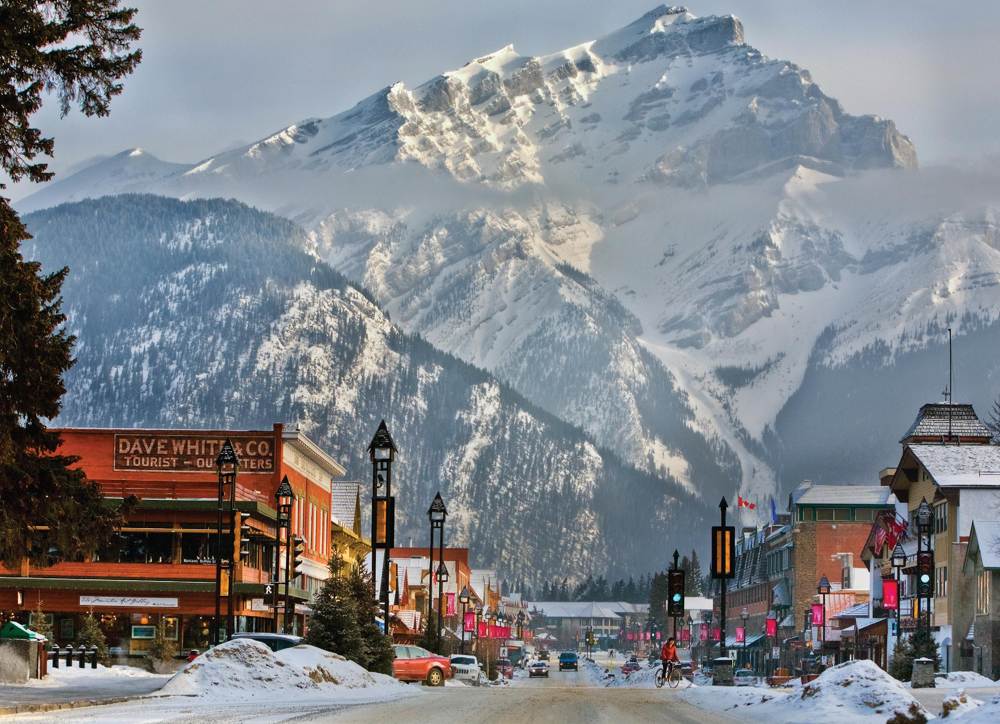 My host took me to his local hang-out, the Dead Dog pub, a typical Canadian bar, walls lined with TV screens showing endless ice hockey. I told him I was heading to Lake Louise next. 'Ah,' he said. 'You'll be meeting Sandy, then.' 'Sandy?' I asked. 'Sandy Best...he's a Brit, like you. Bit of a character.' 
Laconic and enigmatic. In response to my quizzical look, he did everything but tap his nose...You can't miss Sandy Best at Lake Louise. He's the one wandering about in the cowboy hat, pumping flesh and acting like he owns the place. Which, in a way, he does. Sandy is indeed a Brit. An ex-ski writer, he first came here a decade or so ago on a press trip, told his hosts how they should run the place and was offered the job of ski director to put his mouth where their money was!
Lake Louise
In this land of larger-than-life characters Sandy Best is now king. He's full of stories and knows how to tell them. Over a magnificent kleftiko at the Balkan, a cracking Greek restaurant in Banff, he told me how he started working here without a permit and at one point was practically frogmarched out of the country before a phone call to a friend in a very high Canadian place, secured him the necessary leave to stay and make his mark.
It was Sandy and his team at Lake Louise who pioneered the concept of the 'ski friend' – the mountain host scheme so popular throughout Canada. He set me up with one of his yellow-jacketed ski buddies to show me around and dived back into the crowds to meet
and greet more skiers. 
A fresh fall of fine dry snow – and lots of it – had turned pretty much every run into a powder experience. Above us, the dark, lowering clouds were cracked by the sun, creating the kind of eerie half-light you only really appreciate in ski resorts.
Surrounded by wilderness but not by people, it's easy to forget you're not in some remote backcountry escape where only the most adventurous will go. This is a proper, family-friendly resort that just happens to have an incredible variety of terrain, perfect for those looking to progress from piste to playground. You can drop into deep, snow-filled runs alongside groomed ones and put your technique to the test.
I had a ball playing with the mountain in this way, mixing bits of off-piste with fast cruising runs and sharp, testing black diamonds, including the exhilarating, thigh-shredding men's and women's World Cup downhill courses.
Sunshine Village
Same rules apply at Sunshine Village, at Banff , a few more miles down the road. Alas, my only scheduled day in Sunshine arrived with a distinct lack of it. Low cloud and drizzle did not augur well as I drove to the base area, 15 minutes from Banff town, where the mountain hosts greet you with hot chocolate for the 18-minute gondola ride up to the village itself.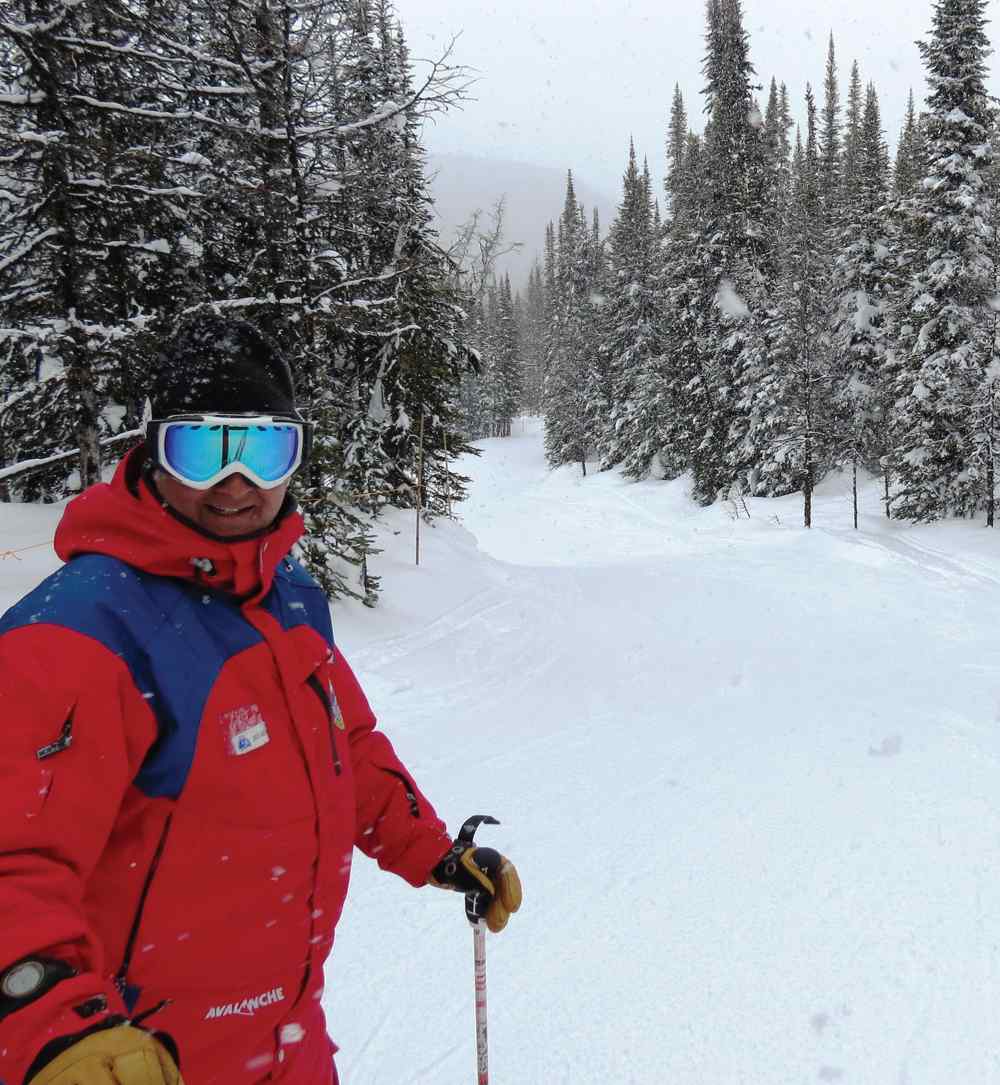 I hooked up with an instructor, Julian from Madrid, who'd offered to show me around. But what had been drizzle at the bottom was now a stinging blizzard and disorientating whiteout conditions prevailed pretty much everywhere above the treeline.

The upside was a lot of fresh snow to play in and Julian led the way down a couple of little-used tree runs near the Strawberry lift: Surprise and The Face. The snow was uncharacteristically heavy though – normally Sunshine gets around 30ft of lovely dry powder (warm air from the ocean meets cold winds from the east), but there was a lot more moisture in what was falling today.

We took the Continental Divide chair up to the top of Lookout Mountain, where, on a clear day, you could see Mt Assinboine, Canada's Matterhorn, and gaze across the endless vistas of Sunshine Meadows. Today, though we could see a whole lot of nothing – and ski-stumbled blind back down the hill for a beer.

As ever on a road trip, you have to move on, and next day I hit Mt Norquay – third of the Banff/Lake Louise trio covered by the same 'Big 3'skipass. Norquay did its best to console me: it was the first ski hill to be created in Western Canada, back in 1926, when Austrian, Swiss and German engineers working in the area were among the early pioneers. And it's deceptive. Just because the ski terrain is the smallest of the three – a mere 190 acres – don't be fooled into thinking it's easier here. In fact, 44% of its runs are classed as advanced and another 36% intermediate.

It's used as a training ground by Olympic and World Cup skiers, and many of its short, sharp blues such as Illusion and Knight Flight would be black diamonds on any other hill, while the super-fast – and super-tough – Black Magic is the steepest groomed pitch on the tri-pass and one of the steepest groomed runs in Canada. They told me that after I'd skied it.

It had been a great road trip. However, sitting in my opulent hotel room on the eve of my departure, I felt a pang of regret that I had not got the best out of Sunshine. I checked the weather forecast for my last morning (fine and dry) and did the maths on how long I needed to drive the 90 miles to Calgary to catch my flight home. Plenty of time. I rang my hosts at Sunshine and asked if I could spend my last morning there...

What a contrast from the other day. I stepped out of the gondola to a bustling, smiling circus of weekend skiers. Blue skies, breathtaking views and those whiteout runs now revealed as fabulous scenic slopes. And still some gorgeous powder bowls to give my legs a last workout. I rode the lifts like it was my first day, full of joy and excitement, and grinned stupidly as I flew down hill after hill for a rampaging three hours. Sunshine had delivered...

SNOW HOWLOCATION

Jasper and Banff National Parks, Eastern Rockies, Canada

GETTING THERE

Nearest airports - Calgary (90 miles from Banff) and Edmonton (224 miles from Jasper)

TRANSFER

 Car hire is widely available at both airports. 

WHERE TO STAY

Snow stayed at The Sawridge Inn, Jasper (

www.sawridgejasper.com

); The Fairmont Lake Louise (

www.fairmont.com/lakelouise

) and the Fairmont Banff Springs (

www.fairmont.com/banff-springs

).

TOUR OPERATOR

Neilson, Inghams, Virgin, Thomson and Crystal all offer ski holiday packages to Alberta.

USEFUL LINKS 
www.skibig3.com

; 

www.skimarmot.com; www.jasper.travel.com; www.travelalberta.com; www.skilouise.com; www.banffnorquay.com

;

www.banfflakelouise.com

I've been in Alberta three days and I still haven't met anyone who was actually born here. Everyone is from somewhere else.