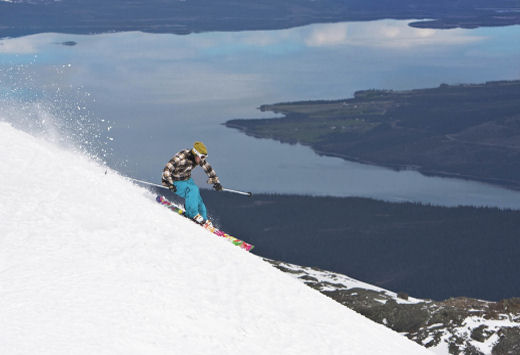 It's no wonder Sweden gave us Ikea. This remote wilderness with its mile after mile of pine forest, sliced by thin white trunks of silver birch, is the ultimate flat-pack landscape. Where you or I might look out of the bus window and think 'Ooh, more trees', at some time a clever Swede must have thought 'Oh, a bookcase, a wardrobe, a bed... a photo frame for a picture of pebbles'.
You have to love pine trees to love this land. In the taxi from Ostersund airport to Åre, I keep nodding off. Every time I wake, we seem to be in the same spot.
It never rains in Åre in March, I was told. It is now. Staring out of the hotel restaurant window, watching the rain follow the fall line down the glass pane, I flick through the pages of Åre's tourist magazine, Magasin Åre. It's full of pictures of extreme skiers on snowy slopes that would not disgrace British Columbia; trees buckling under the weight of the white stuff, lift pylons turned into ice sculptures.
 However, here, now, at village level, the snow is melting. Maybe it's snowing pure white flakes higher up, we speculate hopefully, peering up at an impenetrable layer of dark cloud that's draped itself over Åre's upper slopes. Not that there is much of a higher up. This is Sweden not the Alps. Maximum height 1,420metres. But even in March – especially in March – we should be able to ski Åre's peak Åreskutan and beyond, hugging the curves of the mountain's magnificent 'Baksidan' where the off-piste beckons. Normally at this time there would be abundant, lovely snow. Elevation would be irrelevant. This mild weather is at least a month early.
So what's to do in Åre, when the snow's like mashed potato and the weather's gone haywire? Here are Snow's alternatives, your Either Åre.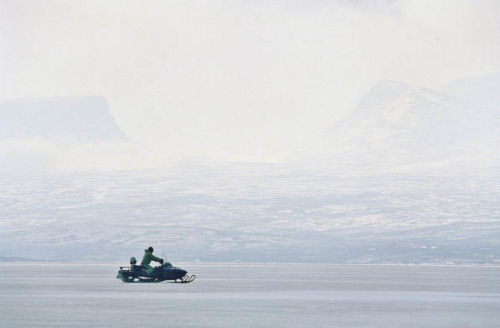 1 Go snowmobiling on the frozen lake
Er, actually, strike that. We're just being told snowmobiling is cancelled. The frozen lake is thawing and we'd be more likely to go snowmobiling in the lake. Another time...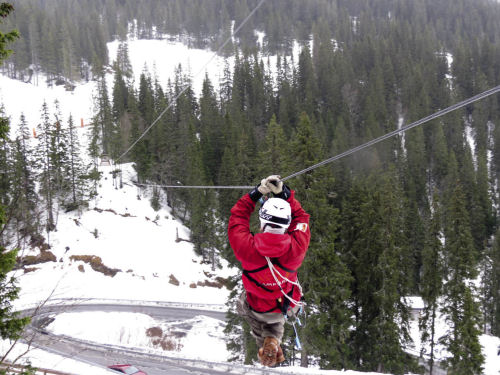 2 Go ziplining
Enter Åre's outdoors double act, Fredrik and Matthias, with a load of harnesses and helmets. They work for Åre's leading adventure specialists, Camp Åre, and have come to take us ziplining. It's as easy as falling off a log, in fact, that's exactly what it is: falling or throwing yourself off wooden platforms in the forest canopy. As we gather for the first of four runs, our chipper guides hook us on, tighten harnesses and reassure us that all we need do is 'curl up like a Swedish meatball'. We then step into space, let the harness and gravity take care of the rest and try not to use our faces as airbags when the line hits the brakes.
For the second run we turn round, put our hands behind our back and, keeping our body straight, fall backwards like a felled tree. There is a long, long second of heart-stopping freefall before the harness kicks in. Gulp. Wow.
Camp Åre operates two zipline trails, green and black. Whatever the weather you can at least do the green.
3 Eat well

One reason why you might choose to come to Sweden rather than the Alps is the food. It's delicious. We dined on reindeer, elk, Arctic char (a white fish), warming goulash stew and sharp lingonberries. Dessert lovers have to try the cloudberries – a peachy coloured raspberry fruit with a tart, musky taste, usually served warm with ice cream. Åre is blessed with 50 restaurants, including some of the best outside Stockholm. Try the Villa Tottebo – moved in its entirety in 1995 on huge rollers from its original home near the Hotel Tott – or the trendy South American tapas of Supper. It's not cheap – nothing is in Sweden – but Scandinavian cuisine is wonderfully fresh and nutritious. Better than burger and chips or spag bol in a mountain-top cafeteria...


4 Test Sweden's claim to have invented après-ski

The Swedes reckon they invented après, which, in a linguistic quirk, they call after-ski. Other countries might argue with this extravagant claim. Other countries don't have Patrik's Combo.

Patrik's Combo were doing a three-day residency at our hotel, the Tott. The Hotel Tott is elegant, upscale, classy and adorned with some magnificent vintage ski posters. Patrik's Combo were adorned in matching military-style jackets and red trousers and played a set of covers that was unpretentious, boozy and cheesy, but cracking good cheesy. You probably wouldn't want their version of Deep Purple's Smoke on the Water – played on car horns – on your iPod, but you have to love them all the same.


5 Go skiing anyway
It's what we came for: to sample the Swedish snow and revel in the magnificent scenery, most of it including Åre's stunningly beautiful Lake Kallsjon. So, after handshakes with Jesper, our guide from SkiStar, we ease into boots, swing skis over our shoulders and head for the nearest lift, the Tottliften.
It's a T-Bar, as are most of the lifts in Åre. They are less prone to closure due to ice than chairs or bubbles. Still. It's a T-Bar. With the top of the mountain invisible, let alone open, we cruise a few reds and blues as we head over to Bjornen. It's the family area, perfect for kids and beginners. Here you will find a ski school, plenty of self-catering ski-in, ski-out accommodation and gentle slopes, fewer crowds, and a fairytale track where children can play with wooden fells characters. Ironically, when flat light and rain-spattered goggles are the order of the day it's where the best visibility and best snow are to be found.
Sweden has 200+ ski resorts (who knew?). Most are mere bumps on the landscape, but Åre is the real deal. When the sky is blue and the snow pristine, you know this landscape would be stunning, the views from all angles showing a pure white snowy lake glistening in bright winter sunshine. Today, however, everything is in monochrome, like a scene from a Scandinavian crime drama: dark lowering clouds pressing oppressively on the pine-covered slopes, the trees betraying no hint of green. The lake dominant, but dull and brooding. The scenery has a moody melodrama, but I yearn for a shaft of sunlight to pierce the northern wilderness.
I'm starting to wonder where everyone is, and I soon find out. They're all on the tree-lined slopes above central Åre, where the snow is at its mushiest. Åre is known as Stockholm-from-home but this stretch is where the '08s' as they are called (after the capital's dialling code) come to see and be seen. A couple of comfortable six-man chairs probably help explain the appeal. This is also where the world's fastest female alpine ski racers come for World Cup events. Today, alas, with the drizzle still blowing in the wind, it's not the best place for mere mortals to ski, so we head further over towards Rodkullen where the snow is less churned and you get panoramic views across the fells. Or you would if the cloud wasn't sitting in a solid bank above our heads.
Jesper is apologetic. This is end of the season stuff, he says, though he adds that the odds are usually about 50-50 on the weather keeping the upper slopes closed. Ice often means that even on a bluebird day after a dump the top lifts are frozen. I share a T-Bar with an 08er, who ruefully offers that in the eight days he's been here this trip, the upper zone has only been open for one. But when it's good, he says, it's just superb…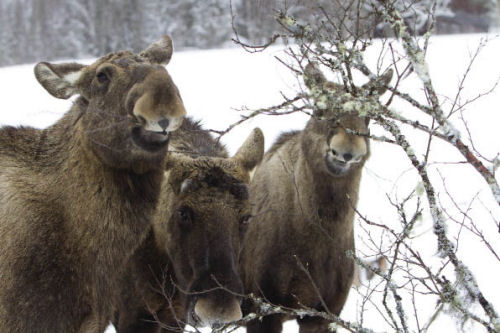 6 Visit the moose farm
Admittedly this was a stretch, even for your snow-starved Snow man, but people I met raved about it. They learnt that if you are faced with an angry moose you should hide behind a tree, and that if you kiss a moose you will become irrestistible. Not sure if that's just to other moose, though.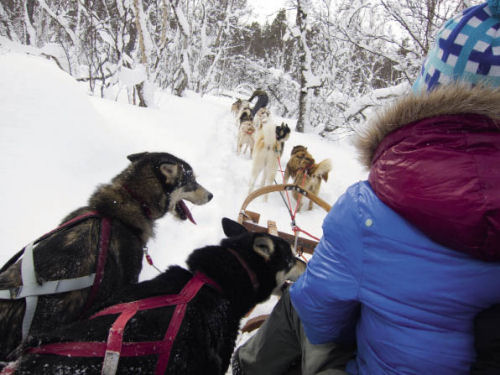 7 Go dog-sledding
OK, it's something of a Scandinavian default 'other activity', but if you haven't done it before, it's well worth an hour or two at least of a stay here. And it is extraordinary just how excited the huskies get before they are allowed to start running. Great one for families.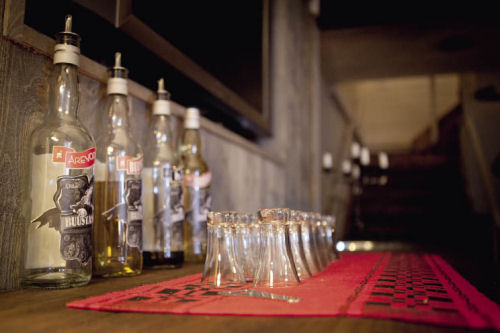 8 Taste Aquavit
Buustamon Fjallgard, a busy, cosy restaurant tucked away on the slopes above Rodkullen, is the place to sample this Swedish version of schnapps. A small distillery in the basement, one of Sweden's few legal ones, welcomes around 1,000 people a year (at 200Skr each) to taste its three drinks – a 37.5% vodka, an aquavit flavoured with fennel, cumin or dill plus Scotch whisky, and hojt, a more syrupy schnapps with about 40 different spices. Sadly, you can taste but you can't buy – except as a tot in the restaurant – as the alcoholic trio are only sold to the official government off license or other restaurants.
9 Talk to people

Neilson is the only UK tour operator to run packages to Åre, with about 70 people staying in their assortment of chalets, self-catering lodges and the Hotel Tott in a good week. But you won't be starved of conversation as every Swede speaks perfect English and they seem to quite like us Brits. So get chatting – on the lift, in the bar, even in the sauna... And try to learn a bit of Swedish. It's a tongue-twisting language, but even pratar inte Svenska (I don't speak Swedish) will get you an approving smile.
10 Go skiing again

Despite the weather on Snow's trip, no two days were alike. And go first thing. You might just catch a slope where the overnight rain has fallen as fresh snow – higher up the piste anyway. We did, and it made our day.




Snow How
GETTING THERE
620 km from Stockholm (6-8 hours drive)
Nearest airports Ostersund (80 km, transfer approx 1 hours); Trondheim, Norway (140 km, transfer approx 2 hours)
Neilson Holidays is the only UK tour operator taking UK skiers to Åre and from winter 2012 will be replacing charter flights via Ostersund with scheduled flights from Gatwick to Trondheim in Norway via Norwegian. This also allows Neilson to start offering flexible shorter 4-night stays, Sunday to Thursday, in addition to the regular Sunday to Sunday week holidays. But it does mean the transfer time to Åre doubles to two hours.
WHERE TO STAY
Snow stayed at the Hotel Tott, smart, stylish with magnificent lake views. Seven nights from 13 January in a twin or double room, with free use of indoor pool and hot tubs, and including flights from Gatwick, with Neilson holidays cost £739pp. Self-catering accommodation is available from £419,
www.neilson.co.uk
IN RESORT
Piste area 100km (longest run 6.5km)
Number of lifts 47 (of which 33 are T-Bars!)
Percentage of runs beginners 57%; intermediate 34%; advanced 9%
Highest point of ski area 1,274m
Vertical drop 890m
Snowparks 3
Children's areas 4
Cost of 6-day adult ski-pass (booked online): adults 1,760 SEK
Ski rental, 6 days (booked online): adults 840-1,300 SEK; children up to 7, 440 SEK.
MUST DO Go night skiing. It's not just about floodlights: a colourful lightshow illuminates many of Are's slopes. And go ziplining – whatever the weather.
TOP TIPS If you plan to hit the bars, take plenty of cash: beer is @ £7 a pint. Be sociable, learn a few phrases of Swedish. Hello: Hey, hey; Goodbye: Hey, hey; Thank you: Tak; One more time! (useful for the après-ski): En gang till; I don't speak Swedish: Pratar inte Svenska
USEFUL CONTACTS
Tourism inquiries, Visit Sweden
www.visitsweden.com
For accommodation, ski passes, SkiStar
www.skistar.com