Last winter I was fortunate enough to spend the season living within view of the Three Valleys – needless to say, I got myself a season pass and hit the slopes as much as possible. But within a couple of weeks I was in trouble with my girlfriend for complaining about the skiing (which I thought was a bit rich coming from someone once heard to complain that our local beach is "too sandy"…).

My 'complaint' was that "It's too big! I don't know where to find the best skiing!" Which I guess is no complaint at all really. But it can be a frustration of skiing in the world's biggest ski area (over 600km of pistes and in excess of 170 lifts since you ask) – you're literally spoilt for choice.

So that this dilemma need not befall you, here are a few of the things that I discovered after 60-plus days of scouring the slopes.


BEST FOR BEGINNERS
If you're just getting into skiing, head to the easy terrain of the Jardin Alpin above Courchevel or the lovely gladed runs above Meribel Village at Altiport. They offer a good selection of wide open terrain that isn't too steep, lift access is easy, and when you're feeling ready for something a little more challenging there are blue runs nearby on which to test yourself.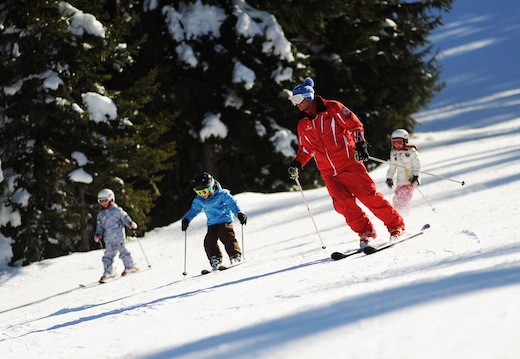 MOVING UP A GEAR

Looking to blast around all day on blues and reds? Oh jeez, where do we start?! My own favourite red is the strangely monikored Jerusalem, which runs from Tougnete above Meribel in a winding, undulating trail of holy joy all the way down to the attractive little village of St. Martin de Belleville.

Another failsafe fun factory is Creux which starts off quite steeply before easing off on the gradient as it drops down from La Vizelle to Prameruel, with lots of options to hop onto lifts and access yet more very fine intermediate terrain (try Chanrossa, usually reasonably quiet for the first part of the day).

Many miles away over in Val Thoren the reds underneath the Peclet gondola are hard to beat – and if you want a test of your stamina, it's good fun to head all the way over to Courchevel and back. That said, get your timing wrong and you could be stuck with an expensive taxi ride home…

BLACK, IT'S ALL BLACK

Check the base stations for which pistes have been groomed each day. If Suisse or 'M' above Courchevel have received an overnight pampering you can't go far wrong with an early morning blast down either (or both) before the crowds get onto them, at which point look at heading over to the aforementioned Chanrossa for the quiet black off the top.

Above Meribel, Olympic is usually a good and not too busy option, although if you want to feel like you're getting away from it all head over to Val Thorens and the top of 3200m Cimes Caron where you'll find a long, fun black that takes you down into the increasingly well-known 'fourth' or Maurienne Valley.

OFF THE MAP

One of the great things for me about the Three Valleys is the almost instantly accessible 'sidecountry' which after a good dump can offer everything from gentle, non-intimidating slopes such as those above Courchevel Moriond or above St. Martin de Belleville to the infamous couloirs off the top of Saulire, which allow you to access both Courchevel and Meribel at as steep a gradient as most people are likely to want.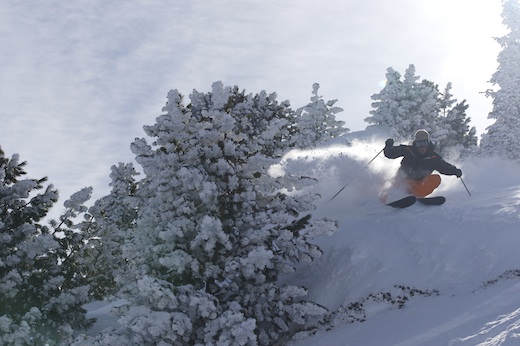 There's enough of this terrain to keep you going until lunchtime without it getting too tracked out after a fresh dump, then if you don't mind a spot of hiking – well, the Troise Vallées are your moule. There's simply too much to choose from to even skim the surface here, so let me recommend a fine publication which will reveal – well, not all, but enough to keep you going for many, many weeks.

Check out 'Les Clés de 3 Vallées' by Didier Givois, a superbly illustrated guide to the best off-piste skiing – and don't worry if your French is as execrable as mine, since it's in English as well as French. It's too big to take along for reference, but skiing the Three Valleys shouldn't be just about following guide books and magazine articles, whatever standard of skier you are.

Much of the pleasure of skiing here is that's there so much to explore, and it'll be many, many seasons before you can say you've skied it all.


SNOW HOW

THREE VALLEYS

GETTING THERE

BY AIR – Lyon is 2.5 hours, Geneva 2.5 hours, Chambery 2 hours

BY RAIL - Moutiers is 30-60 minutes from all the resorts in the Three Valleys

BY CAR – about ten hours from Calais

WHERE TO STAY – a great relaxed, easy going accommodation option for everyone from families to couples and singles is Green Mountain Chalets just outside St. Martin de Belleville (www.greenmountainchalets.co.uk) with seven-nights fully catered accommodation from £350 pp

IN RESORT

Pistes – 650km

Lifts – 173

Green – 16% Blue – 40% Red – 34% Black – 10%

Highest point – 3230m, Val Thorens

Snowpark – several (Val Thorens, Les Menuires, Meribel (x2), Courchevel (x3)

Cost of adult lift pass for six days, high season – €260

TOP TIPS – Each individual ski resort is big enough to provide most people with enough skiing for their entire holiday, so you don't necessarily need to splash out on a full Three Valleys lift pass.

BEST FOR – Pretty much anyone

USEFUL CONTACTS – www.lestroisvallees.com