For decades a byword for unabashed flash, France's Courchevel continues to push posh to dizzying new heights. But its four villages and world-class ski area also excel in across-the-board appeal, finds Rupert Mellor.

I may ride more challenging terrain with the finesse of an industrial fridge, but I like to think there's not much I can't get down on my board. So it was deeply disconcerting to stand for the first time in my life on a pair of skis, with about as much idea of how to control them as how to fly to the moon. Especially as said skis were pointing over the lip of a 45º degree drop.
'Just rrrulaxe, lean into ze fall-line, trust, et enjoy!,' purred Hervé, the paragliding instructor strapped to my back. I took a deep breath, defied every screaming instinct and shifted my weight forward. And after our downhill velocity hit full-on terrifying in three nanoseconds, I relaxed slightly as the canopy snapped full of air and Herve and I had lift-off.
Arriving the previous evening for my first visit to Courchevel 1850, legendarily the haunt of the shamelessly superflash, from team Beckham to Lewis Hamilton, I'd been surprised by how distinctly unposh my first impressions had been. As Hervé and I soared over a huge excavation scar at the village's centre where a petrol station used to stand, along with the boxy 1970s relics Hotel l'Olympic and the shopping and entertainment mall The Forum, I saw little to change my view. But as my pilot hung a right, and our feet swung high and left (at which point I discovered I'd left one ski skidding solo down the mountain – apologies to Ski Republic rentals shop), I began to see what the fuss is about.
As we followed wooded slopes above the highest and swankiest of Courchevel's four villages, looming into view were privacy-protected, ski-in, ski-out superchalets, ostentatious hotels, swarming restaurant sun terraces and the tiny private airstrip of the 'altiport' – site of 8,000 private aircraft 'movements' last season. Then, the god-like glory of Les 3 Vallées, the world's biggest ski area, began to reveal itself – the dramatic crowns of Saulire and La Croix des Verdons, wide-open, sunny valleys below, forest-protected lower slopes and the iconic, 120m ski jump erected for the 1992 Olympics in Le Praz (now, as per recent years' fiendishly canny marketing drive, aka Courchevel 1300).
The C-word has long been a synonym for excess. With no historical pedigree to speak of, self-made Courchevel was quick to specialise in fulfilling and celebrating the whims of the brazenly loaded, peaking with the infamously Bacchanalian antics of newly minted Russian oligarchs over the last ten years. An orgy of biblical decadence saw caviar, champagne and leggy lovelies helicoptered in for firework-lit mountaintop parties and spending sprees that cleared the stock of local jewellers and furriers. These glory days culminated in the arrest last year of Russian mining tycoon Mikhail Prokhorov – known to some locals as 'our Gatsby' – on suspicion of running prostitutes (he was subsequently released without charge, law fans).
Continued...
---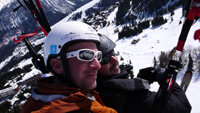 Utterly enshrined in 1850 culture, untrammelled extravagance thrives still. A brand-new 4 star luxe hotel (France's highest rating), Les Suites de la Potiniere, this season joins the biggest concentration of luxury mountain hotels in the world, while several others have added spas or ultra luxury suites. A new Valentino boutique has joined the likes of Dior on the perilously priced shopping streets.
But Courchevel has also cleverly opened up to all-comers. With four Courchevel-branded villages, each named for its altitude and all linked by efficient, free shuttle buses, it offers every level of holiday experience, with 31,000 guest beds in every setting from tycoons' temples with designer spas, to full-service family hotels, to frills-free self-catering apartments and B&Bs. Courchevel 1650, traditionally a sleepier, more family-oriented affair, though with some buzzy bars, last season signalled a trickledown of 1850's luxe ethos with the opening of the plush Le Manali, the village's only four star luxe address. Generally, though, the further down the hill, as the access to the best of the slopes becomes less immediate, polish and pretentions – though not necessarily standards – fall away with the altitude.
In 1850, home of the largest population of Michelin-starred chefs in any European resort, it's no stretch to blow upwards of £100 a head on dinner. Le Bateau Ivre and Le Chabichou, each scoring two stars, are Courchevel's biggest names, the latter offering a quintessential 1850 experience in chef Michel Rochedy's near-mythic cookery courses. My one-off dip into haute gourmandisme was a near-religious experience at the intimate, candlelit Il Vino, where diners order wines selected by the world's top-rated sommelier Enrico Bernardo, and are served dishes paired to their choices by chef Guillaume Monjuré.

Not only did the charming staff accommodate this Philistine vegetarian, they also helped me, with impeccably tactful encouragement, to 'read' a glass for the first time in my life. The discreet nod with which maitre d' Nicolas Simon approved my diagnosis on a 1997 Arbois vin jaune – 'nuts... earth... er, mushrooms?' – was almost as satisfying as the exquisite nouvelle dishes.
It's easily done at lunch too. The high-glam slopeside classic Chalet de Pierres even has its own jeweller, should your wallet still feel a bit heavy on your way out. But there are plenty of far less terrifying tariffs on offer across the four villages' 70- plus restaurants, from high-end but mid-priced gems like 1300's Yaca Bar and 1550's L'Oeil de Beouf, to the serviceable comfort food staples served up at 1650's cute Titine and Lilou creperie, and even in 1850, at Bar l'Equipe, Bar Le Jump and Le Kalico.
The bottom line, though, is that Courchevel's headiest thrill belongs to everybody – its ski area, the best of the 3 Vallées' various resort sections, and the best jump-off point for those who want to access the whole lot (Méribel, one valley west, is more central, but its sunnier slopes don't hold their snow as well). Skiers and boarders of every taste and level can gorge on a glut of terrain, from the legendary supersteep couloirs above the Saulire cable car, to the bumps bonanza of Les Suisses, to the extreme off-piste of Creux Noir, to probably the best range of immaculately maintained intermediate cruisers on the planet.
---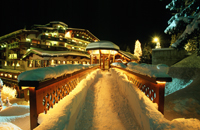 It's as night falls that Courchevel's tribal boundaries become clear. Come dancing time, unless you can handle the heavy cover and vertiginous drinks prices at La Grange, are in the market for a £1,600 jereboam of Cristal at les Caves de Courchevel, or fluke your way into an exclusive chalet party, your choices are limited, though undeniably lively. 'It's because the lift systems have got so good,' at least three local business folk told me. 'You can ski so far in a day now, most people prefer a sauna and a massage before dinner and an early night, then do it all again.'
Lottery winners aside, you've just a handful of music bars to choose from. Le Piggy's is a slice of old-school ski-set toffery, where high-spirited middle-aged Brits (the UK accounts for 70 per cent of Courchevel's international market) swig overgrarnished cocktails to the croonings of a lounge singer with a badly dyed bouffant and an uncanny Chris Rea impersonation. Le Kalico, meanwhile, hosts the next generation, and looks every inch a UK student union night, where studiedly shambolic youths skull beer and bounce to indie classics, periodically pairing up in dark corners for a snog. My next stop was Altitude, a French-dominated bar where a manic DJ played bongos over a mix that lurched from Beyoncé's Crazy In Love to She's a Maniac to, inevitably, Abba's Dancing Queen. 'That, in a nutshell,' said my friend Sibylle, a German who has lived for years in both England and France, laughing at my did-I-just-step-in-something expression, 'is why English and French will live next to each other, even ski together, but never understand each other.'
Trip Notes:
Getting there:
Swiss Air Lines and Bmibaby (bmibaby.com) fly to Geneva; British Airways (ba.com) to Geneva, Lyon; Easyjet (easyjet.com) to Geneva, Lyon, Grenoble; Ryanair (ryanair.com) to Grenoble; and Jet2.com to Geneva, Chambery. Altibus (altibus.com) runs from these airports. Take the train from London to Moutiers (25km away), with Eurostar (eurostar.com), or treat yourself to a heli-transfer to the airport with Air Courchevel (air-courchevel.com)
Tour operators:
Bespoke/across the board:
Ski Independence (ski-i.com)
High-end: Crystal Finest
(crystalfinest.co.uk)
Mid-range: Inghams (inghams.co.uk)
Budget: First Choice
(firstchoice-ski.co.uk)
The following info applies to Courchevel (C) and Les 3 Vallées (L3V) ski areas:
Season dates: (both) 5 December 2009 - 24 April 2010
Vertical drop: (C) 3,230-1,300m, (L3V) 3230-1260m
Terrain: (C) 150km, (L3V) 600km
Nearly 25,000 acres of off-piste in L3V
Snowmaking: (C) 43% of pistes are covered, by 617 cannons; (L3V) 33%
Lift passes: (C) £164 six-day, (L3V) £201 six-day
Mountain munchies: endless options, none of them cheap
Guiding and tuition: Some 700 ESF (esfcourchevel.com) instructors in Courchevel alone – in 25 languages. Supreme (supremeski.com) is among many local schools and guiding outfits.
Snowpark?: Yes, and Meribel-Mottaret has a park, boardercross and half-pipe
Downtown: ...is drowning in eating, drinking and shopping options. As well as ice rink, bowling alley and paintballing, outfits in town will organise snow quad biking, hot air ballooning, flying lessons and skydiving
Highlight: It's got everything.
Bummer: £7 for an on-mountain cheese and salad sarnie. Like, eek!