If you take regular ski holidays with your family, the chances are, that at some point you've been stuck in a soulless resort with your tired, grumpy kids and your wife isn't quite as interested in yet another piste run as you are. The issue is compounded when there's a lack of snow, and it can feel like the mountains are closing in around you as you desperately battle to keep the holiday spirit going.
So, this year we decided to flip our annual trip on its head and make the location of our accommodation the number one priority, above even access to skiing, by basing ourselves in the bustling and vibrant city of Innsbruck in the Tyrolean Alps.
Innsbruck sits at the head of the Inn Valley and the approach into it is perhaps one of the most dramatic to any airport in Europe. The pilot expertly threads the plane through jagged mountain peaks which are, at times so close you feel like you could reach out and touch them. As the city comes into view, spread neatly along the valley floor it reminds us of a larger version of Chamonix, a place much beloved by the Snow Magazine staff.
We've come in December and, despite early season snowfalls, the temperatures have risen, so as we fly in we're faced with lightly dusted peaks and grassy valleys. Normally this scene would evoke depressing thoughts of skiing in muddy snow, picking our way through patches of grass and rock. But our spirits aren't dampened this time, with the prospect of time split between this ancient city, with its quaint cobbled streets and world-famous Christmas markets, and the nine ski resorts that make up Olympia Skiworld Innsbruck to look forward to, regardless of snow quality.
Mercifully, the fabled Foehn wind, which can cause landings almost as dramatic as the scenery, is absent and we touch down safely and get through the small and efficient airport within 15 minutes. It only takes us another 10 minutes to reach our accommodation right in the beating heart of the city.
As we climb out of the taxi we gulp in lungsful of clean mountain air and take a moment to survey our surroundings; the feeling of being somewhere special already palpable. Majestic mountains surround us on all sides above the calm, serene city with its old-world charm.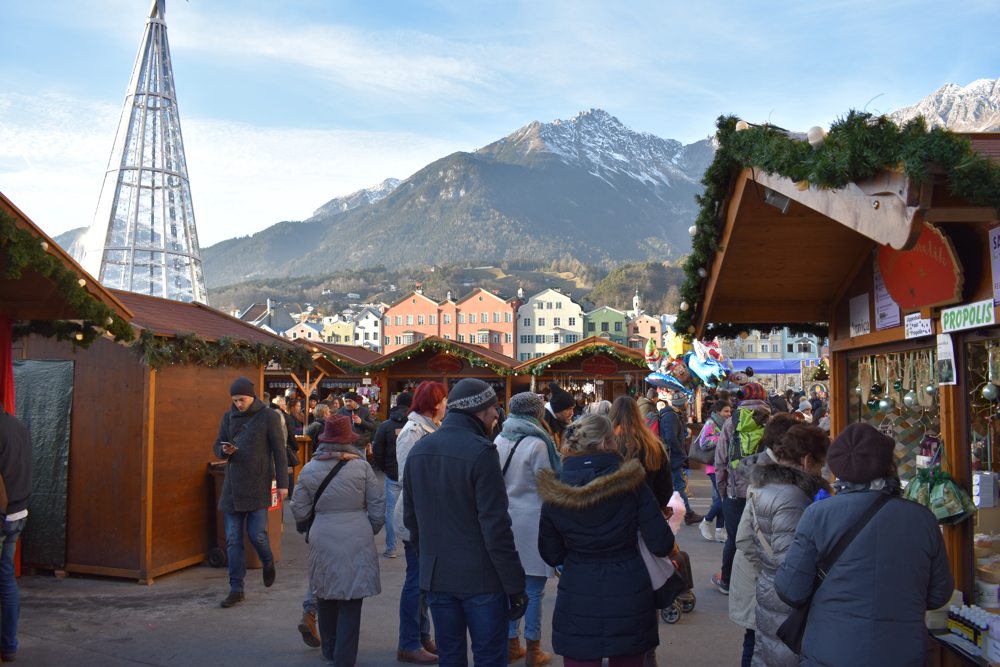 Our apartment in the famously photogenic pastel coloured buildings of Mariahilferstraße street is spacious, superbly equipped and very family friendly but we don't want to hang around for too long, itching to get out and see the city.
We head over the bridge into the old town and as we reach the other side we're transported into a magical winter wonderland full of the sights and smells of Christmas. My eldest son, Sam is beside himself with joy and I can't imagine a more wondrous place for a five-year-old to be at Christmas. Stalls sell classic Tyrolean food, there's the whiff of Gluwein in the air and the dulcet tones of happy conversations punctuated with choruses of laughter are everywhere we go.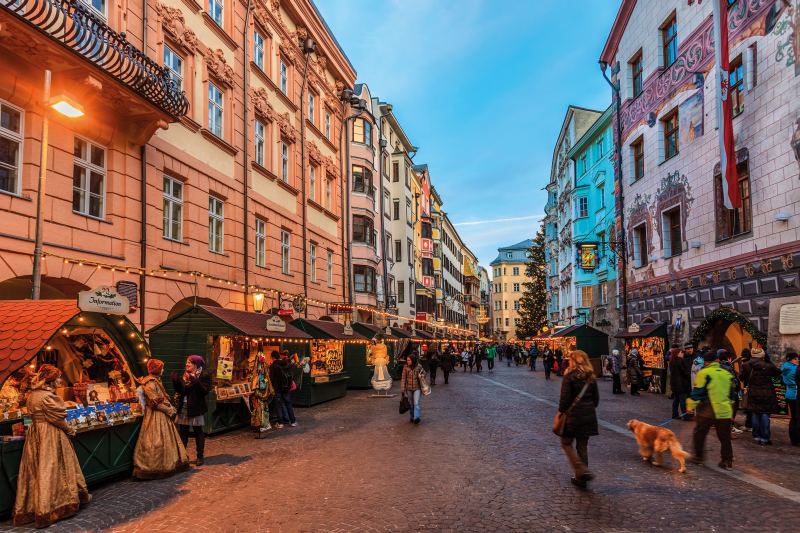 Our guide book tells us to head to 'fairytale alley' at the old town houses in the Kiebachgasse alley and the Köhleplatzl square, where we find eerie depictions of fairytale characters that look more Grimm brothers than Disney. This doesn't put Sam off, in fact he's mesmerized by the spectacle and it quickly becomes a theme of the week to spot the characters and guess which fairytale they come from. It's an amazing introduction to Innsbruck and is a world away from what we would normally expect from the first day of a ski trip.
Buoyed by a successful first afternoon we decide to spend the next day mixing sightseeing with mountain highs. We take a tram up to the Bergisel ski jump, much loved by Innsbruck's locals and climb to the very top of the 50m tower, from where daredevils as young as six launch themselves into oblivion. The sight of the city's cemetery dominates the view of the landing, giving a salient reminder of just how dangerous this sport can be!
After marvelling at Zaha Hadid's curving metallic architecture, we head back across town to another of her designs, the Hungerburg Funicular station, a 5-minute stroll from our apartment. The funicular whisks us up to Hungerburg where we change on to the panorama gondola rising to the 1,905m Nordkette-Seegrube - the local's mountain. From here we enjoy views of the Central Inn Valley, the Stubai and Zillertal Alps, and across the Wipptal to the Italian border. Although there's snow and a few lifts running we don't yet have skis, so we amuse ourselves building snowmen and having snowball fights before taking a lazy lunch in the mountain top restaurant overlooking the city.
On the way back down we can't resist a stop off at the Alpine Zoo to gawp at the wolves, eagles, wildcats and other indigenous animals of the Alps. So far, we've packed a lot into the first full day but we've still got a spring in our step, even with kids in tow, so we head back into the city's streets for wiener schnitzels, Gluwein and more rounds of the Christmas markets and Fairy Tale Alley.
First tracks
We're now two days into our ski trip and I'm yet to strap on my bindings. It's fair to say I'm starting to get itchy feet, so the next day we tear ourselves away from the city and go up the mountain to Patscherkofel via the De Boerse ski shop who kit us out with high-end gear.
Patscherkofel is a small ski hill by anyone's standards, but it turns out to be the ideal starting point thanks to quiet slopes and a good nursery area where son Sam and wife Kel can get their ski legs back. While they do laps of the nursery slope I take the opportunity to dial my snowboard legs in with lap after lap of the quiet, well-maintained pistes. I'm loving the lack of people here and more importantly the lack of queues for the lifts! It's great to be back out on the slopes but the allure of the city is too strong and we're dragged away mid-afternoon for more sight-seeing at the Imperial Palace, with its ornate décor, and beautiful gardens and the Goldenes Dachl with its 2,657 fire-gilded copper tiles.
The next day we go in search of better snow conditions, up to the high-altitude resort of Kuhtai. At 2,020m the resort base is one of the highest in Europe making it a snow-sure alternative to some of the lower lying resorts. The Stubai glacier, open from September right through to mid-June is another good option in poor snow conditions.
Although Kuhtai is small by French mega-resort standards it offers up a not-to-be-sniffed-at 80km of pistes and a decent, if a little characterless resort infrastructure. We split up again and I find myself in high mountain terrain with great piste conditions. I'm assured by the locals that there's fantastic off-piste to be had given a better snow base but for the moment I'm happy to enjoy the sound of corduroy underfoot on the long, cruisy runs back down to resort.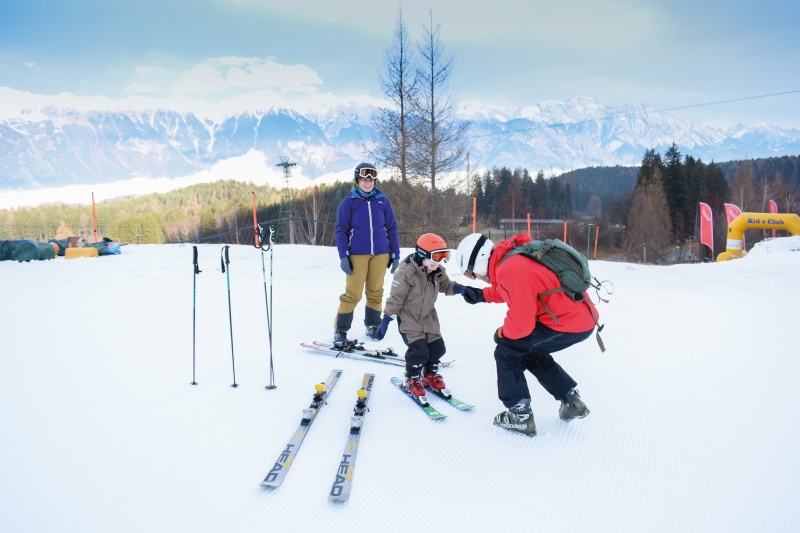 Our instructor has developed a great rapport with Sam who is now confidently making pizza wedge shapes with his skis. Kel is also progressing nicely, finding the improved snow conditions at this altitude easier to ski.
We're happy to have visited a 'proper' resort, but not wanting to take our foot off the gas, we head back down the mountain to the Olympic resort of Axamer Lizum. Like Patcherkofel the base area consists of little more than a few lifts and a couple of buildings but the funicular takes us right up to what is known colloquially as Innsbruck's 'white roof' at 2,340m. This exposed icy ridge plays host to the ultra-modern Hoadl House restaurant, boasting the largest covered sun terrace in Austria. The views are spectacular, and the easy funicular ride back down means that Sam, Kel and Tom can enjoy a spot of lunch while my guide and I sneak in a few more runs.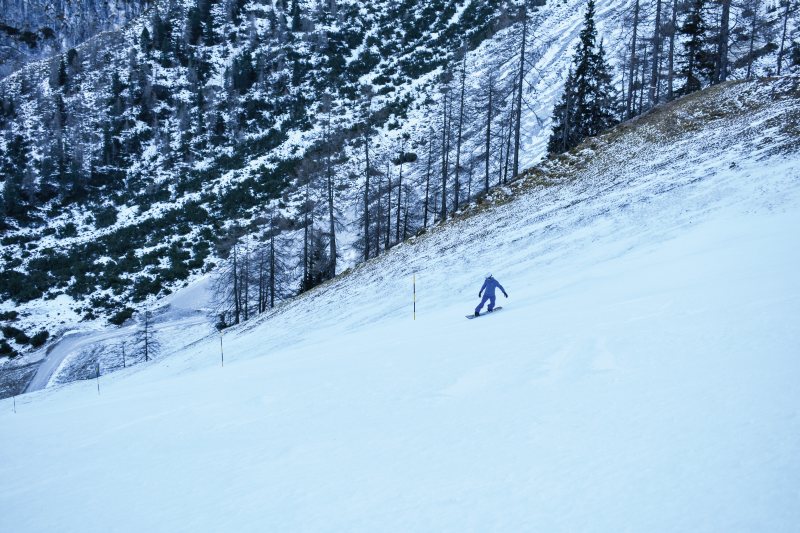 We're restricted by the lack of snow but find a long, steep and largely deserted run back down to resort level. We turn the volume up a notch and I can see that my guide is starting to get competitive - this is his manor and he wants to show this young upstart who's boss.
We jockey for position but ultimately his regular days on snow prove my undoing and I take a tumble on an icy face while he rides off into the sunset victorious.
Back at our apartment that evening we're greeted by an annual festival on the street directly in front of our building, which they've closed and lit it with a blanket of candles. Residents and passers-by warm their hands over barrel fires while others sit around chatting and drinking Gluwein. This feels so typical of Innsbruck; a place where work and play seem to be given equal weighting. The feeling of being in a magical winter wonderland hasn't left us all week, and this just tops it off.
We've loved Innsbruck as a family, the mix of city and ski has been perfectly balanced and the idiosyncratic needs and wants of all the different family members have been met. It has exceeded our expectations on every level and proved itself to be a city with a lot to offer, both on and off the slopes.
Our trip
Where to stay
appartement-innsbruck.com have a range of self-catering apartments available to rent in the famous pastel coloured buildings of Mariahilferstrabe overlooking the river Inn. Prices start from £55pppn
Airport transfers
Herwig Mayrhofer (+43 664 886 77 444) provide safe carriage of skis and snowboards as well as car seats for babies and toddlers.
Where to eat
Try the Weisses Rossl restaurant in Innsbruck old town for traditional Tyrolean cuisine at very reasonable prices.
If you're lucky enough to be in Innsbruck during the Christmas markets fill your bellies at one of the many food stalls selling traditional Tyrolean cuisine.
For the best steak in town head to Woodfire on Universitaetsstrasse where the well-trained staff serve up the finest Wagyu and dry aged beef, as well as fresh fish and excellent wines from the open kitchen.
Big portions, cheap food, friendly staff and a buzzing atmosphere can all be expected at Tiroler Weinstube about 10 minutes outside the city centre.