Being greeted upon arrival with news of a heatwave would normally be a perfect start to a holiday. Not so on a ski trip. As my taxi driver hurled my rucksack into the boot of his car at Keflavik airport, he cheerily informed me that it had been 15ºC in Akureyri, my final destination. With Akureyri lying just 100km south of the Arctic Circle, I thought he was joking. He wasn't.
As my mind conjured up images of not-so-snow-capped mountains and slip-sliding down slopes of pure slush, my jolly driver gave me a comprehensive introduction to Iceland in perfect English, pointing out the lava fields that rolled out to the horizon from the roadside and telling stories of picking wild blueberries there in the summer. More than 12 per cent of Iceland's surface is lava; another 12 is covered by ice in the form of glaciers. This is the Iceland most people imagine when you mention the name: the land of fire and ice, where raging volcanoes meet sublime glaciers; the land of hot springs and bubbling mud pools, dramatic otherworldly landscapes and Norse legend.
What Iceland is less known for is skiing. The sport has been popular with Icelanders since the 1950s, but hasn't been geared towards tourists until recently. This small island nation in the north Atlantic is only just starting to establish itself as a viable option for skiers, snowboarders, and indeed anyone with an interest in wintersports. Iceland's 11 ski areas are small, basic set ups with just a few lifts, but the snow is generally good and plentiful and the setting is often dramatic. Plus, the sheer diversity of other activities and unique sights Iceland has to offer makes it an ideal destination to incorporate a few days on the slopes into a multi-activity trip that includes some unique experiences which are simply not an option elsewhere.
If you want to ski in Iceland, head north. It is possible to ski near Reykjavik in the south – there are three ski areas in the capital, the largest of which is Bláfjöll with 14 lifts - but most of Iceland's ski areas are located around the picturesque Eyjaffjordur fjord in the north east, all within about an hour of Akureyri. Iceland's 'capital of the north' serves as an excellent base for visiting all of these ski areas – there are seven in total - plus some of the island's top attractions. The region offers diverse options with a range of gradients and slopes for all levels of experience, as well as cross-country and heli-skiing.
Less than ten minutes' drive from Akureyri, the ski area on Mt Hlidarfjall is Iceland's most popular. With 24 groomed pistes covering a combined length of 15km, and six lifts, it's a modest affair compared with the big European resorts, but there's enough there to keep most people entertained for a good few days. While most other ski areas in Iceland are largely aimed at the locals, Hlidarfjall has been making efforts in recent years to cater for tourists, adding new slopes and lifts, snowmaking facilities and a rental shop. The resort plans to expand further over the next few years, adding another chair lift and a gondola, developing the restaurant and building an on-site hotel. Work has already begun on a 1,000-bed motel a few minutes down the mountain.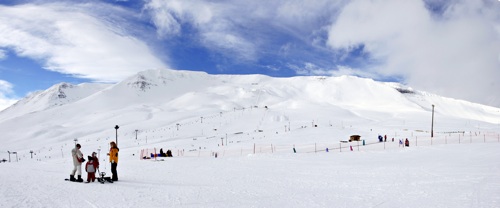 It's also perfectly pitched for beginners. A quiet resort like this can be a great place to learn to ski, without all the hustle and bustle of the big well-known resorts. And with so many other things to see and do besides skiing, when you're aching in places you didn't even know existed you can take a break to bathe in hot springs, go whale-watching, volcano-climbing or glacier-gazing, or do as I did and eat your lunch next to a bubbling pool of blue mud, in a plume of sulphurous gases, while listening to Icelandic reggae on the car radio. You can't do that in Val d'Isere.
---
It had been a couple of years since I'd last hit the slopes, so my first day in Hlidarfjall kicked off with a refresher lesson from one of the 20 English-speaking instructors available throughout the season. We started with the basics: from the snow plough to holding one pole out in front horizontally, then the hands-on-knees squat position before finally graduating to a fully fledged upright posture. Before I knew it I was carving again and enjoying the spectacular views of Iceland's longest fjord, Eyjaffjordur. Gouged out by a vast glacier 12,000 years ago, the fjord now stretches out 60 glistening kilometres from its base, where Akureyri nestles, to its mouth at the Arctic Ocean. As for the heatwave, it was 15ºC and I was skiing in just a base layer and a hoody – and if it weren't for the chilly chairlift ride the hoody would have been off as well. The snow was both slushy and icy but I just about managed to negotiate the variable consistency.
The next day the issue wasn't so much the temperature but the wind. After a couple of practice runs on the easy blue slopes I was ready to hit the reds at the top of the mountain, 980m above sea level and the starting point for the ten red and seven black runs of Hlidarfjall. The latter include six vertical drop-offs, a total of 540m of vertical descent. Perhaps a little ambitious for me but the range of blues and reds here is perfect for someone of my ability – a novice with a grasp of the basics. Hlidarfjall's range of slopes, as well as a small snowpark, also enables it to cater for all ranges of experience for both skiers and snowboarders.
The wind was seriously picking up - stood stock still in my skis on the flat, I was being blown along by the wind. I figured I had better get up there sooner rather than later. But no sooner was I eagerly joining the queue for the chairlift than a voice from the tannoy was announcing the closure of the resort. Billowing at 20 metres per second – that's 72 kilometres per hour – the wind made it just too dangerous to be on the slopes. The forces of nature were against me, it seemed.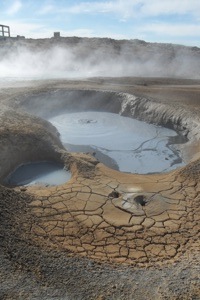 Reports from other ski areas in the region weren't good either, and with the bad weather coming in from the south west I decide to head east to the volcanic wonderland of Myvatyn instead. Myvatyn is within an hour's scenic drive from Akureyri, passing through frost-glistened lava fields shouldered by dark basalt mountains, and past huge shimmering frozen lakes reminiscent of lonely Arctic tundra. A rich volcanic area steeped in geological intrigue and esoteric mystery, Myvatyn is a vast lake surrounded by epic craters, striking landforms and geothermal activity. A magma reservoir lying just two miles beneath the surface keeps the mud pools bubbling and the milky hot springs at just the right temperature for a soothing soak.
The list of other easily accessible options in the region is seemingly endless. Go whale-watching in Husavik – on of the best places in Europe to do so; visit Dettifoss, Europe's largest and most powerful waterfall; take a trip to the Arctic Circle on the nearby island of Grimsey; try ice-climbing on the nearby glaciers; climb Mt Askja, an active volcano; go scuba diving in the mid-Atlantic Ridge; try heli-sking, white-water rafting, snowmobiling or horseriding and, by night, watch the magical northern lights dancing across the sky. This is the major draw of skiing in Iceland – off-piste time can be spent experiencing some truly unique, world-class wonders, making for a skiing trip like no other.
---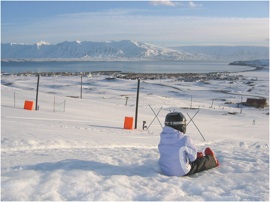 On my third and final day, the relentless wind prevented Hlidarfjall from opening at all so instead I headed to Dalvik, just 35 minutes down the road. This is beauty of this region – if you tire of one area - or it closes - you can be at a completely different set of slopes within the hour.
Enjoying a more sheltered location than Akureyri, when the winds are howling on Hlidarfjall, Dalvik is likely to be still, and at just 45m above sea level it is also one of the lowest ski areas in the world. It is smaller than Hlidarfjall - two lifts and five slopes – but does have bunkhouse accommodation for up to 50 people. Dalvik is the third biggest in the region after Siglufjordur, a further 30 minutes along the main road. Situated on the shores of a small fjord, Siglufjordur offers the unique attraction of being able to ski right down to the Arctic Ocean. Other ski areas in the region are smaller yet, with just one or two lifts. If you want to spice up your skiing, take a snowcat ride to the top of Mount Kalkbadur and ski down, or try heli-skiing for maximum adrenaline.
Dalvik may be sheltered from the wind but it can't escape the heat: 'slush fest' doesn't even come close to describing the going underfoot. Determined to get some more time on-piste before I left, I pressed on, but within an hour it started to snow, and my goggles were speckling faster than I could clear them. This may have been just what the slopes needed, but for me it was too late and signalled the end of my skiing trip.
I was unlucky with the weather. The conditions I experienced weren't normal for the time of year I went (mid-April), but then this is the beauty of Iceland: its unpredictability is its charm. In a place where the beaches are black and the sky is green and swirling, where the ground melts, bubbles and explodes right next to quiet villages that don't bat an eyelid - the only thing you can expect is the unexpected.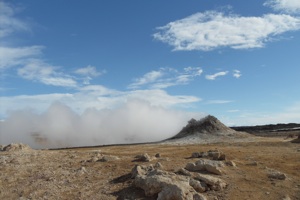 NEED TO KNOWHlidarfjall
Number of pistes: 24 (2 beginners; 5 blue; 10 red; 7 black)
Longest trail: 2.5km
Cross country skiing: yes, 10km of tracks
Number of lifts: 6
Elevation: 500-1,000m
Season: late November-early May. The best time to visit is mid-March-mid-April, when the weather is more likely to be fine and the snow is still good
Snowmaking: 10 machines
Snowpark: A small one with a few rails and a large jump.
Food: Two basic restaurants selling reasonably priced snacks, sandwiches and a small selection of hot food (chips, soup, hot dogs etc). Also a hut to eat your own homemade sandwiches in, complete with microwaves and toasting machines. No bar.
Ski hire: £17 per day for adult skis, boots and poles
Tuition: 20 English-speaking instructors available throughout the season. £35 for a 1.5hr lesson.
Lift passes: passes for anything from one hour (£9) to eight days (£91). A day pass is £17.
www.hlidarfjall.is
Getting there
Flights
Iceland Express fly daily from London Gatwick to Keflavik (Reykjavik) airport from £89 one-way including taxes. A new route from Edinburgh to Reykjavik will be added in June 2011.
www.icelandexpress.com
0118 321 8384.
Domestic carrier Air Iceland offers flights to 11 destinations across Iceland, including Reykjavik, Akureyri and the West Fjords. Prices from Reykjavik - Akureyri start from £36 each way including taxes, and there are up to ten flights a day.
www.airiceland.is
+354 570 3000
---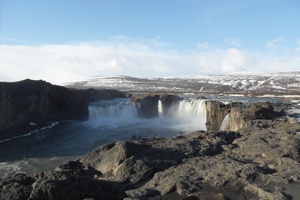 Getting around


The best way to get around Iceland is by car. A number of car rental companies are based at the airport – Europcar is the largest. A free (but limited) bus service operates in Akureyri town. Walking is the best way to get around the compact town of Akureyri.
Europcar
www.holdur.is
Buses
Buses run daily buses between Reykjavik and Akureyri, offering a more scenic, leisurely alternative to flying. The journey takes around six hours and costs around £60 for a single journey.
www.sterna.is
A ski bus runs three times daily from Akureyri town and the airport to Hlidarfjall. A return ticket costs around £7.
www.ttv.is
Accommodation
Gula Villan is a lovely little guesthouse ideally located on the main road to the ski area in Akureyri, and directly opposite the geothermally heated swimming pool
www.gulavillan.is
If you spend any time in Reykjavik – highly recommended - Reyjavik Backpackers is a fantastic new hostel, offering an extensive range of services including trips, car, bike and camping equipment rental, and flight and bus ticket booking, all for a very reasonable price.
www.reykjavikbackpackers.com
Other ski areas in the region
Dalvik
www.skidalvik.is
Siglufjordur
http://skard.fjallabyggd.is
Tindastoll
www.tindastoll.is/skidi
Olafsfjordur
www.fjallabyggd.is
Kaldbakur
www.kaldbaksferdir.com
Husavik
www.visithusavik.is
Tourist boards
National
www.visiticeland.com
Regional
www.northiceland.is
Local
www.visitakureyri.i
s