Hollywood Bowls

'Jennifer Aniston? Unfriendly. Jerry Seinfeld? Unfriendly.' Chris, a barely-20 country boy from Texas who has picked me up at Montrose airport, is filling me in on life as a celebrity odd-job man on the road to Telluride. 'Tom Cruise? Haven't fixed anything at his place yet. But everyone says he's real friendly.'
When Chris hung up his surfboard for a season to come to this tiny ex-mining town in the San Juan mountains in Colorado's southwest corner and give snowboarding a punt – 'I love it. But it's real cold' – he joined a rarefied immigrant community. Oprah Winfrey led the way when she bought a luxury mountain hideaway here 15 years ago, and film actress Laura Linney and supermodel Christie Brinkley are among the low-key stars who have since followed suit. Mr Cruise came too, and is often spotted with his family in The Sweet Life, the retro diner on Main Street where his kids go nuts for the old-school pick'n'mix candy and ice cream. Come Labor Day weekend in the autumn, the town seethes with Hollywood megastars for the Telluride Film Festival.
It was inevitable, then, that comparisons would be made with the state's long-established centre of celebrity hype, Aspen. Both are painfully cute, historic towns with architecture that nods to both settler Victoriana and the pioneering Western spirit, both are ringed by majestic Rocky Mountain peaks and both are affluent, liberal communities – you'll see more Buddhist prayer flags in Telluride than stars and stripes – which have drawn well-heeled, cosmopolitan and artsy people from all over the country to brave vertiginous real estate prices and set up home.
'It really makes me laugh,' says Krystal, a ski buddy from the other place who has driven in for the weekend to chaperone me around Telluride's slopes. 'People from here get really snippy when you compare the two. Don't get me wrong, this town rocks, and the mountain views are the prettiest in Colorado. But if you really want to piss a local off, call Telluride "the new Aspen". Man, they hate that!'
It's true, the voices of the preternaturally relaxed and friendly folk tend to rise a half-octave if you broach the subject. But the comparison is a lazy one, and each of these entrancing resorts has its own distinct charms.
Continued...
---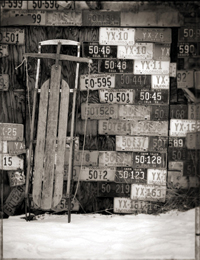 On the mountain, Telluride's offer is great, and getting better all the time.
A network of swooping, speedy blue runs through thick pine forest dominates the giant basin at the heart of the ski area, while long, leisurely greens abound above Mountain Village – a family-oriented annexe community of holiday homes, rental apartments and hotels 800m above the town. The clutch of thrilling blacks that hurtle towards the town include some of the most rated expert runs in North America – those in love with that heart-in-mouth feeling shouldn't miss Bushwacker and the mogul-tastic Mammoth, while Log Pile is a fantastic gladed obstacle course cushioned in feet of Colorado's trademark 'champagne powder'.
The last two years have also seen the opening of Black Iron Bowl and Palmyra Peak, two extensive chunks of ravishing 'hike-to' terrain. In addition, the unveiling of Revelation Bowl this season will bring the resort's skiable terrain to a very healthy 2,000-plus acres. And, as it's relatively tucked away, and a minimum of 12 hours' travel time from Europe, Telluride offers rare solitude on-piste.
My own on-hill experience started with an example of a degree of service culture that's exceptional, even in the land of the 'Have a nice day' customer care. 'You wanna mix it up some, huh?' said an assistant in the first rental shop I tried when I asked for a longer, faster board. 'Listen dude, I'll level with you. Our boards are basic, they're not gnarly enough for what you're after. Try The Alternative Edge on the corner. They have demo boards, more specialist stuff. They'll hook you up.'
Another unique feature of mountain life here is the US's only free gondola, which takes 12 minutes from town to Mountain Village's upper level, for many the daily commute. Locals are fond of dubbing it 'the prettiest commute in the world', and while to most ski-clad, in-season users it's an aerial joy-ride among forested slopes, dramatic cliffs and towering peaks, for some the daily office run is exactly what it is. Lulled into gushy transatlantic friendliness within a couple of days of arriving here, I was poised to beam 'Good morning' to a woman who sat opposite me when, eyes determinedly down, she whipped out a newspaper and held it between our faces for the duration of the trip (I miss you Central Line. Not).
As for its star-studded side, Telluride could hardly be further from the look-at-me celebrity circus which swallows Aspen and fills front pages worldwide for two heady weeks each Christmas holiday. This town prides itself on its discretion, on being the kind of place where you frequently find yourself looking into faces almost as familiar as your own, smile and say hi, and keep on doing what you're doing. Aspen's billion-dollar ostentation, dazzling range of luxurious facilities and scale of visitor traffic is a seductive mix, but it precludes the kind of community spirit and coherent cultural identity which is tangible in Telluride.
Continued...
---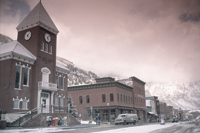 Downtown, the tiny area of valley floor it occupies, and strict codes for sympathetic development, have preserved the eight block by twelve block settlement's quaint dimensions and style. Butch Cassidy robbed his first bank here (of a cool $25,000, accountancy fans), and it's no stretch to replay in your head the saloon bar shoot-outs, whorehouse brawls and trigger-happy sheriffery that ruled the streets in Telluride's prospecting days (not so in Aspen, where any imaginary gunfire would set off the alarms of any number of Gucci, Christian Dior and Bulgari boutiques). And while Mountain Village has its share of lively bars and restaurants, come night-time, downtown's where all the fun stuff is
at. Restaurants here have all of the quality, if not the showy fabulousness of Aspen – nor do they have the capacity, which makes booking anywhere remotely high-end (nearly everywhere) a wise move. And bars ranging from historic to no-frills to fancy schmancy stud the immaculate streets.
And it's friendly. Real friendly. In a week whose social calendar was further boosted by the seven-day party of Gay Ski Week, and topped off with the Telluride Aids Benefit's annual gala fashion show, an almost blush-makingly sexy event in which locals of all shapes, sizes and ages volunteer to strut, sing, dance and get very near naked, I was making new friends every day, and, especially, every night.
On my last evening, at the post-fashion show after-party at the town's Sheridan Opera House, Paul, who I'd just met, royally took the piss as I greeted a stream of people I'd got to know since arriving in the throng to get in. Later, on the stairs, Daryl Hannah, another part-time local, weaved up to us, giggling uncontrollably. 'Hi', she squeaked at Paul before relapsing into a sniggering fit. 'How are... (snort, chortle, titter)... How is... (snicker, cackle, guffaw)... Are you guys... (chuckle, howl, hoot).' By way of an apology, she waved a half-smoked roll-up in our faces, before giggling some more. 'See what I mean?' said Paul. 'You know everyone. What are you, the new mayor?
Trip Details
United Airlines (united.com), British Airways (ba.com) and American Airlines (aa.com) all fly from London Heathrow to Denver. Road transfers take 7 hours, or domestic flights with United (united.com), arrive in Montrose (two hours by road)
Tour Operators:
High-end: Ski Dream (skidream.com); Ski Independence (ski-i.com); Kuoni (kuoni.co.uk)
Mid-range: Holiday World (americanskiclassics.com): AmeriCan Ski (americanski.co.uk); Ski All America (skiallamerica.com)
Season dates: November – April
Vertical drop: 3831–2667m
Terrain: 2000 acres
Snowmaking: 220 acres
Lift passes: 6-day from £210 / Season Pass from £726
Mountain munchies: there is a range of casual and formal restaurants. A highlight is Allred's, whose panoramic windows give stunning views of the mountains and town
Snowparks?: Yes, there are 3
Downtown: take your pick from cool coffee bars, comfort-food stops and top-class restaurants. The bar scene ranges from rowdy to chilled to designer, though dressing up is never expected.
Highlight: the heady balance of top-quality runs, relaxed but high-end socialising and thriving culture. Telluride is known for its packed calendar of festivals and events
Bummer: some visitors experience insomnia, mild nausea and other symptoms of altitude sickness for a day or two on arrival.