My lungs are burning. My feet are lead. Each footstep is a struggle, harder than the last, as gravity becomes my worst enemy. Yet, as I make my way up to the top of Casper's Bowl and look back at the deep, untouched powder all around me, I realise this week has been the best of my life.
Jackson Hole has a habit of making people fall in love with it. In the middle of nowhere (Northwest Wyoming), the Grand Targhee mountain range juts out of the Grand Teton National Park, like huge hands reaching to heaven. Arguably the best resort in the US, the gem of 'The Cowboy State,' boasts two mountains – Rendezvous and Après Vous – which sit at the heart of the Grand Teton Range. A magnet for freeride fans from across the globe, it combines the terrain of Europe – cliffs, chutes, big powder bowls, steep slopes – but with thick, stunning forests, fast modern lift systems and the hospitality that US resorts are famous for. For the more experienced skier or snowboarder, it's Nirvana. And I'm here during Jackson's best season ever.
My original reason for coming to Jackson was to witness the Quiksilver Natural Selection; a contest created by local pro snowboarder Travis Rice, which would see him and his peers take their freestyle skills to the backcountry. Riders who never normally compete such as Romain de Marchi, Gigi Ruff, Bjorn Leines, Nicolas Muller, DCP and Bryan Iguchi, had gathered together to take part in this surf-inspired event – which was to be caught on camera, with epic results. With a holding period of seven days, and two days of competition, two areas of the resort had been fenced off from the public for two weeks in order to fill their slopes with white gold – until the word was given that the time had come. It was an amazing and inspiring experience watching the pros do their thing, but on our first day on the mountain, with powder up to our nipples, I couldn't resist but join the other journalists on a mountain tour and enjoy the finest that Jackson Hole has to offer.
'I arrived here ten years ago for the winter, but never went back,' states our London-born guide in her a cut glass accent. I soon understand why.
Day One and it's dumping. Jackson Airport is closed due to the huge volume of snowfall, but the locals are happy to keep the tourists away. The nearby resort-centre of Teton Village is our base for the next few days. It combines the raw nature of European resorts such as Chamonix and Verbier, with the US's obsession with all that is big, shiny, new and efficient. The easiest way to enjoy Jackson from the village is to take the Bridger gondola, built in 1997, to the summit. From there we hooked left on Lupine Way but then cut through the trees down to the Nez Perce Traverse and the black Cascade, slicing deep cuts into the fresh powder – spraying with each turn. As we pointed our snowboards straight to rejoin Cascade, our confident guide – the only one on skis – took a nose dive as her two planks sank in the snow. Secretly smiling, I leaned back on my snowboard and flew down the face, stoked I was on the dark side of one plank.
Continued...
---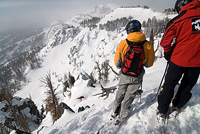 After checking out the progress at Dick's Ditch (named after Patrolman Dick Porter, who survived a 55-minute burial in an avalanche in that spot in 1966) the group reconvened and headed left down the mellow blue of Ampitheater to take the Thunder quad chairlift up to Laramie Bowl – and witnessed some of the most challenging and stunning terrain in resort, a web of expert-marked chutes and cliff drops that were already covered with tracks at 11am. It looked enticing but is still fraught with danger. Our chair buddy told us that just a few days previously a pair of experienced locals lost their lives in an avalanche nearby.
Despite its roots in traditionalism, Jackson Hole has always embraced snowboarders. When it's dumping, the piste bashers are locked away and the pistes are left as big, open, powder runs, crying out to be tracked. Filled with fresh, light white, the Laramie Bowl is one such spot; a huge, wide, deep pit of fun that you can bomb down, then rejoin the Flip Point black run, then go right to take the Sublette quad chairlift. Next, to get back to main resort, at the top of Sublette keep left on Tensleep, past the Tensleep bowl, then take one of the Cirque shoots down to Horn's Hole and the Rag Run.
Tree runs and open forests are top of Jackson Hole's lists of gold-star runs. For a challenge, take one of many long, marked runs and ridges down the base of Rendezous back to the Union Pass traverse, which joins up with the Union Pass Quad chair – but these can get tracked fast. For more fairytale snowboarding in woods, you can track Après Vous all day; the smaller of Jackson's two mountains is dotted with forests, within easy access of the main Bridger gondola. Head left or weave between the trees below. Locals head down the Moran Traverse and drop off either Rock Garden, the Moran Woods or Head Rush to join the Togwotee Pass. Or, further off the beaten track, take the Après Vous quad to the summit and either Big Horn or Pathfinder down.
Admittedly, all this talk of chairlifts and runs is complicated. But things are set to change when the long-awaited $32-million refurbished Tram reopens. Built in 1966, it has been replaced and will reopen in early 2009, with the help of European lift makers Doppelmayr. In a race with Whistler Blackcomb, that is opening its peak-to-peak lift this season, the 100-person Tram takes skiers up 4,100-feet from base to the summit of Rendezvous at Corbet's Cabin, with two prime slabs of snow – Rendezvous Bowl and Corbet's Couloir – just beneath. From bagel to backcountry in just nine minutes. Tasty.
Continued...
---
Okay, so the mountain is great and the snow epic. But what else makes Jackson special? Perhaps it's the beauty of being in a National Park, but the atmosphere in Jackson is more relaxed luxury than ski snob. A fully-functioning town in its own right, it's home to cowboys and ranch hands alongside big-mountain skiers and pro snowboarders – teachers and nurses as well ski journalists and tourist photographers. It's this melting pot of earthy, friendly locals and snow-loving immigrants that gives Jackson more character than your average ski resort. If you want spas, fine dining and designer style, stay in the Aspen-aspirational Teton Village (although the Hostel is a rare budget find that bucks the trend). However, for us mere mortals, Jackson holds more realistic options – from rustic log cabins and family-run inns, to cheap, branded motels.
There is a network of free buses in and around Jackson – the best I've experienced – that run every 30 minutes until midnight. The bars also straddle the old-school charm and new-school vision of the town, mixing mechanical bull riding at the legendary Million Dollar Cowboy Bar, to micro brews at the Snake River. Pretentiousness has no place in Jackson; most bars play gnarly freeride films in the background, while whiskered, weather- beaten mountain men sip a PBR or chew on a chicken wing, discussing the death-defying lines they picked that day. However, fearlessness on the mountain means there are no social insecurities; locals are happy to strike up a chat on the bus, chairlift, in the lift queue, or when helping a lady with her luggage. I met James, a portrait photographer in Jackson for the winter, as he helped me lug my huge snowboard bag off a packed tourist bus early one morning. The next time I bumped into him was on the last day of my trip, just off the gondola for the first time that day, feeling rough from the Natural Selection party the night before. 'We're just going to hike up a bit to Casper's Bowl: wanna join us?' Madness maybe, but thank God I said yes.
Trip Notes
Getting there:
There is an airport 40 minutes away from Teton Village in Jackson, with services from Chicago, Dallas, Los Angeles, Salt Lake City, Atlanta and Cincinnati, but it's pricey. A cheaper option is to fly to Salt Lake City and take the once-a-day $10 bus at noon, direct to Jackson Hole. It takes five hours, but could save you about £100.
Season dates: Early Dec to early April
Vertical drop: 1,250m
Terrain: 2 mountains, Après Vous and Rendezvous, 2,500 acres of in-bounds terrain and 3,000+ acres of backcountry
Snowmaking: 160 acres of coverage.
Lift passes (a rough guide):
Adult (15-64) $59
Juniors 14 and under ($35)
Child (6-12) $7 (beginners slopes only)
Senior (65 and over) $57
Mountain munchies: New at the top of the Bridger gondola (the Couloir Restaurant and Bar, Bridger and Headwall Deli), plus Bear Flats Snack Shack at the base of Sublette lift, Casper restaurant at the base of the same-named chairlift, Corbett's Cabin at the top of Rendezvous Mountain plus Solitude Cabin – a quaint hide away in the woods.
Snowpark: Snowboarding is allowed on 100% of the mountain, but freestyle facilities are limited, with two small parks (one for experts, another for beginners) and a superpark with a rope-tow in.
Facilities: The Bridger Centre in Jackson Hole Mountain Resort is home to Jackson Hole Sports, Hole In the Wall Snowboard Shop, Café 311 and Mountain Sports School Sales.
Eating/drinking: You can't beat Billy's 'Giant' Hamburgers and Sidewinder's Sports Grill & Tavern. For something a bit more up market the Cadillac Grille is a local's fave. The Snake River Grill serves a mainly organic gourmet menu. The Thai Me Up takes authentic Thai cuisine and gives it a twist.
Highlight: The 3,000+ acres of accessible backcountry. Plus, the chilled but fun, cowboy-like local bars and cowboy-friendly atmosphere.
Bummer: if you're a freestyle junkie or into your rails, you'll be disappointed. Instead, why not take those skills to the mountain for once?
Find out more about Jackson Hole www.jacksonhole.com