It's not often that your average skier can hit the slopes with a ski icon. But you can at British Columbia's second-biggest resort, Sun Peaks, where 'ski with Nancy Greene' is not just part of an itinerary put together to impress a visiting UK journalist.
Anyone can sign up for an afternoon skiing with the woman who in 1999 was voted Canada's top athlete of the 20th century, and pick up some brilliant tips while Nancy shows off her home mountain.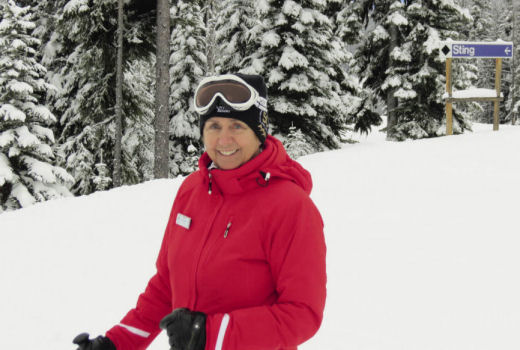 Nancy, now 69, was Canada's top ski racer in the 1960s, winning Olympic gold and silver, World Cup titles and 17 Canadian Championships. Aged 24 she married Al Raines, national ski coach, and together they spent the next four decades shaping the British Columbia ski industry. Based initially in Whistler, it's not a stretch to describe them as Whistler's Mother and Father…
They coached at Whistler during the 1970s and Al changed the course of the resort's early years, helping to plan the development of Whistler's pedestrianised village and the expansion and integration of Whistler and Blackcomb mountains. It was Al who identified the key philosophy of putting trail capacity ahead of lift capacity and then bed capacity. They also opened and ran the resort's first purpose-built hotel, Nancy Greene's Olympic Lodge in 1985, before a desire for a new challenge took them further inland, to Sun Peaks.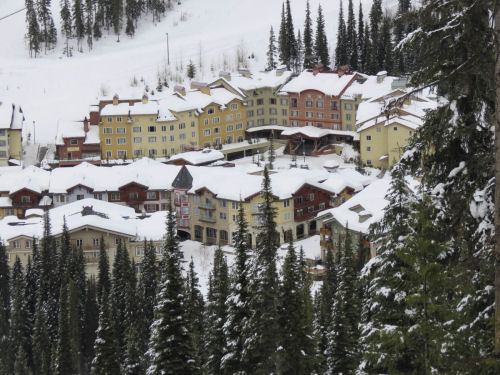 Here they built a new hotel, Nancy Greene's Cahilty Lodge, and have overseen Sun Peaks' development as Canada's no 2 resort. As director of skiing, Nancy still skis with visitors at the weekend, while spending her weekdays in Ottawa as a rising star of the Canadian senate. Al, now 70, is Sun Peaks' mayor, but still loves to take guests to the powder fields off the top of Tod Mountain – the resort's original name, when it first opened 50 years ago.
And Sun Peaks couldn't be more different to Whistler. Sitting midway between there and Banff, near the small town of Kamloops, its the 'anti-Whistler', quieter and with an older demographic who come here for fewer crowds, shorter lines and quieter nights. In one mountain restaurant where I'd come to sample Sun Peaks' legendary hot cinnamon buns, I found the Sun Peaks Antiques, an inspiring band of 80 local skiers in their 60s, 70s and even 80s, who epitomise an older, fitter generation who won't go gentle into anyone's good night…
Sun Peaks' skiable terrain is a huge 4,000 acres (more per skier than anywhere else in North America) spread across three peaks – Morrissey, Sundance and Tod. And while it doesn't have the vertical of Whistler, it can claim the better snow. Being that much further inland, and with a base elevation higher than Whistler, the snow here is drier, its powder more akin to that found in Japan.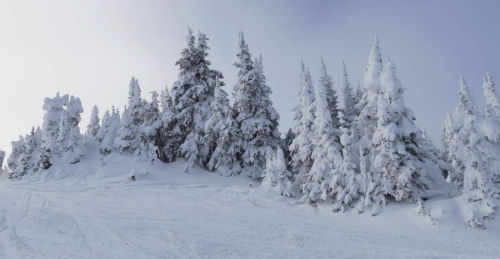 There are some gorgeous groomed greens for families to ski together, including the lush Five Miles which takes even novices from the snow ghosts at the top of Tod to village level. Good blues network the peaks, and it has some great steeps – Sting, Challenger, Cariboo and Peak-a-boo, and powder fields in Crystal and West Bowls. The Sticks, a long, easy green on Morrissey drifts lazily through stands of pines, giving even gentle skiers a taste of glade skiing.
The resort village is compact and convenient for all the base lifts, and you can even ski down its pedestrianised high street. Though purpose-built, it does not have the theme park feel of Tremblant, out east. It's commercially discreet with no garish shop-fronts, and its quiet restaurants, bars and coffee shops are neatly tucked away. Nancy Greene's Cahilty Lodge itself is big, but looks small, as it was built and painted to look like a collection of smaller buildings.
Sun Peaks also has the best coffee I tasted in Canada – served by Polish couple Elizabeth and Conrad who run Cafe Balacco, a tiny hole-in-the-wall place, where you can also get a kahlusa – a Polish sausage sandwich with home-made mustard. I'm not kidding, this was the tastiest fast food I had the whole trip.
For UK visitors, Sun Peaks' only drawback is that it takes a bit of an effort to get here. I took a nine-hour flight from Heathrow to Vancouver, then hung around for a couple of hours before my local flight to Kamloops, where I caught a shuttle to the resort. A Brit couple I met had come via Calgary, but we'd all been travelling around 16-17 hours, and though the clock in the Cahilty Lodge reception said 9.15pm, my body clock was telling me it was 5.15am.
It was well worth the detour, though, and makes for a good curtain-raiser to some epic days in Whistler, reached in two hours by minibus transfer, which runs three times a week and takes you through some fabulous BC scenery.


Snow How

GETTING THERE
Nearest airport Kamloops.Fly via Vancouver (Air Canada) or Calgary (Westjet).Transfer to resort, 45-minute shuttle minibus.

WHERE TO STAY
Snow stayed at Nancy Greene's Cahilty Lodge. Prices start at around $90 per person, per night.
www.cahiltylodge.com

IN RESORT

Skiable terrain 3,678 acres

Number of lifts 11

Percentage of runs: beginners 10%; intermediate 58%; advanced 32%

Highest point Tod Mountain 2,152m

Vertical 882m

Snowpark yes

Cost of adult lift pass $16 per day for 3 days or more

MUST DO
Ski with Nancy Greene – Saturdays and Sundays at 1pm; sample a Polish sausage sandwich at Balaccos – and share a mid-morning hot cinnamon bun at Sunburst Lodge (I say share, they are enormous!)

TOP TIPS
If planning a visit here as a warm-up for Whistler, arrange transfer between resorts in advance.

BEST FOR
Young families, older skiers and anyone who prefers a quieter ambience. But also dry powder lovers!

USEFUL CONTACTS
Tourism Sun Peaks:
www.sunpeaksresort.com