At the Whistler Sliding Centre, built for the 2010 Winter games, you can do a luge or skeleton ride or, as I did, take a four-man bob run down the Olympic course (well, the bottom two-thirds), banking round ten corners at up to 125kph, with 3Gs of G-force sitting on your head like an elephant.

And get this. Your pilot may well be Mr Pat Brown, coach to the 1988 Jamaican bobsleigh team, as very loosely immortalised by John Candy in the film Cool Runnings. It surely doesn't get much cooler.

'They took a few liberties with my character in the film,' says Pat, as he prepares to take our group of novice bobsledders on the ride of our lives. 'But it was a great movie.'

Before your own cool run, you get a health and safety briefing, because while this might be a tourist ride, it is potentially dangerous. Plus, you get a helmet, a souvenir snood and sign the 'I won't sue in the event of my death' waiver.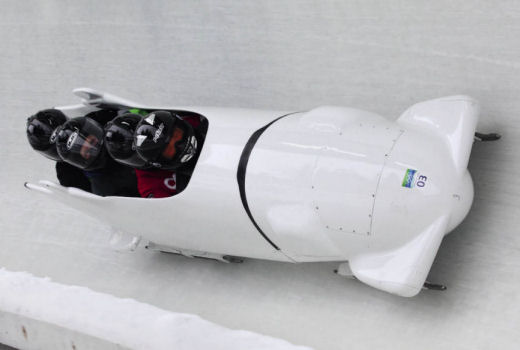 Our sled is a Cadillac compared to the stripped down pro bobs. It has cushions to sit on. Now, though, it gets serious. Sit upright, we're told, slip your feet either side of the person in front, hold on really tight and hunch your head into your shoulders to lessen the strain. The rider sitting immediately behind the driver also gets the disconcerting instruction: 'whatever you do, don't interfere with the pilot'. And if the sled rolls over, make yourself as small as possible and hang on to the cables...

A pro bobsleigh run would involve running flat out before jumping into a bathtub that hurtles down a solid block of ice. We don't have to run; instead we get a push start.

At first it's quite slow, but within seconds we've picked up speed and have started banking from side to side round the corners. This is the exhilarating bit. Speed without pain. But as we gain momentum the downward pressure mounts, and by the time we hit the last bend, Thunderbird, at 124.7kph, I feel intensely squashed. Just as the G-force becomes intolerable, though, it recedes as we climb up the steep braking hill, and come to a stop.

We novice sledders wobble weakly from the track, mustering feeble high-fives, and thanking our pilot who's off to do it all over again. Then there's the video to watch and buy. Equilibrium restored, realisation of a genuine achievement sinks in.

The Bobsleigh Experience can only be booked well in advance as it is incredibly popular. It costs $149, which is about £94. For 45 seconds, plus preamble. Worth it? Hell, yea.

www.whistlerslidingcentre.com