Right now I'm scared. I'm standing at the entrance to Bush Rats, a steep couloir leading into Chainsaw Ridge, an unmapped powder bowl on Blackcomb mountain – and I can't see a thing. The wind has whipped up the snow into a curtain that totally obscures the way in.
'Once we get under the ridge the visibility will improve,' says my Extremely Canadian guide Peter Smart. 'Just stay very close to me as we sideslip this tricky bit, then a couple of tight turns and the rest is easy. We'll be fine…'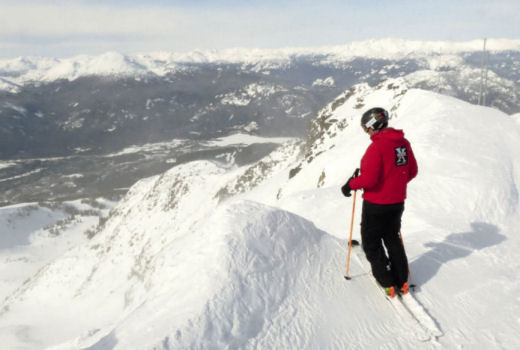 He is. I'm not. The side slip is ok, but then it's time for a turn – of faith, as I can still hardly tell which way is down. I find that out when I slip, luckily not too far and recover to turn again…and slip again.
'I think you need more visibility,' concedes Peter, and so we traverse under the ridge and into the light. Suddenly I can see and as the wide bowl opens out, a morning with Peter spent practicing linked turns, pole plants and hockey stops in his Steeps Clinic comes into play and I am able to work my way confidently down the bumpy slope.
But Peter hasn't finished with me yet – after a precipitous look over the edge of Extreme Couloir (a look is enough for me) we go for a play in the powder of Secret Bowl, then up Spanky's Ladder, a short, steep, breath-sapping hike to the entrance to Blackcomb Glacier, where we ski the double black diamond Ruby Bowl down to the glacier road, and on to the bottom for a well-earned beer…
For me this is all huge. I have not only pushed my envelope, I've put my will in it, stuck on a stamp and posted it to my solicitor! Extremely Canadian can do that for you. The company, formed 17 years ago by Peter Smart after he'd become disenchanted with regular ski schools (and regular ski schools had become disenchanted with him!) was set up with one aim in mind – to help skiers from adventurous intermediates to experts improve their skills on the wild steeps of North America's no 1 ski playground, Whistler Blackcomb. A two-day clinic for up to four people costs $399, but EC's mix of expert tuition, video analysis, tactical tips and local knowledge is pretty much guaranteed to give you the confidence to make the most of this ski mecca.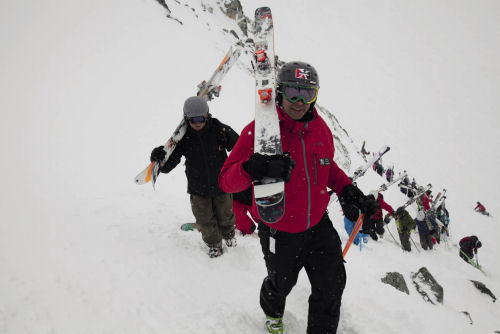 Let's be clear about this. Anyone who ever clicks into a pair of skis or tightens the bindings on a snowboard will want to make the pilgrimage here one day. If you haven't been…well, it's just not your time yet. As legendary ski film-maker Warren Miller put it: 'If you don't come this year, you'll be a year older when you do come.'
Yes, we love the Alps with their cute villages and cosy mountain restaurants, where you can linger over a long lunch before heading down for a bit of après.
But if you are even a bit serious about wanting to get the most from your skiing, you will feel the pull of the twin peaks – Whistler and Blackcomb mountains in the Coast range of Canada's British Columbia. One mile of vertical; more than 8,000 acres of incredibly varied terrain, from green groomers to blue cruisers, alpine bowls, chutes, glades and steeps; snow measured in metres not centimetres; host of the 2010 Winter Olympics alpine skiing…
It's been hyped to the hilt – and there's danger in that. Have we built it up just to knock it down? Does Whistler really deliver?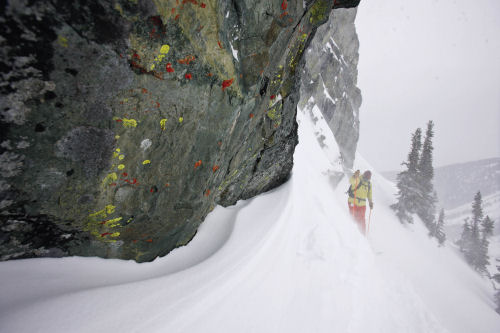 I admit I'd come here, eager anticipation vying with a nagging expectation of disappointment. Would Whistler be big enough for me? Would I, a humble intermediate, be big enough for Whistler? Well, Peter Smart's Extremely Canadian took care of the latter, and Whistler itself more than took care of the former.
It's one of the most perfect examples of joined-up ski planning I've come across. For a start, Whistler BC, is a proper community, of 10,000 residents – explorers, entrepreneurs, artists and athletes – who've come to this beautiful location two hours north of Vancouver to hang out with the bears and stretch their legs and their minds in a year-round mountain playground.
Opened in 1966, Whistler (named after a local alpine marmot which 'whistles') started with a four-person gondola, a double chairlift, two T-bars and a day lodge, and virtually re-invented the modern ski experience. The opening of Blackcomb in 1980 started a friendly rivalry that existed until the two neighbours merged to form one operation in 1997, a marriage sealed with the 2008 opening of the Peak 2 Peak gondola that linked the two mountains.
The 2010 Winter Olympics made Whistler a household name around the globe, but its reputation for innovative thinking and problem-solving had already put it on the podium as one of the world's greenest ski operations, winning countless awards for its environmental stewardship. A new renewable energy project produces enough hydro electricity to power the ski resort's entire year-round operations, including 38 lifts and 270 snowguns.
Base operations revolve mainly around Whistler Village, built in a style familiar throughout British Columbia – all angles and pastel colours, sloping roofs and timber cladding – while its pedestrianised high street meanders like a stream through the town where hotels and condos mingle with shops, bars and restaurants. In the lower village is the Olympic plaza where a free ice-rink has been set up (skate hire $10).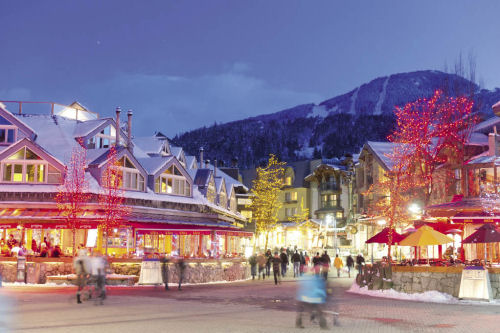 Access to the mountain is from three points: Whistler Village, Whistler Creekside and the Upper Village which just serves Blackcomb. Three gondolas and two high-speed chairs take you up and a network of lifts fans out to distribute skiers around the mountains. And this is where Whistler Blackcomb scores so highly. Pretty much all of it is accessible to pretty much anyone – even the highest point of Whistler mountain, the 7,160ft Peak Lookout with its massive stone man statue (Inukshuk). While experts can play in the steep powder runs of Whistler Bowl, one of the world's longest blue runs, the Peak to Creek, winds all the way down to Creekside.
Even on Blackcomb glacier, an easy blue run, the Glacier Road, allows all but the most nervous of beginners to enjoy the tranquillity of this wilder area. Green runs also allow access to the high terrain of 7th Heaven on Blackcomb and the Symphony amphitheatre on Whistler. At the other extreme, experts also have the wilderness area of the Garibaldi Provincial Park and more than
400,000 acres of big mountain terrain they can reach via Whistler Heli-Skiing. Both mountains generally have more than enough to keep all levels of ability happy for a lot longer than
the length of your average visit here.
And this is important for UK skiers especially, who form around seven per cent of Whistler's 1 million winter visitors each year. What with air fares, accommodation, meals, passes, and all the other ski paraphernalia, coming this far is a big enough financial ask for one person. For a family of four, this is not a trip to make if you don't think you'll get your money's worth.
Kids are well catered for: maximum of six children per instructor in ski school; five-day adventure camps from age 3 to 12; park and pipe lessons for the little cool dudes, and childcare for youngsters from 18 months to five years old. Every child in ski school is fitted with a GPS band. Not only does this stop the child from getting lost, but parents can go online and see where their little skier has travelled on the mountain.
While your young ones are in ski school, you can get your own introduction to Whistler courtesy of the volunteer mountain hosts – a group of mostly retired folk, 100 per mountain. You just turn up at the meeting place at the top of the main lifts and they will give you the grand tour. These run in ability groups so no-one skis above their level.
I met my vintage host, silver-haired Wayne Hanscom, outside the ski shop on my first morning in Whistler. We went up the two-stage gondola to the Roundhouse, skied a simple run off the side so Wayne could assess my level, and then headed up the Peak Express four-man chair to the very top for a photo op with Inukshuk, before skiing the Peak to Creek to Creekside – the original Whistler development and site of the legendary Dusty's après bar.
In the whole day, coming down to Creekside was the only time our passes were re-checked; basically, once you're on the mountain, it's assumed you have your pass, so no expensive automated checking equipment or human checkers are needed. Another little feature at each lift was the sniffle station: a tissue dispenser. Very handy.
Going back up from Creekside takes you past the men's and women's Olympic downhill runs, but for us it was off to the Symphony amphitheatre where you can access some beautiful gladed runs.
After lunch, we took the Peak 2 Peak across to Blackcomb where we headed via the Showcase T-bar to the glacier. A leisurely traverse, then a drop through the powder field. Only tricky bit was when some cloud rolled in causing a total whiteout. Happily it lifted as suddenly as it came.
If Whistler has an Achilles heel it's probably the low elevation of its village. It may be dumping snow up the mountains, but at village level – and on the lowest home runs – it's likely to be raining. As always, stay high if you can until you need to come down.
A final thought: Whistler's skiing story may only go back 50 years, but there's a much older story being told here, too. This area is where the territories of two First Nations peoples, the Lil'Watt and Squamish tribes overlapped. Their history goes back for centuries and it's a heritage that's rightly honoured and celebrated in Whistler at the Squamish Lil'wat Cultural Centre. It's more than worth an afternoon of your time.
Joined up thinking. Linking the past to the present and the future. I may be a year or two older when it happens, but I'll be back one day.
Snow How


WHISTLER/BLACKCOMB
GETTING THERE
Nearest airport Vancouver (85 miles). Fly direct from London with Air Canada, BA and Air Transat. Transfer to Whistler via car hire or coach service along the 75-mile breathtaking Sea to Sky Highway. Accommodation and transport can be booked through local Whistler travel consultants at www.
whistler.com
. Transfer time 2.5 hours
WHERE TO STAY
Snow stayed at the Fairmont Chateau in Whistler. With the Fairmont's 'Book Early & Save' ski package, you save up to 30% off a stay with 4 nights accommodation and 3 days of adult lift tickets for two. Prices from $433 per person. Anything booked before 15 Nov, Whistler-wide, is generally the best deal you will get all year on accommodation. Details at:
http://www.fairmont.com/whistler/special-offers/hotel-offers/ski/book-early-and-save-ski-package/
IN RESORT
Skiable terrain 8,171 acres; 200+ trails (100 each mountain)
Number of lifts 38
Percentage of runs: Whistler: beg 20%; int 55%; adv 25%. Blackcomb: beg 15%; int 55%; adv 30%
Highest point 2,284m (Blackcomb)
Vertical 1,530m (Whistler Mountain) 1,609m (Blackcomb)
Season November-May
Amenities 200+ shops; 90+ restaurants; 30+ bars, 20+ spas;
MUST DO The bobsleigh run. Visit the Squamish Lil-Wat cultural centre and join the historical dots;
TOP TIPS Ski one morning at least with a guide – invaluable.
BEST FOR Anyone and everyone, from beginners and families to experts.
USEFUL CONTACTS
• Tourism Whistler
www.whistler.com
• Extremely Canadian Adventures. Unique, challenging and rewarding ski experiences in Whistler, France, Japan, Argentina, India.
www.extremelycanadian.com
• Squamish Lil'wat Cultural Centre Blackcomb Way, Whistler.
www.slcc.ca
• Pacific Coach Lines. For transfers between Vancouver and Whistler.
www.pacificcoach.com
The city that skis
If you've come all this way, don't go home without spending at least an afternoon and an evening in one of the world's youngest cities, Vancouver. Overlooked by mountains and lapped by water, Vancouver is an outdoors-in city. And it even comes complete with its own ski resort


Just a 15-minute cab ride from downtown Vancouver is Grouse Mountain, a beautiful snowy playground for the city's urban skiers. At peak times some 7,000 people a day head out of the city to ski or ride Grouse Mountain's 35 runs, including a couple of double black diamonds.
And if you don't fancy skiing at $58 a day, you can ride the gondola for just $39, rent snowshoes for $10 and explore the tranquillity of the peak's snow-laden forest. You can also visit the Eye of the Wind, a viewing platform housed in the nacelle of a huge wind turbine. Amazing.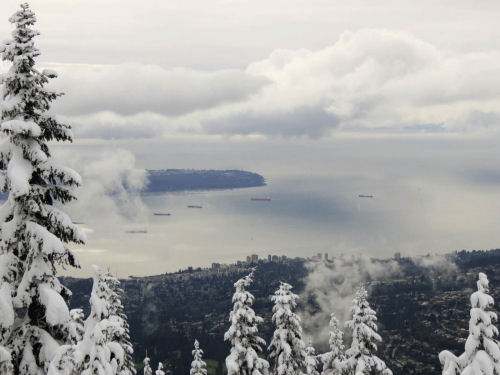 Up here, the views are incongruously stunning. Vancouver's glass towers can be bathed in spring sunshine, the Sound sparkling with shafts of sunlight, but atop Grouse Mountain winter reigns, pine branches still heaving under the weight of the white stuff. The snow is a bit sticky, but here that's a minor grouse.
And for après, you have all of Vancouver's restaurants, bars and clubs to choose from. Try a bar crawl around Gastown, city's most historic neighbourhood, now a hotspot for sampling wines, cocktails and micro-brewed beers. If you are looking for a quirky alternative to the chain-brand hotels – of which there are plenty – try the Listel Hotel, on Robson Street. This 129-room boutique hotel is a culture lover's dream, packed with original art, in the rooms and in the public spaces.
Finally, before you head to the airport for your flight home, spend a leisurely morning walking or cycling round Stanley Park or mooching around the fabulous foodie paradise of Granville Island, where you can also see First Nations art galleries and pick up a souvenir carving. A perfect end to an unforgettable trip.
Snow How