To take that a step further, spend some time in a resort such as
St Moritz
which exudes all of the obvious trappings that a luxury lifestyle could offer. Here, forget about living like a millionaire, you're surrounded by billionaires.
As you ski down the wide open, well groomed and south facing slopes right above the town of St Moritz, you're constantly reminded of the ubiquitous and overt wealth. There are more five star hotels concentrated in the
Engadine Valley
(St Moritz lies in the centre) than anywhere else in the Alps and occasionally you'll see a private jet swoop down and land at the airport, just minutes away from your hotel.
Fancy a quick lunch stop? Then why not grab a Michelin starred meal on the mountain. Getting a little low on your Gucci or Prada? Just pop into town and stock up – who needs Bond Street when you've got the Via Maistra?
So who actually goes to St Moritz? After thirty years of skiing, I'd never been to the area and I thought it was time to have a look at this enclave of wealth and opulence that regularly attract celebrities that include Naomi Campbell, Sylvester Stallone, Guy Ritchie, Boris Becker, Claudia Schiffer, Robbie Williams and Tina Turner.
Getting to St Moritz by conventional means (flight to Zurich, rail transfer) isn't fast. The rail journey from Zurich airport takes over three hours. But it is spectacular and arguably one of the greatest rail journeys in the world and part of it is nominated as a UNESCO world heritage site.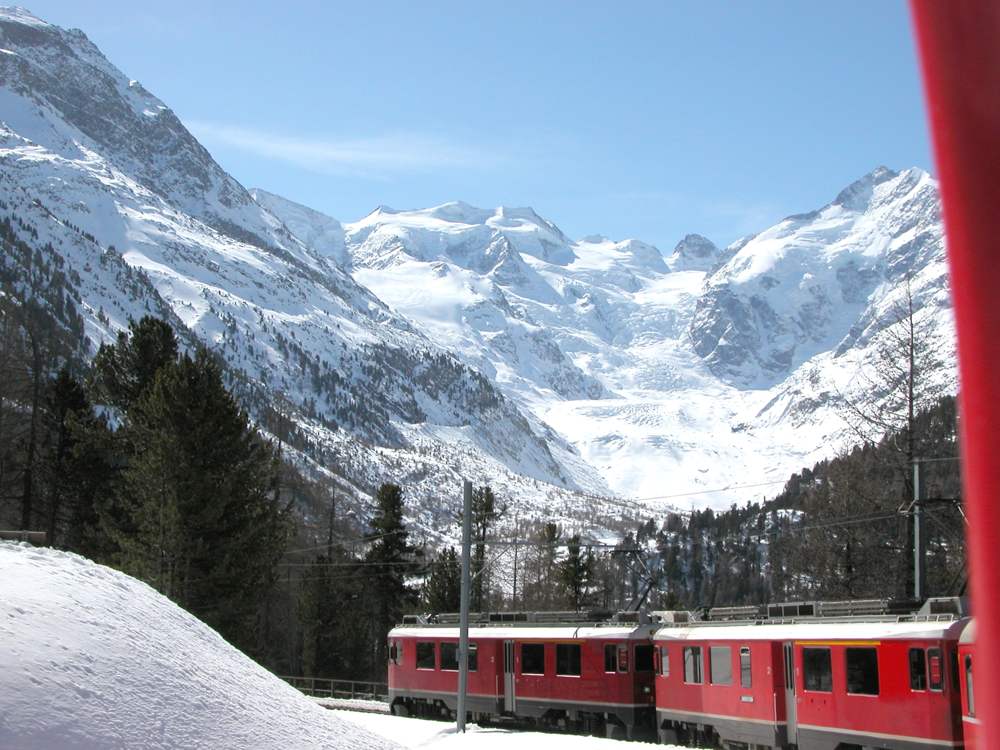 My accommodation was located in the village of Samedan, about five minutes by car or bus from St Moritz centre. Like many of the surrounding villages that spread along the forty one kilometre Engadine Valley, it has more character than the main town centre.
Here, a good selection of hotels, apartments and chalets are available to accommodate most budgets, although adding the caveat that snowsports holidays in Switzerland are never going to be cheap.
But, consider that St Moritz has a youth hostel with rates of around 63 Swiss Francs a night per person including breakfast and an evening meal and you start to see that under the surface of it all, the possibilities are there for everyone. Combine this with a deal that provides ski passes for 25 Swiss Francs a day when you stay two nights or more in around 100 participating hotels and the argument for providing value for money skiing in Switzerland is suddenly not looking like a joke at all.
I stayed in the four star
Hotel Bernina in Samedan
. Opened in 1865, it's the oldest hotel in the Engadine Valley which prides itself on being one of the first tourist destinations in Switzerland when British aristocrats decided it was the place for them.
This kind of accommodation provides a high level of comfort without the costs of a luxury ski holiday. Managed by a team of Italians, mostly from Sicily, they work hard to retain guests with a level of service that has a personal approach. Need to get to the slopes, they drive you there, drop you at the door and pick you up later – and the best thing was the in-house pizza chef from Naples who just keeps on pumping them out of the wood burning oven.
But this hotel is typical of the approach in the valley and from this viewpoint you start to understand what this area is really about – the winter sports playground. The Engadine is one of the highest Alpine valleys in Europe and at this altitude, one of widest. There's a series of three lakes that run along its length between St Moritz and the village of Maloja, just a twenty minute drive from the Italian border. These all freeze over and by mid-January are solid enough to allow a new winter world of activities to open up.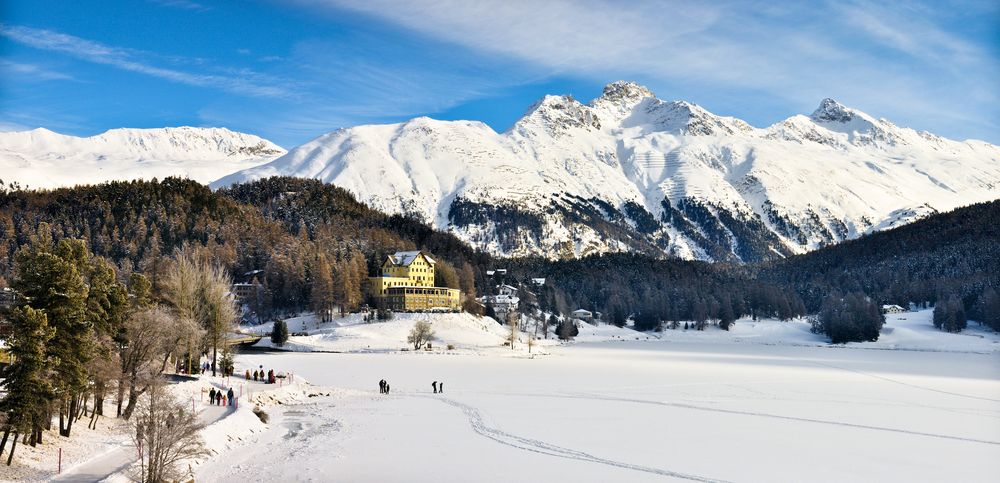 The lakes and the valley are the basis of the platform for the vast array of sports on offer that include, ice skating, curling, horse riding, tobogganing, bobsleigh, Skeleton and of course a huge amount of cross country skiing. Every year the Engadine Marathon sees thousands of people race against each other along this white winter highway. In 2013, news about Pippa Middleton taking part provided some national news coverage of the event.

The skeleton racing takes place on the Cresta Run for members of the

Cresta Run Club

, their guests and others who wish to attempt this insane ride down a narrow icy chute at over 50 miles per hour. Bobsleighing is confined to the Olympic Bobrun, a completely natural track that's built at the start of every winter from snow, ice, wood and other natural obstacles.

All this without a mention of the actual skiing, which offers all levels just about as much as you could handle in holiday. I spent one day at the two largest of these areas, Corvatsch and Corviglia and both offer a very different experience.

Predominantly north and west facing Corvatsch has a good selection of slopes for beginners and intermediates but also offers advanced skiers some terrain that is the most challenging in the area. There seems to be plenty of off-piste options too. The three year old, four star,

Hotel Nira Alpina

sits right at the bottom with direct access to the cable car station and is an excellent base for individuals and families to stay and although it's out of St Moritz itself, everything you need is there, including four restaurants and a super cool bar area. They also have a comprehensive child care program.

On the other side of the valley, with direct access from St Moritz Dorf, the main town centre, is the Corviglia area. This is south facing, has the largest selection of mountain restaurants and masses of wide open, blue and red runs that makes it an intermediates paradise. There are some challenges though as the Women's World Cup downhill and super G run and the Men's World Championship Downhill run make their way from top to bottom on a piste that rolls and twists naturally down the mountain.

I tried out a new system that uses a series of different sized skis from very short to normal length called UPS. My instructor was Vittorio Caffi, director of St Moritz based Ski Cool and Vice President of the

ISIA

(International Ski Instructors Association). He explained that beginners can learn to ski parallel within a day or two and often progress much faster than on conventional skis. Experts can also benefit from the very specific drills that are designed to enhance the feeling of carving and edging – many ski racers use it in training including World Champion Tina Maze from Slovenia where the system was designed.

Performing the drills on the slope was a challenge, but I felt it enhanced the feeling through the skis and once back on a conventional length, I noticed how fine-tuned my reactions were.

Of course it's hard to ignore the cuisine in the Engadine Valley and although I found reasonably priced self-service food on the mountain, the real treats are to be found in the cosy restaurants that scatter across the slopes in all directions.

The highlight was an evening meal at

Murtarol

. A seafood restaurant with an enormous room in the back, stocking live fish, King Crabs and lobsters from all over the world. Local owner Antonio Walther brings in seafood in tanks and everything is ultra-fresh. Our starter of mixed seafood was amazing and the Sea Bass main course was equally as delicious. Having fresh seafood in the mountains is rare, but on this scale, I would imagine unique.

It's a worth a visit for that alone – save on your lift pass, spend in the seafood restaurant!

Rob Stewart is a Freelance Journalist and travelled to St Moritz with Ski Cool (

www.skicool.ch

) an English speaking ski school based in the Engadine Valley run by BASI member and ISIA Vice President, Vittorio Caffi.

Ski equipment can be hired from

Intersport Silvaplana

at the base of the Corvatsch ski area

St. Moritz resort guide here

One of the true pleasures of travel is how you can live like a millionaire, if only for a few days.