I confided this tragic feeling to my partner, Harriet, and she gives me a withering look (not easy through goggles and snood, but I know it's there) and tells me it's nothing like it.
'No-one in their right mind would willingly spend a day going round the M25,' she says, skiing off. She's right, of course, but I can't get the image out of my mind. It's something to do with the geography.
The Sella Ronda is the famous ski circuit that encircles the spectacular chunk of limestone in the Dolomites known as the Sella Massif. Granted, as a UNESCO World Heritage site, the Dolomites are nothing like London, but two things are keeping this analogy alive in my head. One is that this circuit links four distinct ski valleys, each with their own identity, and the other is that people don't just ski round the Sella Ronda, but use it to get from one area to another.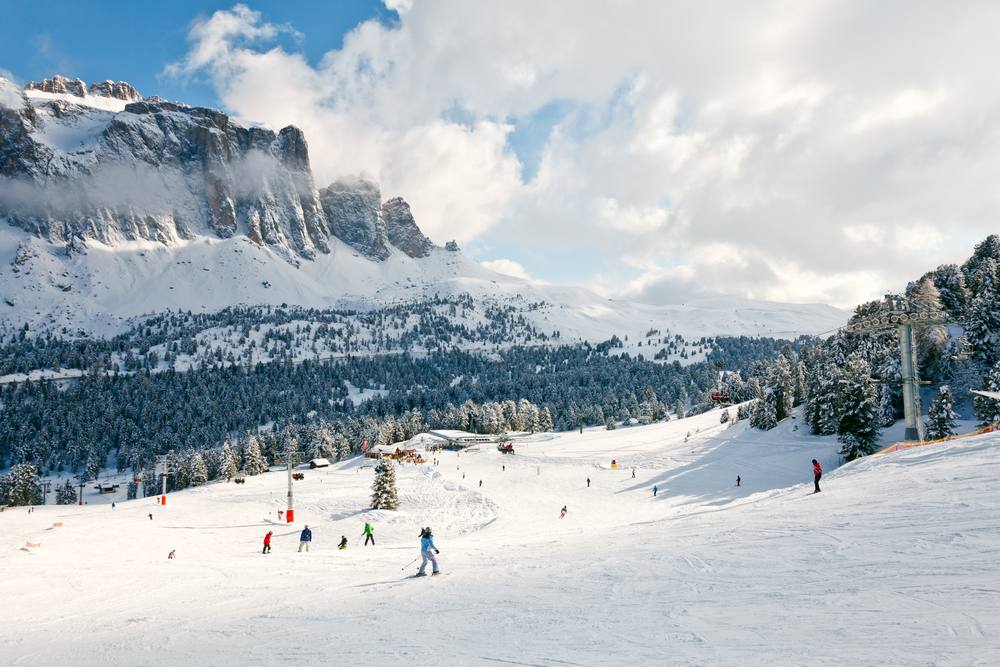 Just as you might find yourself on an M25 slip road near Watford when you want to get to, say, Essex, so skiers will queue to join the Sella Ronda at Dantercepies in Selva, when they plan to spend the day eating Slope Food in Alta Badia. And avoiding traffic jams on the Sella Ronda is as much a matter of timing as it is on the M25.
For the thousands of skiers and boarders who make the trip to this beautiful region of Italy, the Sella is almost a rite of passage: something you have to do once – or preferably at least twice, as you can, of course, ski it in either direction.
Doing the Sella is the first thing on our mind. But we've only just had breakfast. Muscles are stiff , legs need stretching. What we need is a gentle warm-up run. But from our base in San Cristina, in Val Gardena, what we get is the Ciampioni – a testing, busy black run.
A few minutes later we're catching our breath and shaking out limbs after a thigh-burning descent that has jolted us out of our yawning first day reverie. However, it turned out to be the stiffest run we faced all day.
We continued over the northern section, towards Corvara, going clockwise, aiming to get most of the way back round before lunch.
So just what is the Sella appeal? Is it simply to race round as fast as you can? With the circuit being a mix of motorway blues and fast reds, intermediates can easily whizz round in three hours or so.
But it's clear as we go round that the real joy of the Sella is the sense of discovery as mile after mile of beautiful new scenery opens up with each new lift and new run.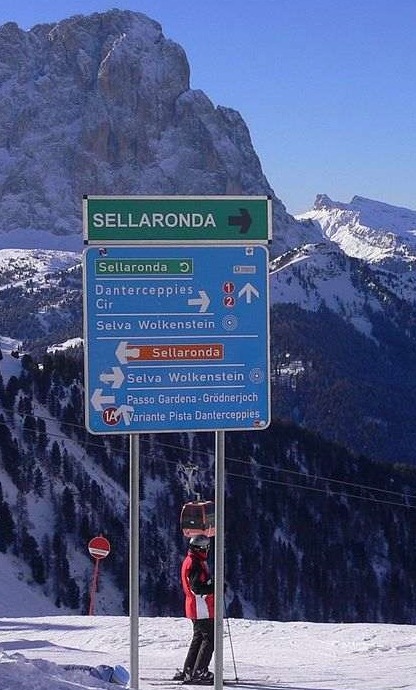 Unlike normal piste skiing, where you can pore over maps and ponder whether you're in the mood for blues or reds, with the Sella Ronda you basically ski what's in front of you. You only have one decision to make – whether to go clockwise (orange route) or anti-clockwise (green). Both are well signposted, though the clockwise route is generally higher and sportier, with a better variety of piste and less pole work for the slower skier. Better still, it follows the sun!

It is a good idea to start no later than 10am if you want to throw in a lengthy lunch stop (and this is Italy, so why wouldn't you?), but ensure you reach your home valley by 3.30 – getting stranded in the wrong one when the lift system closes at around 4pm involves an expensive taxi fare.

A late lunch nearly proved our undoing. We ate a fantastic meal of schuttelbrot, spaghetti vongole, tiramisu and a lovely regional white wine, at the fabulous 2,154m Emilio Comici hut near the Passo Sella, just a few gentle runs from home. Then we skied off . But our minds must have still been at lunch. Just a few minutes later, as the guide and I regrouped over the crest of a hill, we realised we had 'mislaid' my partner.

Shouting got no answer, and with the lifts about to close, we started to worry. The guide skied down our slope to try to hold the last lift, while I climbed back up it to try to find Harriet. Nothing. In fact, there was absolutely no-one around. The slopes had emptied completely. It was closing time.

Luckily, communication has moved on a bit from shouting, and ringing Harriet's mobile revealed that she had embraced a powder mound, extricated herself, and, disorientated, skied off in a different direction. With only a minimal amount of bad language, ('Where the **** are you? Why didn't you wait for me?') we figured out where she was, then the guide and I hitched a lift on a passing piste basher to get up to where we could ski in pursuit of my partner who we finally found drinking coffee and enjoying the local hospitality in a hotel bar at the end of her run.

Sometimes the M25 can be less stressful...

See our resort Italian resort guides

here

I'm skiing on the Sella Ronda through one of the most beautiful and inspiring stretches of Italian rock and all I can think about is that it reminds me of the M25.