One, two, ski o'clock rock...
Perhaps, like me, you have visited New England in the autumn, looked up at those runs cut through the fall foliage and wondered what it would be like in winter, with white clapboard houses and slender-steepled churches blending into the shimmering cloak of snow-covered meadows. Got a handy chocolate box?
I stopped wondering and came back last winter to fi nd out. The fi rst thing to note is that the scale of the landscape here is more like Austria than the gargantuan big skies of Western North America. What you get here are separate resorts, each with its own personality, not huge interlinked networks.

When it comes to winter sports holidays, 80 per cent of British skiers and snowboarders only take a week. For the resorts in Western USA and Canada, take off from the UK to arriving at resort will be 13 to 18 hours. But via Boston you can be in lodging in New Hampshire's White Mountains not much more than 10 hours after leaving the UK and the time difference is only fi ve hours rather than the seven or eight out West. Unlike the Rockies, altitude adjustment is not an issue. A week is perfectly feasible, although an extra couple of days are always good.

New Hampshire has 18 downhill ski resorts but some in the south of the state are very tiny indeed, little more than Sheffi eld Ski Village on steroids. However, the White Mountains have seven resorts which range from 200 to 500 acres. Intermediates and above will fi nd visiting three to six different resorts in a week a realistic option with a rental car. These seven resorts form a rough circle with nowhere much more than an hour's drive from anywhere else. Imagine the face of a clock...
7 o'clock – Waterville Valley
**** Friendly, imaginative and authentic New Hampshire

Waterville Valley has been a favourite of the Kennedy clan and tries to meet the high expectations of affl uent Bostonians. Accessed via a 13-mile drive from Interstate 93, this is about the nearest to Boston, so it's a good place to start. The mountain has a compact base area facing an elongated ridge with skiing off both sides and the front face, making it easy to follow the sun during the day. For beginners, the Valley Run is a superb long green off the Quadzilla Lift.

9 o'clock – Loon Mountain
**** Great atmosphere, variety and inclusiveness

Mountain Club on Loon has some of the best ski-in, ski-out accommodation in New Hampshire at the eastern Octagon base area. The rooms have combinations of granite, wood and large lightcoloured beams, and are spacious for four people. More than half the runs suit intermediates, who have good choices from all three peaks. With more than 2,000 feet of vertical, there is enough to develop a sense of rhythm. The resort has run an outstanding adaptive snowsports programme for 24 years. My ten and 11-year-old nieces had a crush on, and so much fun with their instructor, they begged to have more skiing with him.

Nearby Lincoln has further options for accommodation, and one of the best restaurants in Gypsy Café – small with attentive and personal service. This offers an eclectic menu with choices from various parts of the world including Greece, Thailand and the Caribbean. A meal including drinks for four adults and two children was $210 with tip.

10 o'clock - Cannon Mountain
**** Compact but super 'bangs for bucks'

Downhill god Bode Miller's home mountain and site of the Bode Fest for young local racers early in April, Cannon is one of only about a dozen US resorts to have a cable car. The New England Ski Museum is at the bottom. The main base area is further west. This tall mountain has three distinctive features. The base area and mountaintop are a little higher than some of the other resorts so snow holds well. There is a brilliant separate family ski area called Tuckerbrook for beginners and lower intermediates which has numerous short runs. And, in January 2011, the resort extended signifi cantly to the west with lift installation into Mittersill which last had a lift in 1984.
12 o'clock – Bretton Woods
** Too many boulevards and uninspiring trails

The name Bretton Woods will be linked forever to the 1944 international conference at the Mount Washington Hotel which led to the establishment of the International Monetary Fund and World Bank. No? Oh well, here's what the skiing's like: the ski base area is a mile west of this and claims the largest acreage in New Hampshire at 434 acres. However, six of the chairs are focused at the east end of the resort and only one at the west, creating more traversing. These are predominantly mellow slopes.
1 o'clock – Attitash / Bear Peak
*** Good but Attitash Bear may be april bare - shorter season
This comprises two modest mountains which are connected only near the bottom with separate base areas alongside Route 302. A third of the trails are black or double black. Some of the blues achieve their gentler grading by snaking across the mountain rather than following the fall line.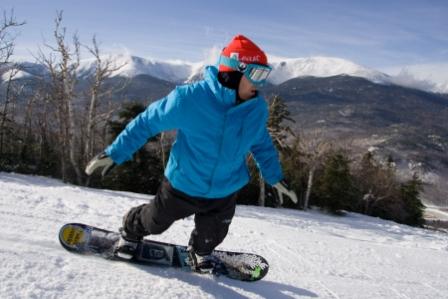 2 o'clock Wildcat
**** A tiger squeezed into a wildcat

A great little resort, Wildcat's proximity to the eastern side of Mount Washington produces a longer season, but can result in rough weather. The Wildcat Express goes bottom to top and creates 2,100 feet of vertical which can be done entirely on a choice of black, blue or green runs. I did eight laps in two hours and chatted to ten different New Englanders on the rides up.
A short drive off the road up to Wildcat lies Eagle Mountain House, one of the Historic Hotels of America. The original building was opened in 1879 and the present building was constructed in 1916. For a real feel of where affl uent New Yorkers and Bostonians would spend their vacations in the Roaring Twenties, this hotel has great views over the snow-covered golf course and hills beyond.
3 o' clock Cranmore
*** Good for beginners and first days

The smallest and gentlest of the seven resorts above, this is on the edge of North Conway, the location for New Hampshire's most varied retail therapy experiences. There is a good case for doing the circuit above anti-clockwise, so that you start at Cranmore for a warm-up day, after travelling north from Boston.
For shopaholics, the North Conway Grand is hard to beat – a 200-bed hotel with an indoor pool, teenagers' movie room, and fi tness centre, all right next to Settlers' Green Outlet Village which has more than 60 stores. Two miles south, Merrill Farm Resort offers a more traditional New England experience. Parts of the buildings are more than 200 years old, including the converted milking parlour for great breakfasts. This is a distinctive, independently managed property with seven acres alongside the Saco River.
Round-up
The White Mountains can be experienced via a tour operator or independently. The main difference from Europe is that weekdays on the slopes are much quieter except around public holidays. A couple of days in Boston are a great way to start or fi nish a trip for those who can manage more than a week.

     

Snow how
NEW HAMPSHIRE, USA

TOUR OPERATORS
Virgin Holidays

Crystal

American Ski Classics

Accessible Travel & Leisure
GETTING THERE
Non-stop scheduled services to Boston.
British Airways – 4 flights daily from Heathrow.
American Airlines, Virgin Atlantic and Delta each have one daily flight from Heathrow.
From some UK regional airports, Aer Lingus via Dublin to Boston may be worth considering.
LIFT DEAL
Five-mountain ski passport covers Cranmore, Wildcat, Cannon, Loon and Waterville Valley. Available through tour operators or hotels who work with New Hampshire Ski Group
A six-day pass is about £180 – days not necessarily consecutive.
SKI SCHOOL
Available everywhere – children's ski school particularly good at Cranmore, Wildcat, Loon and Waterville Valley. Adaptive snowsports – Loon.
NEW FOR 2012
The first full season of Delta's nonstop Heathrow – Boston route. Loon Mountain is creating two new long blue trails in the South Peak sector.
HIGHLIGHT
Meeting lots of interesting New Englanders on chairlifts
BUMMER
Limited nightlife and widely ranging temperatures