One of the most special moments of my life happened last winter, when I stepped out of a gondola, into the bright sunshine, with my four-year-old son. It was the fourth day of our week's holiday with Ski Famille in Reberty, in France's Trois Vallees, but it was the first time we planned to ski alone together. No ESF instructor snow ploughing across the whole of the piste whilst on the phone, with a trail of little people with oversized bibs and helmets snaking along behind; this was father and son standing shoulder to hip, together against the elements.
OK, so it was a green run that wound its way gently down the mountainside into Les Menuires, but for a four-year-old, with only a few days with Mum and Dad under his ever-so-small belt, it was the pinnacle of extreme. As he set off in a sort of controlled snowplough, and then gradually picked up speed, against the beautiful backdrop across the valley to La Masse, I felt a deep sense of pride and happiness. He looked to be embracing my biggest passion with more joy than I could ever have hoped, and the happiness was fuelled by the fact that whatever the future held for both of us we'd always be able to share at least one thing, a love for the mountains.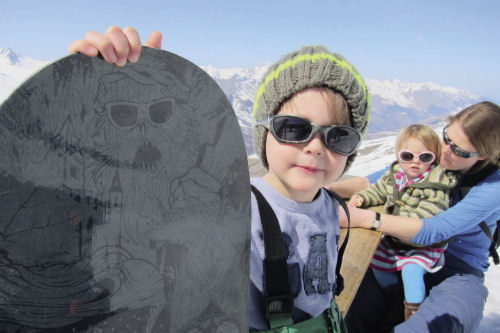 Our kids are young, two and four, so we'd decided on the week before Easter for our trip, hoping to keep the cost down and miss the cold temperatures of midwinter. Being that late in the season, we thought we'd best head high to ensure good snow cover, thus narrowing down resort choices. In a past life (before acquiring a wife, two kids and a UK mortgage) I'd worked in Les 3 Vallees, so thought I'd take a look at holidaying back in my old stomping ground.
I soon came across Ski Famille, and once investigating their travel options, was sold on a holiday to Reberty in the Val Thorens Valley. Rather than including a couple of flight options from only the main UK airports, like most operators, Ski Famille offer you the choice of either an airport transfer (Geneva or Chambery for Reberty) or a channel crossing, thus giving you the option to drive, take a train or choose your own flight. The thought of a leisurely drive through France, maybe with a night in Paris, is a lovely idea but when my son asked 'Are we there yet?' on a trip to the local supermarket I discounted the idea. Living in London, I thought about Eurostar but was put off by the cost, although they do offer some great prices if you book early enough. Eventually we settled on a very civilised mid-morning Swiss Air flight from City airport (no extra fee to carry my coffin snowboard bag), a short bus and DLR train ride from my house.
On arrival in Geneva we were met by our driver and taken along with another family directly to a modern minibus, fitted with the right-sized child seats, and driven the 2½ hrs to resort, stopping en route, at our request, for a coffee and croissant beside Lake Annecy.
On arrival at the chalet we found that the other families had made themselves very much at home and were having a beer on the balcony in the afternoon sunshine, while their kids were using the sofa as a landing pad for their big air practice. It's fantastic – Ski Famille only run small chalet holidays exclusively for families, so you won't find yourself in a large hotel bar full of tutting adults when your kids start to leap about, lunch gets thrown halfway across the room or have a hissy fit when told it's bed time.
'The evening is time for you,' we were informed by Dan, the resort manager. 'We'll serve dinner at 8, so try to get the kids to bed before then so you can kick back and relax with some great food and wine, without the kids.' Now that's an invite I didn't need to hear twice.
Putting the kids into their own beds at a reasonable time is one of the main advantages of holidaying in a small chalet. The previous season we'd stayed in a bigger hotel, with a staffed sleep club downstairs in the nursery, and all but once we'd been joined by a semi-awake crying daughter halfway through our dinner, since only sleeping children were allowed to remain in sleep club! This time our chalet only had nine rooms and we were given a double and an adjacent twin for the kids, handily within earshot of the open-plan living room and dining area. So if the kids did wake up and scream we could quickly put them at ease and get them back to sleep, without the need to have them join us for dessert. It also gives the nannies the evenings off so they don't end up working ridiculously long days, as does the five-day childcare policy.
I'd asked when booking why we only had five days childcare included rather than the normal six: 'Staff happiness and retention,' was the answer. 'Some companies have their nannies working six days a week, most evenings and often having them run the very early morning airport transfers too. Happy staff, happy kids, happy parents, great holiday.' A simple philosophy, but one that seemed to work since the staff seemed fresh to me and there were only two weeks of the season left. In fact, the full day with the kids was great: we went sledging and then to a large indoor soft play area, before finally going swimming, all at a very relaxed pace and with the added bonus of giving your body a midweek rest from skiing. There was the option to pay extra for a baby sitter for those diehard skiers who couldn't face missing any slope time.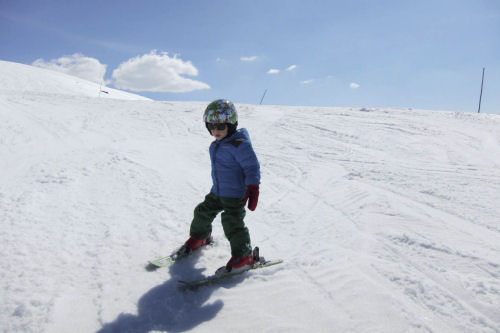 By the end of our holiday the children had made new friends, we felt we had got enough skiing in without any feelings of guilt about never seeing the kids, and I'd made a first descent with my son, a memory that will never leave me – especially as when we got to the bottom he turned to me and said: 'When can I do that on a snowboard?' Now that's my boy!