I don't claim to be a historian, but wasn't there a French woman who had a bit of a problem with her tête and a sharp implement, and wasn't it something to do with telling people to eat cake? Well, while in France with my very young family I felt it might be a good idea to take her advice, and judging by the state of the table at afternoon tea, so did every other hotel guest.
I'm used to making my own way to the mountains, having given up on package deals with the advent of the internet. But now I have a wife, a two-year-old son and a ten-month-old baby daughter to keep happy. So suddenly the thought of paying one operator to take all the hassle out of organising fl ights and transfers, and fi nding affordable child care, not to mention feeding us all cake, wasn't one I wasn't going to overlook. So after a little online investigation, I booked us onto a Mark Warner holiday to
Les Deux Alpes
, where, at their Chalethotel Bérangère, they offer on-site child care for four-month-old babies up to fi ve-year-olds in various age brackets, allowing Mum and Dad to go skiing all day. They will even drop off and pick up your six- to 12-year-old at ski school in the mornings and keep them busy until 5.30.

Our holiday started on a Sunday, which is great as you can pack at leisure on the Saturday and avoid all the Saturday changeover traffi c into resort. When the alarm went off at 4.00am though I woke thinking it was still Saturday, but after the initial shock and waking the kids we set off towards Gatwick. We used a valet parking company at the airport, money well spent as it not only saves time but cuts out all the hassle of buses to and from the long-stay car park with grumpy half-awake kid and bags stuffed with nappies.

Our flight at 6.30am was smooth and we arrived in Geneva at 9.20am local time. Swiftly, we were shown to a coach, all was good and we were on the road in no time at all. That's when the transfer rep informed us it was a three-hour transfer to resort: perhaps I should have done a little more investigation before I'd booked! Mark Warner used to fly to Chambery and Grenoble, both of which we drove past on our way to Les Deux Alpes. However, after far too many delayed and cancelled fl ights due to fog in seasons past they now fl y all clients, low season, to Geneva. After the early start and the excitement of the fl ight, all the children on the coach were actually very well behaved, with most sleeping.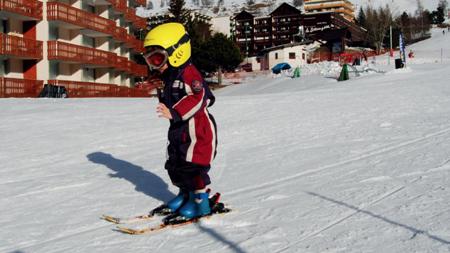 Entering the hotel car park we were greeted by a team of red-fleeced staff waving hello, who then jumped to their task of taking everyone's bags to their rooms. Within a couple of hours we had lift passes and Susie, my wife, had rented skis and helmet from the on-site branch of Sport2000. We filled the next few hours taking the kids, Jacob and Alice, sledding on the nursery slope adjacent to the hotel, which is ski in ski out.

Jacob loved watching the beginners on their skis and snowboards falling over almost as much as sledding, which was fast becoming one of his favorite things. Alice on the other hand was a bit freaked out by it all, but I guess as she hadn't even started crawling yet it was a bit much to expect her to do mach 10 on a piece of plastic in the strange new all-white world we'd brought her to!

It was shortly after we'd finished sledding that the cake obsession started. Afternoon tea is served every day at 4.30pm and Susie and Jacob's eyes lit up at the huge table full of cakes and biscuits on offer. I held tight to Alice as she tried to dive head first into an orange and ginger gateau but I guess she was only trying to join in the fun. We soon learned that it was impossible, or at least strongly inadvisable, to take your children to afternoon tea with you: that's unless you want them stuffed with cake only moments before they sit down to a healthy dinner. It's hard to encourage your child to eat a piece of carrot while you wipe cake crumbs from your face. So instead of having to listen to 'I want some of that', we let the nannies take the kids to their dinner at 5pm, after which Susie and I would retire to the bar and stuff our faces with cake, before collecting them half an hour later as they finished their healthy looking desserts.

Les Deux Alpes is a sort of upside-down resort, with the higher runs being mainly blues and reds and the runs into resort being black. The Chalethotel Bérangère sits on a little green run at the bottom of the black Valentin which is a real challenge for the intermediate at the end of a long day.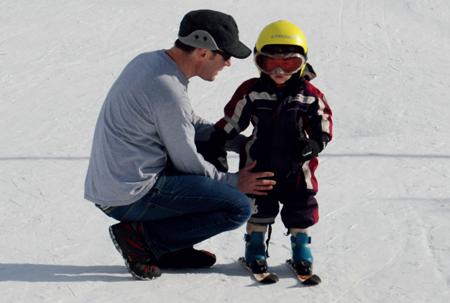 There's a good terrain park with a well-shaped pipe for those who like their freestyle, and a couple of basic board/ski cross tracks to race down. With a six-day lift pass you also get slope access to the nearby resorts of
Alpe d'Huez
and Serre Chevalier, which is great as six days in Les Deux Alpes for an advanced skier/boarder is a little hard to fill. Mark Warner runs a coach between both resorts one day of the week for €29pp. We paid a little cash to the nannies to start work early and finish late, and caught the local bus to Alpe d'Huez for €11pp. The bus goes on Wednesday and Thursday mornings and tickets sell out fast. We had a great day there in the sun, arriving back at our hotel a little after 6pm which was fine, other than we missed our cake fix.

As the week progressed we all got into a trouble-free routine. I've never been one to board all day unless its waist-deep powder, so after a leisurely breakfast with the kids, we drop them off downstairs. Jacob, who was in Toddler Club, never looked back, normally diving straight into a huge ball pen. Alice, in Baby Club, screamed a little on parting but would soon be calmed by Cathy, her key worker, leaving us to hit the slopes.

We'd ski until around 3pm then we'd sneak into the hotel and break Jacob out for some sledding, avoiding being spotted by Alice. On the second day he suggested he'd like to ski and on finding the smallest boots in resort and a pair of skis with tigers on them, we started him on his first taste of alpine sport.
After his initial fear, and once I'd stopped being the pushy dad yelling, 'just stand up!' he got on quite well.

We'd then get Alice and take them both sledding for a while before handing them back to the nannies and stuffi ng yet more cake into our mouths. The early evenings were spent either taking the kids to the town's playground or swimming in the hotel pool. At night a three-course evening meal with wine is served, except on Thursday, when you do your own thing. The nannies organise a listening service for the younger kids, where they all sleep on little camp beds in the nursery downstairs, and older kids are supervised while watching a DVD. This allows parents to have dinner without the normal fear of having a glass of milk, or worse, their own wine thrown across the table. This worked brilliantly for Jacob, who, exhausted from all the day's fun, would fall straight to sleep while Alice, who never sleeps, would join us for dinner.

After another very early transfer and a couple of hours delay to our fl ight (which just goes to show that Geneva can be hit by delays too) we returned home feeling relaxed after a great trip. As we sat in our kitchen with a cup of tea, agreeing that we'd had a good week's skiing, that Jacob too had got a buzz from his fi rst foray onto skis and congratulating ourselves that we'd even managed to encourage Alice over her fear of sledding, I started to feel a little ill at ease. Suddenly, I realised it was the first cup of tea I'd had in a week that wasn't accompanied by a huge great slice of cake: I was having a cake comedown!

Snow how

Pete and his family travelled with Mark Warner Holidays to the Chalethotel Bérangère, in the French resort of Les Deux Alpes

Cost
Adults: from £1,190 (£595pp) for one week – based on two adults sharing.
Kids, 2 to 15yrs: from £545pp
Under 2s: £100pp
Includes flights from Gatwick, resort transfers, ski hosting, accommodation, breakfast, afternoon tea and three-course evening meal with wine.
Free child places available throughout the season, outside peak season, based on a child sharing a room with two adults.

Childcare
Baby Club (4 to 11 months): £285 for 6 days
Toddler Club (1 to 2 years): £285 for 6 days
Mini Club (3 to 5 years): £180 for 6 days
Kidz club (6 to 12s): £150 for 5 ½ days

Reservations
0871 703 3881 or visit

Pete Coombs is a travel writer and author, mountain guide, snowboard instructor and Snows travel editor.