Known as l'ile au soleil, thanks to its south-facing aspect and impressively sunny weather, Alpe d'Huez has long been a favourite for family ski holidays. But there's more to this mega-resort than just kid-friendly greens and cruisey blues.
Within its vast ski area, made up of four separate, interlinked villages, Alpe d'Huez also boasts some pretty serious off-piste, as well as La Sarenne, the longest black run in France. It's also relatively snow sure, thanks to its high altitude (the highest lift reaches 3,300m).
The first ski lift was built here in the 1930s, making Alpe d'Huez of the oldest ski resorts in the French Alps - and indeed the world. The town's architecture reflects every era of French ski resort development, from traditional farmers' cottages to the more 'adventurous' brutalist creations of the 60s and 70s. If there's a common thread, it's the large sun-terraces, to take advantage of the late afternoon sun, and incredible views over the valley.
Alpe d'Huez - Ski Map & Pistes:
The individual sectors that make up this large, lift-linked ski resort each have their own distinct character: The Auris sector is quite extensive and could compete on its own with some smaller regional ski stations. An integrally complete satellite ski area that provides the full gamut of pistes for all abilities, it's also frequently less crowded.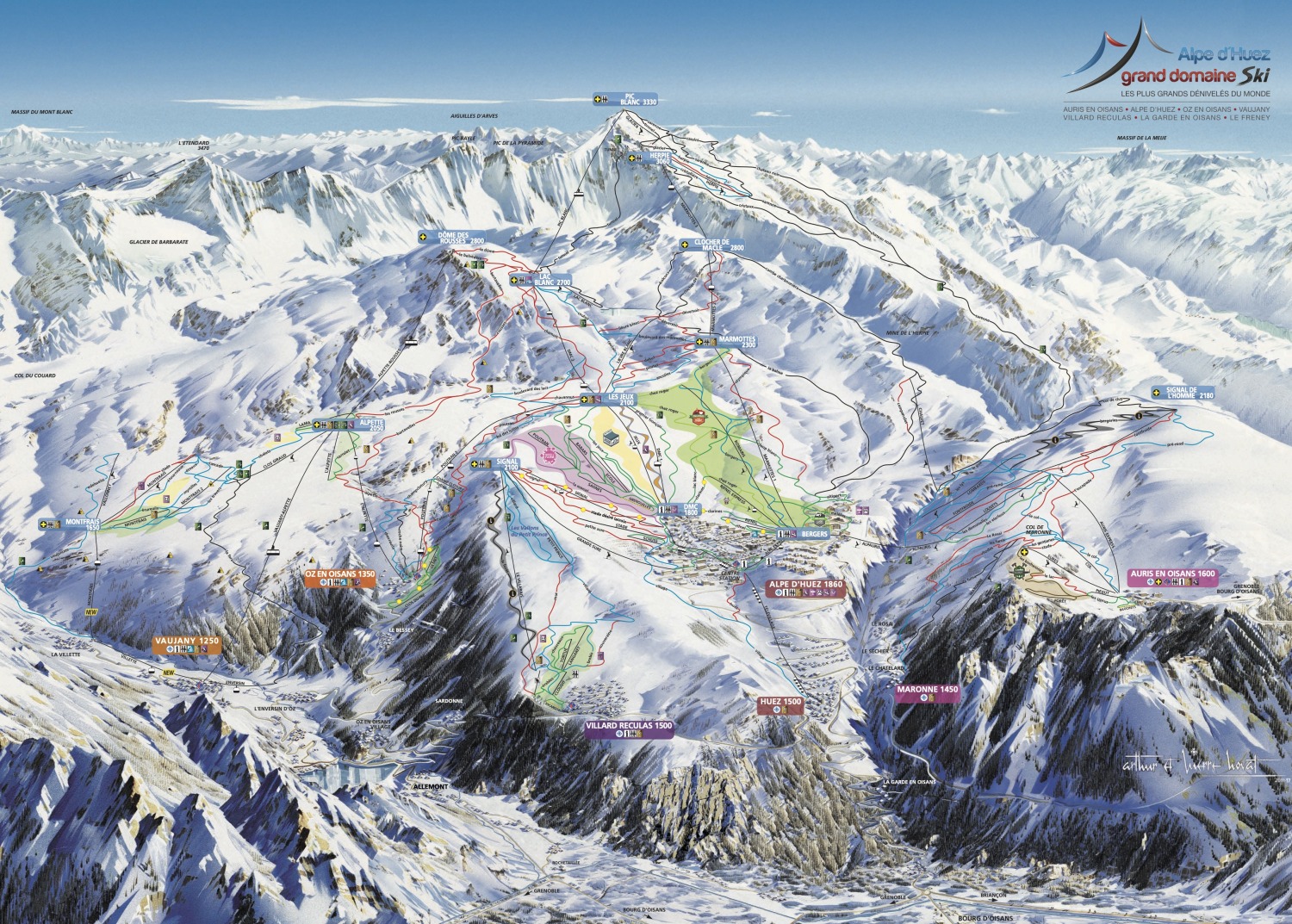 One critique you could level at Auris-en-Oisans as a resort in its own right is altitude, but thankfully the area around the 3,300m high Pic Blanc more than makes up for it. A glacial realm of rock and ice, with the area's most exposed and challenging black runs, including the epic 16 km summit-to-valley Sarenne run, this area could keep advanced skiers occupied for weeks. Even if you're not up for skiing down the Sarenne, the trip up to the Pic Blanc on the massive, modern cable car from the Petites Rousses area is well worth it. The views from the top are nothing short of stunning.
The core Alpe d'Huez sector is characterised by enjoyable mid-altitude blue runs, which flow into the motorway-wide gentle super-pistes that are designated as beginners' zones, running down to the town's two big base access areas. If you're a mixed ability group of skiers and snowboarders, our pick for the best piste in Alpe d'Huez is Vachette. Warm up on that, and then move over to the neighbouring Olympique - a fun red that runs down to the Eastern side of town.
The Signal sector covers a distinct hill overlooking the upper residential area of Alpe d'Huez, directly accessible from town and linked to Villard-Reculas. These good cruising slopes include the resort's floodlit night-skiing and competition pistes.
The Vaujany/Oz sector provides long sheltered trails, great for competent novices and good intermediates, down to the lowest-altitude valley villages. This sector also contains the further satellite area of Montfrais at 1,650m, a compact cluster of lifts and pistes that acts as the core ski area for the village of Vaujany.
Alpe d'Huez - Off-Piste, Backcountry & Ski Touring:
The lift-accessible area is large enough to include a little bit of everything in terms of terrain. With runs from 3,300m right down to 1,130m, there's always something fun to do here, no matter what the snow conditions.
If it's high-altitude couloirs you're after, there are some seriously technical descents off the Pic Blanc. Look down from the cable car or the Marmottes III gondola and you'll be able to pick out the kind of glory lines that wouldn't be out of place in Chamonix. Just watch your timing if attempting them - because it's south facing, the snow here softens up quickly.
If the snow is coming down hard and the visibility's crap, head down for the trees in Auris or Vaujany. In Auris-en-Oisans, the runs down to Maronne at 1,450m are great - the marked, but un-pisted, black La Fauna is a good place to start.
In terms of ski touring, again the Pic Blanc, offering access to the successive ridgelines over from La Sarenne, is probably the best place to start. But there's also an amazing, often-untouched sector of pretty cruisey descents off the back of Auris. Ride the Frontefroide chair to the top of Signal de l'Homme and drop down from there.
As always, if you're heading even slightly off-piste, you're strongly advised to book a guide, either from the Bureau des Guides, or via SkiBro. It's also worth noting that the company which owns Alpe d'Huez also now runs the freeride paradise of La Grave, just round the corner. Your guide should be able to organise transport, and the liftpass office sell a pass that includes five days in Alpe d'Huez, and one in La Grave. Trust us, if you're into backcountry, it's well worth it.
Alpe d'Huez - Restaurants, Bars & The Town:
Alpe d'Huez is a sprawling town with a substantial year-round population and strong commercial links with the Ile-de-France region around Paris (just over four hours away by car), so its infrastructure is extensive and its ambiance is vibrant and cosmopolitan. You'll notice many of the restaurants and hotels have bikes on the walls too - the Tour de France regularly races up the 21 killer hairpins from the valley to the village, and if anything the resort is more famous as a cycling destination than it is for skiers!
Access to the excellent municipal sports and leisure centre is included at no extra charge with the full-area lift pass, and the main town has plenty of attractions and distractions for non-skiing visitors, as well as a good network of pedestrian-accessible ski lifts, making this one of the best resorts in the French Alps for families and mixed-ability groups.
There are no truly noteworthy slope-side après-ski bars, but standout lively venues in town include the long-established Underground Bar and the Yeti. Later on, Smithy's Tavern is a key venue, along with the Igloo nightspot right next door. There are certainly plenty of good restaurants in town, the vast majority tend to offer very similar fare, predominately classic Savoyard and Italian cuisine. Pick of the bunch are La Fondu en Folie, or the l'Authentique.
Accommodation here runs the full gamut - there are cheap, self-catered apartments, plenty of mid-range catered chalets, including lots of ski-in, ski-out options, and a whole host of hotels - from the cheaper Christiana all the way up to the historic, 4-Star Hotel Grandes Rousses, founded in 1902.
Alpe d'Huez - Ski Hire:
There are lots of options for ski hire in Alpe d'Huez. Intersport, Skiset and Sport 2000 all have multiple ski hire shops in the main resort, as well as outlets in Vaujany and Auris-en-Osians, offering their standard service.
Alpe d'Huez - Ski School:
As with most ski resorts in France, ESF are the dominant players here, offering their full range of group ski lessons and individual classes, with ski schools in each of the main base villages. If you're a snowboarder, the independent operation Masterclass Snowboarding, run by British instructor Malcolm Moore, is well worth a look. Or if you want a wide range of independent options, check out the SkiBro booking platform.
// HIGHLIGHTS //
Airport
Grenoble 1h45
Lyon 2h
Geneva 2h30
beginner
intermediate
expert
// USEFUL LINKS //
Tourism and Ski Area