If you love nothing better than the adventure of heading off-piste into uncharted terrain, where the lifts don't run and the snow is deep and fluffy, then it's worth investing in a dedicated powder board.
Powder snowboards differ from their all mountain and freestyle cousins in a few key areas, mainly the shape, which is tuned for float. A dedicated freeride snowboard is likely to be wider and longer than an all mountain or freestyle deck (but check out the K2 Party Platter below) for maximum contact area, and the nose is likely to be upswept to push you up and out of snow.
Set-back stances are the norm, this shifts weight to the back of the snowboard, reducing the likelihood of taking a nosedive and minimising burn on the rear leg. Freeride snowboards also tend to be directional in shape for full downhill capability although if you like a bit of freestyle in the backcountry look for a directional twin or possibly a snowboard which sits towards the freeride end of the all-mountain category.
Flex patterns are usually asymetrical offering a stiffer tail than nose to aid float and help carve turns through choppy snow.
Having said all this, snowboard construction has come a long way in the last ten years and brands are increasingly throwing out the rule book, mixing up technologies to offer unique riding experiences - nearly all of the snowboards on this page are examples of this approach.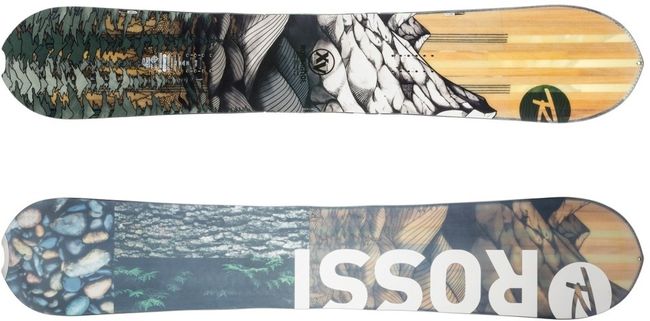 Rossignol XV Magtek | £600

BEST FOR Aggressive big mountain riders who also like to rail a turn on the pistes
A big mountain snowboard for hard chargers in a classic freeride shape, the Rossignol XV is Xavier de la Rue's ride, so it should be pretty damn good – and we think it is. The big upswept nose is stiffer than the tail, which is a switch from the norm, but this helps reduce chatter and drives the board through the terrain, especially when it's choppy. Stiffer than a stiff thing on a stiff day, if you don't consider yourself an aggressive rider then give this one a miss. If you can handle it, though, there's tons of lively feedback that'll have you charging around the mountain like Xavier himself. Despite big mountain credibility it's surprisingly good on the groomers - you can really rail a turn and it's stable edge to edge thanks to a 60% camber profile and a Magne Traction serrated edge.
VERDICT A standout freeride snowboard that also rails a turn on hard pack snow.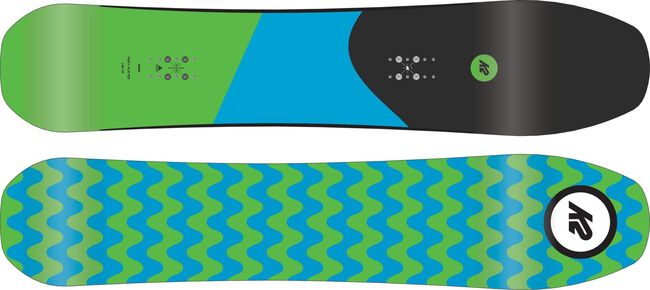 K2 Party Platter | £375

BEST FOR Lapping trees and launching off hits
This is a 'volume shift' board that retains the same surface area as a conventional board but squeezes the length and pops the sides out to give a surfy ride. The Party Platter has a directional rocker – more rocker in the nose than tail – and a flat section through the middle so it floats exceptionally well in the deep stuff. There's plenty of flex in the tips to add to the playful feel, but take it out of its comfort zone onto the pistes or into the crud and it feels a little chattery. Hooking into turns in the right snow is a joy and you don't need to be too aggressive, making this an awesome and fun powder board.
VERDICT Super playful powder board for those that love to party on the mountain.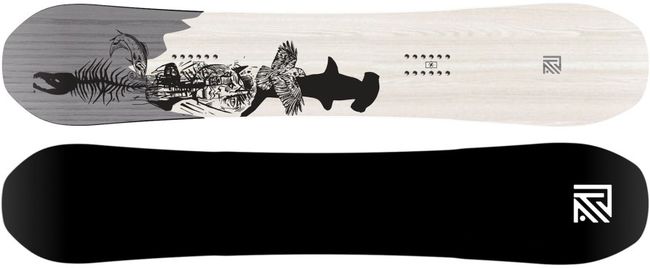 YES Pick Your Line | £530

BEST FOR Those who chase deep powder and like a surfy ride
This board floats with the best of them in the deepest of pow despite being pretty good over the rest of the mountain. It's quick edge to edge for great response between the trees and with a tapered directional shape and big volume nose, it's great for those that like a surfy ride. Being a fairly stiff board, it responds well to rider input. Camber through the centre section gives a stable feel underfoot and rocker at the tip and tail make it more forgiving than its flex might suggest. Grip in hard snow is strong and you can arc a turn quite nicely on the way back down the mountain after a day chasing the deep stuff.
VERDICT A superb freeride board that has genuine versatility across the mountain.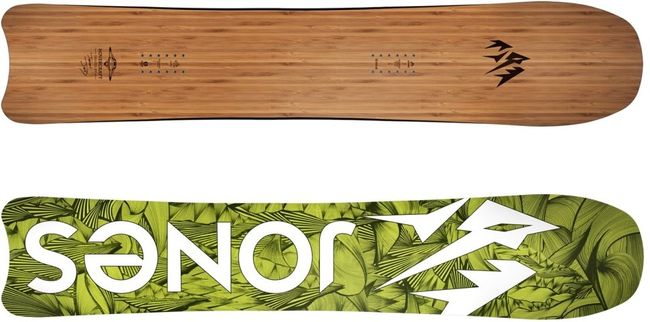 Jones Hovercraft | £465

BEST FOR Hunting powder all season long
A powder-specific snowboard with a firm flex, super long nose and slightly wider waist width. Because it's a little wider you can ride it a little shorter than your normal length snowboard, making it feel nice and manoeuvrable. Not only is the nose super long, it also features Jones's 3D Contour shaping with 7mm of spoon bevel. This bevelling, along with the directional rocker shape, helps to create natural lift in the fresh powder, requiring little extra effort to lean back, sparing you from leg fatigue. We've also tested the Hovercraft in the spring slush and it just bashes through the mush with ease.
VERDICT A good-looking board perfect for those days when the snow gods have smiled.
Bataleon Magic Carpet | £499

BEST FOR Fantastic if you like to freestyle in powder
At first glance the Magic Carpet looks nothing like your traditional powder board. However, it gives you a whole new perspective of riding powder. You can launch off any side hits into fresh powder and feel confident landing in switch, then spin the tail of the board around on the floor spraying powder up in the air. Carbon stringers in the nose & tail reduce chatter in harder snow and aid pop when loaded up. A light core with Bataleon's new hollowed-out carbon rods really lightens the ride. Make sure you downsize this board a couple of centimetres from your usual length to make the most out of the ride.
VERDICT Fun to test, a unique twin-shaped powder board perfect for making fresh new lines.