If you want to spend your expensive ski holiday clearing fogged up lenses and wondering why you keep falling over (it's because you couldn't see that massive mogul right in front of you) then buy a pair of cheap generic goggles, but if you value kit that works without getting in the way of fun then you need to think about investing a bit of cash in your eyewear. Here at Snow we only want to review goggles that'll do the job of keeping wind and snow out of your eyes and enhancing your visibility in difficult conditions to at least a basic degree, this usually means seeking out well-known brands who have invested time and money to ensure their product does the intended job and does it well.
Lenses are of vital importance to goggles both in terms of visibility in low light or bright sunshine and to the dreaded fog. Many top brands pair with an expert in optics like Zeiss to produce their own proprietary technology, for example Oakley has Prizm, Giro has VIVID. Most of these work in broadly the same way, we won't bore you with the technology but essentially, they aim to enhance contrast and definition so that mountainous moguls pop right out in front of you rather than blending in with the background.
Lens tints are baffling at best, but you'll usually find darker greys and blues at the sunny end of the scale going into blues, ambers/bronzes and then yellows for medium to low light conditions. Absolute Snow have a very handy visual guide to all the different lens options available. Many manufacturers are moving towards interchangeable lenses and offering their goggles with a choice of two, most people opt for one for bright sunshine and another for medium to low light. Goggles with photochromic lenses are also available, and if you're buying a non-interchangeable lens goggle we'd recommend you go with this option. Photochromic lenses adapt to changing light conditions and usually have a good enough range of tint for anything from bright sunshine to cloudy and overcast.
Even the cheapest goggles these days usually come with double glazed lenses which help reduce fogging, and the higher end options come with hydrophobic (anti-water) coatings which effectively fend off moisture. Ventilation is another key thing to look for, and although it's difficult to tell just how effective it will be just by looking, it's safe to assume that manufacturers who are serious about eyewear will invest R&D time in ensuring vents are plenty and placed in the right places to encourage decent airflow across the lens and to draw excess moisture out of the inner goggle area.
Finally face foam and straps need to be comfortable to wear, whether on the head or over a helmet. Not all goggles suit all face sizes so it's worth trying before you buy, some will suit broader faces while others will be better for a narrower face. Female specific fits are also available, and these goggles will often have more feminine designs than their men's specific equivalents.
The goggles we've tested come from trusted brands who we've used as a team for many years and can rely on in the harshest of conditions. We've whittled the options down to seven of the best for the season ahead.

Cebe Exo OTG goggles | £120
Glasses wearers will appreciate this effort from Cebe which allows you to comfortably wear your specs out on the slopes. Fit is optimised for this and we must say it works rather well, with little to no interference between the goggles and glasses. From time to time we felt the need to adjust our glasses and this was easily done by pulling off the magnetic lens allowing you enough access to adjust at will. You get a wide field of vision and there's good ventilation which helps to prevent steaming of both goggles and glasses. Both bright and flat light conditions are catered for through the included Cat 1 and Cat 3 lenses and swapping is so easy there's no reason not to take them both out with you.
Verdict: A great option for the bespectacled snowsports enthusiast which combines excellent field of vision with good lenses and a reasonably comfortable frame.
Score: 7/10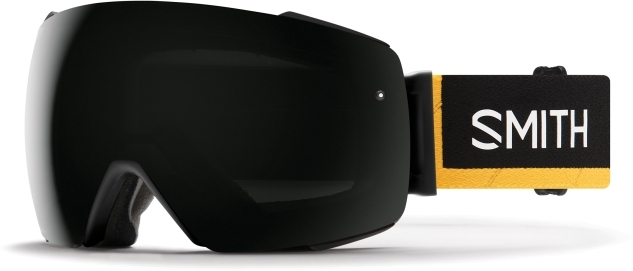 Smith I/O Mag Chromapop Austin Smith | £255
We're not sure whether these are eye wateringly or reassuringly expensive but one thing we do know is that Austin Smith can really shred on a snowboard so anything he puts his name to must be good, right? Well, the proof is in the wearing and on first look these North Face collab goggles bear all the hallmarks of quality but how do they fare in use? Smith have added a mechanical latch to the magnetic lens system this season for added security, but we wish they'd have stuck with the original design. We found it almost impossible to remove the lens while wearing the goggles and a little less so with them off, it's a fiddly system to use that seems out of place on such a high-end goggle.
The main lens supplied is a very dark black and although we've been sold on Chromapop technology (which brings out detail and boosts tones to give you better clarity of vision) in the past it loses some of its benefits when used on such a dark lens, which can only really be worn on the brightest of bluebird sunshine days. Thankfully Smith are bundling a Storm Rose Flash lens in with the package, which is much more useful for variable light conditions. Everything else about these goggles is as well constructed as you would expect, they're some of the most comfortable we've worn thanks to soft, wicking foam and a moulded area which sits over the bridge of the nose, rather than just squashing it. The tech put into the lens and ventilation system means that fogging is kept to an absolute minimum and you get good field of vision thanks to the frameless design. Overall this is a great goggle only let down by a fiddly lens system. As with other goggles there are plenty of lens options available if you're not sold on the blackout lens on offer with the Austin Smith version.
Verdict: A great pair of goggles only let down by a fiddly lens system. If you're not sold on the Austin Smith version there are plenty of other options available.
Score: 8/10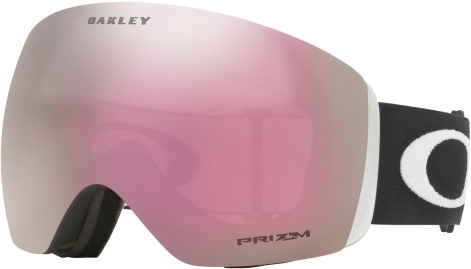 Oakley Flight Deck Prizm | £175
If you want to rock the Top Gun pilot look then the Oakley Flight Deck may well be the goggle of choice for you. This spherical lens, frameless design gives fantastic field of vision for spotting your line and Prizm technology increases contrast, giving great clarity in medium to low light conditions. The lens is interchangeable, but we had to watch a YouTube video to work out how to remove it and replacing was an exercise in sheer frustration. Once the lens is in though it isn't likely to pop out in a hurry if you take a tumble.
Triple layer face foam guarantees comfort as well as a good seal against the elements. Great all-round ventilation ensures that the Flight Decks suffer from very little fogging and when they do succumb the lenses clear quickly. Oakley hint at use for glasses wearers but being a bespectacled fellow myself I can attest to the fact that these aren't replacements for proper OTG (Over the Glasses) efforts.
Verdict: A decent, proven goggle which benefits from Oakley's Prizm lens technology, just make sure you practice lens changes before heading out onto the slopes.
Score: 7/10

Julbo Universe | £147
Julbo's Universe goggles come with a photochromic lens suitable for category 1 to 3 light conditions which is pretty much a catch all for most skiers. The lenses aren't interchangeable but being photochromic they shouldn't really need to be, and the option of a cat 2 to 4 lens is available if you're planning on extended periods of high altitude use in bright sunshine. Photochromic lenses get darker or lighter to match changing light conditions which is a pleasant way to ski as you don't have the hassle of changing lenses - or trying to understand what all the different lens tints mean - every time the weather turns. The Universe goggles are quick to cycle all the way from one end of their tint to another, about 0.3 seconds to be exact so you don't usually notice this happening when you're out on the slopes.
A super flexible frame and lens allows the Universe to conform well to most face shapes making them comfortable to wear despite very little contouring at the bridge of the nose. Field of vision is uninterrupted by the clean lines of the frame, in fact they easily rival the frameless designs on test.
Verdict: One of our standout goggles, marrying simple convenience with a good price and stellar performance out on the slopes, top marks.
Score: 9/10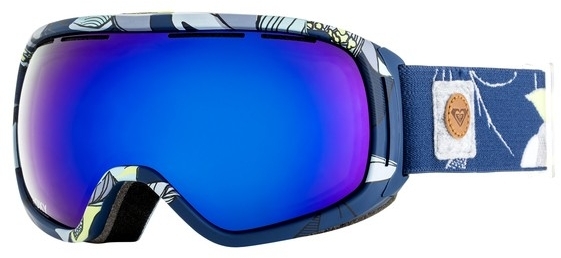 Roxy Rockferry | £95
Basic but effective is how we'd describe the Rockferry goggles, with a distinct lack of acronyms in the spec sheet. What they do have though is comfortable polar fleece lined foam which sits well on slimmer faces and a reasonable field of vision, although you can see some frame in the periphery. The lenses are decent for a variety of conditions, there isn't much info readily available on the Roxy/Quicksilver Colour Luxe technology, but we think the standard lens with rose tint on test does a good job of highlighting terrain and protecting your eyes from glare across a wide range of light conditions. There's a little less ventilation than most, but the anti-fog double lens construction deals with any fog that does build up well enough. Some will love, some will hate the classic Roxy look which pairs vibrant colours with floral patterns, but we love it and feel that it adds to the overall aesthetic.
Verdict: A great looking, great value option for regular skiers and boarders who don't want to splurge too much hard-earned cash on new kit.
Score: 8/10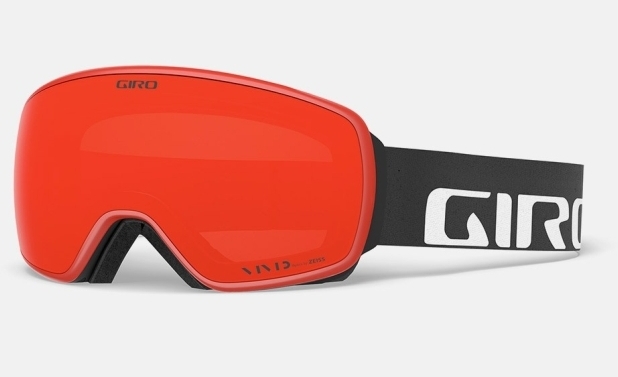 Giro Agent and Eave | £220
Giro's new top of the line Agent (men's) and Eave (women's) goggles are easily some of the most trick out there. Every good goggle brand needs a zingy lens technology designed to make the contours pop, and Giro's effort (in collaboration with Zeiss) is VIVID. Let's not kid ourselves, it works in much the same way as the others, enhancing contrast and definition to reduce eyestrain and improve visibility. Most of these technologies have been refined for long enough to work as intended, and this is certainly the case with VIVID, no complaints there. Lenses are interchangeable with a 'couldn't be simpler' magnetic system whereby the lens simply pulls off and pops back in. As with any goggle, choose your lens combo wisely, luckily the Agents come with two so you can plump for a bright sunshine and a low light option to cover most bases. Face foam is as comfy as they come, and field of vision is class leading.
Giro do ventilation well and they've optimised the vents and foam in the Agent and Eave to release moisture while not letting in too much of the weather, a system which keeps the goggles fog free but your face warm out on the slopes. They've also gone all out on the aesthetics with an infinity lens which wraps around the sides making the goggles 'even more frameless', it's just a gimmick really but does look kind of cool. There's also an interchangeable goggle strap for max customisation points, not something we've ever considered vital before, but it could be fun if replacements straps don't cost the earth.
Verdict: A refined effort from Giro that brings the best tech together with a great look and easy customisation, making them one of our favourite goggles of the season.
Score: 9/10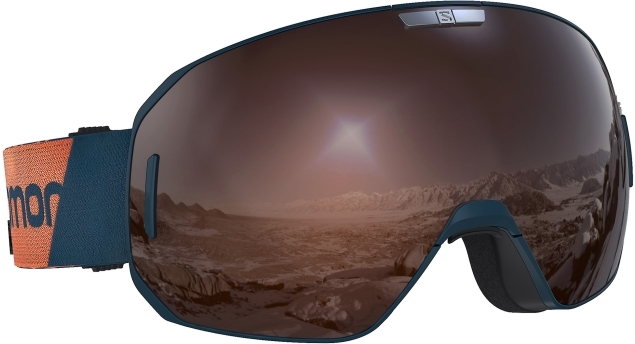 Salomon S/Max Access | £165
Although good value these goggles have many aces up their sleeve, with a choice of two easily interchangeable lenses and one of the best retention systems we've seen. Clarity of vision is pretty damned good, with the supplied lenses covering everything from bright sun to cloudy and overcast. Field of vision isn't class leading but it's the fit, finish and design that elevates these goggles, with mapped face foam density, wrap around ventilation and a seriously robust feel.
Verdict: With fantastic ventilation, two lenses bundled in and excellent build quality these goggles easily live up to the S/Max name.
Score: 10/10