When travelling with kids, there's often little point in paying big bucks to ski the large prestige resorts, as most of the time the little ones are happy either on the nursery slopes, or tackling small jumps and bumps on the sides of the pistes.
Also, anyone who's tied down to the school holidays to take the kids skiing, really needs to be thinking a little left-field – so as to avoid queueing all holiday for chock-a-block pistes!
When travelling with the kids, you'll want the experience to be as smooth and hassle free as possible, from letting everything be taken care of for you on an all-inclusive family ski holiday, to picking the right resort with plenty of family-friendly facilities.
So with all that in mind, we've pulled together our Top Ten Favourite Family resorts. Enjoy!
1. Best for Teenage Freestylers
Laax, Switzerland
If you want your teenage kids to think you're super cool (and let's face it, who doesn't), book a holiday to the Rider's Palace Hotel in Laax and buy them an introductory course at the Freestyle Academy.
Laax has always been a proactive and inclusive freestyle resort, with its five on-slope terrain parks often hosting international freestyle snowboard and music events, such as the Burton Open.
So Laax's credentials for on-slope fun have never been in doubt, but now they've surpassed themselves by building a huge indoor 'Freestyle Academy', fitted out with trampolines, big air jumps with soft landings, skate ramps… Even us oldies think it's very cool!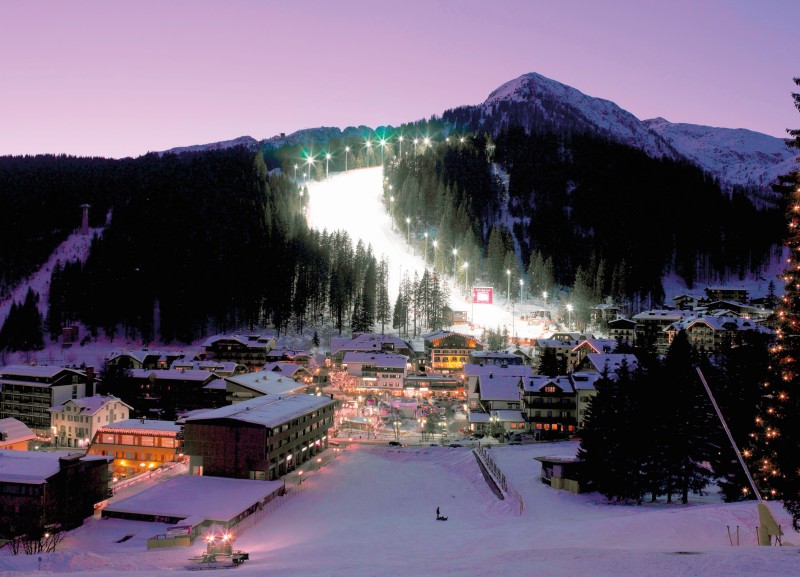 2. Best for foodie parents
Skiing in Italy doesn't get much better than Madonna di Campiglio's sunny slopes, and the memorable views of the iconic Brenta Dolomites.
There are 150km of pistes here, and if that won't do, you can always upgrade your pass to the regional Skirama, gaining access to an impressive 380km.
The shoppers will love the Italian boutiques in the near traffic-free downtown, not to mention its fashionable bars, cafes and eateries. Some Italian resorts are cheaper, and more easily reached but Madonna di Campiglio is still very affordable – giving you a trip to a world-class resort without needing a second mortgage.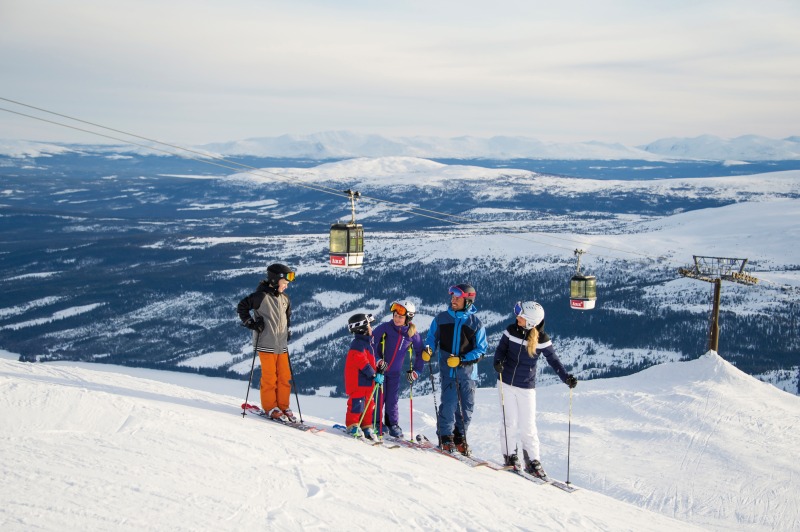 3. Best for Easter
Åre, Sweden
Being so far north, Åre is a safe bet for late season family skiing. When many Alpine resorts are turning to slush, you can almost guarantee that Åre will still be blessed with well covered snowy slopes.
Åre also has varied pistes, excellent terrain parks (from small starter hits through to huge pro lines) and a super stylish town, with hip restaurants, bars and boutiques.
The off-piste tree skiing through stunted silver birch trees, is perfect for confident kids to experience a sense of true Swedish wilderness.
While the chair lifts are modern and very fast, the only downside here is the high number of drag lifts, although they will always keep running, even when it's windy.
4. Best for Family powder fun
Panorama, Canada
Sitting on the legendary Powder Highway, Panorama is often overlooked by the hardcore powder set, which is strange because Panorama isn't just excellent for kids.
There's awesome world-class tree skiing for the experts in the family, steep and wide well-groomed pistes for the intermediate, and very long rolling pistes through the forest for the beginners, all of which are often served from the same chair.
Even better, everything is arranged through the central office, making booking a doddle.
The resort is fairly chilled at night, but there's plenty for the kids, from base lodge to activities to swimming in the natural hot springs.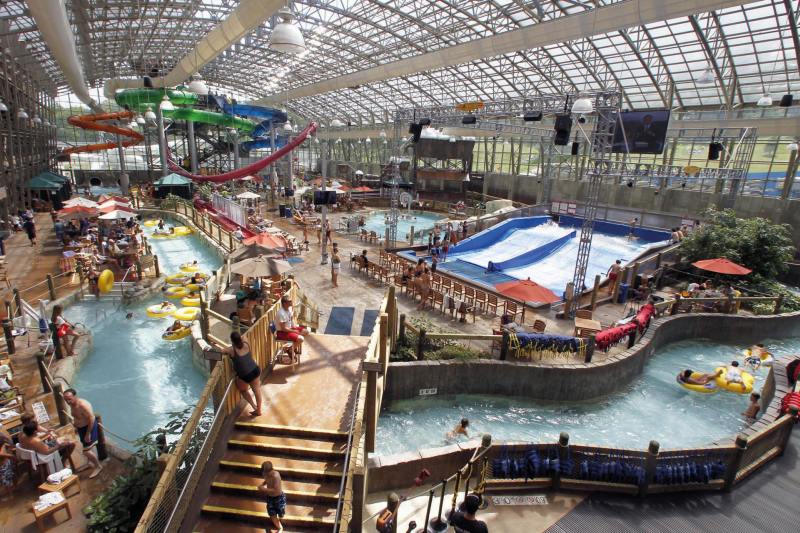 5. Best for swimming
Jay Peak, Vermont
Jay Peak is the coolest resort on the East Coast, by a Vermontian country mile. Jay Peak is no highbrow resort for the New York jetset, it's more a funky, down-to-earth playground for those who want varied pistes and good snow.
Being close to the Canadian border and Montreal, Jay Peak has a quirky French/East Coast vibe and can boast an average of around nine metres of snow a season. There's no high alpine terrain in Vermont, meaning all the skiing is through, or in, the well spaced trees. What really sets Jay apart is the massive indoor 'Pump House Water Park', with slides, flumes, standing surf wave and hot tubs – perfect for post-skiing, or bad weather days.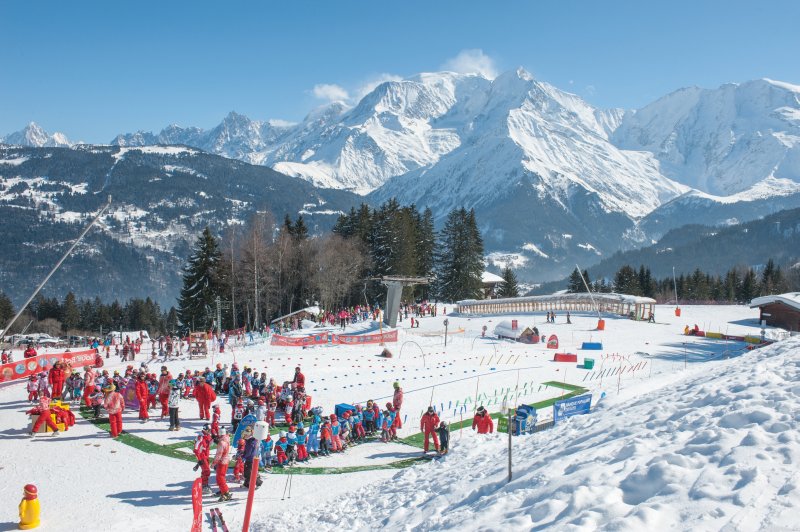 6. Best Up and Coming
St-Gervais Mont-Blanc, France
St-Gervais is Mont-Blanc without the madness. Leave behind the extreme, powder-crazed, queue-pushing mayhem of Chamonix and instead experience the relaxed charm of St-Gervais!
St-Gervais is a traditional spa town, complete with working thermal baths, local French restaurants, and chilled out bars. It's a perfect base from which you can access two large family friendly ski areas. The first via a rack-and-pinion railway, which kids love, that clunks its way up to slopes interlinked with Les Houches, in the Chamonix valley proper.
The second link is to the stylish slopes of Megève, where the jet-set ski at an affordable price.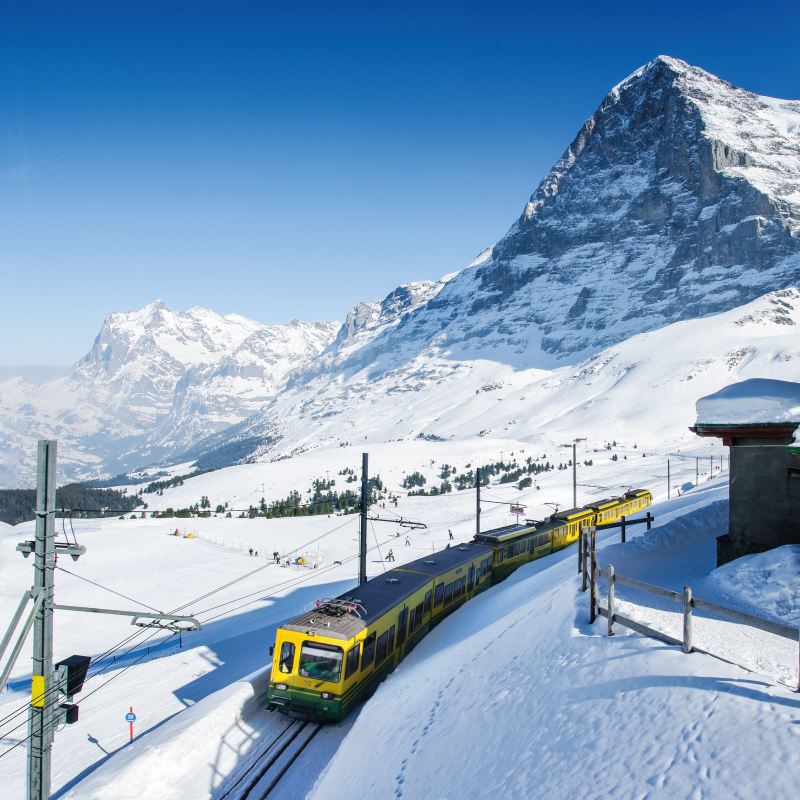 7. Best for Non-Skiers
Wengen, Switzerland
Wengen can only be reached via cog railway, and boasts epic postcard-perfect views of the Eiger's dramatic and awe- inspiring north face. Yet don't be fooled by this epic backdrop. Wengen is actually a calm, car free bliss, full of traditional Swiss charm.
Wonderfully twee chocolate box chalets give access to leisurely pisted slopes, best suited to complete beginners and intermediates.
Non-skiers and kids will love the area's many cog railways, especially the tunnels carved deep within the Eiger's north face, which lead to views of the Aletsch Glacier. Don't miss a train ride down to stunningly located Interlaken.
8. Best for advanced kids
Whitewater, Nelson, BC, Canada
Whitewater ticks all the boxes, for every level. Relaxed blues and greens wind their way all over Whitewater, keeping debutants happy, while intermediates have miles of groomed pistes to hit and experts will be stoked with some of Canada's best off-piste.
Amazingly all this terrain is reached with only three chair lifts, yet outside of high-days and holidays, there's never a queue. This means older kids can ride Whitewater all day and never be far from the base station; honestly, it's almost impossible to get lost.
Add to all that the hip town of Nelson, with its community indoor skate and BMX park, and everyone will be happy.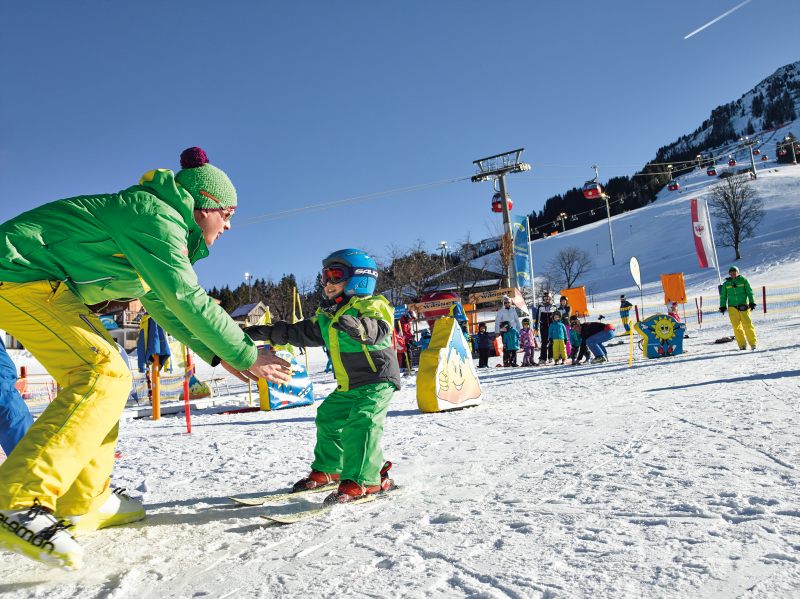 9. Best for the Weekend
Hopfgarten and the Ski Welt, Austria
Hopfgarten is under an hour's drive, or a short bus ride and an hour's train ride, from Innsbruck airport, making it the perfect gateway to the massive Ski Welt area.
Although without a piste to truly challenge the advanced skier, the Ski Welt's 284km is a wonderful area for families to explore.
Even the most timid will find a route down from every lift, while those who like speed will love the wide cruisy pistes.
There's even some great toboggan runs too.
Hopfgarten, famed for its history of hop growing, claims to be the sunniest community in the Kitzbühel Alps and its south-facing slopes will keep the kids warm.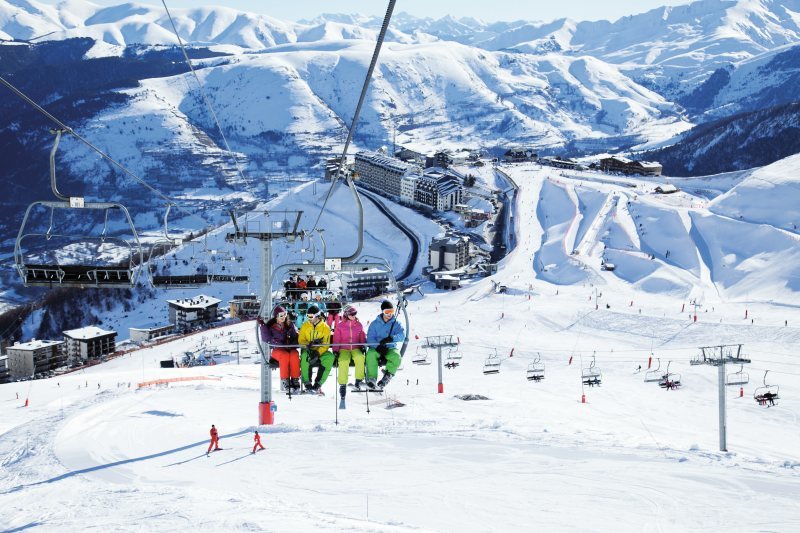 10. Best Value for Money
St-Lary, Pyrenees, France
Okay, so you could head to Bulgaria or even Slovenia and get a cheap ski holiday, but what sets St Lary apart from other budget options is the uncrowded slopes alongside the newly refurbished and expanded kids' zone.
The 'Pla d'Adet' at St Lary 1700 is a specialist kids zone, with nursery slopes, ESF Piou-Piou club (ski school for very young kids), toboggan runs, access to beginners' slopes and a kids' terrain park, all accessed by a wide and covered set of rolling carpet lifts – and rewarded with the 'Famille Plus Montagne' status. The transfer is nice and easy on the kids too, with Tarbes Airport only 80km from resort.