Buying ski boots isn't like buying a normal pair of shoes. The colour and price doesn't make them any better than the next pair so rather than buying with your eyes take some time to talk to a specialist boot fitter and don't be shy to try a few pairs before deciding what works for you. Heat moulding technology is constantly evolving so explore how ski boots can be tailored to meet your needs be it narrow or wide feet to large calves or slender legs.
Best for: Wider, higher volume feet
Full Tilt – Plush 4

Plush in name and plush in nature, these boots are made for comfort for beginner through to intermediate riders. The boots are designed with wider, higher volume feet in mind and have a softer 4 flex tongue that opens a full 90° making it an easy on, easy off boot in any temperature.
The three piece construction takes these boots to the next level as the flex gives you even feedback that stops your shins feeling like they are hitting a wall. The super soft feeling continues into the liner which is made from open cell foam to ensure cosyness and shape holding Intuition brand stiff foam that molds to your foot.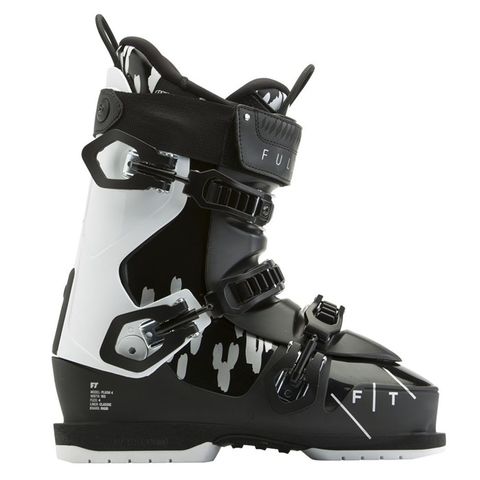 Best for: Beginners progressing to their first boot
Tecnica Ten 2 - 65

If you are looking to progress from rental boots then the Technica Ten2 is the perfect boot to move into or even begin with if you would like your own pair to start with. The UltraFit Wool Liner has a women's specific shape for comfort and the wool insulation actually keeps your feet toasty. The Quick Instep Max which is made of a soft plastic that goes across the top of the foot allows the boot to open wider for easier access and the three micro adjustable buckles ensure a simple entry system.
The feature that makes these boots great for progression is Tecnica's i-Rebound technology which has metal on metal connection points that provide forward flex resistance for better control over your skis.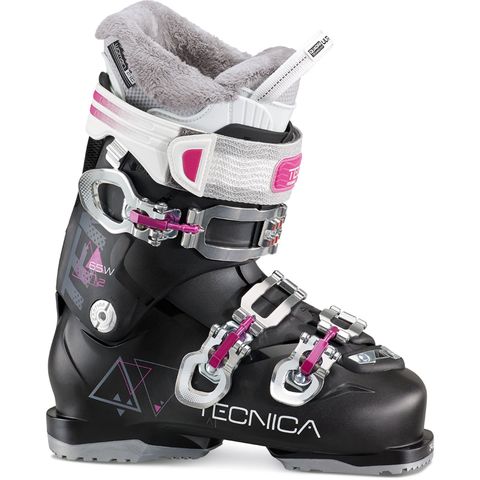 Best for: Skiers with a mellow easy going style and a penchant for the piste
Nordica Cruise 55

The Nordica Cruise is one for the true beginners or just someone looking for a mellow easy going boot. The PFP Comfort Fit Liner has a women's specific fit that locks down the heels and keeps you supported as you learn the ins and out of controlling your turns. Nordica's Natural Foot stance captures the toes into a slightly outward position which reflects a natural stance so allowing more comfort and an easier transitioning between the edges of the skis for more control on the hill. The medium to wide foot shape and calf volume can be securely locked in by using the 3 micro adjustable buckles to give you the right tension with no numb toes.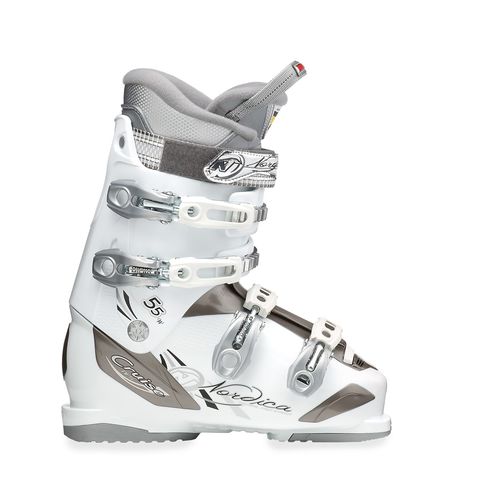 Best for: Solid intermediates looking to upgrade their boot and explore off the beaten track
Dalbello – Kyra MX 70

The Kyra MX is a great choice for a solid intermediate skier looking to upgrade their boots and perfect for a medium to wide foot with a medium calf volume. The Tyrolian Wool used in the liner gives you extra insulation for toasty feet and can be heated to give you a more customised fit. One noticeable feature is the Hike /Ski cuff that is designed to be shorter and wider and especially for women's legs. The beauty of this cuff is the lever on the back which when undone allows the cuff to lift from the lower shell so that the glamorous walk / clomp to the lifts in the morning is much more manageable and comfortable. Couple that with Dalebllo's more upright Center Balance Stance and you will easily be controlling more up to date rocker skis with sidecuts.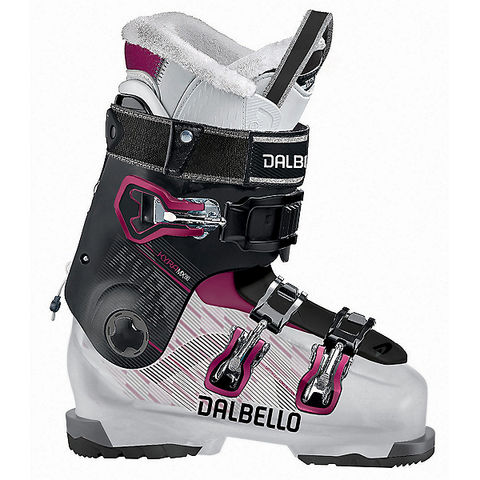 Best for: A comfortable introduction to ski touring
Scarpa Vector Wmn

This lightweight gem of a boot makes the introduction into ski touring a much more comfortable one. Designed especially for women this model has a super comfortable inner boot for a medium to narrow fit to ensure maximum accuracy going downhill. The Vibram sole has massive studs to give a perfect grip and the easy switch lever from ski to walk mode is easily accessed to give you freedom of movement. The big buckle on the cuff is a simple feature but with maximum benefit as it makes it easy to use even with gloves on along with the buckle on the instep to ensure good heel support. In true Italian style these boots not only perform well but look good while doing it.