Les 7 Laux is often described, using that most hackneyed of clichés, as a "hidden gem". But if it is, it's one that's hiding in plain sight. Clearly visible from the A-41, the main motorway that runs south from Geneva to Grenoble, the ski resort is just a 45 minute drive from the centre of the French city, and regularly attracts sizeable crowds at weekends.
The label is perhaps more apt when applied to the international market. Les 7 Laux certainly doesn't feature on many British skiers' mental maps of the Alps, which means that during the week, when the Grenoblois have returned to work, you'll often have the slopes to yourself.
Begun as a collaboration between seven communes who joined forces in the 1960s, (hence the name) the bulk of the resort was built in the 1970s. This means its three purpose-built base stations, Prapoutel, Le Pleynet and Pipay, have more in common with Avoriaz or Tignes, architecturally, than the stereotypical traditional French alpine village. But they offer a range of accommodation options, much of which is ski-in, ski-out, and the lift system accesses an impressive amount of terrain.
The west-facing aspect of a lot of the slopes means they tend to get a fair bit of sun, and as with Chamrousse and Villard de Lans, the other resorts closest to Grenoble, a lack of altitude means the season here isn't one of the longest, when compared to larger, higher ski resorts. What Les 7 Laux has, that those other local resorts lack, however, is some serious backcountry terrain, if you're prepared to hike for it. This, coupled with the lack of weekday crowds, means that if you come here in January or February, you can score epic lines without having to work too hard for them.
It's also an excellent place to bring the family for a ski holiday, with quiet slopes (on weekdays at least) and one of the shortest transfer times anywhere in the Alps if you fly into Grenoble, Chambéry, or even Geneva. Thanks to its proximity to the motorway, it's also one of the fastest French resorts to get to by car, should you want to drive to the Alps.
Les 7 Laux - Ski Map & Pistes:
Les 7 Laux's 100-odd kilometres of piste offer a decent amount of variety for what's a relatively small ski resort, at least by French standards. Pipay is largely designed as an access point for day trippers, and the chances are beginners will spend the bulk of their time at Prapoutel - it's the largest of the three, and that's where the bulk of the hotels are. Aside from that, there's not much to choose between the base areas, with each having its own zone debutante, and ski school office.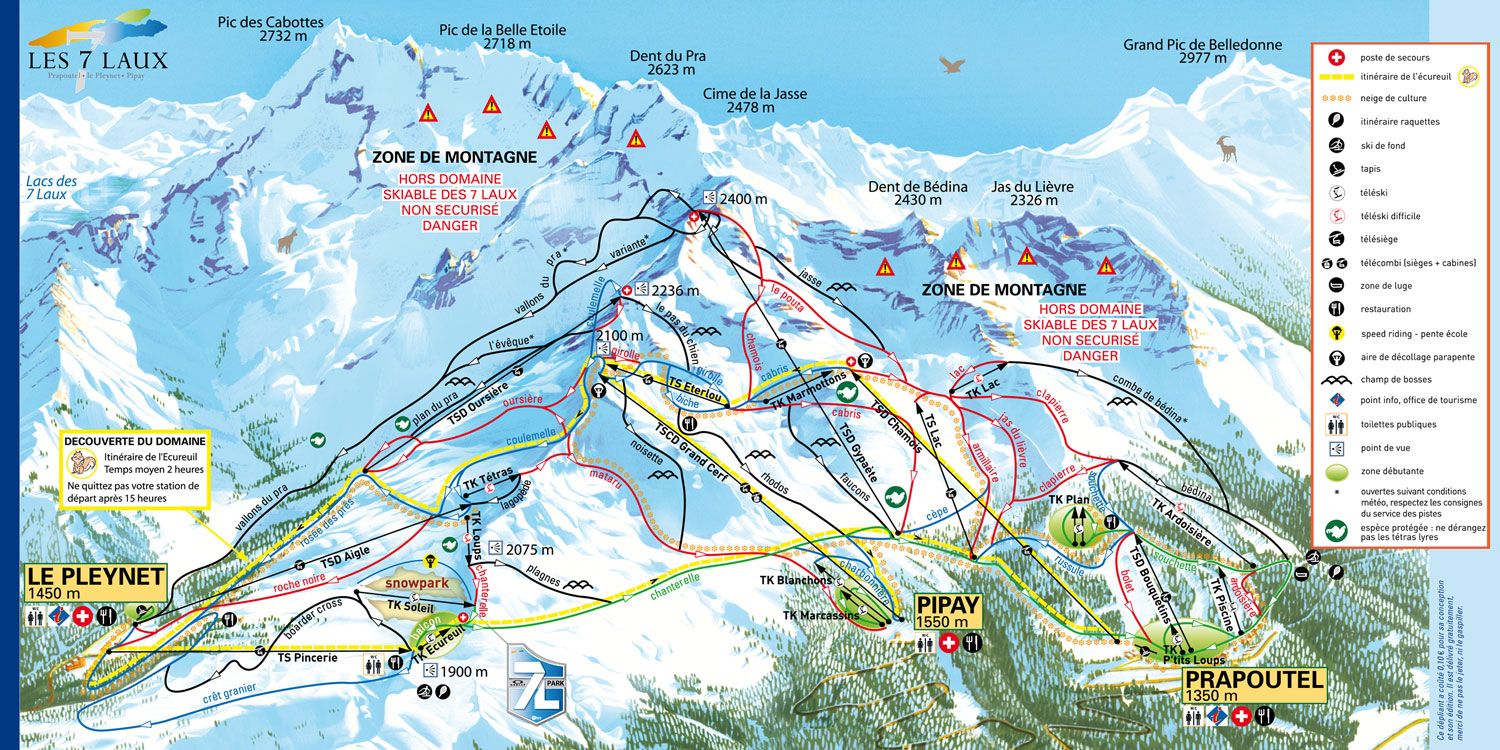 With 22 lifts and 49 marked runs, there's more than enough to keep intermediates happy, too. The slopes above Prapoutel are tree-lined reds, blues and greens - the winding green souchette run is particularly good for improving skiers and snowboarders. Higher up, off the Gypaète chair above Pipay, there are some steeper reds and blacks that'll entertain more advanced skiers. If it's distance you're after, you can cruise down from here or the Oursiere charlift down to Le Pleynet, making the most of the ski resort's 1,000m of vertical drop.
If there's one criticism of Les 7 Laux's ski area it's the way it links up - or rather, doesn't link up. It's perfectly possible to get from one area to another, but the resort is plagued by the kind of lift layout that were inexplicably popular in French ski resorts built in the 1970s. A chair will carry you almost to the top of a ridgeline, before you have to switch to a draglift for the remainder, for no apparent reason. These are particularly irritating for snowboarders. This is, however, a minor quibble. It's just worth making sure if you're criss-crossing the resort in the afternoon, that you leave time enough to make all the connecting lifts home.
Thanks to the proximity of Grenoble, with its large population of snowboarders and freestyle skiers, Les 7 Laux boasts one of the finest snow parks in France. Shaped by a local crew who call themselves Ho5, and sponsored by the goggle brand Oakley, it features rails and kickers that are easily up to Austrian, German or North American standards, with lots of pathways for progression - from smaller boxes and jumps to serious-sized rails and kickers.
Les 7 Laux - Off-Piste, Backcountry & Ski Touring:
Les 7 Laux packs a surprising punch for a ski resort this size. Catch the Gypaète chairlift up to 2,400 metres, the highest lift-accessed point in the resort, and there's a lovely winding run called the Pra de Vallons. Marked as an unpisted black, with several "variantes", this will take you all the way down to Le Pleynet, a descent of some 1,000 vertical metres.
It's when you strap your skins on and start touring, however, that Les 7 Laux really comes into its own. The Pra de Vallons is just one side down what's essentially a massive, open alpine bowl, beneath a crown of peaks which top out at over 2,700m. Hire a guide and skin up underneath the Pic de la Belle Etoile, and you'll find a huge variety of truly epic lines down the north face. Unless the crowds are up from Grenoble in force, the chances are you'll be able to pick them off each in turn - Chamonix this ain't, but that has its advantages.
There's more great terrain above Prapoutel, in the Vallons de Jasse, and if it's dumping and the visibility is bad, there are plenty of trees to hack around in near the Prapoutel base. As always, if you're venturing into the high alpine, you'll need a guide, plus the proper avalanche equipment and training. As the 7 Laux piste map makes abundantly clear, these zones are outside the ski area, un-patrolled, and can be seriously dangerous.
Les 7 Laux - Restaurants, Bars & The Town:
Pipay is mostly there to serve the weekend warrior market up from Grenoble and ease the pressure on the other access points, so there's less there in the way of accommodation. Most visitors will find themselves staying in Le Pleynet or Prapoutel, both of which are variations on a theme - that theme being, for the most part, beige, functional, French 70s ski resort.
Both are conveniently laid-out, with plenty of ski-in ski-out accommodation, and decent restaurants serving classic mountain fare, but if it's wild après you're after you've probably come to the wrong place. The likes of Le Rocher Blanc or Les Mélèzes will service all your Tartiflette / Fondu / Raclette needs. And for a drink, try l'O Bar Bu which has a pub vibe with pool tables.
As a rule, Prapoutel tends to be a little livelier than Le Pleynet, but Les Sainboz in the latter is a good spot both for a pint and a bite to eat, with bands often playing in the evenings and regular poker nights.
If you were determined to go crazy (or just save money on a hotel) you could always book yourself an Air Bnb down in Grenoble, and drive the 40 minutes up each day. With 160,000 plus people, it's a proper city, with as many bars, clubs, stadiums and concert halls as you could ever hope for.
Les 7 Laux - Ski Hire:
When it comes to ski hire in Les 7 Laux, you're looking at the holy trinity of French ski rental firms - Intersport, Sport 2000 and SkiSet.
Les 7 Laux - Ski School:
For ski schools in Les 7 Laux, or to book ski lessons in Prapoutel or Le Pleynet, you could go with the obvious choice and book via ESF, but there are a couple of great independent alternatives, too. ESI Pro7 in Prapoutel is a small, family run operation offering a full spectrum of ski instruction for all ages, while snowboarders could look at booking snowboard lessons in 7 Laux through the Slash Snowboard School or the local mountain bike / snowboard shop Easy Riders.
// HIGHLIGHTS //
Resort height
1350m / 1450m / 1550mm
Train station
Grenoble (42 mins)
beginner
intermediate
expert