Who doesn't look forward to a good meal after a long day of rushing down snowy slopes?
Catalonia is known for its proud artisan food production, as well as its interesting and modern interpretations of traditional dishes.
What to look for
Meals in the Catalan Pyrenees often include fresh vegetables, legumes, pasta, pork sausages, lamb, chicken, fish, and game. Typical Catalan dishes to watch out for include:
Escudella, Putxero or Ollada - a thick soup, often made with vegetables, chickpeas, pasta and meat.
Trinxat - a traditional dish made from cabbage, potatoes and bacon.
Coca or Coques - savoury pastries with a pizza-like base.
Esqueixada or 'esgarrat' - salted cod salad mixed with tomato and onion.
Mongetes amb botifarra - beans served with pork sausage.
Pa amb tomàquet - bread smeared with an olive oil, garlic and tomato sauce.
And let's not neglect our sweet tooth…
Mel i mató - a dessert of mató cheese served with honey, and sometimes with walnuts.
Sweet coques - a sweet, pizza-shaped pastry.
Peres de LLeida - a typical dessert from Lleida, made of peeled pears, cooked in a kind of lighter crema catalana, served cold, covered by meringue and decorated with cherries.
Orelletes - thin fried pastries covered with sugar and eaten at Carnival festivals.
Carquinyolis - little crunchy almond biscuits.
Xuixos - fried pastries, originally from Girona, stuffed with crema catalana.
And there's more:
Girella is a typical sausage from the Pallars region; palpis is a stuffed deboned leg of lamb, and daines are biscuits filled with aromatic herbs that make you swoon with pleasure. If you are planning to ski in Port Ainé, Espot or Tavascan, why not stop along the way and pamper yourself a bit.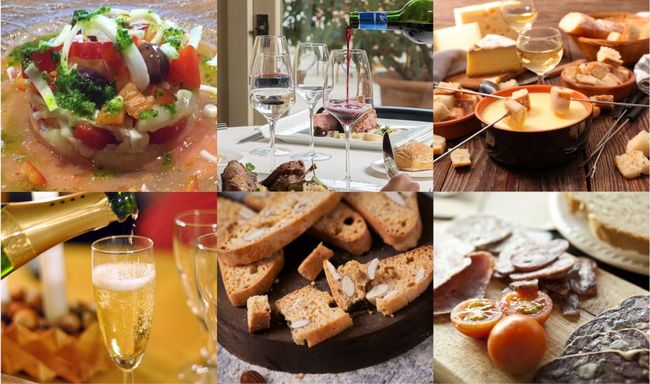 Dining pleasures
White nights and mountain dinners in Masella
Nocturnal skiing at Masella is now well-established on Thursdays, Fridays and Saturdays. And after skiing down the 13 floodlit slopes, treat yourself with a dinner of typical mountain products in the Pla de Masella restaurant or sip a well-earned gin & tonic in their chill-out zone. Be warned, if your intention is to stay for dinner, better book ahead.
Dining at an altitude of more than 2,000 metres
The Niu de l'Àliga (Eagle's Nest) refuge provides the best views of the Cerdanya valley. The La Molina building is located at 2,537m, and to access it you will have to ride the chairlift and walk for the last section. The effort is well worth it, both for the panoramic views and for the food. If you book ahead you can even have supper there and spend the night. If you are up early next morning, wrap yourself around a hot cup of coffee and enjoy the sunrise. The natural spectacle of watching the summits slowly change colour is breath-taking.
The foodie corner of the Vall de Núria valley
You don't need to leave the Vall de Núria resort to find a restaurant that unleashes your inner foodie. Stop off at El Racó de la Vall, a small and elegant eatery where you will enjoy the most select cuisine in the Vall de Núria valley.
The Baqueira Beret Wine Bar
La Borda Lobato restaurant in Baqueira Beret offers a menu based on traditional Aranese barbecues and cuisine.
Right next to the restaurant, with the famous Montarto Hotel at its centre, you have an area for après-ski dining and fun. There is the Baqueira Wine Bar by Vinya Pomal, a modern restaurant with a cellar well stocked with designation-of-origin wines from around Spain.
On the ground floor of the Montarto Hotel is the Drinkery Montarto, a music bar that's perfect for some lively après-ski. Because they open at 3 in the afternoon, you can even stop by for the first drink before you finish for the day!
Wine Heaven
There are 11 wine-growing regions in Catalonia, which are qualified by the INCAVI (The Catalan Institute of Wine): Priorat, Penedès, Catalunya, Costers del Segre, Conca de Barberà, Montsant, Alella, Tarragona, Empordà-Costa Brava, Pla del Bages and Terra Alta.
Both Costers del Segre and Empordà-Costa Brava are also produced in the Catalan Pyrenees, so you'll be able to enjoy something truly local.
The famous Catalan sparkling wine, called cava, is made mostly in the Penedès and Anoia regions, and is perfect for unwinding at the end of a long ski.
So are skiing and fine dining compatible? They are in the Catalan Pyrenees!