The essence of a family holiday in the snow is fun – and ski resorts in Catalonia work hard to provide excitement and entertainment when the slopes close. Their play parks are open-air spaces where kids can play all kinds of sports and games in the snow.
Some resorts such as La Molina, Vallter 2000, Port del Comte and Vall de Núria have a 'tubbies' piste (descent on giant floats) and sledding pistes, among other great attractions.
In Port Ainé and Espot, the main novelty is an adventure playground in the treetops – suitable for ages four and upwards - with a multi-adventure circuit, including a double zip-wire and a Tibetan bridge. They also have disc golf (a circuit similar to a golf course where flying discs are thrown at a basket target), snow quad circuit, 50-metre zip-lines and snowshoeing excursions. Elsewhere, Vall de Núria (Núria valley) offers balancing games and a climbing wall.
So what would you want to do on top of downhill skiing? Here are some other options:
Nordic Skiing:
It's skiing with a twist. You're mostly on the flat. A circuit in the high mountains activates 99% of your body's muscles and helps improve balance and movement, as well as doing wonders for your cardiovascular system - whatever your age.
This gentle, impact-free sport lets you enjoy wonderful snow-covered landscapes with less strain on your joints and significantly less risk of injury.
There are six Nordic ski resorts in the Catalan Pyrenees, many of which offer other activities as well, such as snowshoeing and dog-sledding.
If you are a beginner, Aransa could be your first port of call because it boasts a 32km of routes with different levels, many along pine-forested trails, and with stunning views of the Serra del Cadí mountain range.
Tuixent-La Vansa also has 32km of wide and varied trails around the Port del Comte massif, all of them highly suitable for a Nordic ski taster.
You will need a bit more technical skill for the routes of Guils Fontanera. This is the largest Nordic ski resort, with up to 45 kilometres of trails. Here there are also snowshoe trails, a children's snowpark and a 500m sled run.
Virós-Vallferrera, established in 2001 in the Alt Pirineu Natural Park, is smaller. But, as well as Nordic skiing, you can try snowshoeing and orienteering,
In this same natural park, is the Sant Joan de l'Erm resort, with some challenging trails situated at an altitude of between 1,700 and 2,000 metres.
Lastly, the best skiable vantage point for a great view of the Cadí mountain range is the Lles resort, linked via a connecting trail with Aransa. It offers a good range of facilities, including a children's snowpark, cross-country ski school, and snowshoe trails
These Nordic ski resorts are perfect for trying out the cross-country trails, but if you want to mix it in with a bit of Alpine skiing as well, you can do both at the resorts of Tavascan and Baqueira Beret.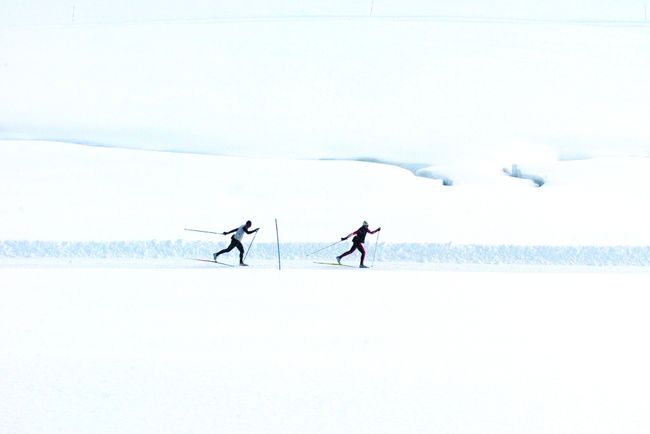 Winter Hiking:
Even in winter, you will find countless hiking routes for discovering white peaks, dark green forests and bluish-grey rivers. Here are a few routes to enjoy.
Camin Reiau: the Val d'Aran (Aran valley)
The circular Camin Reiau (Royal Way) trail passes through the 33 villages of the Val d'Aran, following the paths that in the old days connected the various inhabited hamlets. The proposal divides the trail into 10 stages of around 15 kilometres. You can adapt the number of stages to your fitness level or to the days you have available.
Noguera de Tor
The babble of the Noguera de Tor river will accompany you throughout this 27km route which follows old livestock trails and narrow gullies from the border of the National Park of Aigüestortes i Estany de Sant Maurici. You visit several natural and cultural spots, such as a Wildlife Centre, centuries-old oaks, the Llesp and Barruera lakes, and the 11th-century churches of Sant Feliu and Sant Joan.
Montardo and little Montardo
This is a classic of Catalan snowshoe hiking: with a climb up the Montardo from the Cavallers (Horsemen) reservoir in the Vall de Boí (Boí valley). The trail runs entirely through the National Park of Aigüestortes i Estany de Sant Maurici and takes two days to complete.
La Mollera d'Escalarre
La Mollera d'Escalarre is a paradise for otters that you can explore in a child-friendly excursion of around an hour and a half. The itinerary is quite flat and easy-going, and you will find four recreational areas to keep you entertained along the trail.
Prat de Cadí from Estana
With your snowshoes on you can enter the Natural Park of the Cadí-Moixeró following the path leading from Estana to Prat de Cadí, a natural expanse situated at 1,826m where you will lose sight of the world. The area is very cold and the ground may be frozen, so snowshoes or crampons will be very useful.
Caraglaçada (Frozen Face) Route
This is the winter version of the Caracremada (Burnt Face) trail, and you will cover 60km in four days, entirely on snowshoes, as you explore some of the most beautiful valleys of the Pyrenean foothills.
La Garrotxa Volcanic Zone Natural Park
La Garrotxa is a breath-taking volcanic landscape, perfect to explore on foot. With 40 volcanic cones and more than 20 lava flows, the landscape is varied and beautiful. There are many walking routes you can take through the park, including linking up with the Itinerànnia – a 2500km trail network reaching across three counties and plotting a course from the Pyrenees to the ocean. A must for keen hikers.
For more itineraries the Hiking Guide to the Catalonia Pyrenees will suggest a few trails that can be adapted to your or your family's level.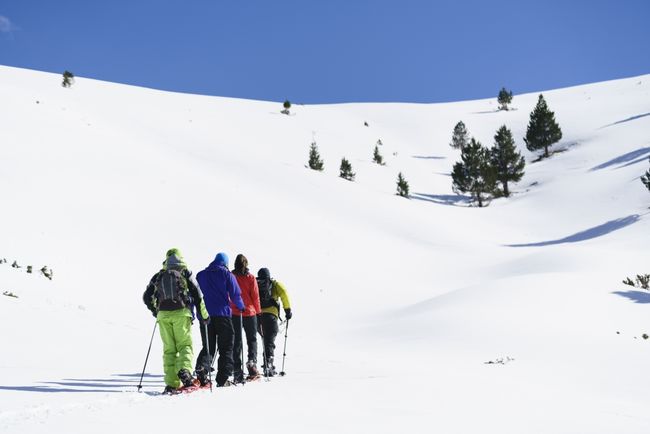 Ice Diving:
There's nothing like getting swaddled in neoprene to help you channel your inner walrus. Whether novice or expert diver, in the Catalan Pyrenees you can plunge into frozen lakes.
The contrasts in light are spectacular. The sunlight that filters through the hole in the ice and the oxygen trapped under the frozen layer of water produce a stunning, almost kaleidoscopic effect.
'Like jewels, diamonds and half-metre snowflakes,' they say at Busseing Pallars, a company offering 15-minute immersions in the lake of Vall de Núria (Núria Valley) at 2,200m, and in Jabalí lake (wild boar lake) in Port Ainé at 2,250m. Underwater swims can only be done in groups of two or four people accompanied by an instructor.
For a first dive, this is the most attractive option given its good underwater visibility and ease of access. Plus, as a fun bonus, the organisers of the activity will take you to the lake by snowmobile.
In Vall de Núria, visibility is lower but the trip on the cog railway to reach the ski resort is an experience in itself.
If you are a lover of good food, don't miss out on tasting some local gastronomy to warm you up after your ice dive. Dishes such as the hearty "escudella" hotpot or pork preserve are found in every single restaurant of the Catalan Pyrenees, or in the case of Port Ainé, palpís meat stew or girella sausage.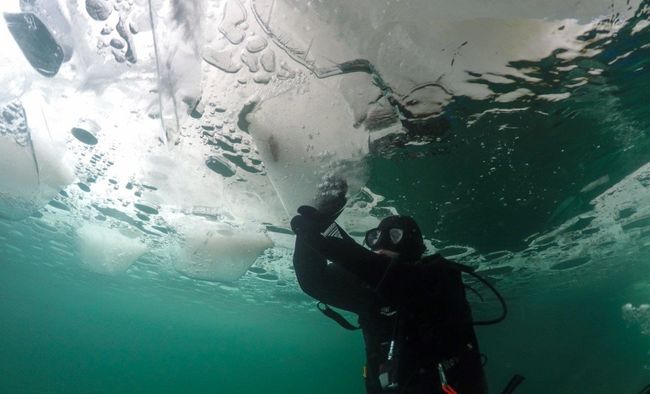 Snow Cruiser Rides
There's nothing better to get the kids going after great day of skiing in the Catalan Pyrenees than a ride on a piste basher! Two ski resorts have cleverly found another use for their bashers by turning them into snow cruisers.
In La Molina they organise excursions to explore some of the most secluded corners of the resort. Snow grooming tours are usually on Fridays and Saturdays between 5.30 and 7.30pm, and you can choose from two different circuits: one climbs to the Niu de l'Àliga (Eagle's Nest) refuge at an altitude of more than 2,500 metres, the second route climbs up the Costa Rasa.
Guided snow cruiser itineraries are also on offer at the Tavascan resort in The Alt Pirineu Natural Park. From the panoramic vantage point of The Corbiu lookout, you will see the valleys, huts, forests, lakes and mountains of the head of the Tavascan valley.
Departures are every day of the week at 4 pm and always require booking in advance.
Build an Igloo
Ayone looking for an unusual fun activity to do in the snow, with family or with friends can discover their inner Eskimo by building igloos. Several ski resorts in the Catalan Pyrenees offer igloo-building workshops.
You don't need a degree in architecture or engineering – with the help of an instructor from the Catalan Association of Igloo Builders, four or five people can build one in under three hours, using some compacted snow bricks, a shovel, a saw and some rubber gloves. The workshops are highly educational and everyone has to take part. The instructors make you play an absolutely central role in the construction process.
Workshops are organised almost every Saturday throughout the snow season, and if you are a large enough group, you can also build a customised one if you request it in advance. The activity starts at 9am in several venues, including La Molina, Coll de Pal (Bagà), Vallter 2000 and Vall de Núria.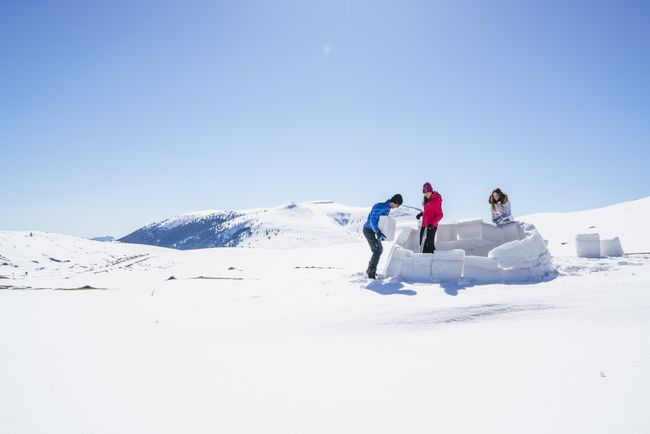 Beyond the Snow
In the Catalan Pyrenees there are many options to explore this unknown land. During winter or even in summer, you can always find your perfect activity no matter what you're interested in, when you're travelling or who you're travelling with.