Once upon a time, booking a ski lesson was a right palaver. And when you'd finally managed to book a group lesson, private instructor or mountain guide, you'd have little or no idea who you or your kids would be spending their days with. The result? Often less than ideal, as you and your kids end up with an instructor that is totally unsuited to you or your childrens' needs.
Well thankfully times change. SkiBro is an innovative new platform that makes the whole shebang a breeze. How's that you ask? Well we'll tell you…
Profile vids
SkiBro shoots a profile video for each instructor or school telling you all about who they are, what they specialise in, what their teaching philosophy is and what to expect from their lessons, and you get a real sense of their personality and character. So instead of taking pot luck on a stranger, you'll feel like you're meeting up with an old friend.
Client reviews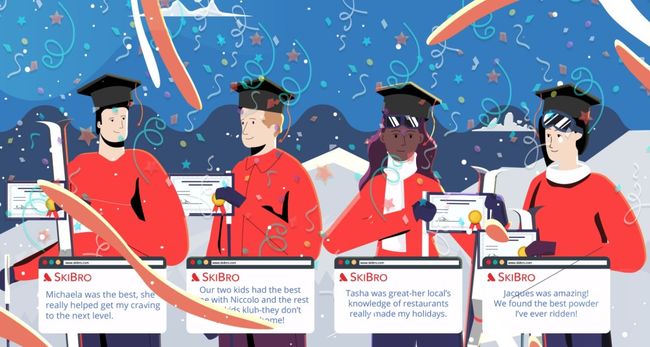 OK we get it- SkiBro's instructors are the bee's knees! But don't take our word for it. Certainly don't take their word for it. But do check out past clients' reviews and use them to help you find the provider best suited to your needs.
Specialist instructors for kids
Still with us? Splendid, we'll keep going then. Ski Lessons + kids ain't an obvious match made in heaven. Little ones might be a bit nervous leaving Mum and Dad to do something new in the care of a stranger. Mum and Dad are probably nervous too.
For bigger ones, "ski lessons" seem like a drag, on a par with maths or learning the recorder. Well, maybe not- by involving them in the choice with SkiBro and watching instructor profiles together until you find the perfect match, you'll feel like you're leaving them in the care of someone you've known for years, and they'll suddenly be itching to escape boring old Mum and Dad and attack the slopes with their new best friend!
BBC Ski Sunday's Ed Leigh put this theory to the last winter- his findings were very much in the affirmative!
Real-time availability & instant booking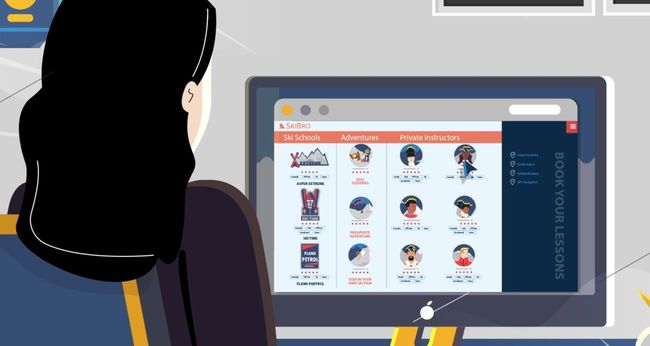 Do you remember what it used to be like booking a ski lesson? Long winded email chains, awkward phone calls, closed booking offices and arrival day mayhem. Does that sound familiar? Well friends, you need suffer this faff no longer. With real-time availability and instant booking, finding your perfect match couldn't be easier. Book online at home, in the arrivals hall waiting for your luggage, at the bar at après-ski, at the dinner table or even in the bath! This is particularly handy for last minute bookings. Maybe the snow is puking outside, it's going to be sunny tomorrow and you want a guide? Sorted! Maybe your confidence has taken a knock and you want to build it the next day with a lesson? Done!
Awesome new bucket-list experiences
You go skiing every year, your technique is unimpeachable and know the mountain like the back of your hand. There's nothing for you here, right? Wrong! SkiBro is bringing some cracking new experiences to the table. How about this one for example- the Cinematic Pack. You rip around the mountain skiing impossibly deep powder with a top local guide and SkiBro records the day in stunning high-definition, making you and your crew the stars of your own ski movie? Move over Candide Thovex, there's a new guy in town. It's you baby! "How was your holiday?" water cooler moments will never be the same again!
The Cinematic Pack will be available later this month. We got a behind-the-scenes preview last season- stay tuned for a full feature coming soon at snowmagazine.com
Hilarious ads
Flinter? Youcalyptus? Kangalivery? Brilliant. There are loads of moments in life when you're "flying blind" and end up being disappointed by what you end up getting. Booking with SkiBro ain't one of them though!
A nifty app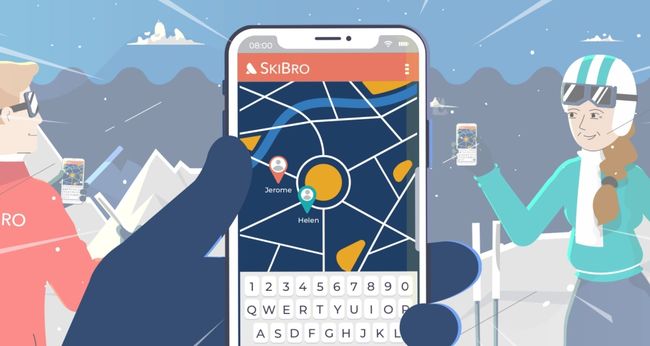 What else? Well one of the biggest headaches for ski lessons is often finding your instructor on the crowded battlefield at the bottom of the slopes. SkiBro's unique in-app GPS navigation and messaging makes it a breeze. Which means more time having a blast on the slopes and less time wandering around in ski boots like a little kid that's lost their mum at Sainsburys. It's the little things.
Innovative & useful content
Lots of ski companies put out snow forecasts, sure. Not many get world famous news anchor Papa Burgundy* himself into the studio though! Stay tuned for this season as SkiBro's Flake News weekly weather forecast is going up a few notches again, whilst their weekly technique videos, local secrets and miscellaneous mountaincraft moving pictures are a cracking resource to get the most out of them there hills!
*they didn't either to be fair- and Ron Burgundy is a fictional character. But a solid effort nonetheless…
Did we mention how simple SkiBro is?
No? OK so by now you've realised this is an advertorial feature. That means SkiBro pays us and we make a cool feature. But what the hell- you've come this far so here's an explainer video that spells it out for you from start to finish.
SkiBro is now up and running and working with the cream of the crop in instructors, guides and ski schools in Europe's premier ski resorts. In France you'll find them in Tignes & Val d'Isere, Sainte Foy, Les Arcs & La Plagne, across the 3 Valleys and Les Portes du Soleil, with Chamonix, Flaine, Megeve and others coming soon. Over in Switzerland they're in Verbier and Zermatt with loads more top resorts in the pipeline
Stay close amigos!
Use code SNOW20 to get €20 off your first booking.