Photos: Robert Grew
As I sit at a bar in La Grave and sip my beer, I suddenly notice that my waitress has two huge black eyes. She casually explains that they're the result of a recent failed cliff drop in the nearby mountains, and I realise that basically everyone in this part of the French mountains is a badass backcountry skier or boarder.
As backcountry and freeride skiing become increasingly popular, so does our quest to find the ultimate skiing destination with enough deep powder turns to stoke the soul for another year. The French region of Isère is home to some next-level backcountry resorts, including the holy trinity of Alpe d'Huez, Les Deux Alpes and La Grave, but if you are unfamiliar with the lie of the land here, finding great powder can be difficult - even dangerous. So I decided to get advice on where to seek it from the best, and skied the finest French backcountry with local guide François-Zavier Woestelandt and La Grave-based big mountain skier Joe Vallone to see exactly what awaited past the piste markers.
Alpe d'Huez
First on my itinerary is Alpe d'Huez, well known as a lively après resort. But don't let the party-hard vibe fool you - this resort has plenty of backcountry and freeride potential. The extensive 250 km of slopes, ranging from 1,135 metres to 3,330 metres at the summit of Pic Blanc, are an extensive off-piste playground where you can make mile upon mile of your own tracks.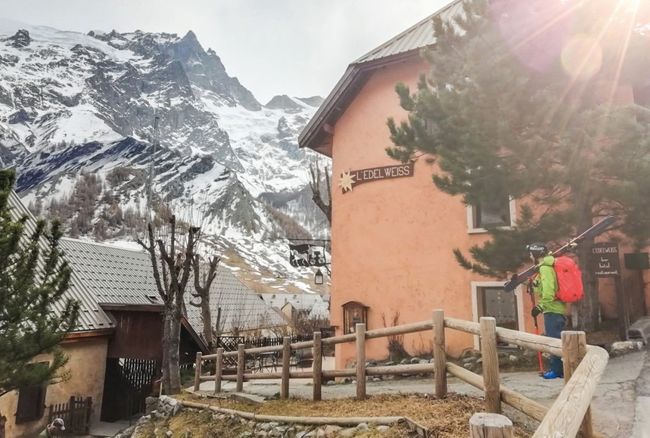 François and I start our day with a coffee at the Royal Ours Blanc hotel in the centre of the resort, then catch the first lift up the Grandes Rousses gondola, also known as the DMC, which offers amazing views of the surrounding mountain ranges. François is quick to point out the several freeride lines accessible from the lift, such as the Cheminées de Mâcle directly below the gondola. Unfortunately, the spring conditions have caused most of the routes to ice over, and I don't fancy scratching my way down an icy death chute. We opt for a safer, less icy-looking route in the direction of Pic Bayle, the highest mountain in the resort at a respectable 3,465 metres.
Dropping into the eastern col is like being in the Mont Blanc Massif, the stunning Grand Sablat Glacier carving its way down the mountain and forming a playground for the insane-minded. Our traverse across the steep terrain is exposed, and the thought of rockfall from above preys on my mind until we reach a safe location where we can grab skins from our rucksacks and switch into our ski touring setup, strapping skis to bags and crampons to boots. The ridge has just enough exposure to be challenging, with views of the epic ski descent waiting for us far below as we summit Pic Bayle.
Saying I am excited to head down again is an understatement - having 2,215 metres of descent before me is akin to feeling like a child on Christmas day, and there's plenty of line choice to get my creative juices flowing. We choose to ski the south face of Pic Bayle, as by now the sun should have softened the morning's harsh icy conditions. François is first to drop in, followed shortly by myself. The face is steep, with a couple of small cliffs to sharpen your wits on. The steepness is short-lived, however, and the Grand Sablat Glacier quickly opens up, letting us lay down some turns and enjoy the scenery around us. I can't help but notice that the eastern cols are packed with potential lines descending from all sizes of couloirs, powder fields and undulating terrain, guaranteed to get you some air time. I could spend weeks exploring here.
Les Deux Alpes
Early the next day we make our way over to Les Deux Alpes. This is another large resort, of course, with 220km of pistes and lifts that run between 1,650 metres and 3,600 metres, and François tells me about the plans to construct a lift that will connect Les Deux Alpes with Alpe d'Huez in 2021, creating a 450km ski area.
After a café grand and that French essential, a morning pain au chocolat, we head up the Jandri Express followed by the Signal lift to reach the famous Clot de Chalance route. My advice if you haven't skied the Chalance before is simple - hire a guide. Navigating the area alone can be tricky due to the numerous cliff bands and the occasional speed rider tracks that can lead to nowhere, or worse, suddenly disappear over a hidden cliff edge.
Luckily for me, François appears to know where he's going, and we're quickly rewarded with a great view of the Chalance valley and the opportunities that lie below. We ski a direct line back down in steep icy terrain and through a narrow couloir that opens up onto a wide snow field.
A late start and several runs of the Chalance Valley mean that we're running out of time to head to La Grave, our last destination on our powder-hunting tour. But if you do find more time here, there are plenty of great lines to be found from the Bellecombes six-man chairlift at 2,200 metres, where you can climb the ridge to the summit of Pic du Diable. There is also a cheeky couloir known as the 'Grand Couloir' beneath the chairlift, which is short, steep and requires an almost straight-line exit.
La Grave
If you love your freeride skiing, you'll know all about La Grave. It's arguably one of the best resorts for lift-accessed off-piste skiing in the world, and a quick YouTube search will show you why. It's not a place for the faint-hearted - this resort only caters for advanced skiers with good off-piste experience and technical skills. But for those with the ability, La Grave offers amazing terrain - couloirs, powder fields, glaciated scenery and 2,000-metre vertical descents to get the legs pumping, so I was understandably eager to stash my skins and drop into the Girose Glacier to sample what is described as a freeride and backcountry skier's paradise.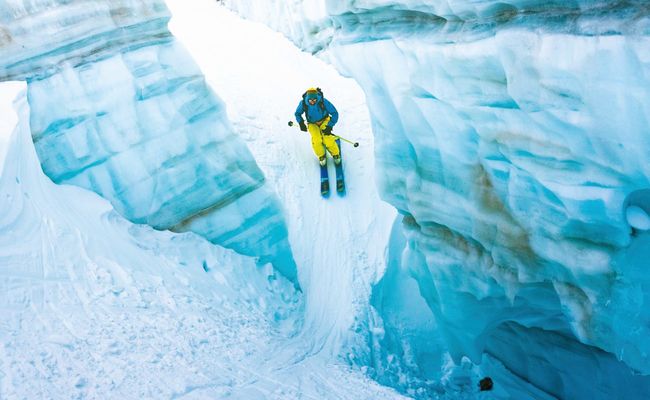 Unfortunately, the time of year has stripped the glacier of any powder, leaving behind nothing but windswept snow and ice. With no urge to ski an icy mine field, we quickly make our way down, avoiding any crevasses and the larger cliffs to our left. After a long descent we gain entry into the Col du Lac, where you drop into Vallons de la Meije. This is the main valley back to La Grave, with amazing views of La Meije and the surrounding glaciated peaks.
With tired legs, we ski to the intermediate station P1 of the La Grave gondola. This is the only lift system that gives you access to the resort, and runs from the centre of La Grave to Peyrou d'Amont at 2,400 metres. If you want to access Les Deux Alpes or ski from the top of the Girose Glacier (3,550 metres) then you can at times catch a lift from a snowcat to the start of the button lift, otherwise it's a short ski tour. But beware - if you are coming from Les Deux Alpes to spend a day in La Grave, be prepared to hitchhike back to the resort if the lift is no longer operating.
Today we just manage to catch the last lift back, where we collapse into the nearest bar and smash back a couple of radler beers. François bumps into one of his friends, who is planning to ski Le Derby de la Meije at the end of the week- the objective is to ski as fast as humanly possible from the top of the gondola to the valley floor, and he describes it as one of the most dangerous ski races on earth. Seconds later, I witness a guy in the bar showing off his modified skis, which have their rear ends sawn off to help him ski the moguls faster. And I round off the night being served a cold pint by the freeriding waitress with two black eyes. Where else but in La Grave?
As Joe points out an insanely gnarly line, I silently mouth the letters "WTF?"
The next morning, I'm raring to explore the mountain, mainly because local mountain guide and legend Joe Vallone has agreed to show us around. We choose to ride the couloir La Voûte, well known for its steepness and technical route finding, and find some good chalky snow among the icy spring conditions. Even Joe seems content, although I realise that today he's just out for a stroll in the woods when he points out some of the insanely gnarly lines he has attempted in previous years. I raise my eyebrows in the direction of François and silently mouth the letters "WTF!".
As we head deeper into the couloir, it begins to narrow until we reach a crux, and a short 40-metre abseil is required to get back on route. Joe tells me that on a good day the couloir fills in enough that the abseil can be skied. The second half of the couloir is crazily steep, and I cringe knowing that I have to ski it with all my heavy camera gear on my back. But a few turns in, it quickly opens up and soon we are back at the snow line. With our skis up on our packs, we make a sharp descent through the trees to get to the roadside. I've got to catch my evening flight, but we've missed the last lift back to Les Deux Alpes. Luckily, this is La Grave - we stick our thumbs out in search for a ride back to town, and a friendly local rider immediately offers us a lift, back to reality and, reluctantly, away from Isère's powder-clad mountain wonderland.
Snowhow
Flights
Grenoble is the closest airport to the Isère's ski resorts. EasyJet fly from £45 return.
Where to stay
Royal Ours Blanc Hotel, Alpe d'Huez
This quirky modern hotel looks a bit like a beehive. Doubles, which all have tempting mountain views, from £153 per night.
People Hostel, Les Deux Alpes
People offers excellent value, with smart private rooms as well as bunks on offer. Doubles from £43 per night.
Edelweiss Hotel, La Grave
A cosy old coaching inn set against a backdrop of the La Meije mountains. From £80 per night including dinner.
Ski pass
Alpe d'Huez day pass £49. Les Deux Alpes day pass £47.
La Grave has limited lifts and day passes start from £25.