Why bother going to Baqueira Beret? This amazing little corner of the Catalan mountains had never been on my radar as a place to snowboard – somehow, I'd missed the memo that the Pyrenees are home to some seriously fun shredding. So when Snow Magazine suggests it might be time I try shaking my snowboarding hotspots up a bit and get out of my French Alps bubble, I jump at the chance to report back on riding the resorts of Baqueira Beret and La Molina.
My expectations? Pretty much nil. Besides the odd World Cup contest, the Catalonian ski areas ring no snow bells. I do know, however, that highly experienced backcountry guide (and awesome shredder) Neil McNab is running one of his snowboarding courses out here, so I figure it can't be that bad…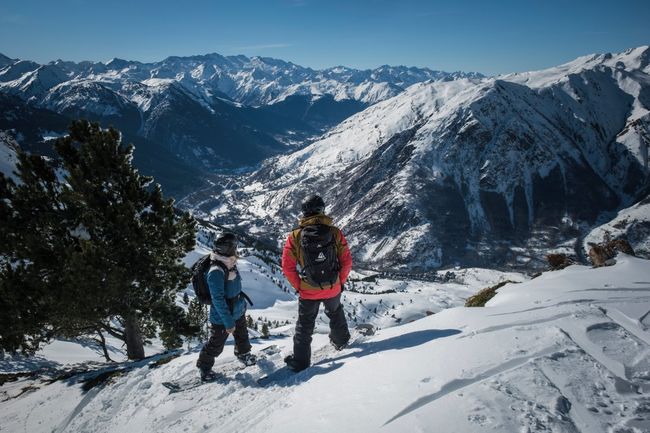 Mountain bound
Only two hours by car from Toulouse airport and four from buzzy Barcelona, Baqueira Beret is pretty accessible. Perched high in the Aran valley in the province of Lleida, Baqueira sits at an altitude of 1,500 metres, with lifts up to a snowsure 2,500 metres – some winters, it's among the resorts with the best snow cover in Europe. The resort is actually a cluster of three linked ski areas – Baqueira, Beret and Bonaigua. It may not be a huge ski area, but there are a respectable 33 lifts and 69 pistes to explore across a ski area of 153km, as well as seven km of winding cross-country trails.
My first glimpse is of the town of Baqueira itself. Driving into the resort I am immediately charmed – no chintzy chalets here, just a relaxed village feel that I'll soon discover is common across all Catalan resorts. The main development around the gondola station has a 1960s vibe left over from the decade in which it was built, but there are also attractive slate-roofed chalets and further up the road, pretty Tanau at 1,700 metres, the hamlet where the Spanish royal family stay when they're in town. We wander around Baqueira's traffic-free centre and pop into a local deli to sample jamón ibérico – cured ham – as well as gordal olives and my favourite, a fig and almond cake soaked in muscatel wine that's designed to be eaten with local cheeses. I'd heard that Baqueira Beret is just as famous as a foodie destination as a ski resort, and its reputation seems well deserved.
There's time in the afternoon to head 10 minutes down the road to the more traditional village of Arties, on the border with France and towered over by Montarto mountain. Among the fairytale medieval stone houses there's an 11th century Romanesque church, Santa Maria de Arties, with soaring ceiling paintings to gaze up at. And in my never-ending hunt for new local dishes to try, we stop in the village's favourite tapas bar, Urtau, to try their incredible grilled octopus and delicate stuffed squid – both reminders that the Mediterranean Sea isn't actually that far away from this hidden corner of the mountains.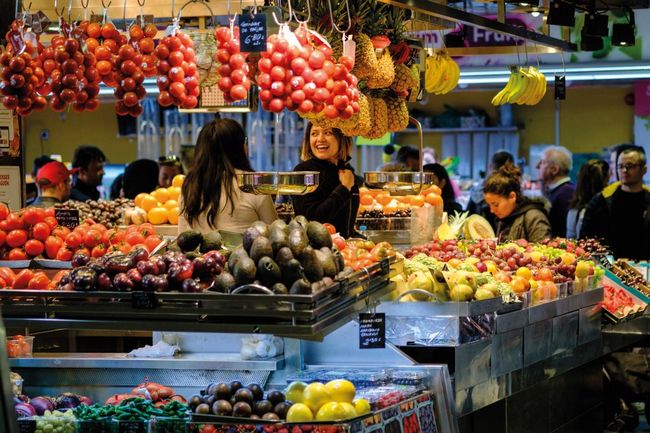 Back in Baqueira, we check in to the Montarto hotel. It's right next to the ski slopes, the lifts a scant five-minute walk away. Watching the last skiers return down the mountain as the sun begins to set makes me itch to grab my snowboard and hit the mountain. For tonight, I'll have to make do with a dip in the pool and a glass of local Priorat wine in the hotel's Vina Pomal bar.
First tracks
The next morning is pure blue sky and a fresh dusting of snow – I couldn't have asked for better conditions if I'd prayed for them at the church in Arties yesterday. I meet up with Javi from Landing Snowboarding, who will be my guide for the day. A quick chairlift ride later and we're up at 2,516 metres and I can see far across the mountains – and see how much this resort has to offer. I saw the snow begin to fall last night, but I'm still surprised by how much cracking – and readily accessible – snow-covered off-piste terrain I can spot just from the lift. It's like looking down on a golf course under deep snow – think short but steep pitches followed by playful tree runs. And Javi turns out to be the perfect guide to the best of Baqueira, finding us fun little pockets of powder to play in barely 100 metres from the sides of the lifts.
The pristine powder is still totally untouched - it feels like the best of the off-piste here is still a bit of a local secret
It's February and the beginning of half term, but the pristine powder is totally untouched and the pistes aren't too busy, either. They are mostly wide open blues and reds perfect for cruising, and you can hop on and off the runs all day to your heart's content. This would be the perfect place for progressing to confidently skiing or boarding off-piste in the safe pockets of fresh snow. Javi smiles as we glide through yet another empty valley. "We're so lucky to have so many areas of untrodden off-piste here – in other resorts this would be criss-crossed with tracks by now. This is Baqueira's little secret!" We dart off again for a 20-minute ridge hike, which is punishing enough to get me working up a sweat but proves totally worth the effort when we're cruising down some beautiful open powder terrain (at 2pm the finest powder still has no tracks on it!) and then joining pistes that lead us seamlessly back to the lifts. We lap the run a couple of times and then explore more of the area, playing in the still-untouched powder on the edges and finding natural jumps to tackle as we take on Javi's favourite black runs, Muguet and Manuad, both of which have a wild, almost off-piste feeling themselves.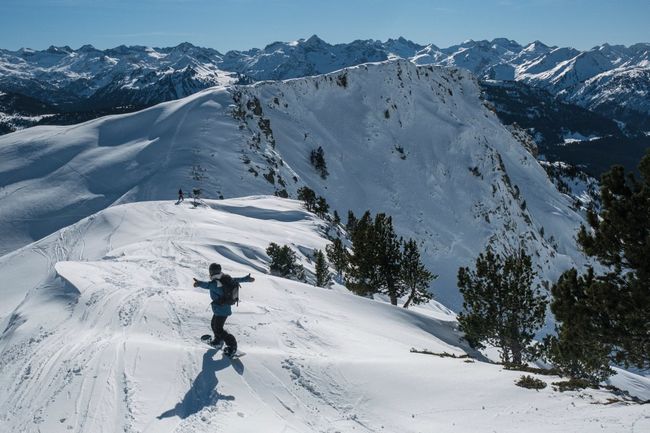 We spend the remainder of the afternoon on the mountain, popping into cosy restaurants and chatting on the lifts. I find the chilled Catalonian vibe here hugely refreshing. I knew that Baqueira is a favourite ski spot with the Spanish royal family, so perhaps I was expecting a haughty welcome and Verbier-style prices. Not at all. Relaxed, long lunches and a friendly welcome make a very nice change to France (not to mention the fact that Catalonia is much easier on the wallet). After a full day of exploring, Baqueira strikes me as a resort that would perfectly suit everyone from beginners to intermediates, with plenty of scope for the pros to play further afield. And I just can't get over how quiet the slopes are here – there's a relaxed mix of local and international skiers out on the snow but it's by no means busy, and it really does feel like most of the great powder skiing is somehow still a local secret. It's great to see how passionate Javi is about his home mountain playground as he continues to point out places we could explore. "And you still haven't had any pintxos!" he grins at me.
Back in town that evening I finally get to try pintxos - Catalonia's famed snacks on sticks. We head out on the cobbled streets of the town of Vielha and duck into the welcoming warm buzz of local restaurant Petit Basteret. It's 9pm, but the locals are barely starting to head out in town for dinner. The bar inside is groaning under the weight of different delicacies, and I'm pleased I spent all day working up a healthy appetite out on the mountain.
I'm pretty sure to my untrained eye pintxos are just tapas with cocktail sticks in them, and Javi tells me I'm more or less right. The translation of pintxo is 'to pierce with a stick', and these bitesize morsels are all easy to pick up and nibble on. On the bar is an epic spread – charcuterie, fresh tomato dishes, grilled meat and local cheeses, including the most delicious burrata cheese I've ever tasted. By the time we leave, the bar is packed with happy locals – less raucous après-ski, more just the way of life in this friendly mountain town.
And the incredible thing about this corner of the Pyrenees is how many mountain ranges there are right on your doorstep. A cluster of great resorts are easily accessible by car from Baqueira, and if you're based here for a week you can plan a snowboarding road trip and ride in a brand new resort every day.
I only have time to squeeze in one more resort – this time I head to the tiny but worthwhile resort of La Molina. The site of Spain's first ever ski lift, there are now 16 lifts serving 46 pistes. La Molina may be small, but it still packs a punch for snowboarders - it hosted the World Snowboarding championships for slopestyle in 2011, so to honour its boarding history I head straight for a play in the pint-sized shred park.
When the evening draws in we catch the gondola up to Niu de l'Àliga, a beautiful mountain refuge perched high above the pistes at 2,537 metres. Its name means 'the nest of the eagle', which seems fitting as we watch the sun setting pink over the peaks from this lofty perch near the top of Tosa d'Alp mountain. I get to stay up high to sleep, too, and this is definitely the cosiest mountain refuge I've ever stayed in, complete with solar showers and a roaring fire. People are arriving after long days of ski touring and I get an inkling for how good a splitboarding adventure would be in these peaceful mountains.
The next morning I get to experience the pure joy of waking up in the peaks. I'm so keen to get going that I manage to be up and out by 7am, and I'm down the just-groomed pistes before anyone else is stirring. It feels like the entire mountain is mine, the only noise to be heard is the swish of powdery snow under my board.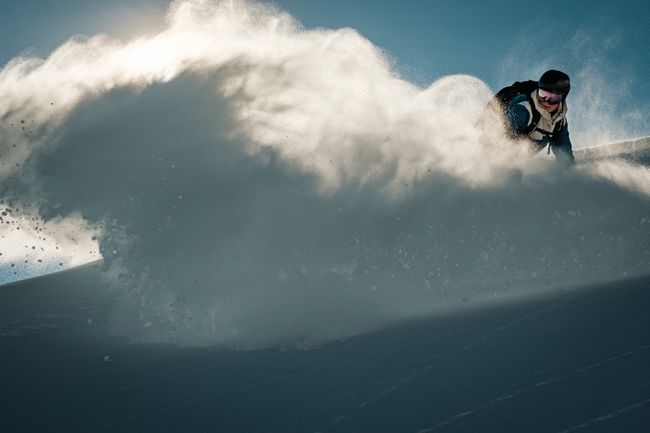 I love how this area of Catalonia makes for the perfect well-rounded snow holiday, especially if you don't want to just ride all day, every day on the same runs. You can shake it up by exploring a bevvy of different resorts, or have a day off and get involved with the incredible local food scene, or head to vibrant Barcelona, just a car ride away. Culture, cities, food and secret off-piste – what more could you ask for? And next time I'm bringing my splitboard with me. There's so much to explore in this unspoiled hidden gem in the Pyrenees, and one thing's for sure – Catalonia will never again be overlooked by Miss Jones.
Snowhow
Flights
Fly to Toulouse (from £54) or Barcelona (from £59) with easyJet.
Airport transfers
Renting a car is the easiest way to go resort hopping in Catalonia, or book a transfer to Baqueria Beret with Ski Transfers.
Where to stay
Escape into the mountains at this cosy refuge, which has 30 bunks, solar showers and cooking facilities. £44 for half board.
A modern revamp of one of Baqueira's oldest hotels, Montarto is ideally located for hitting the pistes. Doubles from £81.
Where to eat & drink
This laid-back restaurant and bar in the town of Vielha is the perfect place to try traditional Catalonian pintxos.
A cosy tapas bar in the medieval village of Arties with a fine line in seafood dishes.
Ski pass
A Baqueira Beret lift pass costs £47 for a day and £227 for a week.
The skiing
Jenny was joined in Baqueira by guides from Landing Snowboarding, who offer snowboarding lessons, freeride guiding, splitboarding and more.
Meet Jenny Jones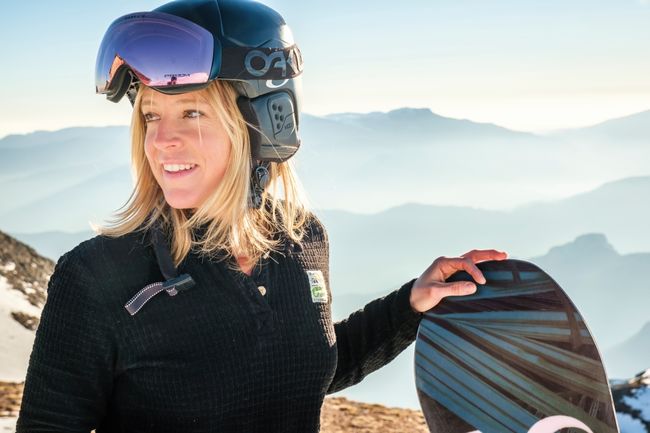 Jenny Jones really needs no introduction since she burst onto our screens in 2014, riding her way to an Olympic bronze medal in slopestyle at Sochi's Winter Olympics. As well as nabbing Team GB's first ever Olympic medal on snow, she has also won three Winter X Games gold medals. The 39 year old snowboarder from Bristol had spent 15 years chasing winters around the globe and is now a key part of Britain's snowboarding scene.
Fancy hitting the pistes with Jenny?
Join her for Workshops by Jenny Jones, winter snowboarding workshops in France, Switzerland and Japan aimed at intermediate and advanced riders.