Flying directly into Denver is an easy option compared to the route the pilgrims took across America but it's a great way to appreciate the magnitude of their epic pioneering journey. For a long time before the fasten seatbelt sign comes on, I gaze down at basically nothing. The Great Plains must have seemed endless from the back of a faltering mule. And the reward for those daring to cross those featureless plains heading west? The rearing mass of the Rocky Mountains.
I too am destined for those snow-covered peaks, but for me they are a much-anticipated destination rather than another of mother nature's obstacles to be overcome – especially as our brave new world has since tamed this once arduous and hazardous journey west.
The Crawford Hotel at Denver's Union Station is a pretty fine example of that taming. Retaining all the art deco glamour of the golden age of the railway, but with gallons of modern added craft beer, you can easily imagine Jay Gatsby taking in the buzz of the huge and airy Terminal Bar after stepping off the Amtrak from West Egg.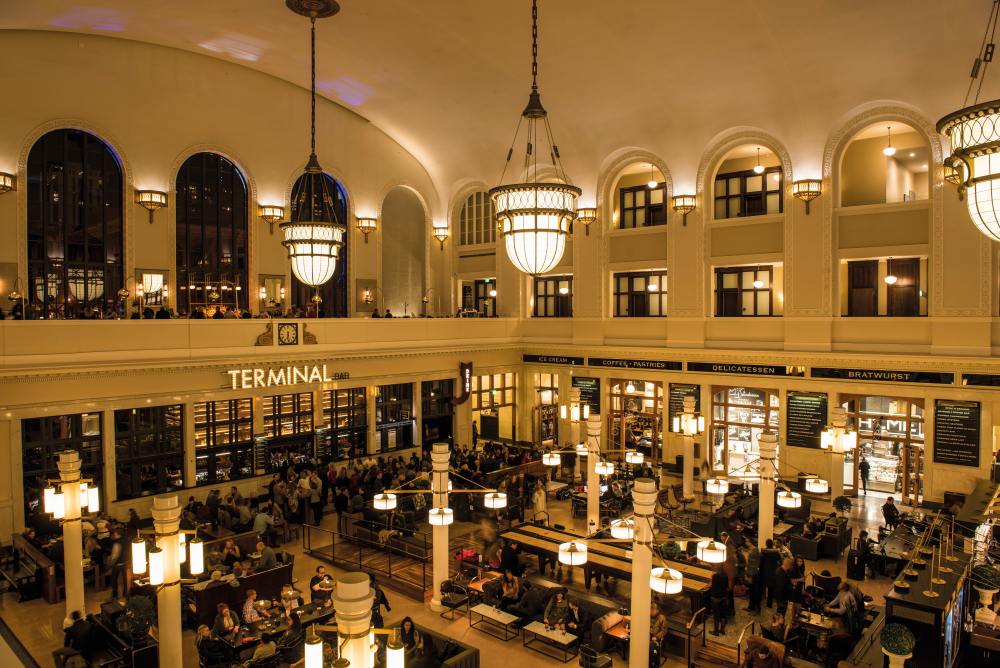 The modern sheen can't hide the fact I'm following generations of travellers heading west, and Denver is well worth an overnight stay purely for that heritage. I can't hop a boxcar like famous Denver visitor Jack Kerouac's beatniks, but there is another pleasing railway-revival waiting: the Crawford Hotel's back door opens straight onto the platform for the Winter Park Express.
Winter Park ski resort is owned by the city of Denver, despite being almost 70 miles away, and was envisaged as a municipal provision for its residents. So, after a gap in service of seven years, the reintroduction of a direct train from the centre of the city feels as utilitarian as it does old-time. The guard adds some anecdotal history to the experience, telling us of a rosy cheeked 90 year old woman he met recently, who remembered riding the train as a teenager and "smooching" through the tunnels!
Even without smooching it's still an incredible journey: looking back, Denver's skyline is silhouetted by the rising sun – and dwarfed by the surrounding expanse of flatness to the east. It's so much less stressful than a car or bus too, with two hours of jet-lag-dissipating relaxation, before we pop out of the Moffat tunnel onto the slope-side station.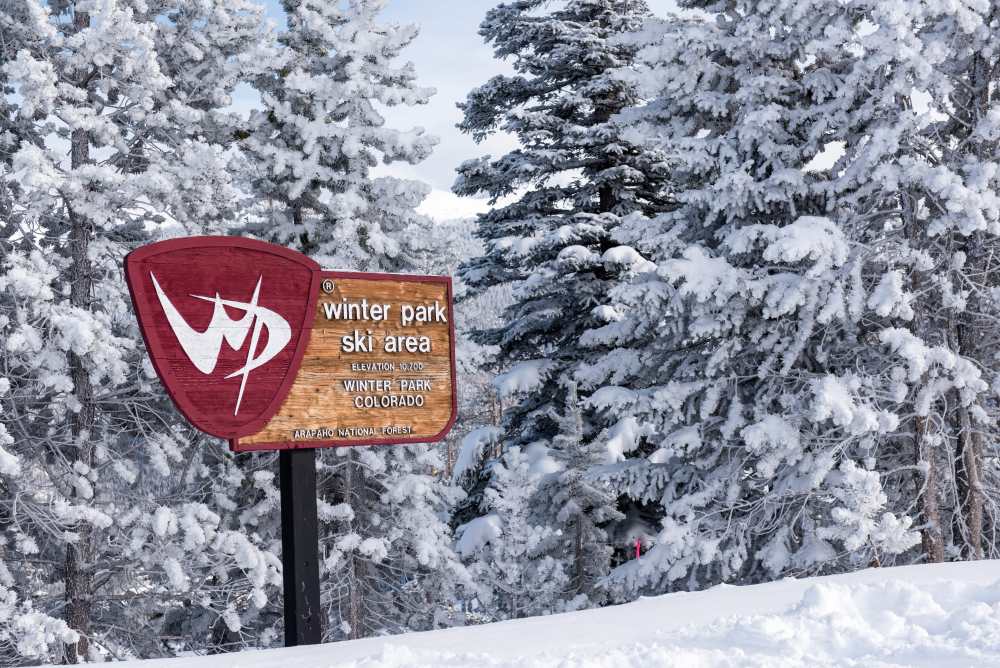 It's a wonderfully civilised way to arrive into a resort, alighting an easy two-minute walk from the rental shops and base stations, across the pedestrianised centre of Winter Park resort. There aren't even crowds of people pouring off the train as you might expect – or if there are, they magically disperse creating not a hint of comparison with a busy morning commute on the British rail network.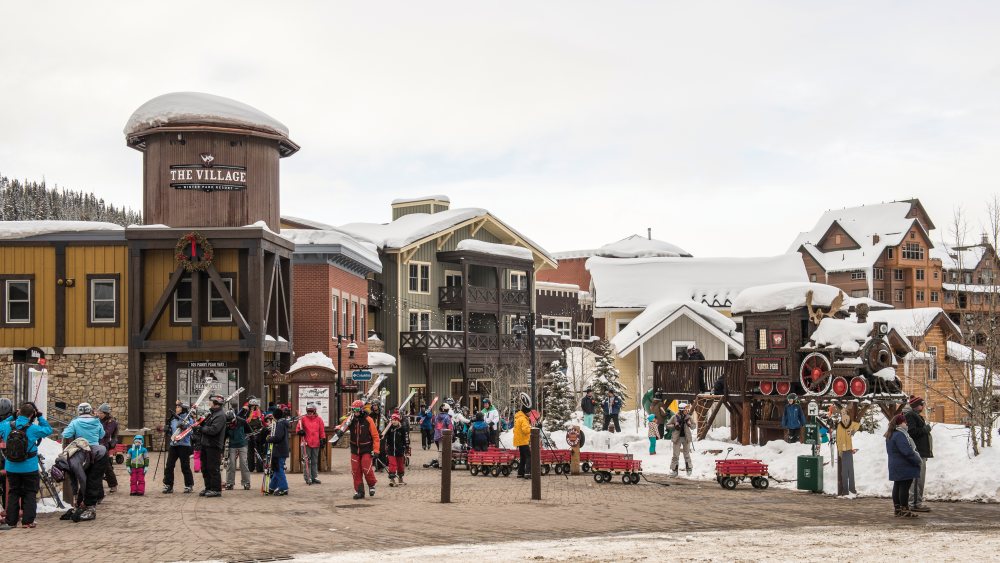 A mogul invasion
With an itinerary of resort skiing lined up for a gentle first day, I'm looking forward to some laid-back cruising. It comes as something of a surprise then – especially for a resort skied largely by city-dwellers – that Winter Park visitors love their moguls. And not in an occasional-fun-challenge kind of way either. I've never seen so many mountains made to look like molehills by so many people. Far from the carnage at, for example Tortin in Verbier, Winter Park is strewn with experts and must have the highest average knee strength in the world.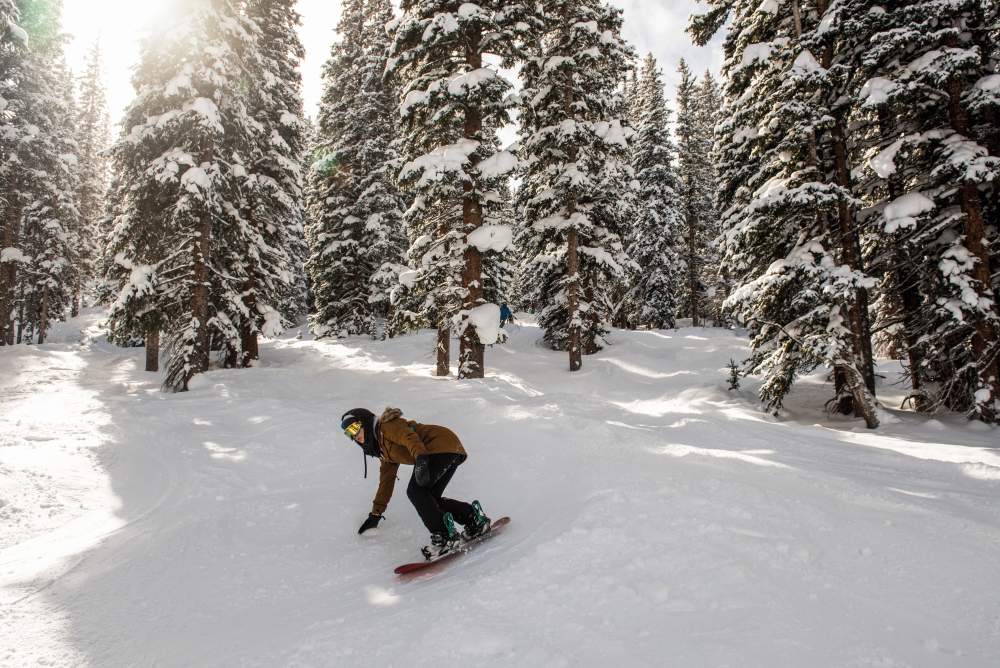 So, when in Rome... In truth it's a perfect place to work on your bump technique; I hadn't expected to get a feel for the fabled Colorado snow in resort, but even when compressed into towering bumps, the snow is light and forgiving. And there are seven extensive 'territories' within the resort, many of which are filled with cruisey groomers for those who like to keep their skis flat.
About 45 minutes' drive south-west of Winter Park on the East side of Berthoud Pass is more evidence of the taming of the American backcountry. There Powder Addiction offers guided snow cat skiing, and on the morning I arrive at their shipping-container office near to Jones Pass, the white stuff is falling heavily from the sky.
This is my first time cat skiing and it strikes me as a particularly sociable way to hunt powder – the cab is much more conducive to conversation than a chairlift or skin track, and with 6-10 uplift shuttles per day, there's plenty of time to laugh about your latest face plant as the cat bumps and lurches you back up the hill.
The runs are initially shorter than I expected, and actually pretty tame, but as the group finds its flow, every run is better than the last – longer, steeper and deeper. Thevisibility is too poor to venture very high and the wind is outrageous, but our driver Brian knows every inch of the forested lower slopes and negotiates his beast around them efficiently, meaning we ski protected virgin lines every time we step out of our tracked transport.
For our final run of the day we battle the harrowing wind to hike for 10 minutes over a col, losing sight of the cat, into a wind-free bowl that drops steeply into the pine trees. Every bouncy, speeding turn is laugh-out-loud fun and it brings our total descent for the day to about 3,000m over nine runs. Guides Ann and Scott have a cooler full of beer waiting on our return to the makeshift headquarters, just to make absolutely sure everything hits the spot.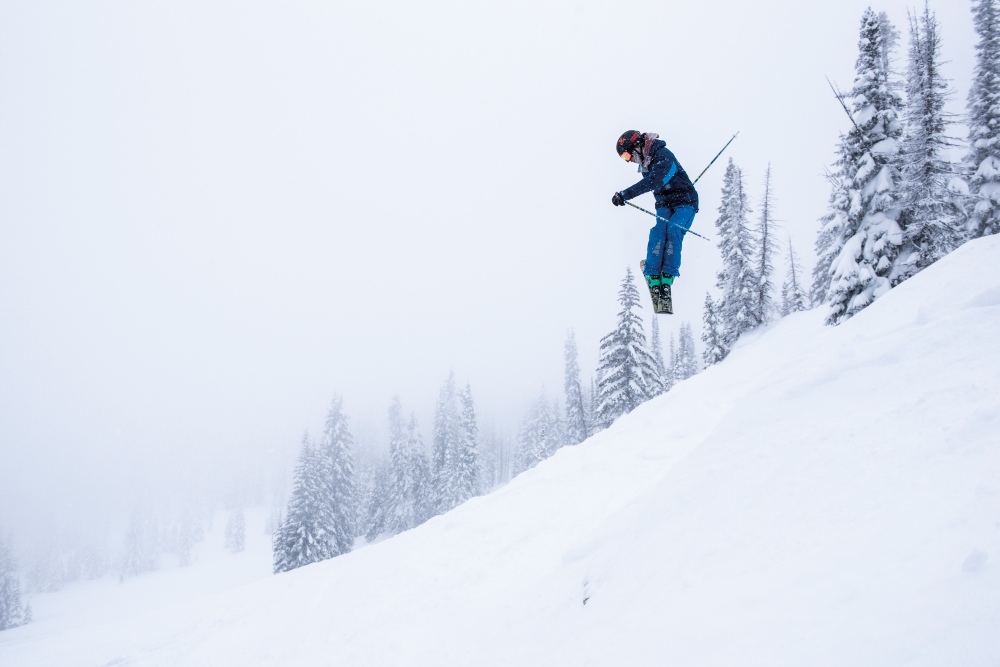 Wilder west
And then, with a nod to those earlier, more hardy travellers, we head further west, and further wild. Tom from Colorado Ski Country drives a group of us to Steamboat Springs over the Continental Divide; the true geological watershed between east and west. Apparently Powder Addiction takes skiers onto the ridge in better weather than we have, where it's popular to urinate whilst carefully rotating at the hips, to ensure part of the 'product' ends up in the Atlantic, and part in the Pacific.
Rejoining the pilgrimage after an intense backcountry day is a pleasant respite; passing ranches, deer and llamas with the flat blue-grey light turning to a grey-black dark as the sun sets, unseen behind mountains. But the serenity is left on the east of the Divide as the west hits us wildly in the windscreen with a wall of drifting snow. The road begins shifting beneath our wheels and the on-coming driving snow in our headlights becomes a constant Star Wars jump-to-light-speed effect.
The fraught journey is all worth it as we arrive at One Steamboat Place, where a private chef is preparing dinner in our expansive condo, our waitress more than happy to pop out for beer, and Tom turning a little Ray Charles thanks to the in-house electric piano. No one can juxtapose the wildest of nature with the fullest of luxury quite like the Americans.
Early next morning Wild Bill catches my eye in the rental shop. Rather than a reincarnated gun-toting local, Wild Bill is actually an all-mountain ski made by Meier from Colorado trees and adorned with the outlaw's glowering face. How can I resist?
If I was expecting another piste-based introduction to a resort, I would be proved very wrong. Snow has fallenall night and our guide Travis is only interested in skiing through the trees. "It's what we're known for," he implores, as if he needs justification. Steamboat's 'inbound' terrain is phenomenal and the term does no justice to what is on offer here; despite being piste-side slack-country it is every bit as good as the cat skiing of the previous day.
Tearing through Aspen groves is as 'free' as any freeskiing I've done. In fact, the combination of snow quality, tree spacing and absence of low-hanging branches makes thought and caution barely necessary in contrast to the dense pine forests of Europe.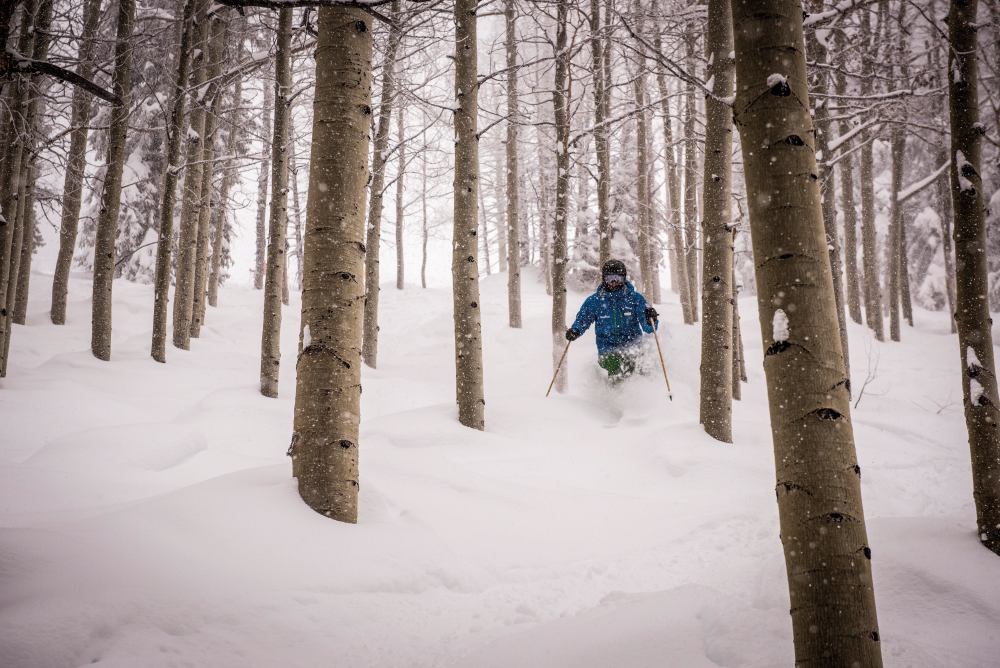 Easily the most fun is the plainly named 'Chute 2'. Utterly filled with snow, and with an entry pitch around 40 degrees into a ski-width section, this is about as perfect as inbounds steeps can get. Once past the tricky narrows the angle mellows but the snow remains and I do it no justice whatsoever. It's one of those runs that makes you simply too giddy to ski properly.
There is still a way for the west to get wilder though, as we head further north (and slightly west) again to Del's Triangle 3 Ranch. "Horses?" I hear you ask. Many skiers might baulk at the idea of wasting ski-time on a horse riding excursion, but stick with me.
Set in a pristine wilderness 20 miles north-west of Steamboat, former Olympic ski jumper Ray Heid has carved out his own unique western Rocky Mountains dream. Which doesn't just involve guiding visitors through a unique snowy landscape on horseback – this fascinating man manages 100 days skiing a year as well, largely by skinning up the mountains on his own land. Oh, and did I forget to mention, he's 79 years old.
Ray's incredible résumé includes living with Apaches for 21 years, and helping them set up their own ski resort. Spend some time with him and he'll tell you he also made his own coat from Elk hides and road-kill beaver. Even without the magnificence of experiencing the most western and wildest landscape of the entire trip, from the most primitive transport we use, it is worth missing half a day's skiing just to meet the man.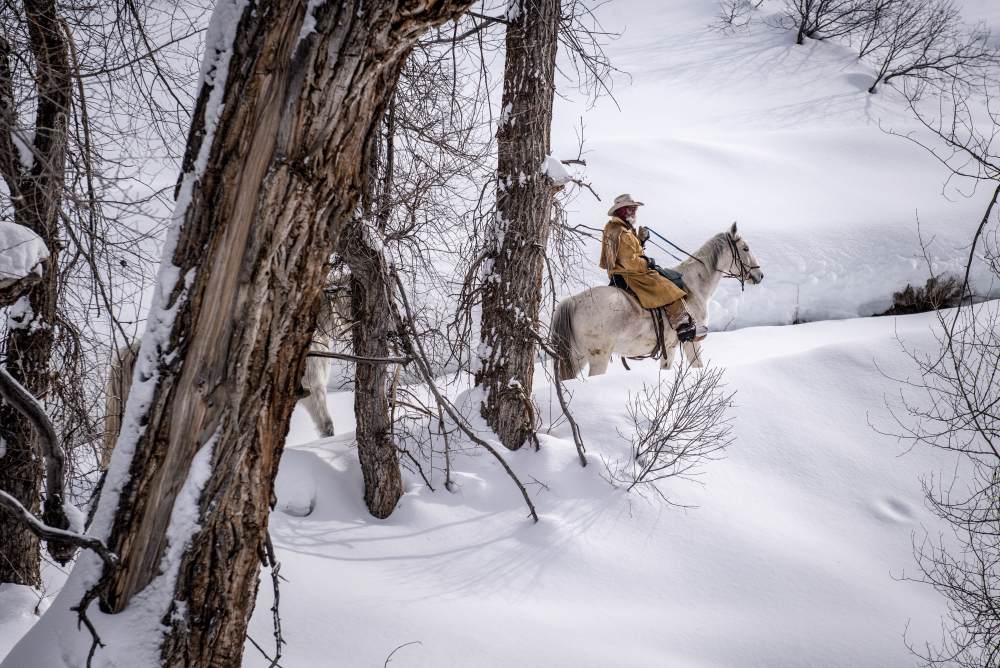 The day at Del's ranch with Ray is a symbolic end to our westward journey; a snapshot of how the wilderness must have impacted on those like us travelling from eastern civilisation – then and now. But above all, just as it was for the pilgrims, our trip is proof of the breathtaking rewards for those who stay the course and make this long journey west.
Strawberry Springs
No visit to Steamboat Springs would be complete without a hot dip outdoors, and the place to go is Strawberry Springs. It's a bit of a drive out of town, but there is a shuttle service.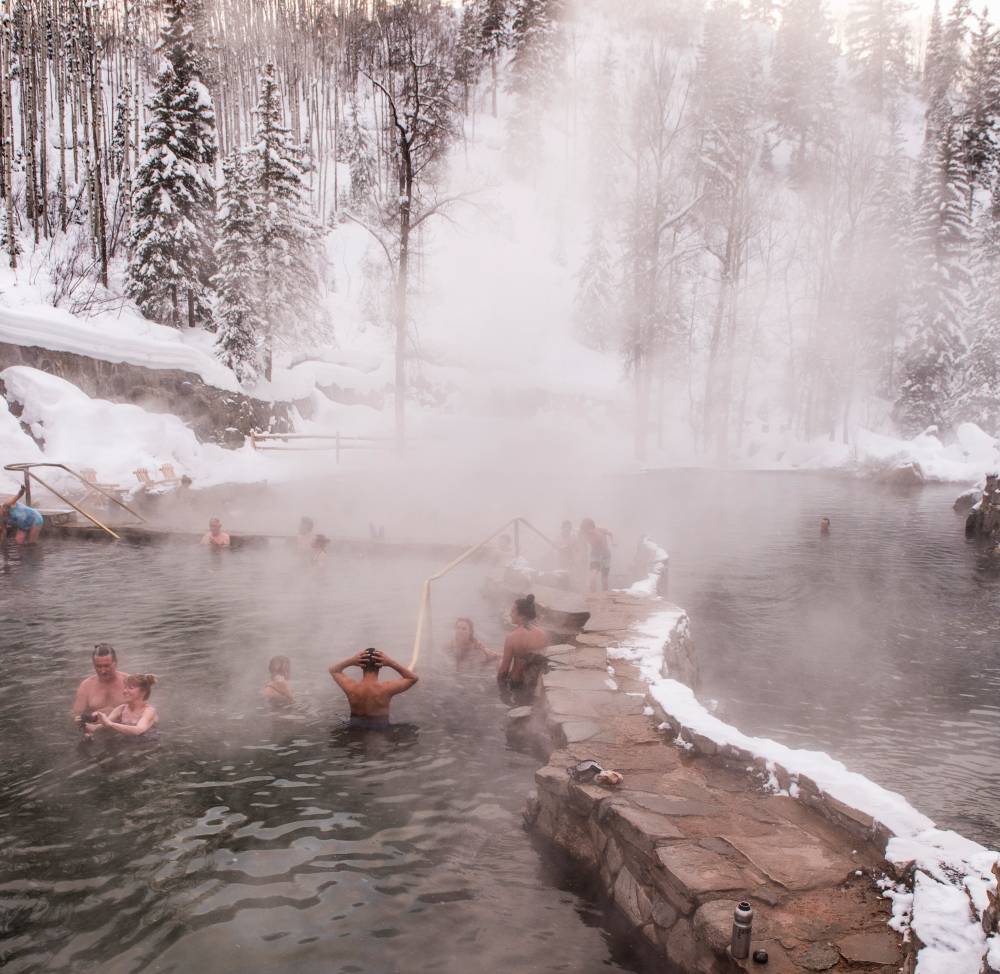 The place is notable for how delightfully basic it is in this era of health and safety over-obsession. The thermal pools are essentially rocky holes in the ground, surrounded by rough paved areas prone to a thick covering of ice, and exposed to the piping hot spring that feeds them. The paving stones and rock architecture are landscaped, but Strawberry Springs is as natural as it could possibly be, and disrobing alfresco in the frigid evening air makes nature's 40 degrees celsius reward all the sweeter.
If you intend to visit after dark, it's over-18s only – it was heavily hinted that the experience can become quite bohemian.
SNOWHOW
Flights
British Airways Heathrow to Denver costs around £500 return.
Airport transfers
The 'A Line' rail service from Denver International Airport to Union Station costs £7 each way.
Train
The Winter Park Express costs £30 one-way.
Where to stay
Daniel stayed in the Crawford Hotel at Denver's Union Station; rooms cost from £190 per night. In Winter Park, at Zephyr Mountain Lodge and in Steamboat in one of the condos in One Steamboat Place.
Where to eat and drink
Our favourites were Cafe Diva in Steamboat cafediva.com and Tag in Denver tag-restaurant.com. Also Vertical Bistro in Winter Park verticalbistro.com and Steamboat's Low Country Kitchen lowrestaurant.com
Ski pass
Ski pass deals are better than a 7-day lift pass. For example, Route 40 10/10 International Pass gives you 10 days in Winter Park and 10 in Steamboat for £423. A Winter Park season pass costs £341.
The skiing
Cat Skiing with Powder Addiction costs from £306 a day.
Winter trail rides at Del's Triangle 3 Ranch cost from £60.