Split-board on my back, I'm feeling a little exposed. My hands are dug into a super fine spindrift snow, which runs through my fingers like dry sand, offering up little support. My toes cling to whatever firm rock I can find beneath the snow. Glancing down – and how I wish I hadn't, there goes the little confidence I had left – 10 metres of jagged rocks drop below my feet, after which I can't see what awaits, should I fall, until the valley floor 700m below.
It's only a very short pitch, so I refocus and concentrate on my every movement, searching again and again until the shaft of my ice axe finally digs deep and firm into the mountainside. Inching upwards, cursing every time the snow gives way under my feet, I finally reach a col just beneath the summit of Krondlhorn – and away from what would be described, at best, as a 'no fall zone'.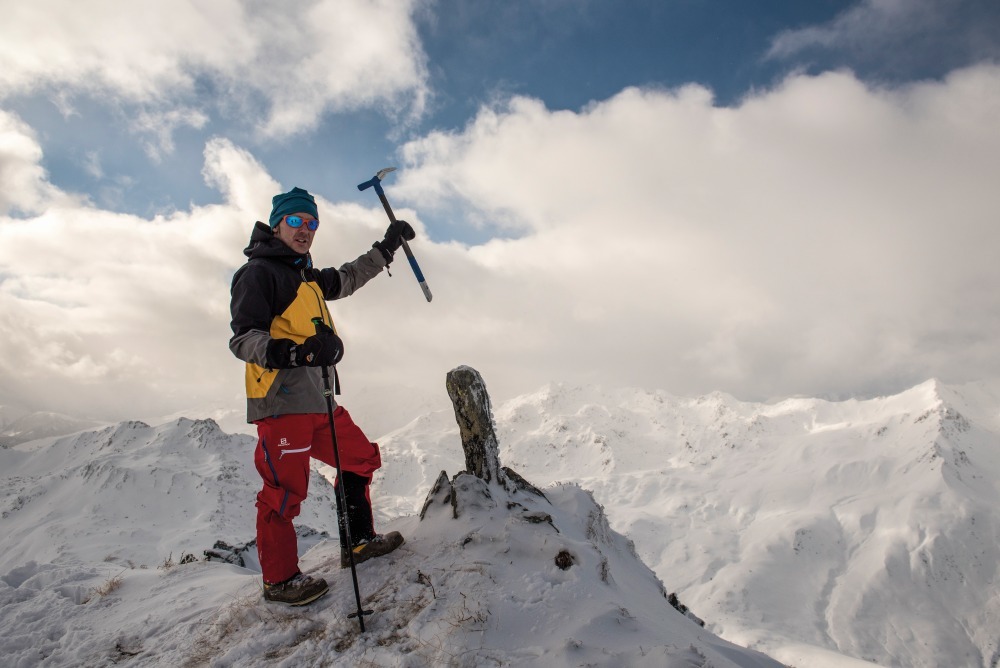 Col reached and panic over, I'm greeted by a Tyrolian winter wonderland of gleaming white peaks. It's an astounding view, but what really puts a smile on my face is that I can't see another living soul, and better still, not a single ski or snowboard track.
I'm travelling with Joe Astner from Alpine Experts, a long time guide and resident of the Tyrol, and photographer friend Daniel Wildey. The three of us make up a lightweight stealth team of back country tourers, seeking out solitude and adventure in equal measures. Our plan is to travel, on skis and split-board, across four of the nine backcountry valleys that run south to north in the Kitzbuheler Alpen.
It's a wild mountain range reserved for ski touring, wildlife and hunting, pocketed between the developed ski areas of the Ski Welt to its north, and the Zillertal Valley to its south, both of which run east to west. This south to north geography allows for incredibly easy access to each valley from the main SkiWelt road, yet wonderfully isolates them from the mass development of the interlinked east-west ski areas above and below it.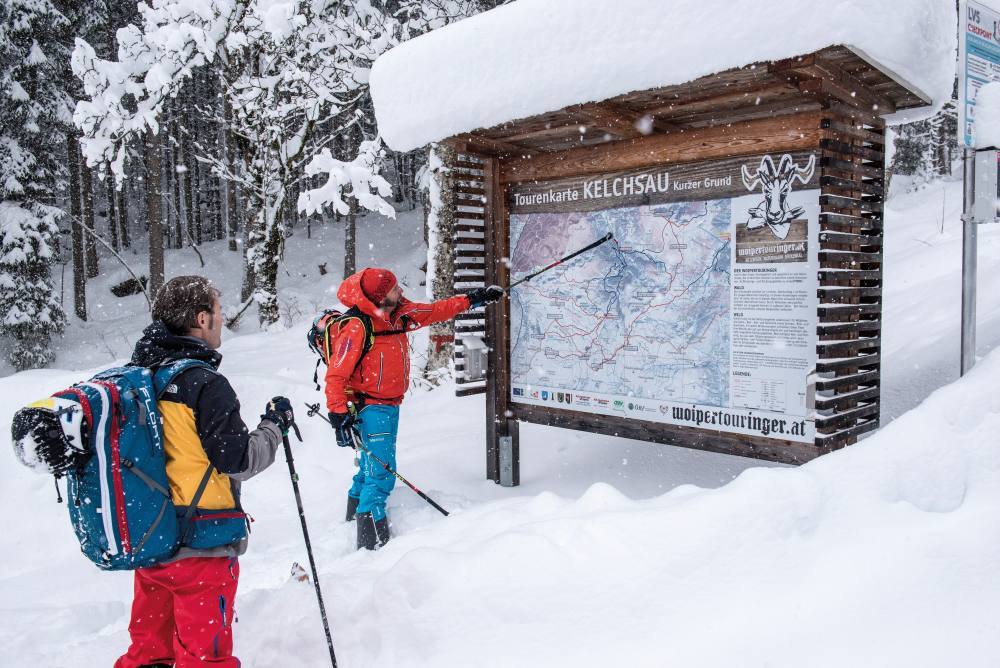 Too much snow?
Wind back just one day and I'm stepping off our private transfer bus only an hour after leaving Innsbruck airport, with the snow falling in steady huge flakes. I gingerly haul my bag into the cosy Fuchswirt guest house in the sleepy hamlet of Kelchsau, the deep snow underfoot letting out that wonderful little squeak you only get from freshly fallen super dry powder snow.
Most people arriving in the Alps are elated when snow is falling, but supping a pint of wheat-beer with my Spätzle, a regional egg noodle served with cheese and onions, I am somewhat concerned by the quantity still falling and, more worryingly, the high winds which I can hear whipping past the hotel. I am of course, like all tourers, looking for some back country powder, but large quantities of fresh snow and high winds add to the already enhanced avalanche risk here, often making safe route finding on a long journey almost impossible.
Rising early the next morning I'm raring to go. The plan was to climb the nearby peaks of Feldalphorn and Schaigerberghorn, straight from the guesthouse, but that's not going to happen. The avalanche risk is at level 4, and even worse, the high peaks are completely shrouded in clouds, making the route and, quite frankly, enjoyment levels at altitude very difficult to find. So we instead hit the powder-filled slopes and slackcountry meadows of Hopfgarten; once famed for its production of hops, and now a central part of the SkiWelt ski area.
This is my first trip of the season, and I honestly can't remember a better first run of any season, as we make use of Joe's intricate knowledge of where to leave and re-join the pistes. First I'm slashing through powder, then I'm in the woods, before bursting out onto an untouched meadow dotted with traditional barns and even the odd free-range alpine cow.
On our second full day we're up early again to yet more clouds and high winds at altitude. Our proposed plan – to climb Schafsiedel (2,447 metres), and ride down past a series of three frozen lakes to reach the Neue Bamberger Hut – needs revision because it's simply neither safe nor practical. Fortunately there's another, lower, access route to the hut.
So we take a taxi due south, towards the head of the valley on a 4€ toll road built by local farmers, to a newly constructed parking area. The Tyrolian tourist board, responding to the 20 percent growth of ski touring in the area, has recently developed its ski touring infrastructure, building new parking areas and producing a map of recognised tours.
It's somehow exhilarating and yet calming to have begun our journey into the back country. The trees hang heavy with snow, as we brake trail in the -10°C temperature. Soon I'm warm though, as we plough our way steadily uphill, the silence of a winter forest broken only by our intermittent conversation and the murmurings of a stream below a thin sheet of ice.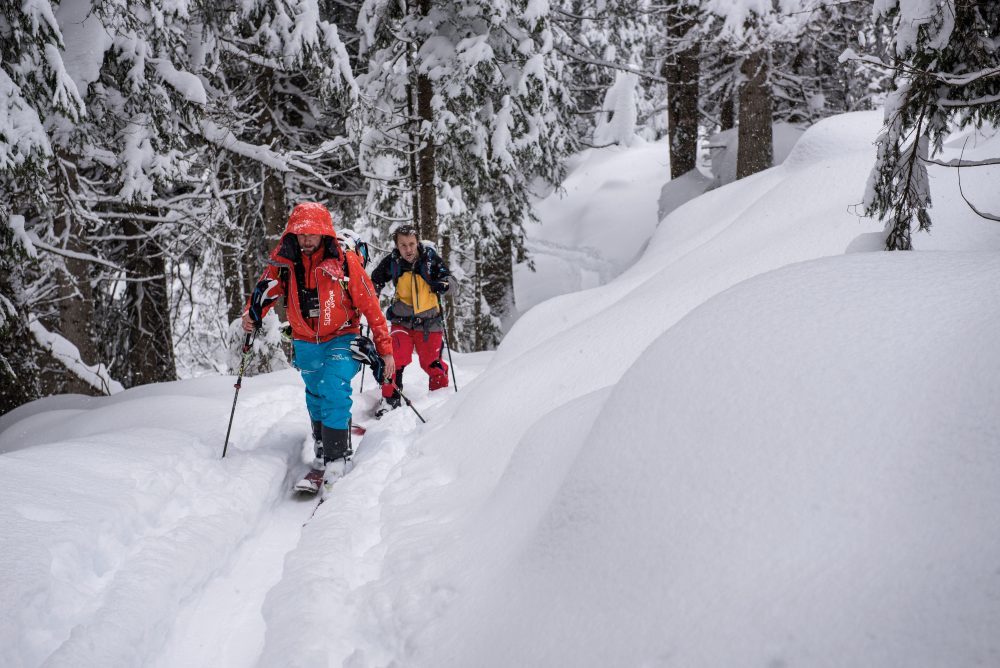 Three hours and 700 metres of gained altitude later, we leave the calm forest for the last windblown dash to the welcoming shelter of the Neue Bamberger Hut. Owned and run by the German Alpine Club, the hut was originally built between the wars for army training, before becoming popular with alpinists when the main European powers' propaganda machines switched to trying to outclimb each other to prove superiority.
Today the hut's history is less evident, as it was renovated in 2014 and now, from the inside at least, gives the appearance of a basic but clean, modern 2 star hotel.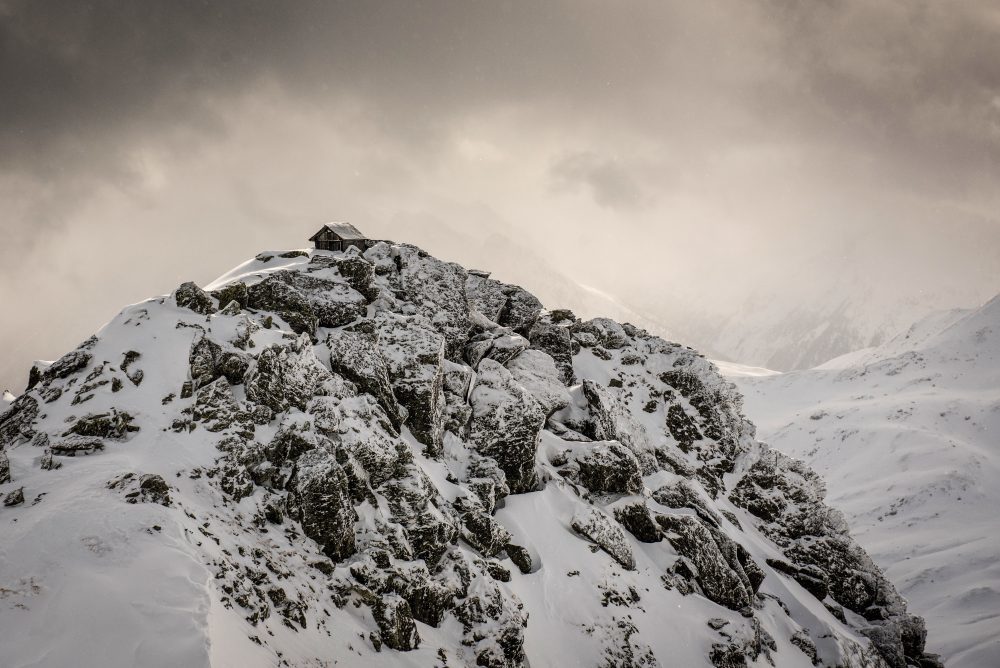 With the next wave of the ongoing storm setting in, we settle down for an afternoon of cards, chat and the occasional beer, which flows freely alongside a wide choice of meals, available to day tourers and residents alike. There's even a flaky wi-fi connection.
At last, the next morning dawns calm, and with only patchy cloud overhead, our journey to the high peaks is finally on. We quickly fortify ourselves with porridge, and don our skis for the long day ahead. Firstly we skin towards the head of the valley, before turning west towards our target of Krondlhorn (2,444 metres).
Uphill pace established, I sink deep into my own thoughts until my concentration is broken by a herd of Kitz mountain goats. Startled, they bound through horn-deep snow and bolt up a steep rocky crag in mere seconds, the sun forming twinkling stars in the powder snow thrown skyward by their hooves.
I watch mesmerised as their silhouettes dance along a ridge line, casting tall, almost mystical, dark shadows onto the bright contrasting snow far beneath. I'd happily turn around now and hike back out, so special is this wildlife encounter. Almost. But the lure of the powder, and the pull of the peak, refocus my mind and we stride on.
Avalanche aware
After a couple of hours we reach our first serious area of terrain; while always uphill, from the hut until now the progress has been mainly along the valley floor. As we progressed we heard lots of 'whomping', caused by the snow resettling under our weight – the actual whomp noise is the sound of large air pockets escaping the snowpack.
On the flat this isn't a problem, but on steeper slopes, it's often the precursor to an avalanche. So we spread out, and follow in Joe's tracks, as he expertly picks his way up a rocky ridge line, well away from any wind-loaded snow slopes. We soon reach the crux of the climb, and with snowboard on my back, I carefully summit.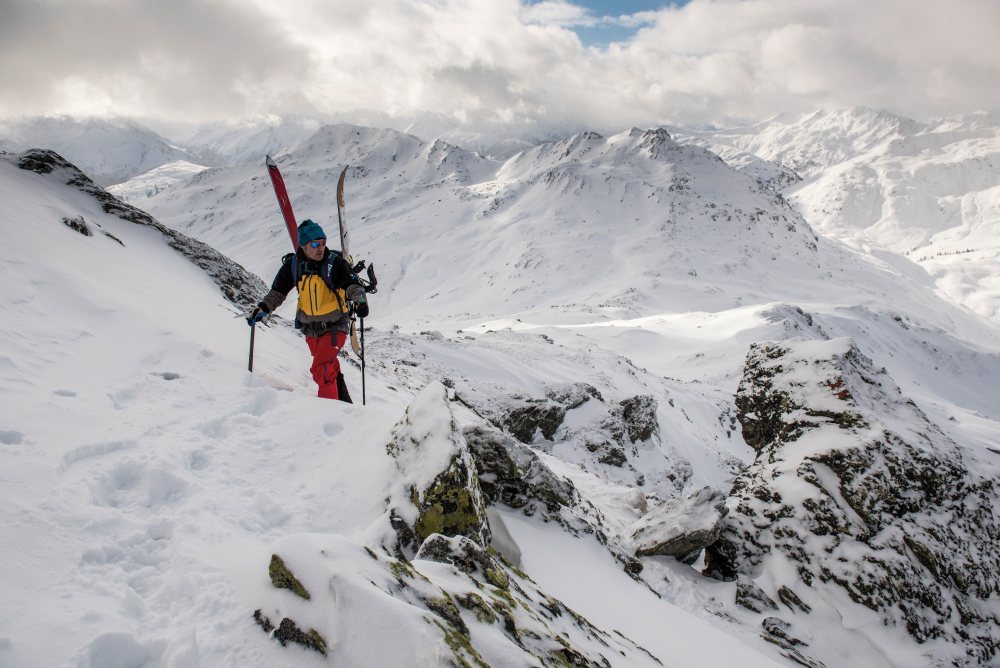 High fives and slaps on the backs over, we click in for the fun stuff. To our left is a long ridge of chutes with little snow; we were hoping to drop down a few hundred meters and skin up one of these chutes to access the steep north-facing slopes on the other side, but all the snow which should have been there had now been blown up onto those slopes, making them highly over-loaded and dangerous. So Joe chooses to lead us instead down a glorious pitch of powder towards a summer restaurant and small chapel to our right.
The snow is fantastically light, making for easy turns at high speed. We all whoop with joy as we speed down the wide valley, which would have taken hours to walk up, savouring every hard-earned turn. Legs burning, we eventually regroup, our faces spread with smiles, and look back on our tracks – which are the only sign of humans across the valley – soon to be lost to the rising wind.
For around an hour we skin again, through a flat area of woodland and around to the bottom of those northerly faces we'd planned to ski. At 45 degrees and covered in snow they look alluring, but as should always be the case, we ceded to Joe's local knowledge.
The sun is starting to get low in the sky now, as we descend our last pitch of the day, through well-spaced trees over a steep yet rolling mountainside. Finishing our descent by shooting over a snow-bridged stream, we meet what we hoped was going to be a skidoo bashed trail. Fortunately for the wild animals, no hunter has passed this way since the last snowfall; unfortunately for us, this means a good foot of fresh snow to get through.
In the pitch black we push, scoot and walk the final five kilometres to the twinkling lights of the Gesthouse Steinberg, outside Westendorf. It has been a ten and a half hour day and, exhausted, I head straight for a large beer.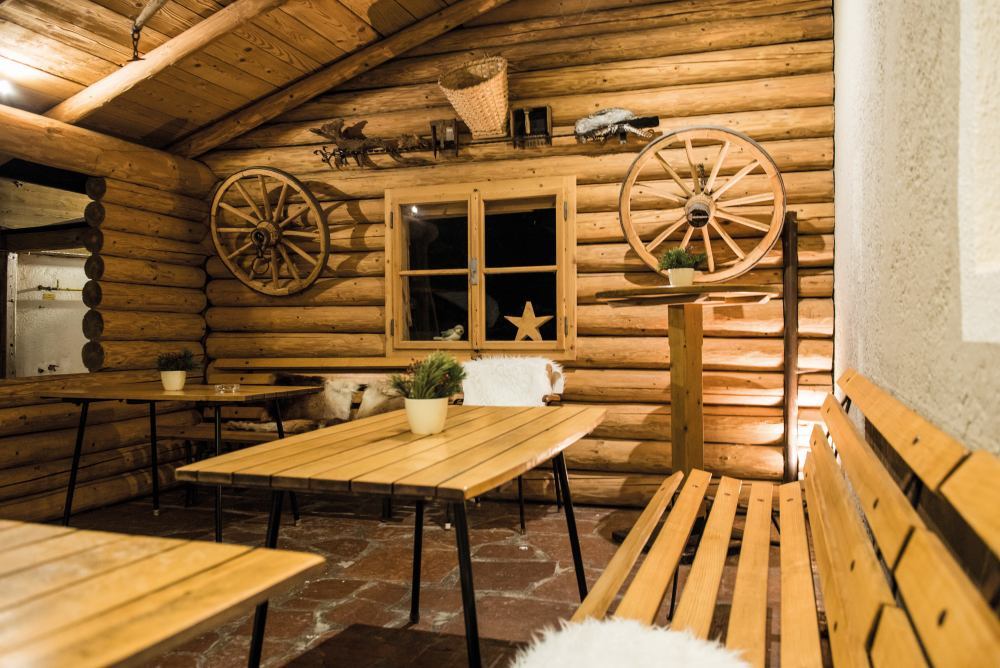 Showered and partially rested, we're treated to our best meal of the trip, with owner and chef Michael Grafl serving up truffle soup, lamb three ways and blackcurrant schnapps infused ice cream. I know anything tastes good after a hard day on the mountain, but it truly is special.
Michael joins us post meal with a bottle of his own 20 year old, surprisingly smooth, £100 bottle of schnapps.
On seeing the bottle, we are also joined by the head of the local mountain rescue from the next table, who tells us of his day digging out five snowboarders from a collapsed cornice. One was under for a terrifying 30 minutes but was one of the lucky 15 percent who survive a burial that long; another skier in a separate incident wasn't so lucky.
It occurs to me that it's easy to achieve adventure, but isolation through adventure is a mercurial beast. And when we seek out solitude on a mountain top, especially within a set time frame and the constraints of winter, it becomes so balanced on nature's whims that all that poring and planning over maps in the UK counts for little.
That said, it's not unreasonable to propose that with an early flight, you could easily reach the backcountry Neue Bamberger Hut the same day. What happens the following morning – well that's another thing, flexibility is everything when touring. Knowing when to back down from a proposed route or summit can literally mean the difference between life and death. The mountains aren't going anywhere, and can always be tackled on another day, so it's vital we don't let our time-boxed lives dictate our actions in the mountains.
So, have we failed our mission? Well, we've failed to cross our proposed four valleys, but the adventure we've had crossing two of them will stay long in my memory, and more importantly we're all still here to relive it. As for solitude; well yes we most definitely did find her, even if our meeting was only a fleeting one.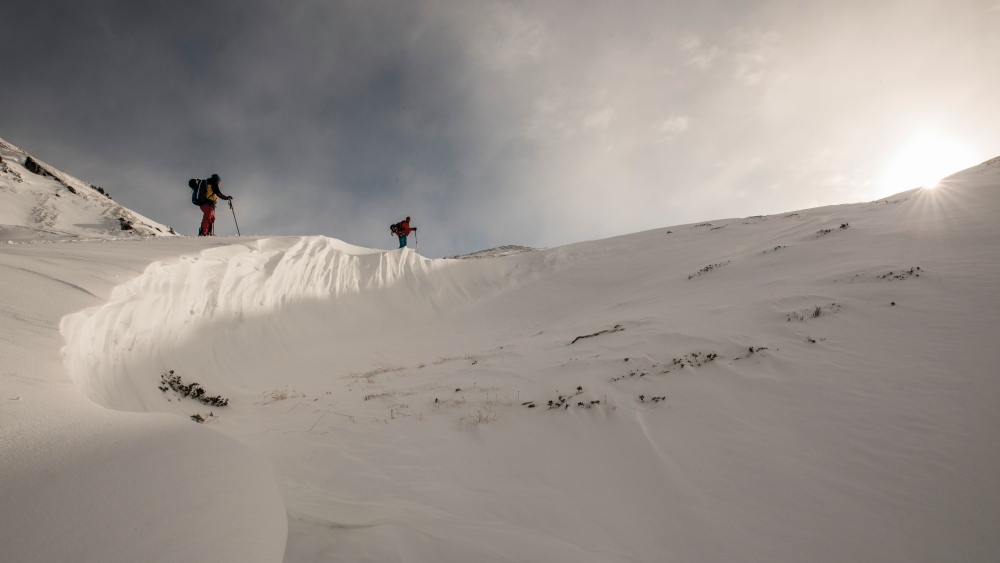 Snowhow:
Flights
Closest airports are Innsbruck (85 km), Salzburg (88 km) and Munich (128 km). Flights (from London to Innsbruck) cost from £80 pp with British Airways.
Airport transfers
Transfer from Innsbruck to the village of Kelchsau costs £91 one way.
Where to stay
The Gasthof Fuchswirt in the village of Kelschau costs from £41 pp (two sharing a room).
A night's stay at Neue Bamberger Hutte costs from £23 pp (based on two sharing a room)
The Gasthaus Steinberg costs from £42 pp (two sharing a room)
A night at the three-star Hotel Aschauer Hof in the Brixental will cost you approximately £62 pp (based on two sharing).
Where to eat & drink
The fabulous food of the Gesthouse Steinberg should not be missed.
Ski pass
Pete's ski touring guide was from Alpin Experts who charge £313 for two, for one day.
The skiing
Advanced ski touring.
Three more Tyrol tours
The Silvretta Traverse
The Silvretta mountain range follows the Swiss-Austrian border, just south of St Anton, and is a great introduction to hut-to-hut ski touring. Much of this route is over gentle glaciers with skiable 3,000m peaks. With excellent staffed huts along the route, you won't even need a heavy backpack.
Day Tours in the Tyrol
This Jagged Globe trip makes the best of the Tyrol's world-class easy day access to high glaciers and peaks, sampling as much terrain as possible, across the whole region. Based in Imst, just outside Innsbruck, there's ready access to the ski areas of St Anton, Ischgl, Pitztal and Sölden. A possible highlight of the week is an ascent of the Wildspitze (3,768m) from the Pitztal ski area.
The Austrian Haute Route
A six-day hut-to-hut journey from Virgen Tal to Lucknerhaus. Including an ascent of the 'King' of the Eastern Alps, the Grossglockner (3,798m), the Austrian Haute route is a difficult traverse, best suited to experienced tourers.