North America is often portrayed as a mecca for skiers, but leafing through brochures in search of an exciting trip, many of the resorts seemed either too outback, redneck and isolated, or too puritanical, sterile and kitsch, with their reconstructions of Alpine chalets.
I was after a genuine American experience, but one with that liberal West Coast vibe I was familiar with from the movies. So when I saw pictures of pistes leading down to the clear blue waters of Lake Tahoe, and found that it straddles the border of hippy California and the naughty, gambling-addicted state of Nevada, I was sold.
There are no less than 14 resorts surrounding the lake, none of them linked, so, like Hollywood directors, we had found the perfect excuse for an American road trip.
Planning a road trip in America may sound daunting, but ours turned out much simpler to organise than we expected. Tour operator Crystal has rightly reasoned that skiers and boarders coming all the way out west want to see more than one resort, not to mention a few of the cities, so it offers tailor-made, self-drive holidays, where you can stay at four or five different hotels on a B&B basis, with prices starting at £763, including flights and car hire.
It will also organise the lift pass, guaranteeing you won't find one cheaper online or in resort, lift tickets in North America being not only expensive but nebulous in price.
We opted to fly into Reno, San Francisco being four hours' drive from Lake Tahoe, which is a bit long after an 11-hour flight. We purred over our spacious 4x4, actually looking forward to our 90-minute journey.
At first, driving through the desert state of Nevada, it felt as if we were in the wrong place. I could hardly believe we were on our way to ski in this arid landscape of cacti and rolling tumbleweed. But, turning a corner, we caught sight of the snowy peaks and green pines that surround Lake Tahoe. And it all made sense.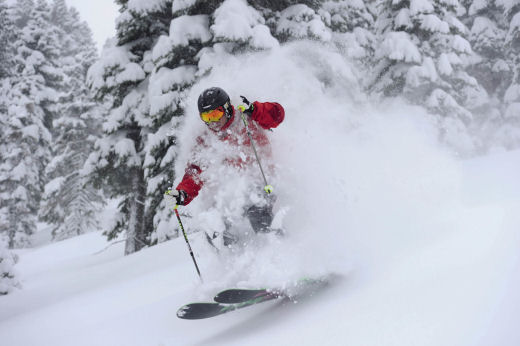 Heavenly, our first stop, is the biggest of Tahoe's resorts with 30 lifts spread over 4,800 acres, and is famous for its off-piste terrain. To find our feet we had the help of an instructor, Troy. This wonderfully laid-back Californian not only persuaded us to abandon our old-fashioned closed leg stance – 'Ladies, you're no longer at convent school. Gentlemen, let the twins breathe' – but also to sample the resort's legendary back country.
Just off the marked runs you see gates that have a slightly surreal air with no fences either side. But like the ceremonial entrances to Japanese temples, these signify the entrance to a spiritual zone where you can find out what it means to be free.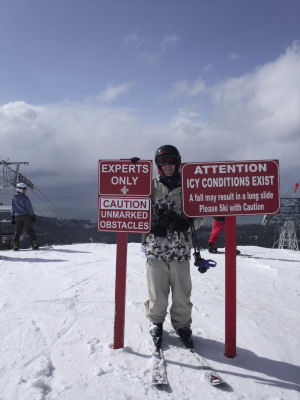 Don't get me wrong. Heavenly has plenty of fun and challenging pistes, such as the heavily mogulled Gun Barrel run, where we burned off the calories from our beef sliders – upmarket burgers – at the Gun Barrel Grill. And there is no shortage of gentler, intermediate cruising runs, in any of Tahoe's resorts. But for me, having been brought up in the confines of the old world's carefully regulated European pistes, there is nothing to beat the excitement of venturing into the unknown.
So that afternoon we left the views of the lake behind and passed through one of the magic gates. Picking our way through the trees, we arrived at a point where the woods suddenly cleared to reveal the desert extending beneath us. We were at the top of Mott Canyon, piled high with fresh spring snow.
This was the point of no return. Looking down the super-steep gully, I reflected that we were not only in the land of the free but also the home of the brave.
Luckily the soft powder slowed down our skis beautifully, transforming our quick turns into a gentle, slow-motion descent. And there was another nice surprise at the bottom – a ski lift.
This is the joy of Northern American skiing. Unlike in Europe, where the greatest danger of leaving the prepared runs is a long walk out of the valley and a costly taxi ride home, here the gates are carefully placed to funnel skiers down the undulations of the landscape so that you arrive, as if by magic, at the right spot.
Following the contours down, the terrain seemed so wild I wouldn't have guessed we were still within the ski resort boundary.
With that comes another advantage. As long as you stay inside the ski area you will be covered by most worldwide winter sports insurance policies, even without a guide or instructor, which isn't generally true if you go off-piste in Europe.
Our success called for a celebration at the end of the day. Of course, with the Wild West feel, out goes the charm of après-ski in Austrian villages, but nonetheless back at the motel it was happy hour cocktails all round, followed by giant T-bones and rib-eyes at the Sage Room Steak House in Harvey's Casino.
A casino may seem an odd place for dinner, but it certainly adds to the buzz, as North American après-ski is generally less lively than on the Continent. And as Heavenly Village straddles the border of the two states, it's packed with casinos (which often double as hotels and restaurants) on the Nevada side of town, it being the only state where casino gambling is legal state-wide.
Since we were by now rapidly getting into the frontier spirit, after a few days we packed up our iron steed to head to our next resort, Squaw Valley, an hour and a quarter away.
We were perhaps a bit impulsive in picking resorts at opposite ends of the lake (we had decided to visit the resorts in order of size, Squaw being slightly smaller than Heavenly, at 4,000 acres, though it has 33 lifts). But the drive is beautiful and one of the best ways to get a close-up of the lake. Another of the joys of hiring a car is that you can chase the best snow, which Squaw had in even greater heaps than Heavenly.
We struck out into the woods, traversing along a little trail until we found a beautiful off-piste section. I was one of the first to taste the powder, literally, when I nosedived into a particularly deep snowdrift. 'Was it worth the trip?' some locals called down from the chairlift. And they say Americans don't do irony.
Like Heavenly, Squaw boasts stunning views, albeit more distant ones, of the azure lake, which runs so deep it never freezes. Host to the 1960 Winter Olympics, Squaw and its Californian surroundings proved to be one of the more atmospheric places to stay. The big casino hotels of Nevada, while conveniently subsidised by gambling, often feel more like convention centres than holiday retreats. At Squaw Creek, in contrast, we overlooked the outdoor ice rink, and the Six Peaks Grille had much of the intimate feel that I associate with skiing.
Another of the resorts with a nice village at its base is Northstar, 40 minutes from Squaw. This is the third biggest of the resorts with 3,000 acres and 19 lifts compared to Sierra, Kirkwood and Alpine Meadows' 2,000 to 2,400 acres and 13 to 14 lifts.
That may not sound like a lot of lifts compared to the Continent, but while in the high Alps a chair up to a rocky outcrop might serve only one run, in North America one lift will typically serve five to ten runs through the woods. Here, too, the queues are better managed and generally shorter than in Europe.
At Northstar, after watching the acrobatics in its famous snow park, it was time to take a walk on the wild side. After nearly bumping into each other several times in the woods, we decided to split up in the back country.
Hadn't I seen enough Hollywood movies to know that is the point where everything goes wrong? Soon we had completely lost track of each other in the forest. Had I strayed beyond the resort boundaries? Would we be found as ice statues, with mobile phones frozen to our ears? But we just headed on down and sure enough, we found each other back at the lift, cool as you like.
Skiing over, we drove back to snowless Reno, rocking up at the giant casino hotel in our ski gear, and the receptionist looked at us as if we had arrived from another planet. And perhaps we had.
Snow How
LOCATION
Lake Tahoe is on the border of California and Nevada in the US.
GETTING THERE
By air nearest airports Reno (55 miles) and San Francisco (200 miles). Transfers in practice everyone hires a car – depending on conditions you might want a 4x4, but certainly check it has all-weather tyres. Prices start at about £100 a week.
WHERE TO STAY
Snow travelled with Crystal Ski (
www.crystalski.co.uk
), which offers a week's B&B at Heavenly from £763 based on four sharing at the three-star Horizon Casino, including scheduled flights, car hire with all-season tyres and insurance. The trip can be combined with stopovers in San Francisco, Los Angeles or Santa Monica.
IN RESORT
Piste area 4,800 acres (Heavenly)
Number of lifts 30
Beginners 20%, intermediate 45%, advanced 35%
Highest point of ski area 3060m
Vertical drop 1,060m
Snowparks Progression Park, Groove Park, Player's Park, High Roller Park, Ante Up Park
Cost of an adult lift pass for a week $456 to $504 (£280 to £310) plus about 10% sales tax (Heavenly).
MUST DO Ski Mott Canyon in Heavenly, visit a casino – roulette is one of the easiest games to get the hang of, and order a steak – T-bone, rib-eye, they come in all shapes, but sizes are always big.
TOP TIPS The cost of lift passes varies enormously depending on where and when you buy them. Tour operators offer good deals. Failing that,
www.skilaketahoe.co.uk
and
www.gotahoenorth.com
offer deals for seven resorts around the lake and at the north of the lake respectively.
BEST FOR Confident intermediates and advanced skiers and boarders.
USEFUL CONTACTS
• Tour operator Crystal Ski 0871 231 2256
www.crystalski.co.uk
• Tourist board
www.visitcalifornia.com
and
www.travelnevada.com