Utterly out of control, I flew off the ridge – still clinging optimistically to the Handlebars of my snowbike.
I was slightly consoled by the thought that if this unscheduled airtime did have me ending up in a clinic just down-mountain in Arosa, I would at least be joining a list of great names who have recuperated there.
In 1894, Sir Arthur Conan Doyle won his rep as a ski pioneer when he hired two local guides to take him over the mountains from Davos to Arosa. The German writer Thomas Mann arrived here on the old-school rack railway which still brings local skiers to this charming, wooded town from Chur, while Austrian physicist Erwin Schrödinger was holidaying here with his mistress during Christmas 1925 when he cracked his historic formulation of quantum mechanics.
You can still see the clinic where he had his eureka moment, just down the road from the heavily grand five-star Tschuggen hotel, the Sorell Asora (Mann's favourite hotel) and the Seehof, where Conan Doyle ended his trek. And while Arosa's historic landmarks and quietly luxurious atmosphere wrap the town in a classic, family ski village feel, it's not all dreamy-eyed nostalgia.
The makeover-fresh Tschuggen, itself a former sanatorium, created a stunning new local landmark in 2006 – the ultramodern Bergoase spa and its sail-like steel skylights that soar out of the snow. The futuristic and achingly glamorous building is the work of architect Mario Botta, who built the Museum of Modern Art in San Francisco and refurbished La Scala in Milan, and the good news is that you don't need to stay in the £160-£1,435 per-suite per-night hotel's opulent bosom – non-guests can enjoy a morning or evening session in the spa for £32.50.
For those with the funds to make the Tschuggen their temporary address, the hotel has added a deeply cool, ski-world first to take advantage of. Each of the hotel's two plush ski 'coasters', looking like a tiny tram on roller-coaster rails and a bit like the inside of Barbara Eden's bottle/bachelorette pad in I Dream of Jeannie, spirits twelve guests at a time on a two-minute trip to the centre of Arosa's ski area. Spreading out across a sheltered basin above the wooded lower valley, the modest collection of mainly red and blue runs doesn't offer much to challenge more advanced skiers, although a lot of gentle off-piste terrain means there's potential for improving your backcountry stylings. Adventurous experts can hire a guide and do the Conan Doyle tour from Davos via the Strela Pass.
While it's much closer to polite than pumping, Arosa's nighttime offering has a fair share of cocktail bars and nightclubs and a lively, friendly atmosphere. (For some banging tunes served up in an unmistakably local style, there's no beating the annual Guggentreff on 18-19 April. This is Europe's highest oompah band convention, and every bar or restaurant terrace on the mountain seems to host a brass band for the weekend, before all of them parade through Arosa's main street – slightly the worse for wear by now for the free-flowing beer – whipping up a swirling cacophony of toots and parps.)
Continued...
---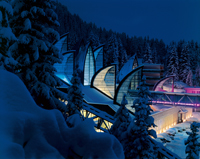 The Tschuggen's toasty coaster made a suitably auspicious beginning to my own Arosa adventure. Though perhaps not up there with Conan Doyle, Schrödinger and all, this was a historic day in my own snowsports history – my snowbiking début. This hybrid sub-sport has been around for a while, but is currently winning a new generation of fans since products such as the ground-breaking bikes from Austrian firm Brenter – which use lightweight materials and weigh just 10kg – came on the scene. My instructor Fredy recalled an early incarnation of the snowbikes from the early Sixties – the Skibob. 'They were as heavy as motorbikes and they made such a mess of the pistes, we were eventually allowed on only one run under the Hörnli lift' – now the site of a projected tie-up with the resort of Lenzerheide, which would double Arosa's ski area. Brenter's snowbikes, however, are light enough to take on cable cars and carry on your knees on chairlifts, though they don't fit into gondolas and don't mix well with drag lifts.
So, how's the ride? The joy of spending half a day or a day snowbiking is that it's as easy as riding a bicycle, so you're up and running in seconds. You won't find any brakes on the handlebars – which gave me nightmares when I found out the evening before – so you carve/skid your turns with the snowblades clipped onto your skiboots. 'It's like Easy Rider,' said Fredy, sitting back Hogg-style in his saddle, and underlining his point with a cloud of white powder from his rear ski as he sets off. A group of real bikers he took out loved it, he told me later.
I pointed my beast downhill and went with gravity. Easy Rider? BMX Bandits, more like. Feeling borderline-hysterically out of control, and yet intuitively picking up the tricks to stay out of trouble just in time, (almost) every time, snowbiking made me feel like a daredevil ten-year-old, and there was just the right amount of support from Fredy as he led us over jumps, through woods, into natural half-pipes and over the ski school's Disney-themed off-piste trail.
Arosa's impressive snow record also stands it in good stead for late season, which is when I visited. So, with fresh dumps of snow, slopes all but deserted, and no mountain munchkins on their family holidays to avoid, how did I come such a cropper on my snowbike? Certainly I felt far less in control than on skis generally, and it took me longer to stop when I needed to. It was while trying to catch up with Fredy that I failed to spot the brow of a hill, and at the point where he sensibly stopped, I had lift-off.
Post- impact, I dusted myself off and biked away unscathed. Arosa's ABC ski school hasn't seen any serious accidents since it introduced snowbiking nearly seven years ago and, as with most resort operations offering snowbiking, it will only rent out snowbikes as part of a package, which includes instruction and guiding. Because so little technique is involved, snowbiking lends itself brilliantly to group lessons, which can work out at as little as £95 for a gang of four for half a day, plus £12.50 rental per bike.
For me, habitually a mileage-hungry skier on the lookout for challenges, snowbiking's novelty also transformed a resort better suited to unhurried intermediates and beginners into an eye-opening playground packed with adventure and surprises. Whether snowbiking will replace once-marginal snowboarding as the latest Asbo-tastic trend to threaten the slopes remains to be seen.
Continued...
---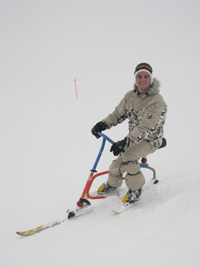 Trip Notes:
Colin Nicholson's trip was organised through the Swiss National Tourist Office (myswitzerland.com). He stayed at the Tschuggen (tschuggen.ch), which has rooms from £162.50 a night. He went snowbiking with ABC snowsports school (abcSnotesarosa.ch)
Getting there:
Swiss Air (swiss.com) flies from London Heathrow, Birmingham and Manchester to Zurich, with fares from £77 return. From here, rail transfers (swisstravelsystem.co.uk) via Zurich Hauptbahnhof and Chur take 2.5hrs, road transfers 2hrs
Tour Operators:
High-end: Powder Byrne (powderbyrne.co.uk), Kuoni (kuoni.co.uk)
Mid-range: Crystal Finest (crystalfinest.co.uk), White Roc (whiteroc.co.uk)
Season dates: 28 November 2009 - 18 April 2010
Vertical drop: 2,655-1,740m
Terrain: 60km, plus 40km of freeride terrain
Snowmaking: 20km covered
Lift passes: £34 one-day, £158 six-days
Mountain Munchies: Hörnli's views make it a popular choice out of seven eateries on the hill. Tschuggenhutte and Carmennahutte are other highlights. Try rösti and apple fritters (though not at the same time)
Guiding and tuition: Book through the Swiss Ski School (sssa.ch) or ABC (abcarosa.ch). Arosa is such a great place for kids to learn, Disney has even endorsed it with a children's ski club available through some hotels and the Swiss Ski School

Snowpark?: Yes, by the Tschuggen; and a 150m halfpipe
Highlight: Few queues
Bummer: The Tschuggen's coaster is acting up (again) but should be up and running some time this winter