Normally, an article on an American Rockies ski resort might start with a vivid word portrait of skiing effortlessly through waist-deep powder. Sorry to disappoint, but this one needs to begin with a little history. Please bear with me – we'll get to the powder, I promise.

Central Idaho, USA: I had driven through this area on half a dozen occasions in the past decade for winter visits to neighbouring states, each time telling myself to make time to explore what was on offer right here. Now, I had no excuse, for here was a skiing story that need to be checked out, a tale of ambition, downfall and a community determined to pull itself up by its ski-bootstraps.

In December 2004, nearly 100 miles north of the state capital, Boise, the new resort of Tamarack opened its first chairlift. Planned as a $1.5 billion development, this was to be the first major luxury ski resort in the USA since Deer Valley, Utah and Beaver Creek, Colorado opened in 1981. Steffi Graf and Andre Agassi began building a chalet. President George Bush and the First Lady took a Tamarack private summer vacation in August 2005. The future looked bright.

A lot of fi nancing relied upon sales of property, which went well until the global crisis tsunamied Tamarack into bankruptcy in March 2009. Bankruptcy is always about more than banks and massive corporations. Unemployment in the immediate locality peaked at a staggering 60 per cent. In Europe there would have been massive bailouts using public relief funds. But Idaho is the Republican West of the USA. That's not the way they do things round here: re-birth was going to have to come from self-help. Association to reopen the slopes. Whilst the major interests continue to fight over ownership through the courts, the bootstrap phoenix efforts of local people succeeded in gaining permission to restart five of the seven lifts in December 2010. These lifts access most of the original inbounds terrain.
The effort has been led by Tim Flaherty, whose background is both in construction and operations management. He has appointed a good, flexible team, many of whom were previously employed by the resort and all of whom know that a mammoth effort is needed to keep this mountain operational.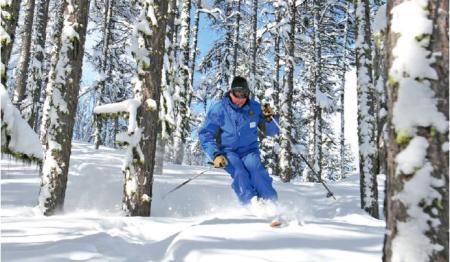 What's there?
The reasons for choosing this as the location for a massive upmarket resort more than ten years ago are still apparent. The area stretches north to south along a ridge with spectacular views of the elongated Lake Cascade. The vertical drop is a very respectable 2,800 feet which can be covered non-stop top to bottom on blues such as Bliss or Serenity or a black named Vista. The top averages 300 inches of snow annually. The two lifts accessing the top, Tamarack and Summit, are both express, enabling fast laps with zero queues. Several of the runs have wonderful variations in pitch, snaking through the trees and offering interest and challenge over sustained stretches.

The edges of the trail map show lots of pecked lines alongside the area currently accessible by lift. These are a series of bowls north and south of the top of the Summit Lift which can be accessed under a Forest Service permit when accompanied by a guide. Steve Jones, who has been guiding in this area since it was a snowcat-only operation, showed me their full extent.

Although 900 acres are currently available by lift, the potential could be 14,000, which is almost twice the area of Whistler-Blackcomb. As we hiked north along the ridge, Steve pointed out successive bowls such as Wildwood, Half Moon, Banana and onward until we skied down to Tamarack Falls over three miles from the original base area. Although it had not snowed for ten days, powder on the upper north-facing pitches was still in good condition. The following day we tried the south ridge area. This area is more thickly wooded and needs glading to create some clearer lines.

Many of the services at the base are housed in white, framed-fabric structures (think of London's O2 Arena on a miniature scale). These are good for 20 years' life and create a reasonable atmosphere for the cafeteria in the Canoe Grill and the adjacent Seven Devils' Pub. The Sports Dome houses ski rental tuning and repair, the ticket offi ce, and Hot Shots Espresso bar.

The neighbouring unfi nished central village and shopping mall is mothballed in protective weatherproof casing awaiting resolution of the complex ownership negotiations. In contrast, many of the residential and rental properties are complete and occupied, most of them highspecifi cation detached cottages and chalets. The Lodge at Osprey Meadows offers accommodation ranging from hotel rooms up to three-bedroom apartments.

For 2011, the lifts were open Thursday to Sunday each week and currently Tamarack plans for the same in 2011-12. Keep an eye on this one. And if you're in the area…

Where else?
No one takes a ski or snowboard trip from the UK to central Idaho for a long weekend, so where else is in the area?
Brundage Mountain
Brundage is 35 miles north of Tamarack. The larger front side is predominantly west-facing and has a lot of blue and single black terrain. The backside, Lakeview Bowl, is smaller and mostly blue. All the services are in one large, elderly multi-storey Main Lodge. Brundage has 46 runs spread across 1,500 acres with an average of 320 inches of snowfall annually. There are four chairs on the frontside and one on the back. It is open throughout the week.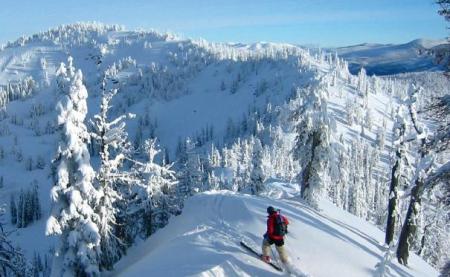 There is no mountain accommodation. The town of McCall sits alongside Payette Lake and is midway between Tamarack and Brundage. McCall has supermarkets for self-catering at Tamarack. The McCall Hotel in the town centre has a lakeside position and a decent restaurant. The Shore Lodge on the edge of town does lift packages with Brundage.

Bogus Basin
The state capitol of Boise is the easiest gateway for central Idaho. It has its own mountain, which makes a great start or end to a trip. This is operated by a non-profit organisation, yet has the largest inbounds acreage (2,600) in Idaho. Bogus has a slogan, 'We're NOT small potatoes!' in a state noted for growing them.

As I drove up the seriously winding 16-mile access road from Boise through semi-desert, the snowline was high above me. There is less natural snow here than at Tamarack and Brundage, but the mountain has an interesting layout with several interconnected bowls. The trail map takes some figuring out on day one. There are complimentary mountain host tours on weekends, but I was escorted by Gretchen Anderson, whose family are steeped in ski area management. Tradition and innovation at good value characterise this resort. Few Brits buying a Vail Resorts' EPIC pass will realise that the concept of low-cost season tickets originated at Bogus Basin in 1998. Accommodation is in Boise.

Snow how
TAMARACK AND CENTRAL IDAHO, USA
GETTING THERE
Flights with two legs to Boise include: United Airlines from Heathrow via San Francisco offers the best two-leg route which avoids layovers in the US midwest where the likelihood of winter weather disruption increases. Delta's two-leg route is via Minneapolis St Paul. British Airways and partners offer Boise outbound via Phoenix and back via Los Angeles, but are often expensive on this route.

Eight car rental companies are located at Boise Airport. Car rental desks are on the ground floor of the terminal and cars parked outside on site. The drive to Tamarack and McCall north on Route 55 will take more than two hours and is best done in daylight. The drive from Boise up to Bogus Basin is 40 minutes.


WEBSITES

TOUR OPERATORS
Trailfinders (skiing 0845 050 8900) can organise flights, car hire and Boise hotels, but accommodation further north needs to be organised independently.

ACCOMMODATION
Boise: Red Lion Downtowner is a good mid-range hotel

DOWNTOWN
With a population of 205,000, Boise has services, restaurants and nightlife to match, although they are dotted around the downtown grid. McCall can be lively at weekends, particularly during the ice sculpture festival in early February. Tamarack is currently dead at night.
SNOWMAKING
Tamarack: on lower parts of 11 major runs but not much needed with current numbers. Brundage: no snowmaking.
Bogus Basin: 15 per cent.

NEW FOR 2012
Bogus Basin is replacing the 1960s-era Superior lift with a $5 million, high-speed, detachable quad chair. As a non-profit organisation it's doing this via donations
http://www.bogusbasin.org/
about/superior-campaign.aspx Go on, text them a tenner, and you'll feel you have to fly and try it!

HIGHLIGHTS
You are more likely to meet a mountain lion than a fellow Brit. These three resorts currently have a predominantly local clientele.
Affordability: Bogus Basin's $6 Mogul Meal and Brundage's $2.50 for a mocha make French resort prices look pretty sick.

BUMMER
A long trip to get there.