It was New Year and a friend's 30th birthday, all within a week. What better opportunity to celebrate with a holiday, my friends thought? And, they said, as it's winter, why not a ski holiday? So they booked a chalet in Val Thorens in the Three Valleys, France, for a week.

There was just one problem. I couldn't ski.

So, rather than forego a good party, I signed up for a week of skiing lessons. Each morning between 9am and 12am, I joined an adult class run by SkiCool.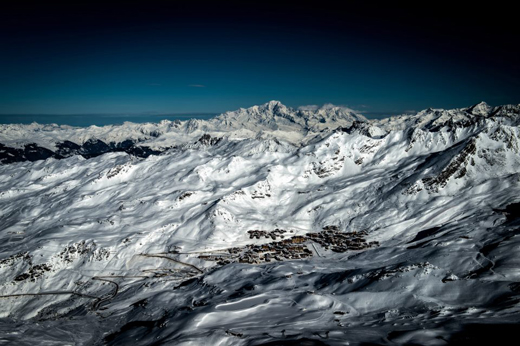 It didn't get off to the best start. The first morning, carrying all my kit (which was surprisingly heavy), I trekked from the chalet to the office of the ski school to pay an outstanding balance and find out where the first lesson was to take place. Val Thorens has pistes through the town, so it's really easy to get around – as long as you know how to put your skis on. I didn't. I learned walking in ski boots is incredibly hard work, and I was hot, exhausted and a little demoralised by the time I got to the meeting point to join my ski school class.

But things picked up as soon as I had my skis on. Ignoring the fact our eight-strong class of 20- and 30-somethings towered above the five-year-olds who populated the nursery slopes, we snowploughed our way down 20m of flat piste – and felt great. That first lesson left me wanting more, even though I had to walk back uphill to our accommodation at the end.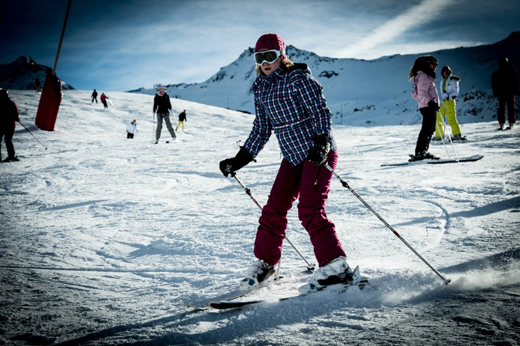 The following day we learnt snowplough turns, and headed onto a chairlift to tackle a green run (Deux Lacs). The weather was spectacular, with clear blue skies and bright sunshine, and with the snow crackling and sparkling below our skis, we could all see why the sport is so appealing.

Over the next few days, we practised our snowplough turns on green runs, then on some easy blue runs. Though Val Thorens has 150km of runs, there aren't all that many greens for the absolute beginner, and we had exhausted them all in the first couple of days. Towards the end of the week, we slowly brought our skis in parallel, picked up our speed and began to tackle more blue pistes.

Our instructor Amelie was essential for instilling correct technique in us. She had several exercises to help us improve. The first was the 'aeroplane', where we skied with our arms out, leaning over completely onto our 'downhill' leg. Another was 'ice-skating' – skiing in a turn and, while moving, picking up one ski then the other until we were facing uphill. A variation of this was skiing and lifting our 'uphill' leg as soon as we could after each turn. Simply lifting the weight of the ski on the end of my leg was tricky, and I barely managed, though the exercise showed me just how much weight I needed to put on my 'downhill' leg.

Slowly, the procedure for turning (and therefore losing our speed, and keeping control) became second nature. When Amelie wasn't talking us through it, I kept repeating her instructions in my head. 'Lean forward, weight on downhill ski, turn.'

As the week went on, it dawned on me that many of the problems I and others in the class were having were down to confidence. Unlike the kids we saw zipping down the slopes in their lessons, we lacked the ability to let ourselves go.

'What are you scared of?' Amelie asked us on the fifth day. 'Falling,' we said. 'But it's soft, you won't get hurt much. And you pick yourself up and keep going,' she said. And although we knew this, feeling it was a different matter. My greatest fear was losing control, or being unable to stop, and this prevented me picking up more speed.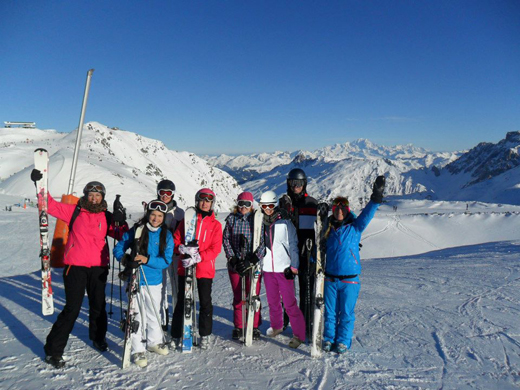 In the afternoons after our lessons, I skied with my friends, which was a much scarier experience than with the class. With no instructor to follow, I had to pick my route down the piste myself, while still trying to concentrate on my technique. Plus, without the safety of a group, other skiers whizz past much closer – they tend to steer well clear of classes.

Finally, there was the peer pressure of skiing with more experienced (and largely male) friends. A couple of times I found myself on slopes I didn't think I could cope with. Trying not to look too far ahead, I took it one turn at a time. Completing one of these tricky runs was a real confidence booster!

And in the evening, being with friends paid off. The best-known après-ski venue in Val Thorens is a bar called Folie Douce ('sheer madness') just above the resort on a southwest-facing slope (Plein Sud). It's the kind of place you either love or hate – the music echoes around the whole valley and as the sun goes down, hundreds of skiers come here for a beer and a party. Then as darkness falls, they all ski down to the town – it is absolute mayhem as hundreds of merry skiers take to the one slope. Perhaps that's the reason for the bar's name! As a beginner it was perhaps inadvisable – and I fell a couple of times - but it was worth the crazy ski for a good afternoon.

I could do with more practice to boost my confidence, but I certainly intend to head back to the slopes to enjoy the sport, the scenery and the social life again.

 

Need to know

I flew from Gatwick to Geneva with Monarch airlines www.monarch.co.uk. Val Thorens is a three-hour transfer by bus from Geneva airport.

I pre-booked my lessons with SkiCool www.ski-cool.com. The price was 154 euros for six three-hour lessons. Lessons were in English.

Flights, transfers, accommodation and ski hire were arranged through Skiworld www.skiworld.co.uk

Find out more about Val Thorens with Snow's resort guide.