I'm not going to lie. I am terrified. At the top of my first-ever blue run, rather than admire the Persil-white peaks of Austria's Mayrhofen – aka 'The Hof' – I'm constructing a strongly worded letter of complaint to the resort authorities in my head: 'Where are the safety barriers? Has nobody heard of health and safety? What will stop me soaring off the side of this steep, super-skinny run?' My pounding heart knows the answer. The only thing preventing me from going over the edge is me – Bambi on skis, only a day and a half into ski school. No one tells first-timers just how scary skiing is. Even the ski-lifts are a trial. And to think, my only worry had been what to wear.
I wish we were still on yesterday's wide nursery slopes. Remembering the knee-high munchkins bawling their eyes out there, I wonder if such behaviour is acceptable in your twenties. On cue, Craig, our sexy-cute Australian instructor, whose brilliant teaching technique fills us with pride and inspiration, answers like a mind-reader. 'It's no steeper than the blue run you did yesterday on the nursery slopes. It just looks it, because it's narrower.' My nervous group of ten shuffles forward, poles crunching in the snow. A cocky teenager zig-zags past, frustrated, shouting to his mates, 'Come on! I'm not getting caught behind this snake.' That would be us then.
The natural-born skiers in the group spend lots of time waiting with Craig for the rest of us, who have thrown ourselves over on purpose, terrified of going too fast and being unable to stop. Instantly it's regrettable, because getting up again is such a faff. It's tough mustering the strength from your energy-zapped body, especially when all I really want to do is snuggle in the soft snow for a well-earned nap. Craig's not having any of it, and his promise of a glass of glühwein is enough to tempt me on.
That evening, hunting for Tiroler Stuben, the best restaurant the small Tyrolean town has to offer, my friend Kate and I stroll along the film-set-perfect cobbled streets, overlooked by cosy, hazy-orange glows from restaurant windows.
Little of the skiable snow reaches the town, which lies only 630m above sea level, but that's still no excuse for some passers-by (with Australian accents) to be in flip-flops and shorts, even in April. Luckily, the surrounding high-altitude peaks hold the snow longer than most Austrian resorts.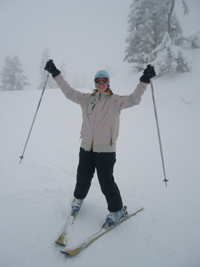 Before long, and a few Jägermeisters later, we are pulling some cringe-tastic silhouettes on The Schlüssel's dancefloor. It's fair to say, Mayrhofen isn't the best for nightlife – with the notable and raucous exception of the annual, week-long British snowsports and music festival Snowbombing – just as it isn't one of the great European specialist ski resorts. But it offers a good all-round package, with a spread of bars, pubs and restaurants as varied as the terrain in the Zillertal Valley. Split over two plateaux – the Ahorn and the Penken – there's a good beginners' area, great off-piste, and a wide selection of intermediate slopes, as well as the legendary HariKiri, Austria's steepest run, at a gradient of 78 per cent. And if Mayrhofen's two main ski areas aren't enough, a free bus service connecting with Finkenberg, Horberg/Gerent, Rastkogel and Eggalm opens up 625km of ski runs, plus year-round skiing on the Hintertux glacier.
For me, mastering blue runs on Day Three had felt like enough adrenaline-pumping activity. Still, aching in places where I never thought could ache, I totter up to meet the group at 10am on Day Four as usual. Before long, something miraculous happens – it all falls into place. Everything Craig has been repeating over and over suddenly makes sense – 'Stand upright, lean forward, poles forward, look forward but not at your skis.' Picking up speed is no longer frightening but exhilarating, and I begin to understand what all the fuss is about. But it's short-lived. 'The Fear' returns later that day with the words 'red run'. The snow is falling thickly, and the fog, shielding the piste's gradient from us, is heaven-sent. We take it slowly, exhaustingly so.
Craig suggests an early lunch at Christa's Skialm to let the weather subside. After a hard-earned lunch of spaghetti and a sinful hot chocolate, we leave the warmth of the café. We slice through the fresh snow, soundlessly at first, until waist-high powder lures us off-piste, screaming and whooping all the way.
On our final day, ski school's out and it's a relief to spend a few extra hours in bed before heading for the Penkenbahn gondola. As the afternoon darkens, so does my mood. The ski lifts will be closing soon and I won't be wearing skis for another year. I make a swift U-turn and hit the top one more time. Dashing down our final run, it's a wind-in-hair type scenario. As snowflakes sting my reddened cheeks and ears, and live music blares from the base of the slope, I feel utterly invincible.
Trip Notes
Snowbombing 2010: 5th April - 10th April
Getting there: The nearest airport is Innsbruck, about an hour away by road. Salzberg and Munich are around 2 hours away. EasyJet (easyjet.com, from £30 one way) and British Airways (ba.com, from £80 return) fly to Innsbruck
Tour Operators:
High-end: Crystal (crystalfinest.co.uk)
Mid-range: Neilson (neilson.co.uk)
Budget: Thomson Ski
(thomsonski.co.uk)
Season dates: 28 November 2009 to 11 April 2010
Vertical drop: 2500-630m
Terrain: 157km
Snowmaking: 40% runs covered
Lift passes: 1 adult 6-day pass is about £166
Mountain munchies: Choice of almost 30 huts selling most things from burgers to pasta and apple strudel.
Guiding: There are four ski schools. Die Roten Profis charges £30 a day. skischule-mayrhofen.at
Snowpark?: Yes, just one
Downtown: Scotland Yard is the coolest pub in town and Mo's has a good fun vibe, usually crammed on karaoke nights. Eating out is a bit hit and miss, but the Tiroler Stuben boasts full plates of traditional Tyrolean cuisine (tiscover.at).
Highlight: Skiing with cows and Woody from Toy Story – fancy dress is big during Snowbombing fest.
Bummer: You'll find yourself excluded from most of the bars without a £150 pass at Snowbombing in April.