Based in the Swiss resort of Verbier, Melody Sky has been shooting skiing, snowboarding and ice diving for more than a decade. She's worked with many of the sports' leading luminaries, from freeride snowboarder Xavier de le Rue to Jimmy Chin, director of the Oscar-winning film Free Solo.
Here, she selects six of her all-time favourite shots from her illustrious career, and opens up about her technique, her inspiration, and why she'll never get bored of working in the mountains.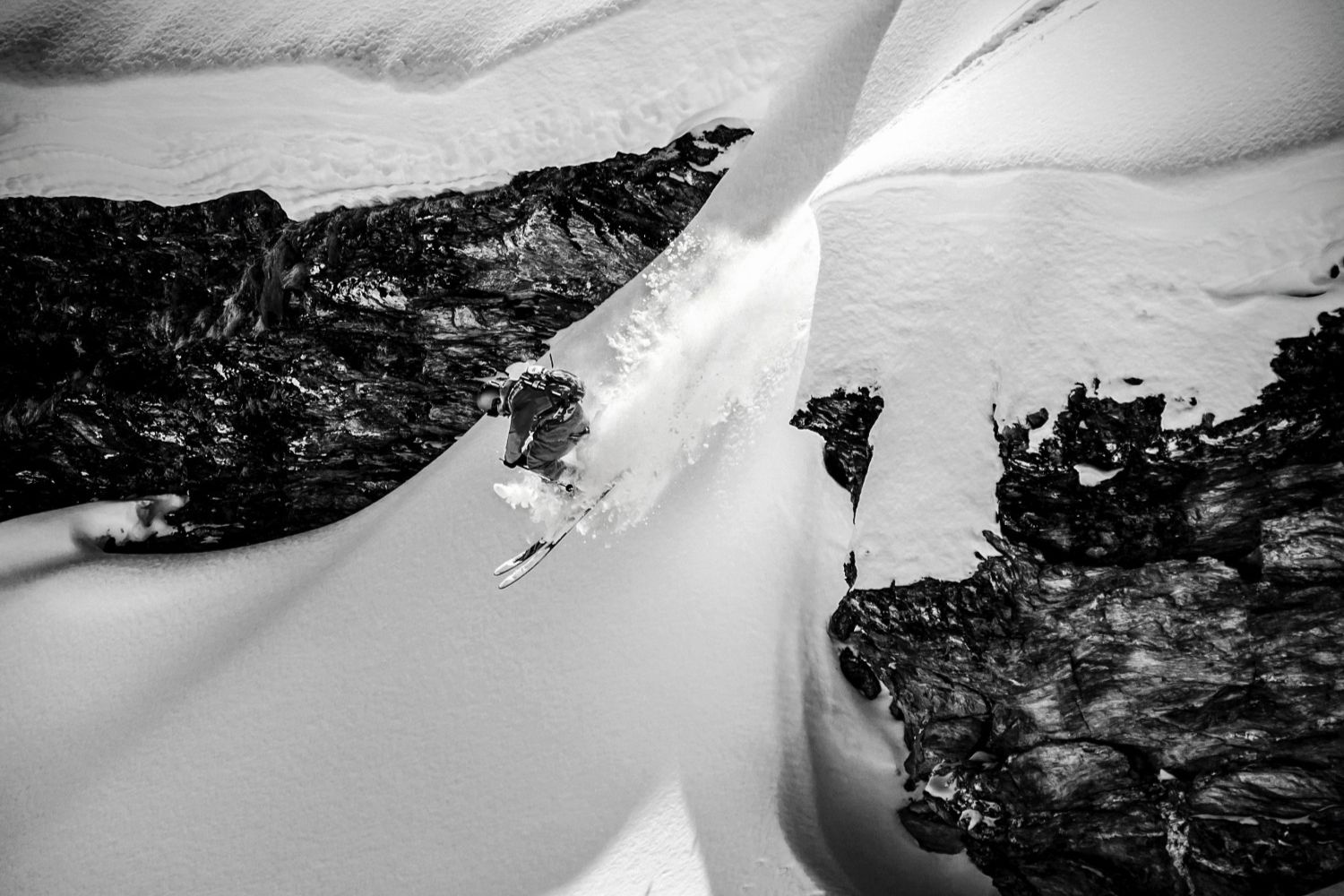 Backcountry skiing in Verbier

I've been shooting photos for Verbier's lift company Televerbier, for ten years now, and I love working with them. It's always very exciting to see my images on all the billboards around town, on the big screen at the main lift station, on the backs of the piste maps and so on. I shot this one of Australian skier Tori Beattie ripping it up off the back of Mont Gele back in 2013. It's an oldie, but a goodie.

Camera: Canon 5D Mark II

Lens: Canon EF28-300mm f3.5-5.6L IS USM

Settings: ISO: 200 | Aperture: f5.6 | Speed: 1/1250
SNOW: How did you first get into photography?
Melody Sky: We lived in Cornwall when I was a child and we were always out adventuring in our VW camper van. My dad surfed and skateboarded and my mum captured every minute of our adventures and our life. From as early as I can remember my mum was taking photos. I believe I was four years old when I took my first photo and then, when I was nine, they bought me a proper camera. I became hooked at a very young age!
S: You're one of those lucky people who have turned something you love into your job. When you're shooting in the mountains, does it still feel like you're doing it for fun? Or does it always feel like work these days? 
MS: I feel very fortunate to have been able to make my passion my work, and I've found that as long as I stick to the subjects I love, it rarely feels like work. As I get older, the dangerous or risky elements of a job definitely feel more like work than they used to, but I try to make sure only to accept projects that I want to do.
In the past, it's sometimes been the opposite—I have found myself feeling guilty accepting payment for something I have really enjoyed. That has been an interesting psychological hurdle. 
S: What is it that keeps you coming back to mountains, as a subject?  
MS: I think there's a feeling of focus. Very little moves in the mountains apart from the clouds and shadows. Everything is so big, it's almost meditative to look at. I feel my vision is expanded and my mind feels calm. There's always some sort of simplicity in something so very immense. I'm never bored. 
The Milky Way over the Grand Combin

I worked out exactly what time, and from what location, I would capture the Milky Way directly over my favourite mountain—the Grand Combin in Verbier. Of course, I also had to plan ahead to make sure there would be no light pollution, the sky would be clear, and the moon cycle would be correct. This is one of the most satisfying shots I've ever taken I think, just because so much work and planning went into it.

Camera: Canon 5D Mark IV

Lens: Canon EF24-70mm f2.8L II USM

Settings: ISO: 3200 | Aperture: f3.2 | Speed: 10sec
S: Who or what are your biggest photographic influences?
MS: There are so many amazing photographers out there it would be difficult to pinpoint just a few, and I can't really say I have been influenced by any one in particular. As a child though, I was fascinated by all the old magazines my mum and dad used to have, like Life. I flicked through the pages over and over. Photos such as the Napalm girl, Phan Thi Kim Phuc, by photographer Nic Ut really had an impact on me. I got my first camera when I was the same age as she was when she experienced that terror.
I used to study the face of the burning monk, Thich Quang Duc, by photographer Malcolm Browne too. [The 1963 photo made famous again in the '90s on the cover of a Rage Against the Machine album - ed]. I later learned about meditation and how he managed to remain expressionless and calm while burning.
Not the nicest subjects, but the stories were so powerful. I would always imagine the photographer managing to remain calm to capture such a moment. There are a lot of old photos like that that probably made a deep impression on me.
S: If there's one photo you wish you had taken - by anyone, of anything, from any era - which one would it be? 
MS: Buzz Aldrin walking on the moon! Or his photo of the moon rising over earth. I would love to go to outer space and shoot photos of the blue marble from above. I feel I'm going to pass that mission on to my niece and nephews Charlie, Patrick and Amy—if you see this interview, remember your auntie Melody wants you to take photos in outer space!
S: Where's the craziest place your work has ever taken you? 
MS: Greenland was pretty special, seeing all of the immense icebergs face-to-face, and being picked up by a helicopter from the Ilulissat ice flow in a storm. Later on that same trip, I also went out on a tiny fishing boat—just me, this fisherman who didn't speak any English, and had a cigarette hanging out of his mouth constantly, and Jimmy Chin.
He's obviously an icon in adventure photography but he's also just the nicest guy. We hired this small boat together the day after the rest of our group left. There was nowhere to lay our camera bags down except in the smelly fish guts.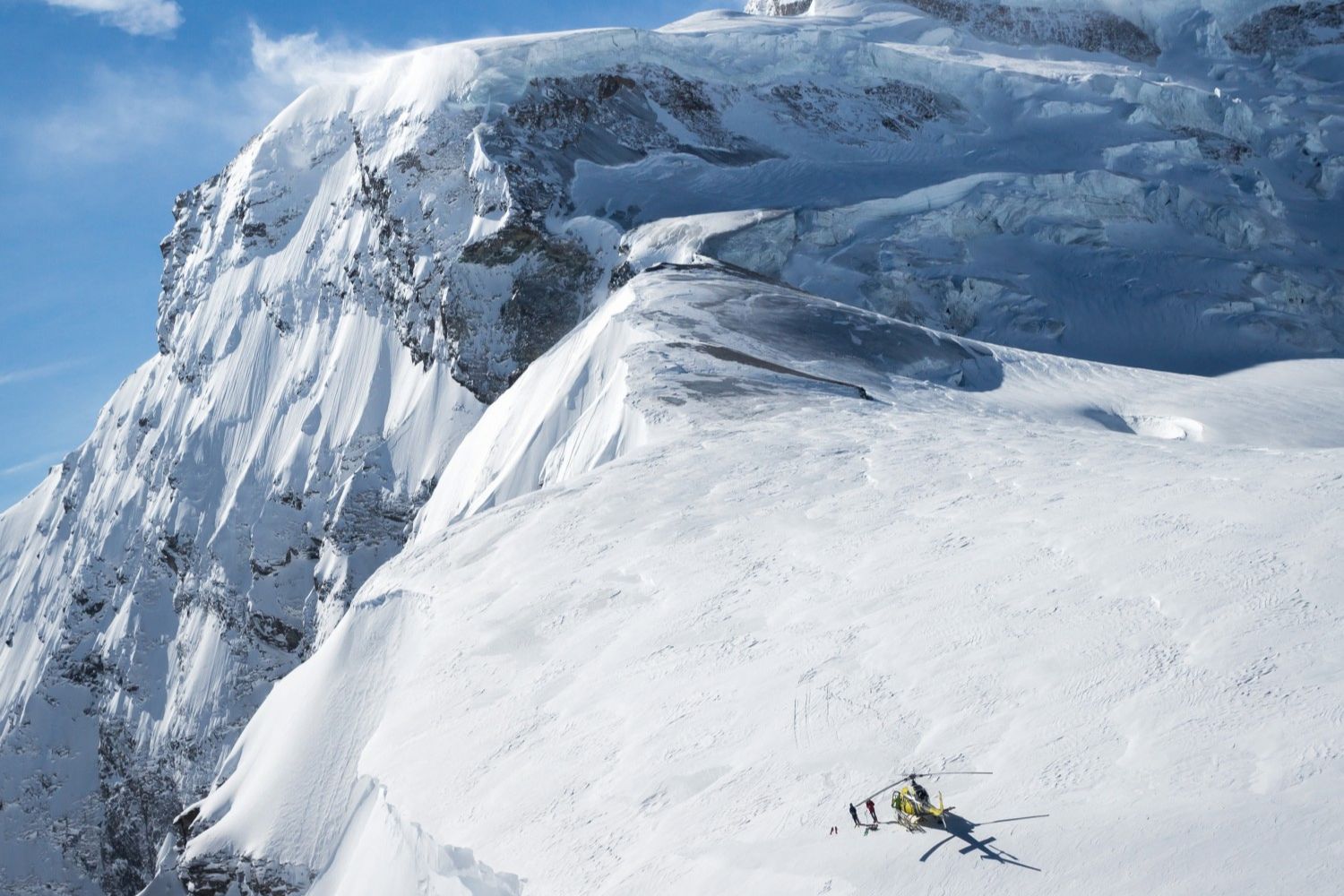 Helisking on the Edge

I was actually shooting for a brand on the mountain on this day. It was the best powder day of the season and they had rented the helicopters. I hadn't watched closely as we landed as I was too busy speaking with the pilot, but when we took off, I realised how close to the edge we were, and the chopper looked amazing from the air.

Camera: Canon 5D Mark IV

Lens: Canon EF24-70mm f2.8L USM

Settings: ISO: 100 | Aperture: f8 | Speed: 1/160z
S: They say the camera never lies. Do you think that's true? 
MS: That's an interesting question. The camera might not lie in that it captures what is in front of it, but there's so much you can do with different focal lengths, or lens distortion, or even leaving some detail just out of the frame, that could completely change the context of a photo.
One example is the size of the moon in a photo. If you use a large telephoto lens, it will appear larger, but if you shoot the same moon with a wide angle it will appear smaller. Both look very different to the way you see it through your own eyes.
S: What are you working on at the moment? 
MS: I have wanted to work on a few personal projects for ages, but rarely get the time, so now I'm trying to make time. Capturing Switzerland's glaciers at night, with the Milky Way and stars has been on the agenda for a while now, and I'm looking forward to pursuing that this season—I'm going to be camping at altitude, in areas that are not easily accessible, to get unique perspectives.
On the commercial side, I've been working with local water board Altis, and Verbier 3D, a sculpture park based here in Verbier—I've been learning about the water board's future plans on sustainability and climate, and working on an educational art project for them.
In general, I want to focus on work closer to home this winter and travel a little less. But, having said that, I am also hoping to organise a return trip to Greenland, to photograph Narwhals and Beluga Whales.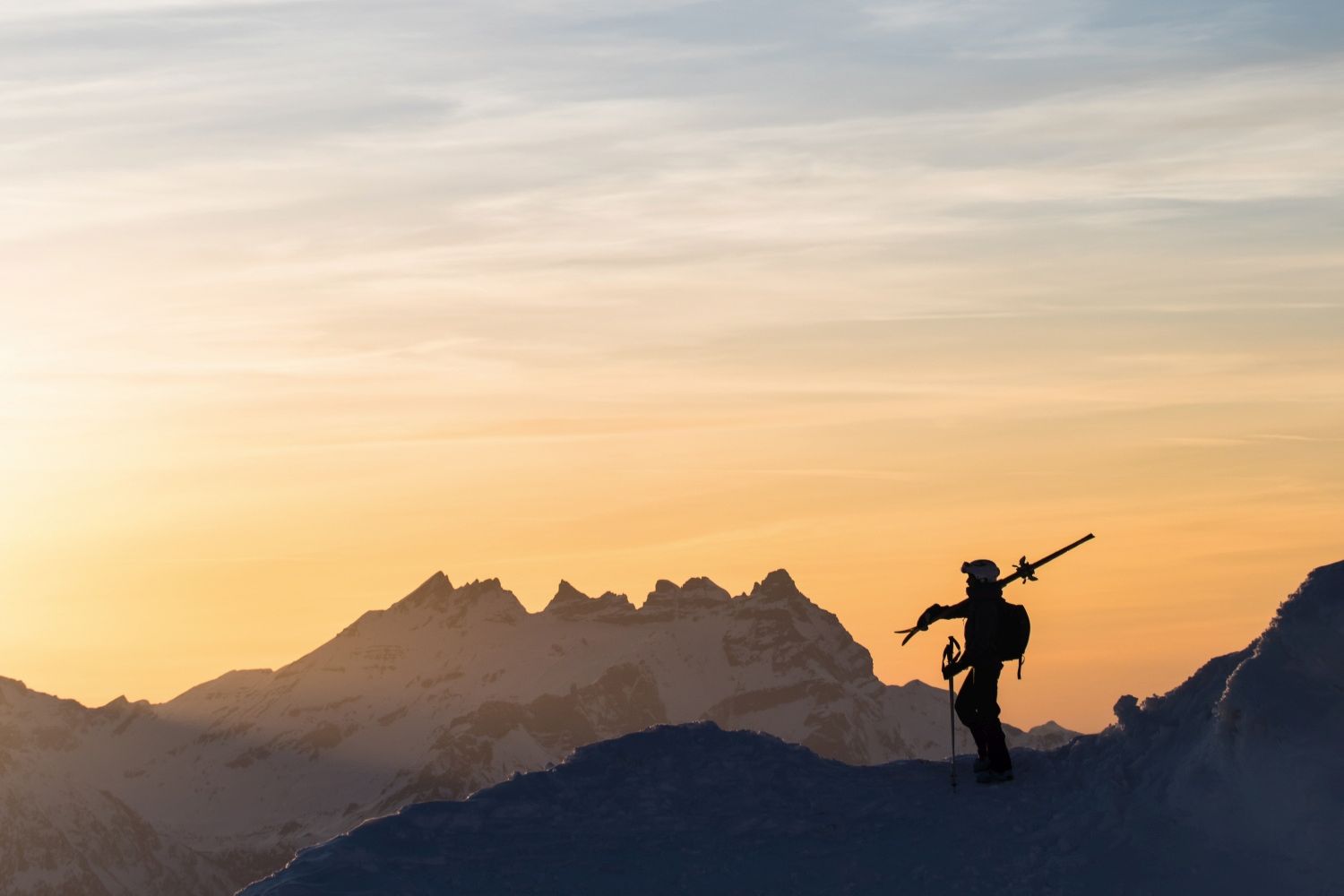 Sunset Ski Tour

This one involved a bit of luck, as well as planning. One of my favourite times of day to be on the mountain is at night, and I had this vision of photographing the full moon with one of Verbier's best-known ski lifts in the middle of it. We waited around five hours to get that shot, but I almost preferred this one. I hadn't expected this sunset, but when it came, I asked my friend Ro, who had accompanied me, to tour over to this spot, and snapped her silhouette. The freezing cold ski down in the dark was brutal though, with all my heavy equipment, a dodgy knee, and rough ice the whole way from 2,700m to the resort.

Camera: Canon 5D Mark IV 

Lens: Canon EF70-200mm f2.8L IS USM

Settings: ISO: 400 | Aperture: f9 | Speed: 1/64z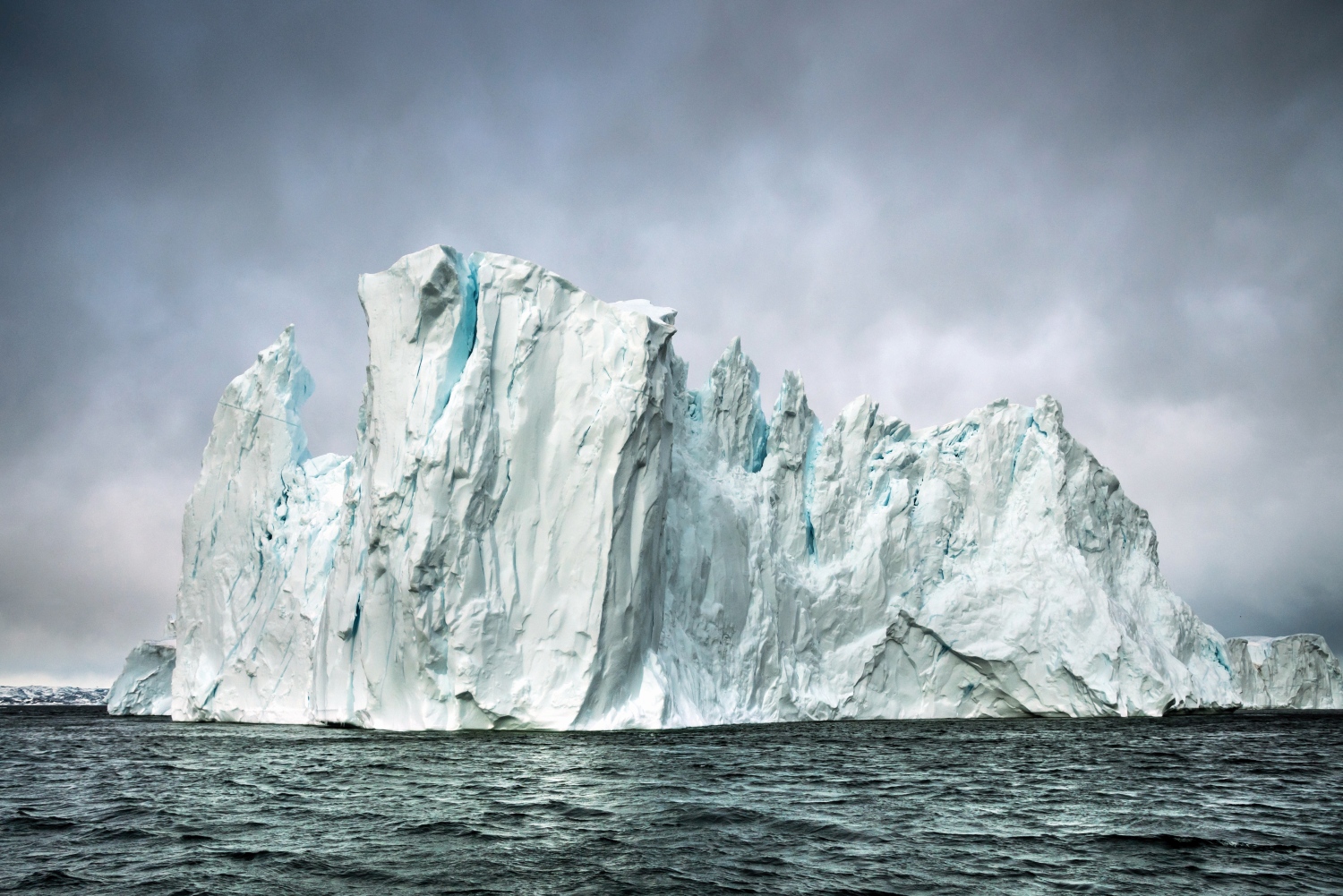 Icebergs in Greenland 

It's really hard to get a sense of the sheer scale of this iceberg. I had been on a trip in Greenland with a pretty amazing group of skiers, who were ticking off first descents in the middle of nowhere. The day after most of them left, Jimmy Chin and I found a fisherman with a small boat and asked him to take us out so we could get a bit closer. The water was choppy, and the vibe is quite dark and moody, which suits the subject I think.

Camera: Sony A7RII

Lens: Canon 16-35 f2.8, Metabones Speedbooster

Settings: ISO: 400 | Aperture: f8 | Speed: 1/200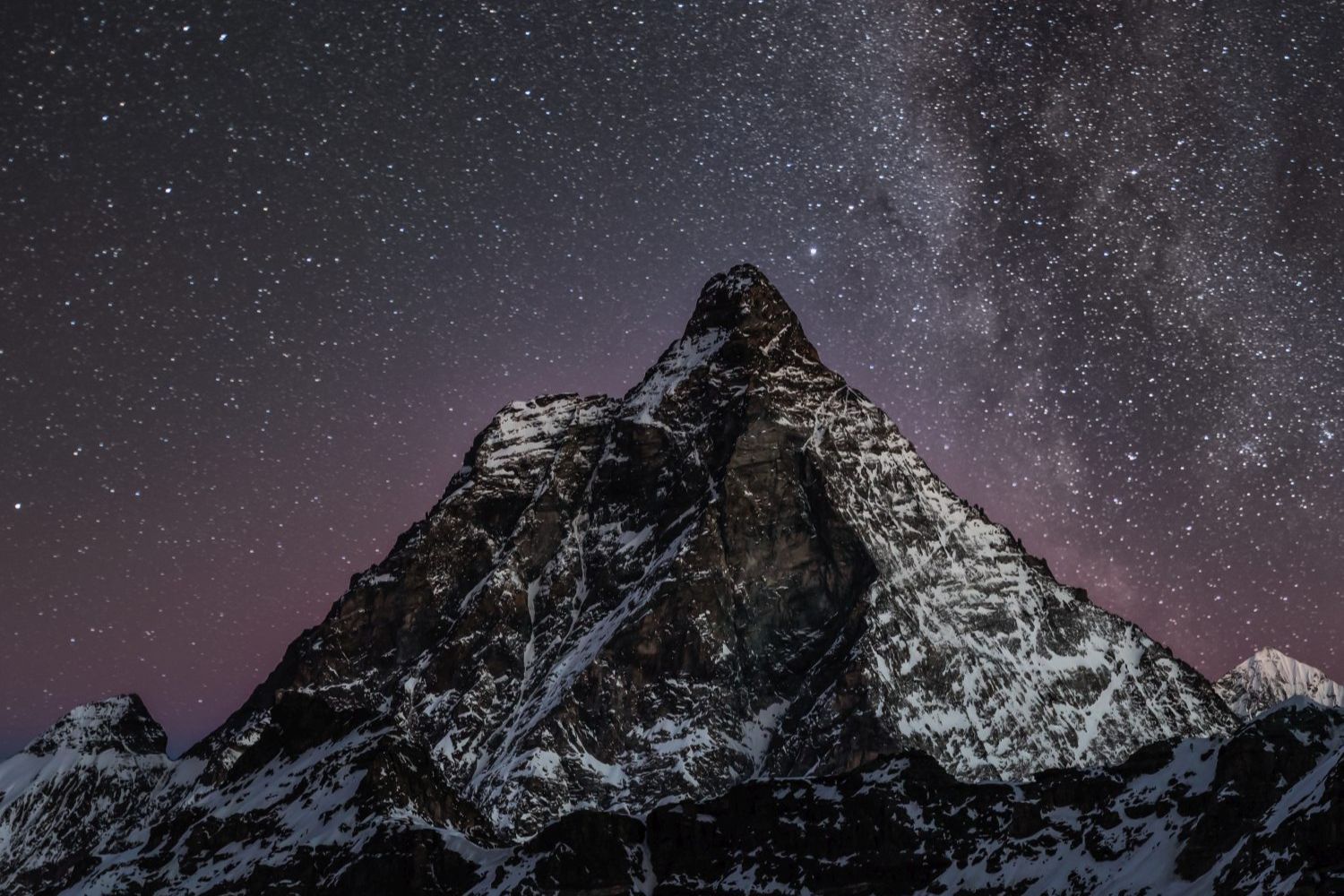 The Matterhorn

Last season I was part of a small crew making a film about a mountain guide and refuge owner based on the Italian side of the Matterhorn. Unfortunately the story we wanted was impossible to film due to the extreme lack of snow, but we stayed in the Rifugio Teodulo observing the mountain for three days. The night sky was stunning but looking at this famous lump of rock with no snow was a scary reminder of the reality of climate change.

Camera: Canon 5D Mark IV

Lens: Canon EF24-70mm f2.8L II USM

Settings: ISO: 800 | Aperture: f2.8 | Speed: 1/100
You can buy prints of Melody's work, including the images on these pages, at melodysky.com.  You can follow her adventures on Instagram @melodyskyphotography