Nudging forwards before anyone else, I'm off, slicing through the super-dry powder at high speed. I'm cutting between trees like they're slalom gates; focused on making, and savouring, every turn. It's descents like these that drive my obsession with snow sports; it's powder like this – the legendary snow of the Selkirk Mountains, deep in the heart of the Canadian Rockies – that I've been dreaming of all summer.
Finally, after all those daydreams, the miles of travel and the financial investment involved in getting to the city of Nelson, BC, it's payback time – and right now I'm cashing in!
Nelson, BC
Strangely, despite the long journey from the UK, when I finally met and crossed 'Bob' – as the local's call the city of Nelson's Big Orange Bridge, it felt like a homecoming. I'm not sure why when I'd never been here before, but Nelson is the sort of town ('city' feels a bit grandiose) where people arrive and simply never want to leave.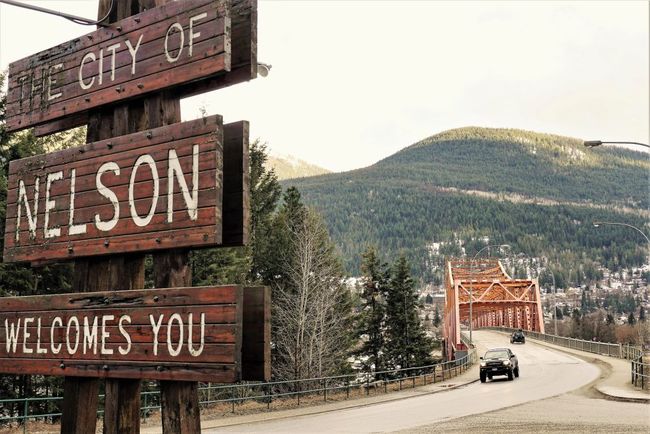 It was too late in the day to head up to Whitewater, the nearby ski resort, so I dumped my bags in the Cloudside Hotel, and strolled the streets. What soon became apparent was that for a city of less than 10,500 people, Nelson has the most amazing array of cool establishments to eat, drink and generally hang out in.
For starters it has three breweries, and claims to have more eateries per capita than anywhere in Canada. With over fifty eating venues within the small downtown centre alone, it's hard to dispute such a claim. Walking past a vegetarian organic Indian café, run by Hari Krishna devotees, a Taiwanese tea house and the wonderful Red Light Ramen Bar, I realised the diversity of options too.
My first port of call was Mick's bar, a Nelson institution, to down a few beers and shoot some pool. I arrived on St. Patrick's night so it was busy, and very green. Stomach rumbling, I headed for the Cantina Del Centro for tacos and cocktails. Opening the door I felt I was stepping in off a hip Manhattan street, so cool was the décor and clientele, not the pavement of a small mountain town.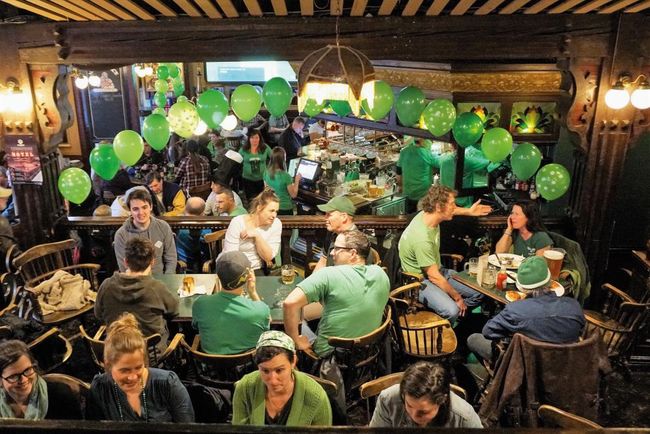 The food lived up to the promise of the ambience, as did the cocktails, and soon I started to chat to the locals, many of whom turned out to be not quite so local. I met a designer who had swapped a small Vancouver flat for a lakeside house in Nelson, a mum from Wanaka, New Zealand, who'd found love here (both of the place and of a man), and an Englishman who'd simply liked the place so much he sold his UK home and bought a hotel.
Escaping the tequila bar before it was too late, I strolled towards my hotel, only to get sidetracked by the sound of music. Pushing open a large industrial door I discovered the city-funded indoor skate park where the local youth skate all winter for free; a perfect example of how Nelson embraces its youth and alternative culture.
Waking the City
Somewhat jetlagged and a little hungover I woke early and headed straight to another Nelson institution, the Oso Negro café. Arriving slightly before opening time, I was welcomed by both the aroma of roasting coffee beans, and the biggest queue I was to see all week, including for the lifts at Whitewater ski resort. But once the doors were thrown open at 7am, I was soon seated with a breakfast bun of egg, tomatoes and alfalfa sprouts, accompanied by a deep-roasted coffee that was strong enough to wake the dead. Flicking through the local newspaper I discovered workshops and courses on offer for everything from Tai Chi to Tantric sex – though it was still perhaps a little early in the day for the latter.
Caffeine kickstart over, I jumped in the car and cruised the 20 minute drive to the Whitewater ski resort base station, passing an old school bus that someone was living in, with an amusing sign that read 'Edge City, Population 2'. The main road out of town was an easy drive, but the final 10 minutes up to resort was along unsealed and steep roads. I was glad I'd upgraded my car from the compact I'd booked, all-wheel drive is a bit of a must in backcountry BC.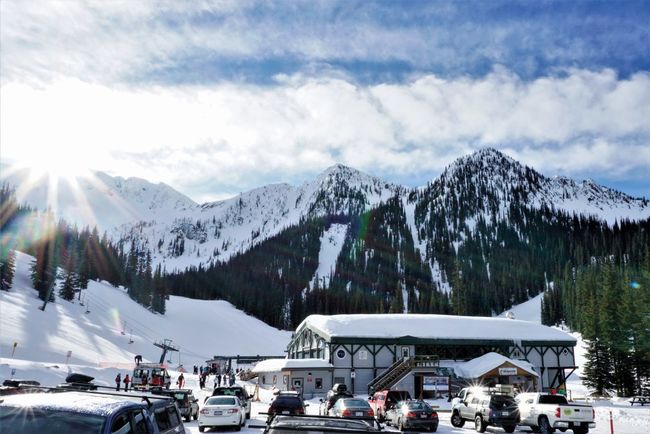 The story goes that the local Nelson residents wanted to be able to keep tabs on their kids at the weekends, so, together with the Nelson ski society, searched for a suitable ski resort site. They bushwhacked up to Whitewater in the summer, found a suitable spot and climbed up a tree as high as they could, tying a bright marker so they could find it again. According to legend, when they went back in winter they couldn't find the marker, until someone had the idea to dig deep into the snow – and so the choice was made. Whitewater still has an enviable average snowfall of 12 metres a season.
As I walked into the base lodge – built in 1974 like a Mormon barn raising, with the whole community coming together to build it – that same feeling of being at home washed over me again. There was fresh snow on the mountain, yet everyone around me was only casually getting ready – some enjoying a coffee or a late breakfast. The vibe was sociable, not just recreational, in the way only small, local-run resorts can be.
It was obvious I was from out of town, yet people smiled at me and even offered a "Mornin" as they passed.
Whitewater's always been a community resort; not only was it built almost entirely by volunteers, but when it opened over 40 years ago, all the staff were volunteers too.
"Not in a rush to hit the hill?" I ventured to some young park dudes, chatting away.
"We're cool. No need to rush today, it's not hit 20."
"20?"
"You don't know the 20 cm rule? Man, if we get 20 cm snow or above, the city shuts down."
"If you've got toothache on a 20 day, you're more likely to find the dentist up here than in his surgery!"
Now this was the kind of community I was ready to join – right up until I get toothache, that is.
The Hill
Whitewater has only three chairs, but don't be fooled by the limited up-lift; this place has some serious terrain. It's often voted Canada's best steep and deep resort, and even on a 20 day, finding fresh snow in Whitewater's 1,200 acres isn't an issue. The busiest day of the season sees only 2,000 skiers at most.
My first ride was Silverking, which led to some gentle but fun tree skiing, beginner pistes and a couple of short black diamonds. Legs warmed up, I headed up Summit chair, which after 41 years was finally being replaced with a four-person chair in summer 2017, by new owners Knee Deep Developments Corp. They also installed Gloryridge chair in 2010, which opened up the backside of the mountain. Previously if you skied the backside you had to hitchhike back up to the lodge, which wasn't a problem, but did take a little longer than the new chair.
From the summit there were some cruisey blues alongside lots and lots of expert terrain, where steep chutes led down into well-gladed trees, with rock drops and pillow lines aplenty. I took the summit track to a series of black diamond un-pisted tree runs then, starting on Galena, worked my way through them all, and while I wasn't the first down any of them, I still found fresh turns.
Finally, before lunch, I took on Terra Ratta, a large double black diamond area which had a simple warning on the piste map of 'Cliff Area'. In places the trees were tight and there were indeed cliff drops, but you'd have to be reckless to accidentally fall off anything too serious.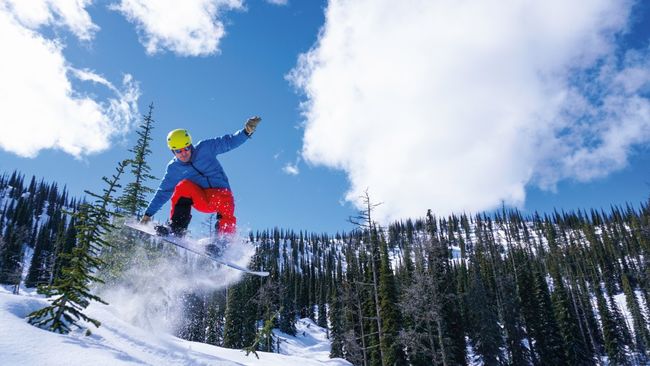 From the top of Summit chair, it is possible to hike all the way up to the peak, but this is out of bounds and serious backcountry, which should only be tackled in ideal conditions. I did think about it, but it was displaying large areas of avalanche debris, so I decided lunch might be the more prudent option.
Over a truly excellent meal of beets salad and yam poutine – sweet potato chips with cheese curd and gravy – in Coal Oil Johnny's bar, I witnessed kids actively conversing with adults, rather than staring at phones.
Apparently, one day the barman complained to guest services that something seemed to be wrong.
"No one's talking, man!"
It transpired that the office Wi-Fi code had whispered its way around the community. So they simply turned it off and everyone started talking.
There's no 3G coverage at Whitewater either, so it's truly and blissfully a digital down time zone. It's a place for quality family and friend time, not work emails. Yet I felt it went even deeper; it's about meeting people too, as there's an open vibe here which is simply impossible to falsify.
In the afternoon I hit terrain off the Glory Ridge chair. The backside slopes see a bit more sun, so rather than taking on chopped up blacks I flew down the well-groomed blues that rolled through the trees forever – longer than my legs could handle anyway.
I spent the best part of a week lapping the powder through the trees, chatting to new people and watching groups of kids ripping up the mountain.
Before visiting I'd been warned in jest more than once, "Be careful, you may never leave", and as I climbed into my car, I was truly sad to be driving off the mountain and away from Whitewater for the last time. If leaving Nelson felt like leaving home, driving away from Whitewater was far worse; it felt like climbing into the car after your wife has changed the locks and said your best friend is moving in…
But I had to be strong; I could survive this, especially as Nelson was the home of Canadian cat skiing – the next item on my British Columbia bucket list…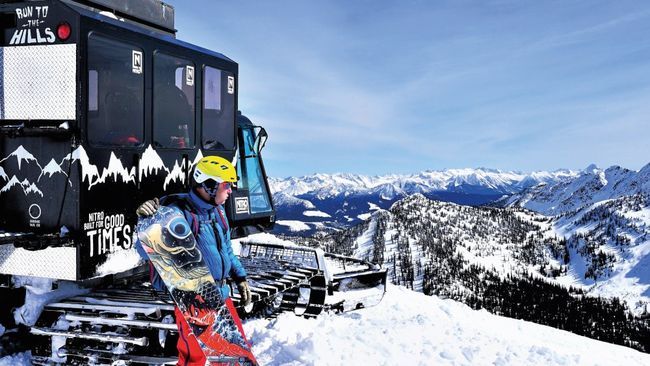 Two Careful Owners...
Shelley and Mike Adams were the owners of Whitewater ski resort between 1996 and 2008. The pair met in Whistler, where Mike was teaching skiing, just before he moved to Nelson to study ski management. Just as his two-year course finished, the manager's job at Whitewater came up. He applied and the rest is history. "That was 32 years ago," said Mike. "We always thought we'd move back, but we love it here so much, we stayed."
When they first arrived the mountain and the city were quite depressed; the saw mill had just closed, and Whitewater was going to close too. Luckily a group of 12 local professionals bought the resort; they simply wanted the Whitewater legacy to continue. The investors weren't keen to get involved in running the resort, so offered Mike the management role; then in 1996 he bought out all the partners, and that's when Shelly started at the mountain too.
In 1998 they bought and installed the Silverking chair from Whistler. Coincidently it was on that chair that Shelley and Mike had their first kiss, back in Whistler.
In 1996, Shelley took control of the catering, turning it from hotdogs to what it is today, with the food now almost as popular as the powder. They kept ski resort classics, but also offered healthy and affordable food, cooked well.
But Whitewater was their only income, and money was always tight. Knee Deep, the new owners since 2008, have had outside income and an ability to invest on a larger scale – something they've done, without losing the resort's unique atmosphere.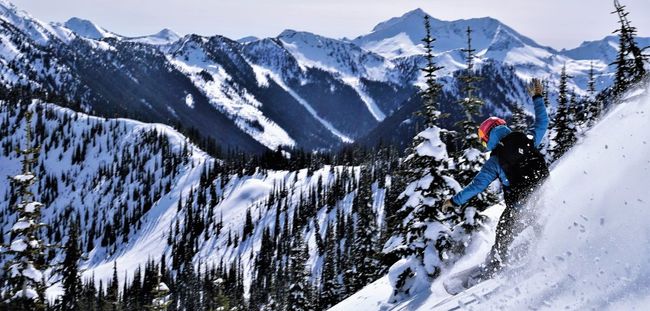 Retallack Redemption
The stylish Retallack Lodge is a scenic one-and-a-half-hour drive north of Nelson, isolated deep within a vast forest. There it operates two cats with access to a massive 10,000 acres of simply perfect back country skiing.
The lodge itself is a welcoming and comfortable affair, with wonderful food and great amenities. I soon found myself in the bar, a beer in hand, trying – and failing miserably – to bang a nail into a tree trunk with the sharp end of a geologist's hammer. Don't ask me why – apparently it passes the time!
The next morning it was a quick safety brief and everyone was given a radio and avalanche transceiver, before getting in the cat – but only after being encouraged to shoot a few arrows in the car park.
"I find it helps in the morning," stated our guide Brin.
I'm not sure what it helped him with, but it did feel kind of good. Brin had grown up in the back country.
"I used to go on skis with my Dad to check his traps, once I could walk. He had a mink trapping tenure here; I never even rode a chairlift or piste until I was fourteen."
Our initial drive in the cat, up to the high peaks, took about 30 minutes, during which Walter, our sixty year old snowboarding 'tail gunner' guide, regaled us with stories of growing up here. Pointing out an old mine shaft, he told how he'd worked silver mines for over twenty years.
"It was a really hard life; darn dirty work and pretty dangerous too! When the mines closed there weren't many job options, but having worked both on top of and inside these mountains all my life helped get this one."
The terrain at Retallack is steep and deep at its best; untouched high alpine slopes above some of the world's best tree skiing, and even descending at speed I never had to wait long for the cat to whisk me back to the top again.
When my all-inclusive three-day package at Retallack Lodge finally came to an end , so had my BC adventure; however, I'm not too unhappy. If leaving Nelson and Whitewater had been a painful divorce, I was now well and truly over it, as I'd found a new lover in Retallack. Just don't tell the wife.
Snowhow
Flights
Canadian Affair London to Vancouver from £500 return.
Air Canada Vancouver to Castlegar from £150 return (although beware Castlegar is prone to delays).
Air Canada Vancouver to Kelowna International Airport is an alternative option, as is Spokane International Airport in the USA.
Airport transfers
Queen City Shuttles Spokane to Nelson takes 3.5 hours. Departs daily at 14.30. Return costs c. £140
Where to stay
Cloudside Hotel in Nelson is a listed building, dating from 1900. Recently renovated the hotel is right in the heart of Nelson's historic downtown area, which makes it a perfect starting place to explore the city.
Twins cost from £83 a night. A top floor apartment that sleeps up to five starts at about £102 a night.
The skiing
Beginner through to advanced piste skiing, easy access to slack/back country and excellent tree skiing.
Ski pass
Day Pass £53
Powder Plus 6 Day pass £215
Season from £460
Cat skiing operators
Retallack Lodge
With an over 14 m average snowfall, Retallack lodge offers awesome skiing, since 1996. Its vast tenure has something for everyone, from perfectly spaced trees to wide open bowls. All-inclusive 3 day packages start from £1,442.
Selkirk Wilderness Skiing
Possibly the first ever snowcat operators, Selkirk Wilderness have been operating for over forty years, offering all-inclusive deals in a remote back country lodge. You'll ski/ride from 8:30 am to 4 pm with no vertical limits, often with the last run of the day being a 1,280m descent right to the lodge. 3 night packages start from £1,253.
Valhalla Powdercats
Valhalla Powdercats offer single and multi-day packages without accommodation, from £364 a day. With a tenure six times Whistler and Blackcomb combined, and high alpine bowls alongside steep, old-growth forests, you'll ride powder all day just 20 minutes from Nelson.
Baldface
Baldface has a main backcountry lodge, alongside seven timber-frame chalets, that form the base of their catskiing operation. You'll be helicoptered into the lodge area from Nelson for an all inclusive 3 or 4 day experience, starting at £1,760. Baldface is very popular with snowboarders as its steep and deep terrain is a paradise for them.
The town
WH2O Shuttle runs daily from Downtown Nelson to Whitewater.
Where to eat & drink
Nelson
Mike's Bar and The Library Lounge, both in the Hume Hotel, serve north American/Italian fare and local beer. The Library Lounge is Nelson's main Jazz venue too.
Check out Cantina Del Centro, for tacos and cocktails.
Full Circle Café for a healthy lunch.
Red Light Ramen for Japanese Kootenay Fusion and cool tunes.
Whitewater
Coal Oil Johnny's Pub for affordable healthy food in the resort baselodge.