Stepping out of the plane into a surprisingly balmy February afternoon, the first impression of Slovenia is of a country ringed almost entirely by snowy peaks and ridges softly rose-tinted by the low winter sun. These aren't the intimidating, space-scraping walls of the western Alps; Slovenia's mountains are almost cosy in comparison – no less jagged and spectacular but accessible.
What's more, this manageable scale seems to translate into every aspect of Slovenia's appeal as a ski holiday destination. In a week that includes three hotels and four ski resorts we never have to be in the car for much more than half an hour at a time. There isn't any traffic either, with our entire February half-term stay feeling like a week of Sundays.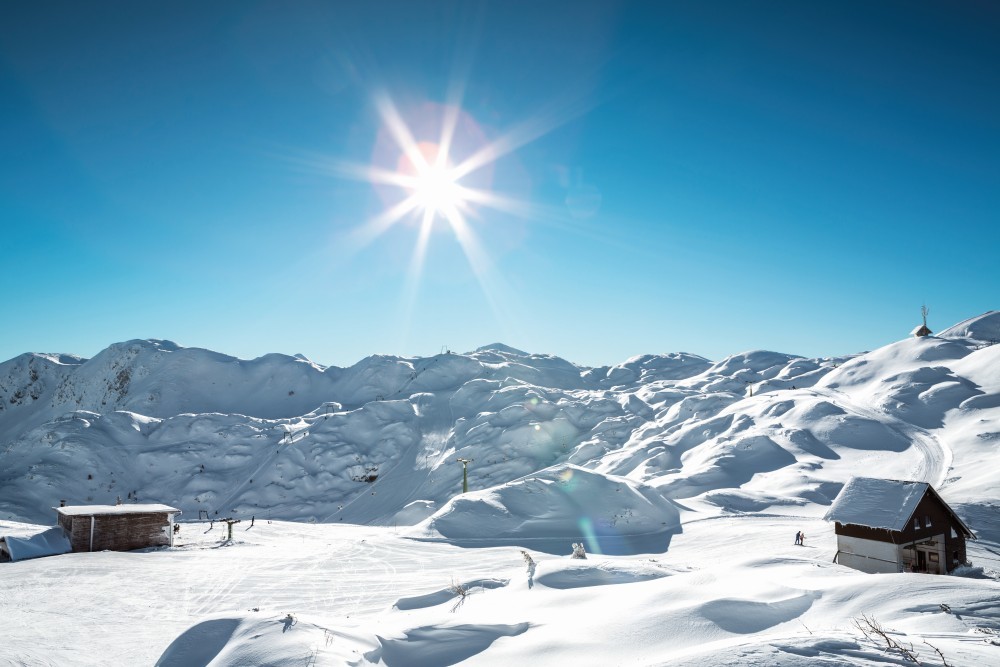 Beautiful Bled
This accessible scale is brought home on our first day in the country where we fly in on a midday flight, pick up a hire car, drive to our hotel close to the impossibly serene iced-over Lake Bled – and still manage to hire skis and get some turns in. Admittedly, the turns are at the tiny flood-lit two-run Straza, whose artificial snow-covered figure-of-eight slopes run down from a modest height of 645m to the lake below… but turns they are.
As we watch a glorious sunset over the frozen lake it's hard to believe that just six hours before we were pulling off the M25. I didn't even care that the cute ski-hire shed at the bottom of the pistes didn't have any grown up snowboards, putting me on skis for the first time in 20 years.
Lake Bled itself is worth a visit any time of year, with steep, pine-forested slopes rising from the lake on three sides, lightly dusted with snow higher up, and a perfectly proportioned, church-topped island sitting in the middle.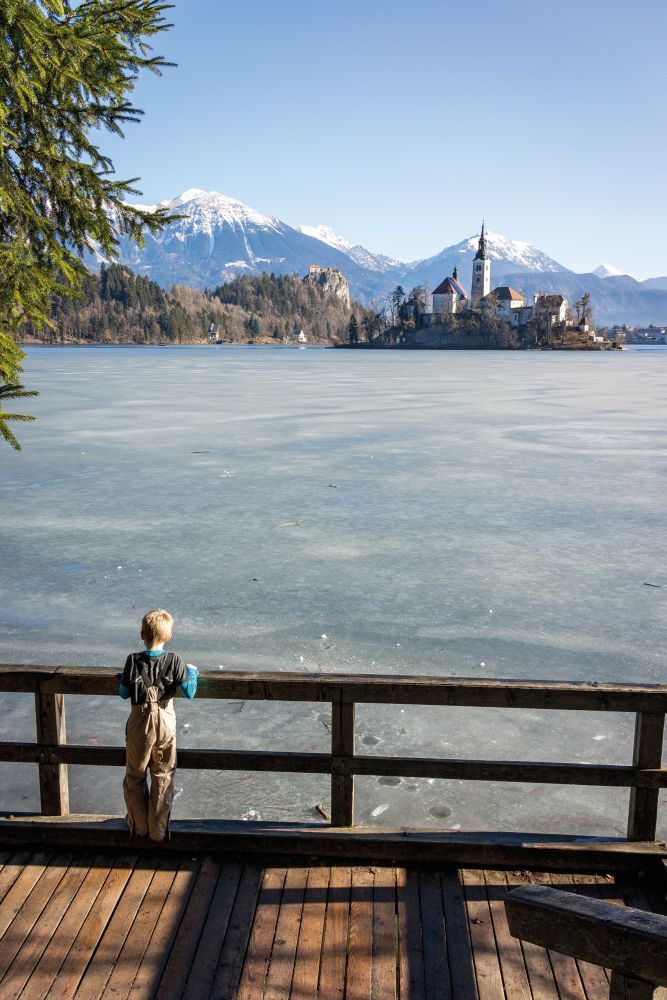 The next morning we stop off to walk around the western end of the lake, where the kids skip stones over the seemingly diamond-encrusted ice, delighting in the echoing, hollow bounce.
Just a 25-minute drive further west, after a gentle climb away from the lake, suddenly the road plunges into the snowline. Huge conifers rise either side, draped in pristine white powder that sparkles in the brilliant sun, every now and then clearing to reveal sheltered, snow-covered meadows.
This is the 1,100 to 1,400m Pokljuka Plateau on the eastern edge of the Triglav National Park, and a back-to-nature mecca for ski tourers and cross-country skiers, with over 30km of prepared tracks. Turning up a quiet track we find the little Hotel Jelka making the best of this winter wonderland.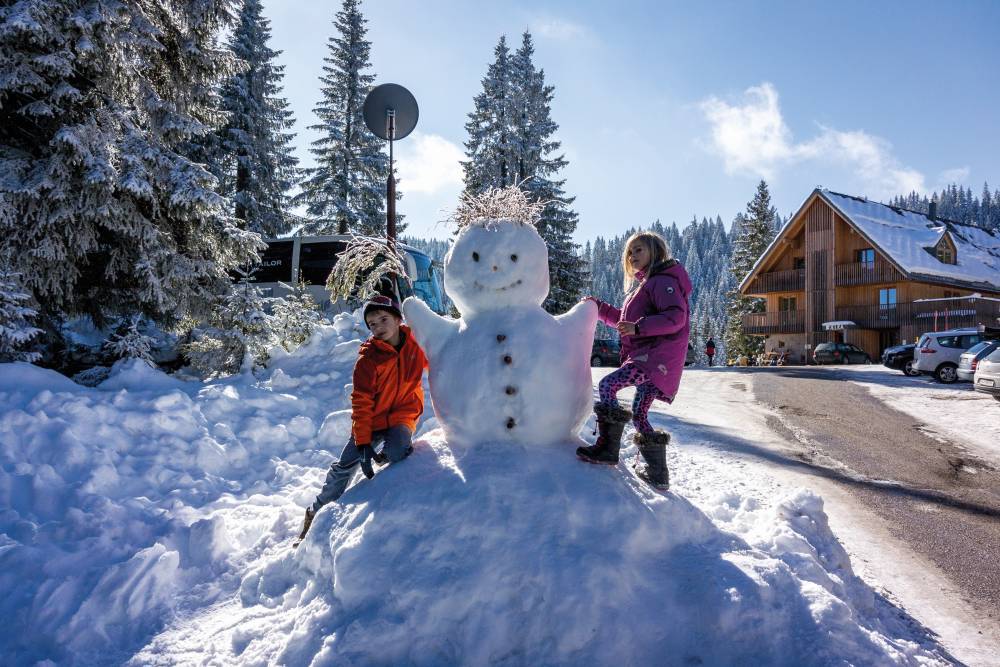 More mountain lodge than hotel, wood-built Hotel Jelka overlooks a sunny, sheltered glade, where local children and young families take a single button lift up the valley or play in the snow. After coffees and hot chocolates at lower prices than in the UK, we borrow a couple of sledges and join them.
Brake for the border
Day three is our 'longest' transfer day, with a 40-minute drive to Slovenia's biggest and most developed resort, Kranjska Gora. In the end it takes us a few minutes longer, as we almost drive into Austria by mistake... It could just as easily be Italy though, given the proximity of both borders.
Kranjska Gora is Slovenia's only major resort with ski-in-ski-out accommodation, traditional village – and its car parks for day visitors like us – right next to the bottom of its main lifts and parallel to the main pistes. This, as well as the side-by-side nursery, blue and red slopes, is at the heart of its family friendliness, and we happily spend all day skiing separately and together, easily meeting back up at the bottom.
What we do love about Kranjska Gora, something that we get used to in Slovenia as the week progresses, is the fantastically friendly welcome and service we get – particularly in the hire shops and from our family instructor Blaz Gorsek.
But the most marked difference with certain other European ski areas is when we head to the nicest looking on-mountain eatery for lunch. Relaxing on a fleece-draped, sun trap terrace we brace ourselves for our own usual piste-side eating fleecing... only to exchange wide-eyed smiles when we open the menu. When a beautifully presented burger, fully stacked with fresh salad on a carved wooden platter and a Coke, set you back just £5, value alone is one of the most compelling reasons to ski in Slovenia.
After an easy 40-minute drive back to Bled, we spend our last night at Lake Bled's friendly Hotel Savica, enjoying the pool with its picture window view of the lake and the floodlit fairytale castle above it.
Natural highs
Next stop on our Slovenian ski tour is the resort of Vogel. As is typical in Slovenia, on-resort accommodation is minimal here, which is why we, and most visitors to Vogel, are based in the thermal spa resort of Bohinj, just 10 minutes down the valley.
We're staying in the modern, luxurious Bohinj Eco Hotel where we mingle with conference guests at the breakfast buffet. But if anything, this opulence sets the authentic, natural vibe of skiing at nearby Vogel into even sharper relief. It's a feeling that grows as we drive up the increasingly wild valley following the Sava Bohinjka river to the eerily still, frozen shores of Lake Bohinj, kilometre-high mountains rising almost vertically from the shore.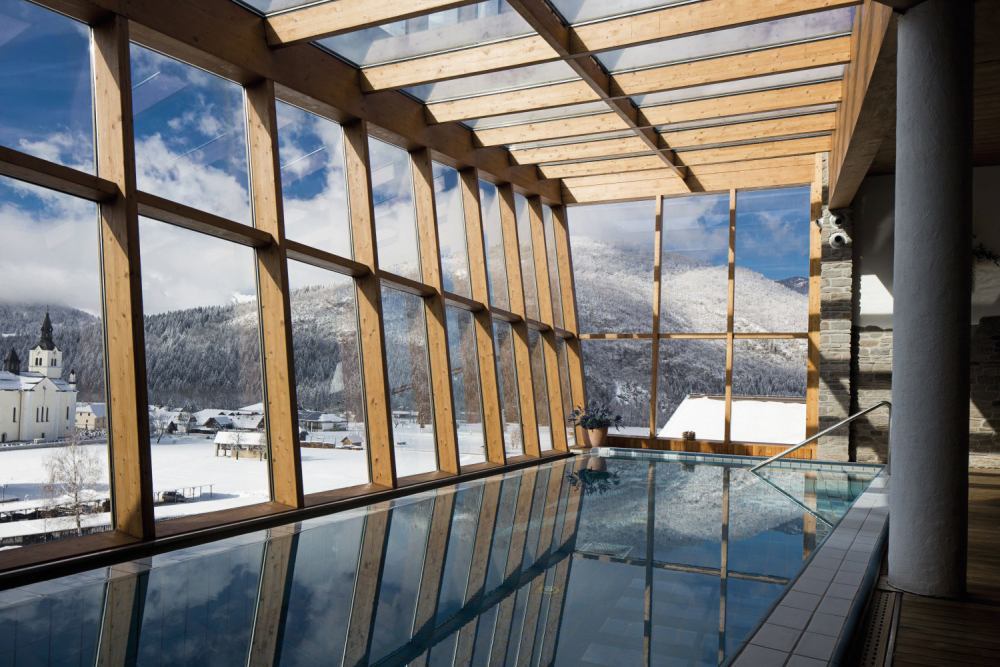 Parking in haphazard, informal car parks among the trees, we join the lift for the single access point for Vogel – a gondola which surges from the icy tranquillity of Lake Bohinj to Vogel ski resort at 1,535m.
With the bottom of the valley still in winter morning shadow, arriving in Vogel is like taking the lift from the basement car park of a high-rise to its light-filled, roof-terrace, where we emerge squinting into the blinding sunlight of the Triglav National Park. Below and beyond us stretches a mountain kingdom of snowy peaks, bumps and valleys, backed by the two-kilometre-high peaks of the Julian Alps stretching into Italy.
Its national park location means there is no snow-making in Vogel but the resort boasts a good snow record anyway, with these mountains to pick up moisture from the Adriatic. Sadly there isn't quite enough snow to open the 8.5km run from the top station all the way round the side of the mountain back to the lakeside.
From the minute we emerge from the gondola station we love Vogel. Maybe it's the vertical arrival, or its hidden mountain kingdom 'reveal' as you step out of the top station – whatever it is, there is something very special about this little resort.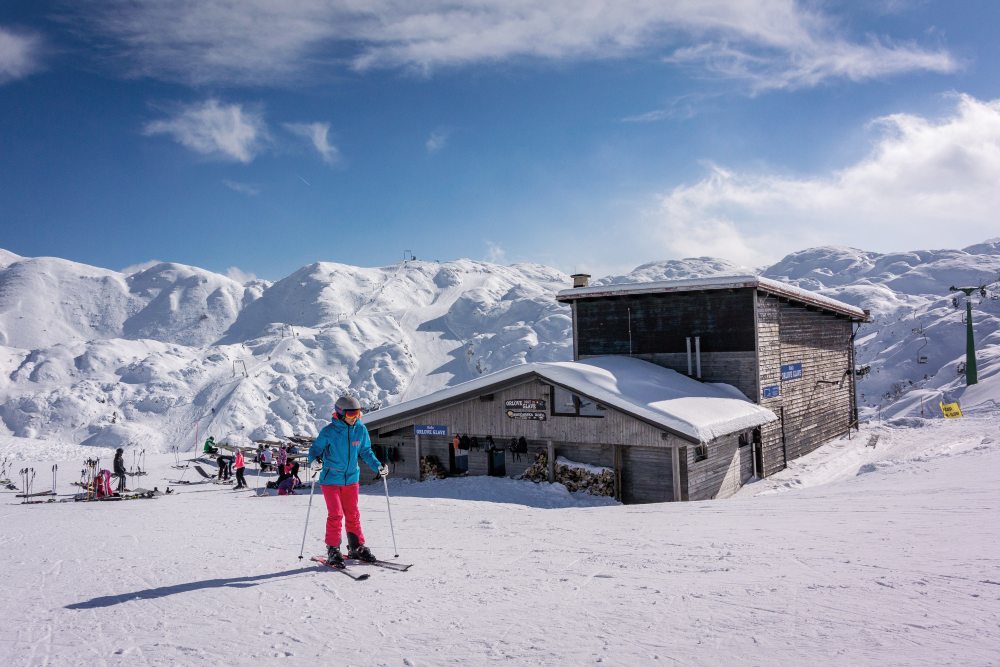 It can't be the 'resort' or 'village' because there isn't really one – with just one plain looking guest house and a small collection of wooden chalets dotted around the topstation there's not really much else there. Perhaps that's the real appeal... the high mountain experience and breathtaking scenery is allowed to take centre stage.
We spend the best of two days exploring and re-exploring Vogel's mix of reds and blues, most of which spur out from the top of the Orlove Glave four-seater chairlift. Sharing this high-altitude plateau is the Orlove Glave Mountain Inn, where we stop to eat lunch with the resort out of sight below us and not much more than the spectacular Triglav National Park for company.
The second day, we relax even more, with a long lunch on the sunny terrace of Vogel's Merjasec Mountain Inn. Again it's particularly enjoyable ordering a frosty Lasko beer and traditional Slovenian dishes of Kranjska klobasa (Carniolan sausages), beef goulash, followed by coffee and the country's Prekmurska gibanica (layered pastry), knowing that we can afford to relax the purse strings.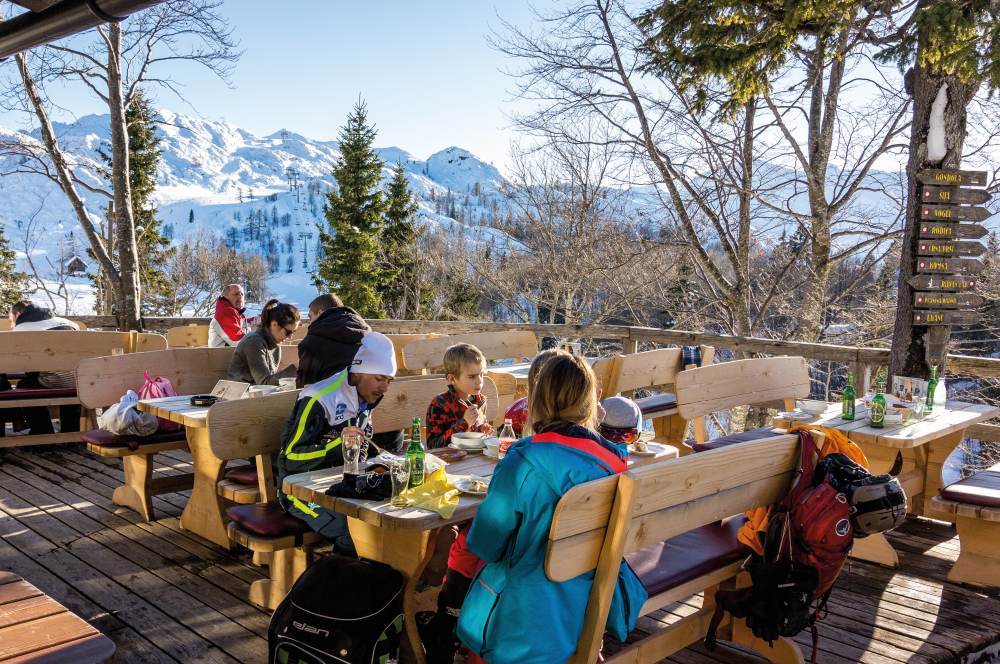 Capital idea
Incredibly, we still have one more hotel to up sticks to, and another ski resort to visit. A tour of Slovenia at any time of year wouldn't be complete without spending a night or two in its friendly capital Ljubljana. Forty minutes and zero traffic later after a full day on Vogel's slopes and we're checking into our final stop of the week; the Grand Union Hotel, deep in the city's colourful art deco centre.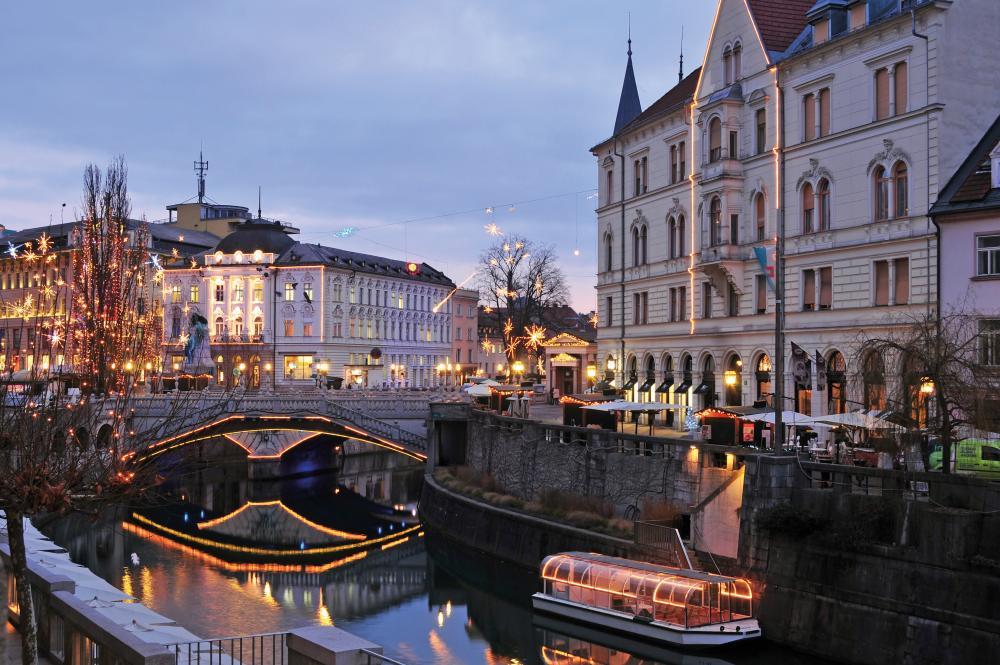 Another reason we're staying in the capital is that with minimal slope-side accommodation, Slovenia is keen to promote Ljubljana as a ski city. So the next morning we put this idea into practice, driving to our final ski resort Krvavec in less than half an hour from the city centre, passing the airport on the way. Indeed, just 8km away from Brnik airport, Slovenia's second biggest resort claims to be the world's closest ski resort to an international airport. Now there's a weekender idea...
By now we're familiar with the Slovenian ski parking technique and abandon the hire car by all the others next to the road and climb aboard the seemingly random free buses for the last half a mile to our uplift.
Krvavec's cable car ride from valley floor to mountain top is much more shallow and longer than Vogel's but if anything the sensation of being transported from the farmland of the valley floor to the snow-covered mountain is even more striking.
Compared to the bumpy mountain-top plateau of Vogel, Krvavec feels slightly more precarious too, with the sensation of skiing on the side of a vast slanting roof, with vertiginous drops off the back and sides, and the flat valley floor stretching out far beyond and below the eaves of its bottom edge.
With the arrival of the weekend, the ski hire at Krvavec is the most hectic and busy of the week but, like the parking, it just seems to work, and we're looked after well.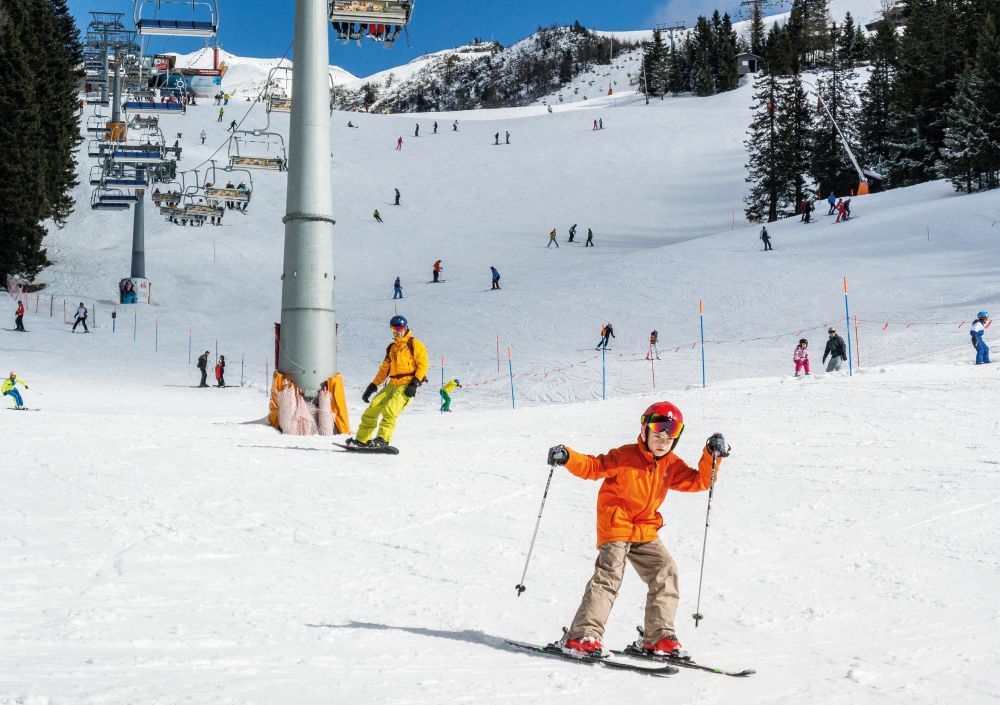 For the first time in the week we split up to ski at our own pace, with the kids and Lisa getting a family lesson and me a tour of the resort with Ski Pass Slovenian Alps' Matej Kandare. When I say 'ski at our own pace', obviously Matej has to slow down as we scorch around the resort's extremities.
There's plenty of skiing across Krvavec's three peaks to keep an intermediate family like mine happy for a couple of days, with about 90 percent of the resort's 30km of mainly reds and blues covered by snowmaking facilities.
Our last day in Slovenia is not spent in the snow but exploring deep underground. The Postojna karst cave system, 40 minutes south west of the capital is, at 24km long, one of the longest in Europe – and an unmissable natural gem.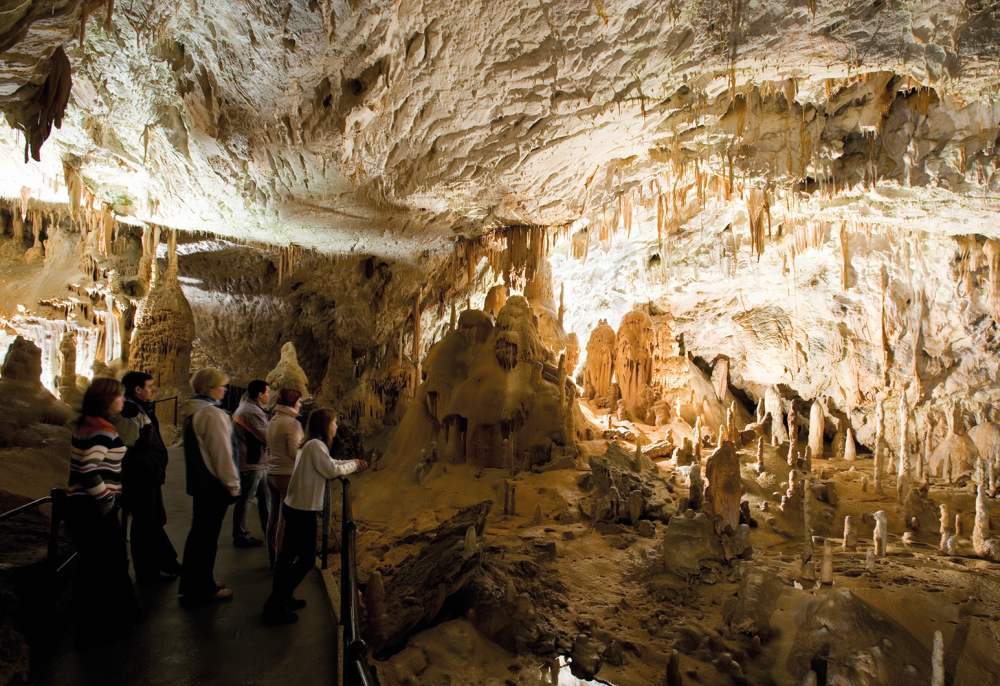 It's a fittingly touristy end to our trip, because if we'd wanted a ski-in, ski-out week of all-day everyday skiing, Slovenia would have disappointed. But for families who rank all-round travel experience – not to mention astounding value – as high as slope time, then Slovenia could be the best family ski holiday destination in the world.
Eat here...
Bled Castle Restaurant
Bled Classy restaurant with incredible lake views. Starters, such as Carniolan Sausage, cost from £5; mains, such as Istrian Fuzi Pasta and Truffles, from £14; deserts, such as the famous Bled custard cream cake, from £5. You even get free entry to the castle.
Lačni Kekec restaurant, Kranjska Gora
Right next to the piste-side ski school, this friendly Kranjska institution has a sunny terrace with animal pelts to sit on and hearty, wholesome food at great prices. A huge house burger and Coke costs £5, a pint of beer £2.50.
facebook.com/OkrepcevalnicaLacniKekec
Chalet Merjasec Restaurant, Vogel
50m from the top station with a cosy terrace overlooking the resort and Vogel mountain, this welcoming, good-value eatery serves Slovene food such as veal stew with žganci (buckwheat).
Strelec Restaurant, Ljubljana Castle
The swish Strelec Restaurant is in the Archers' Tower. Walk the battlements, then treat yourself to top Slovene cuisine.
Hotel Jama Restaurant, Postojna
After a visit of the next door Karst cave system, have posh dinner at the hotel, or a less formal meal at the restaurant of hotel's separate guest house.
Our trip...
Ski Pass Slovenian Alps
The best way to ski Slovenia is to try several of its resorts in one visit. The Slovenian Alps Regional Ski Pass is designed for just this. Based from Bled, with free daily bus transfers between the resorts, this pass includes Vogel, Krvavec, Kranjska Gora, Cerkno and Austrian resort 3ländereck. In 2018 newly opened Kanin – Slovenia's highest resort – will join the pass.
Cost: 2-day pass: Adult £55
Child (under 15) £46
7-day pass: Adult £162
Child (under 15) £135
Ski hire
Complete carving set (skis, boots, sticks): Adult £94/week. Child £74/week. New for 2017/18, 6-day ski hire can be organized for pick up or hotel delivery in Ljubljana by Label outdoor sport specialists.
Ski school
Skiing and snowboard group courses: 5 days x 2hr sessions – Adult £80. Child £70.
Flights
Easyjet and Wizz Air fly from London to Ljubljana from as low as £50 return.
Car hire
With excellent roads car hire and self-drive is a great option. Car hire from the airport is as little as £40 for seven days.
More info
Postojna Cave: postojnska-jama.eu
Ljubljana Castle: ljubljanskigrad.si
Slovenia Tourism: slovenia.info