The Valais Region in the south-west of Switzerland is a winter paradise for skiing,  and with 45 peaks over 4,000m it's closer to heaven than many earthly rivals! Its 34 ski resorts - most lying above 1500m - are spread across the region's four main ski areas and due to the altitude of its slopes, Valais is the only region in Switzerland that guarantees good snow coverage. Some ski areas, such as Saas-Fee/Saastal or Les 4 Vallées, even have slopes at over 3,000m, with some of their pistes crossing glaciers. The majestic sight of the Great Aletsch Glacier is one you won't soon forget.
Some incredible Valais descents up to 25km long offer skiers unadulterated and endless fun as you ski down perfect pistes, plunging from the high peaks into the valley. You'll find fantastic carving conditions, and if you feel like trying something a bit different, resorts such as Champéry in the stunning Région Dents du Midi offer the opportunity to go night skiing.
As a hugely varied winter sports playground, Valais is also regularly the setting for ski touring world championships as well as the world's toughest ski touring race: the Patrouille des Glaciers. At the other end of the scale, 13 secured Touring Tracks in Valais offer the perfect introduction for first-timers. Ascents across pristine white landscapes and thrilling descents over untouched fields of powder promise an unmatched sense of freedom.
Valais also enjoys an excellent reputation for its freeride scene, with several Valais ski areas such as Nendaz-Veysonnaz having established secured freeride itineraries that offer enthusiasts a taste of adventure away from the prepared pistes.
Start with these four unmissable destinations in Valais...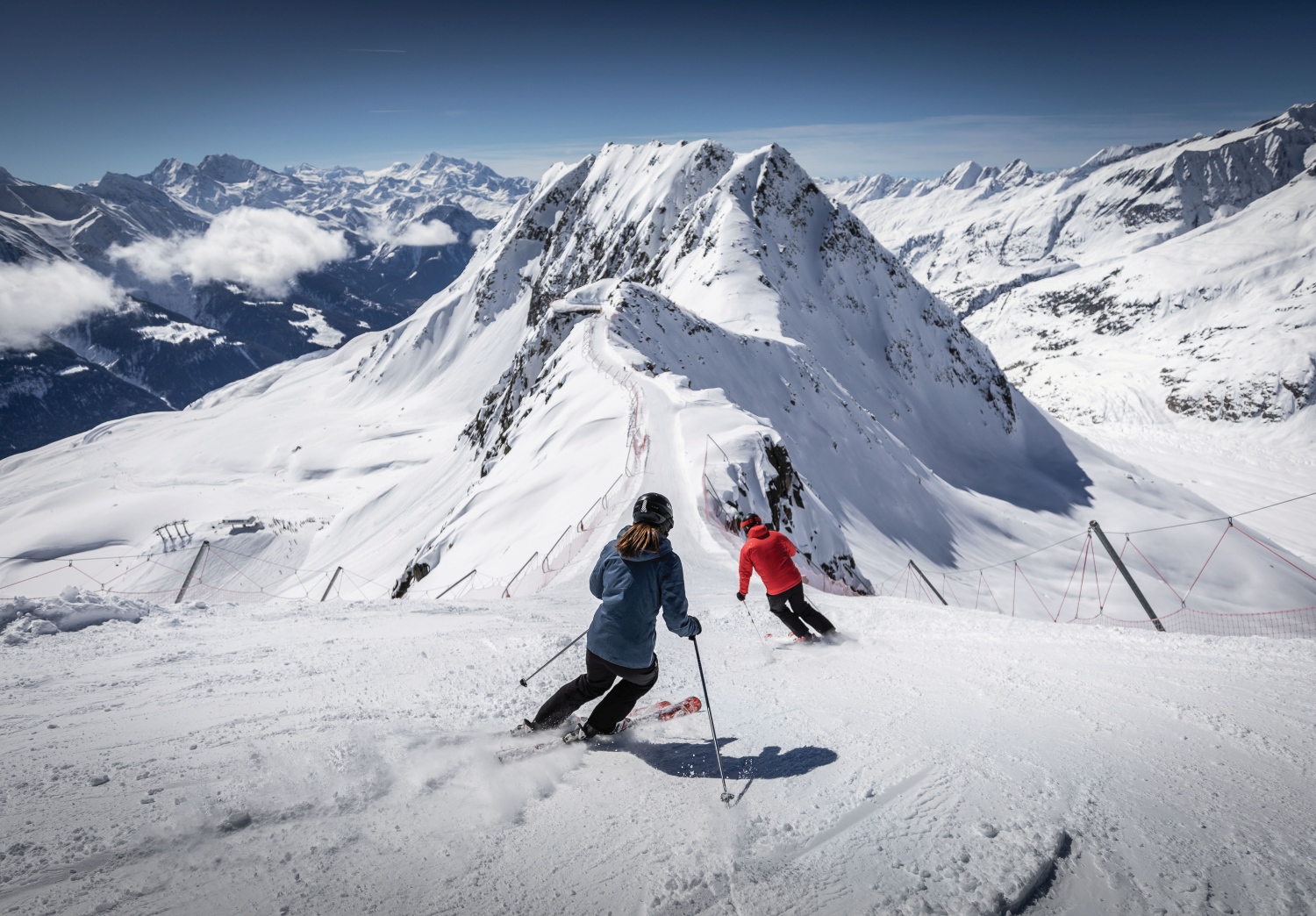 Aletsch Arena
A family-friendly ski area centred upon the three car-free, ski-in, ski-out holiday villages of Riederalp, Bettmeralp and Fiescheralp, set on a high plateau.
Piste area: 104km
Easy: 40%
Intermediate: 48%
Advanced: 12%  
Altitude range: 1,845m to 2,869m
Must-do: Have an adventure and try a guided snowshoe trekking tour in the Aletsch Forest, part of the UNESCO World Heritage Site.
Must-visit: The viewpoints of Moosfluh, Bettmerhorn and Eggishorn, offering views of the Great Aletsch Glacier and the 4,000m peaks of Valais, including the iconic Matterhorn.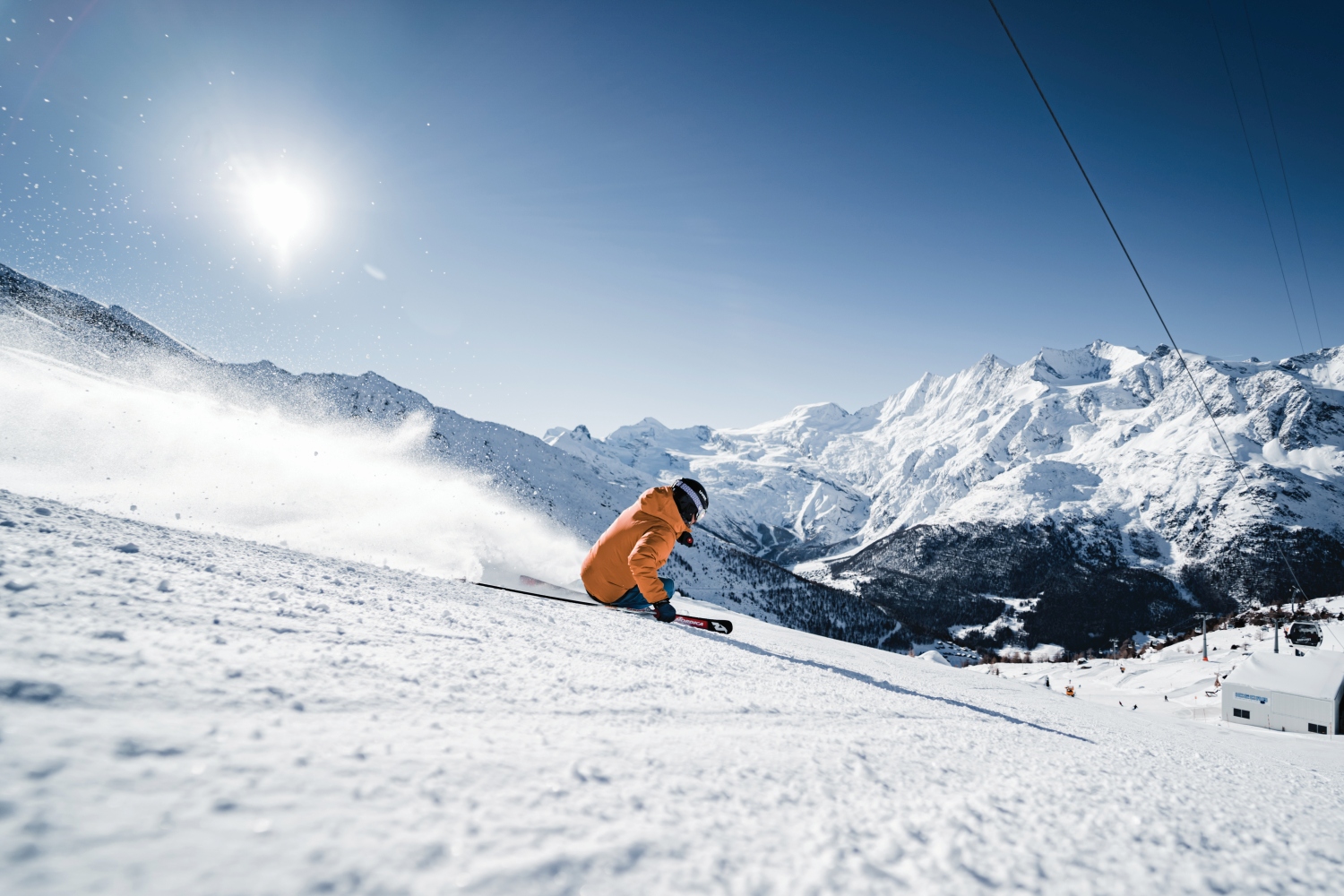 Saas-Fee/Saastal
Ringed by eighteen 4,000m peaks, the high alpine holiday region of Saas-Fee/Saastal offers a wonderfully varied experience – on and off skis!
Piste area: 150km
Easy: 30%
Intermediate: 50%
Advanced: 20%
Altitude range: 1,500m to 3,600m
Must-do: For a spectacular aerial experience, go ziplining across the wild and rugged Fee gorge.
Must-visit: The Fee glacier – a snowshoe trek across seracs and crevasses to the highest point, the Panoramaplatz is an unforgettable five-hour return trip.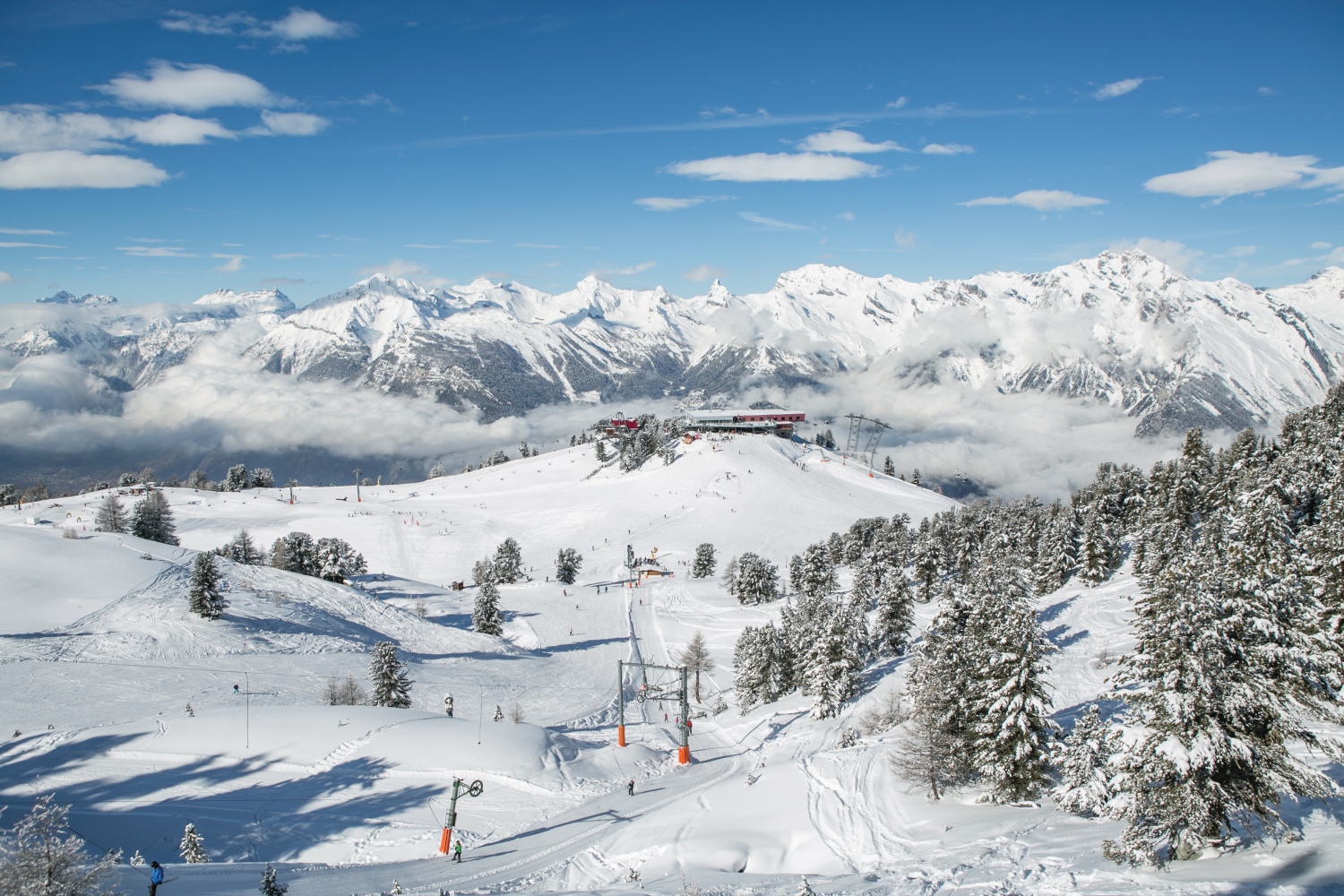 Nendaz-Veysonnaz
These twin resorts are located right in the middle of the massive 4 Vallées ski area, and offer a great family-friendly alternative to their more illustrious neighbour, Verbier.
Piste area: 410km
Easy: 33%
Intermediate: 53%
Advanced: 14%
Altitude range: 1,400m to 3,330m
Must-do: Ski the legendary Piste de l'Ours (the bear's track), one of the most famous World Cup ski runs. This north-facing red run has 900m of vertical and up to 51% gradient.
Must-visit: For great views, Mont-Fort, at an altitude of 3,330m, is the highest point of the ski area and also the starting point of the Mont4Zipline, the highest zipline in the world.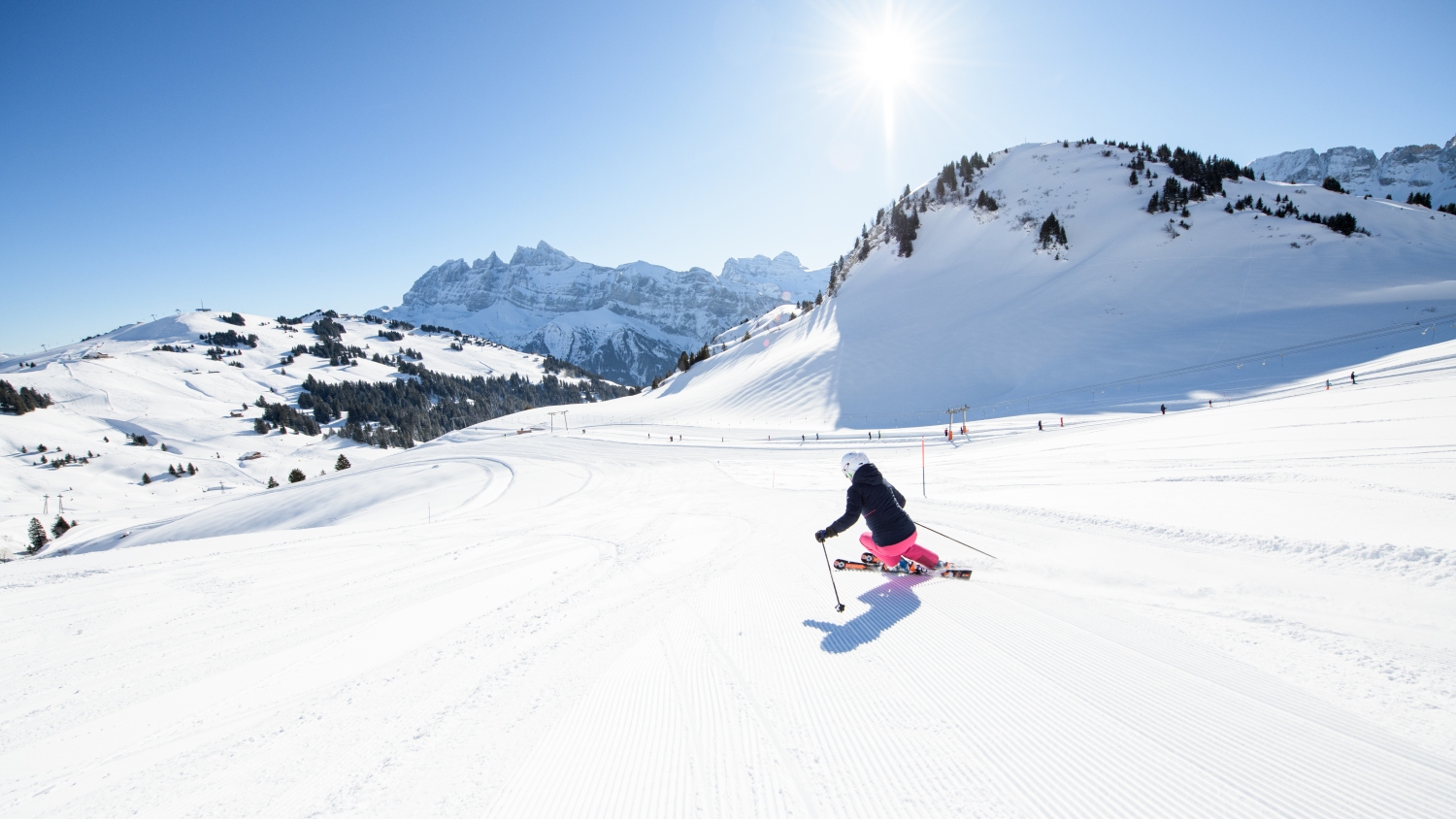 Région Dents du Midi
Part of the vast cross-border Portes du Soleil domain, The Région Dents du Midi covers the four Swiss resorts of Champery, Les Crosets, Champoussin and Morgins.
Piste area: 650km
Easy: 44%
Intermediate: 45%
Advanced: 11%
Altitude range: 1,000m to 2,466m
Must-do: With moguls the size of VW Beetles, the Swiss Wall is ranked in the top 10 of the world's toughest ski runs and is a bucket-list challenge for many skiers.
Must-visit: You can come here and ski local, but you shouldn't pass up the opportunity to go big and explore the rest of the Portes du Soleil area.
Ready to grab your skis? You'll find fantastic holiday deals, a huge range of accommodation, opportunities to buy lift passes and book unforgettable activities and loads more at Valais' online shop. Go to valais.ch/shop for more info.