As I sip my soup in the warmly lit yurt I confidently describe our group of keen skiers as 'experts' to Pasha, our Russian ski guide. I am supremely unaware that I'll soon be eating my words. It's not without reason that I lay claim to our competence: between us, my skiing companions and I have tens of seasons under our belts. We've skied and ridden all over the world, attended avalanche courses and guided groups for the Ski Club of Great Britain.
But none of us have ever experienced a snowpack quite like Kyrgyzstan. Hours later I watch, helpless, as my so-called group of experts tumble in all directions off the mountainside. Turning, I see Pasha giving me a stolid face and a silently raised eyebrow.
Kyrgyzstan is a land of soaring mountains and wide lakes, and thus is often referred to as the Switzerland of Central Asia. But in my opinion, that comparison should be discarded as a mere marketing strapline. Yes, Kyrgyzstan is mountainous, and yes, almost everywhere that is too flat to be a peak is a lake. But it's impossible to compare this grand landscape to Europe. Everything here feels on a bigger, wilder scale.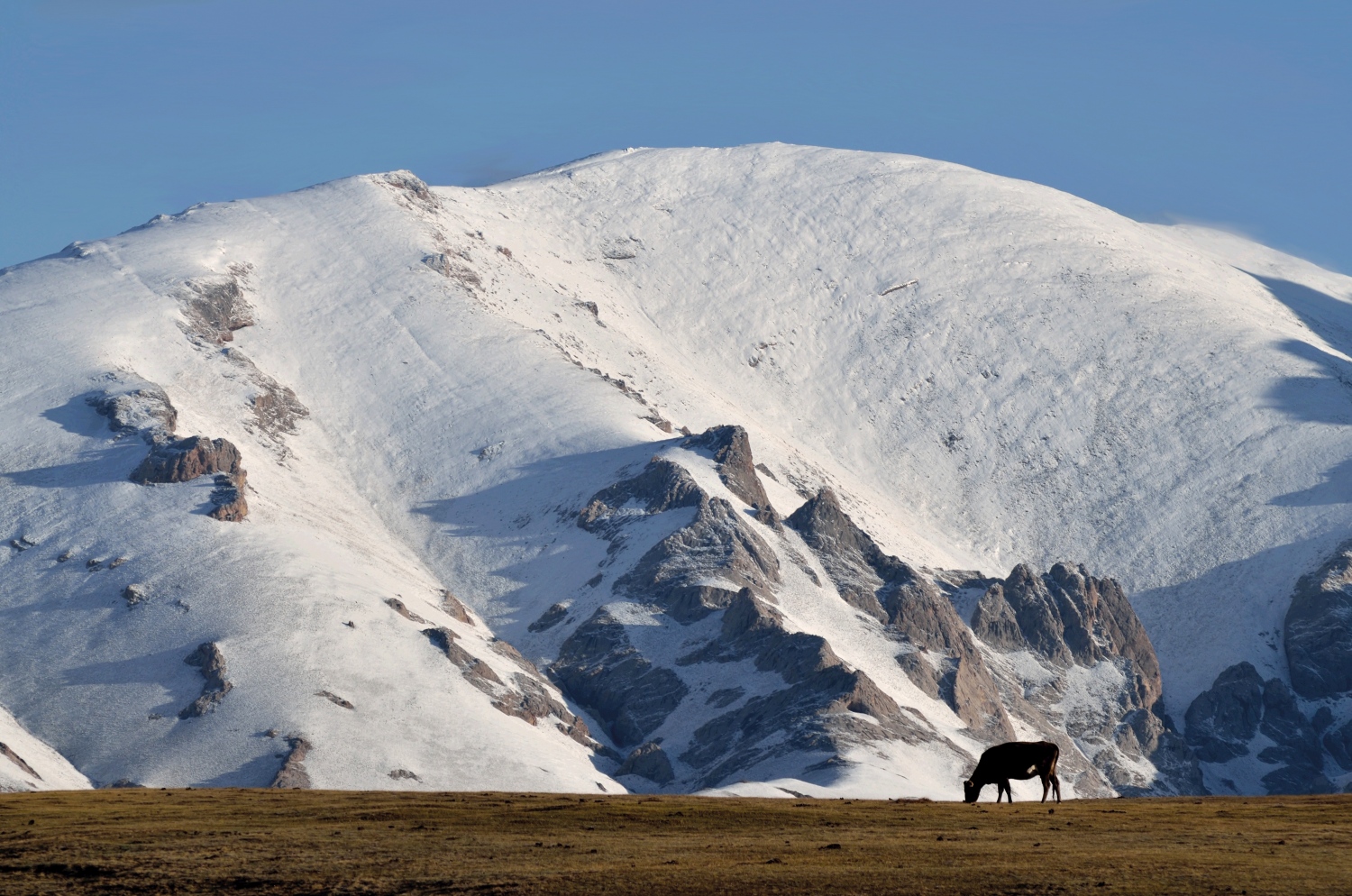 After endless invasions, from Genghis Khan to Chinese emperors, this Silk Road country fell to the Russian empire in 1876. During Stalin's rule and the time under the USSR, the country was off-limits to all foreigners, with the massive saline Issyk-Kul lake being used for torpedo testing.
The only real investments in the country during the Russian rule were a few lakeside resorts and the odd mountain sanatorium. In 1991, Kyrgyzstan declared independence from Moscow, and so began the road to independence.
I first visited the high Tian Shan mountains of the country's east in the late nineties, when the roads were so bad it would take all day to drive from the now-cosmopolitan capital city of Bishkek to the adventure town and ski resort of Karakol. Restaurants were few and far between, and in Karakol the accommodation choice was between a backpacker hostel or a rundown Soviet hotel, the latter complete with blood-sucking bugs.
But the times are rapidly changing, and as we drive from Bishkek airport around the north shore of lake Issyk-Kul - on a new and mostly smooth two-lane highway - our first stop is an incredibly ornate horse racing stadium. While our driver sits and smokes we watch the horses being put through their paces, and are even offered a go, the locals oblivious to the fact that most of us have never even sat on a horse before. The horse is instrumental to the history of a country where the national drink is fermented mare's milk, and everyone here can ride. But eyeing the mountain peaks, we have different riding in mind.
Arriving in Karakol, the roads are filled with puddled potholes and the streets are alive with market traders selling vegetables, dried apricots, plastic boots and woolly socks. Soviet-made Lada cars navigate the busy streets, and men in the traditional tall black and white felt hats of the region gossip away the afternoon over sweet tea and card games. Yet alongside this almost timeless scene are the signs of rapid change: fancy restaurants, felt goods cooperatives, ski hire shops and flash-looking hotel fronts.
Yurt lush
We awake the next morning to blue skies, restored from the long journey by a fantastic meal the night before of lagman - a meat or vegetable noodle broth that is a staple of Central Asia. After much fiddling with and repacking of ski and snowboard gear, we are driven a few miles to a dirt trail head, where we meet our Russian guides, Pasha and Ivan, and four skidoo drivers. Our kit is slung unceremoniously in sleds, and the splitboarders in our group jump on the back of the skidoos, while the skiers are reluctantly towed on long ropes a bone-rattling 10 miles up the Ak-Suu valley to our yurt base.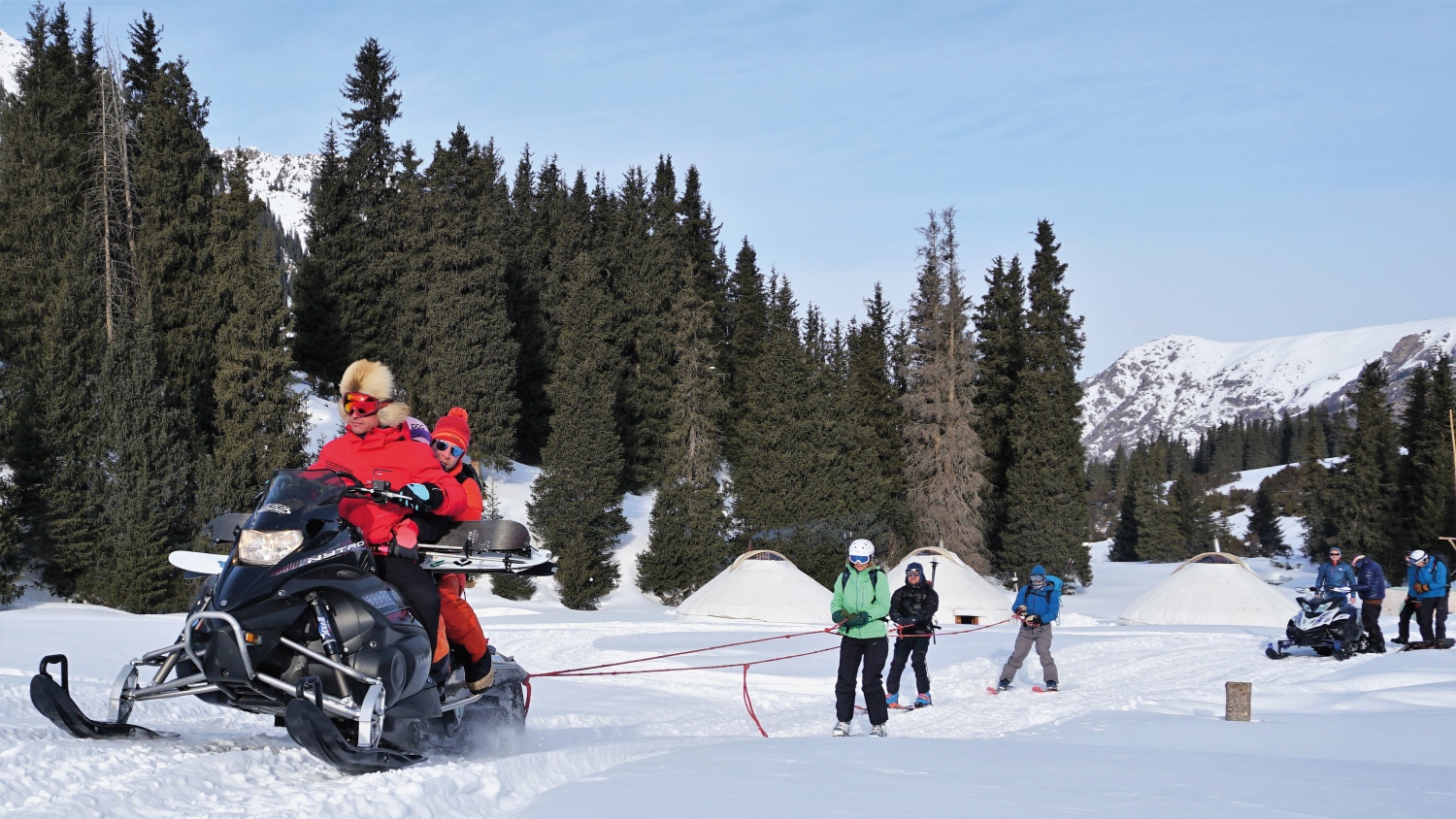 The Ak-Suu Valley is as pristine a mountain environment as you will find anywhere on the planet. There are no permanent man-made structures here, no phone signal, no marked pistes. Our small winter camp consists of two sleeping yurts, each with raised sleeping platforms and a wood-burning stove, as well as a central dining yurt, where over the course of our stay we'll gratefully shovel down warming soups, homemade noodles and even freshly baked cakes, all cooked on the stove.
Aside from the yurts, there is a wood-fired sauna tent next to an ice-cold stream to jump in afterwards, and even a bubbling hot tub. Over steaming soup, I make my fateful claim to our group's mountain competence, and we soon set off up the slope behind our camp to hit the white stuff.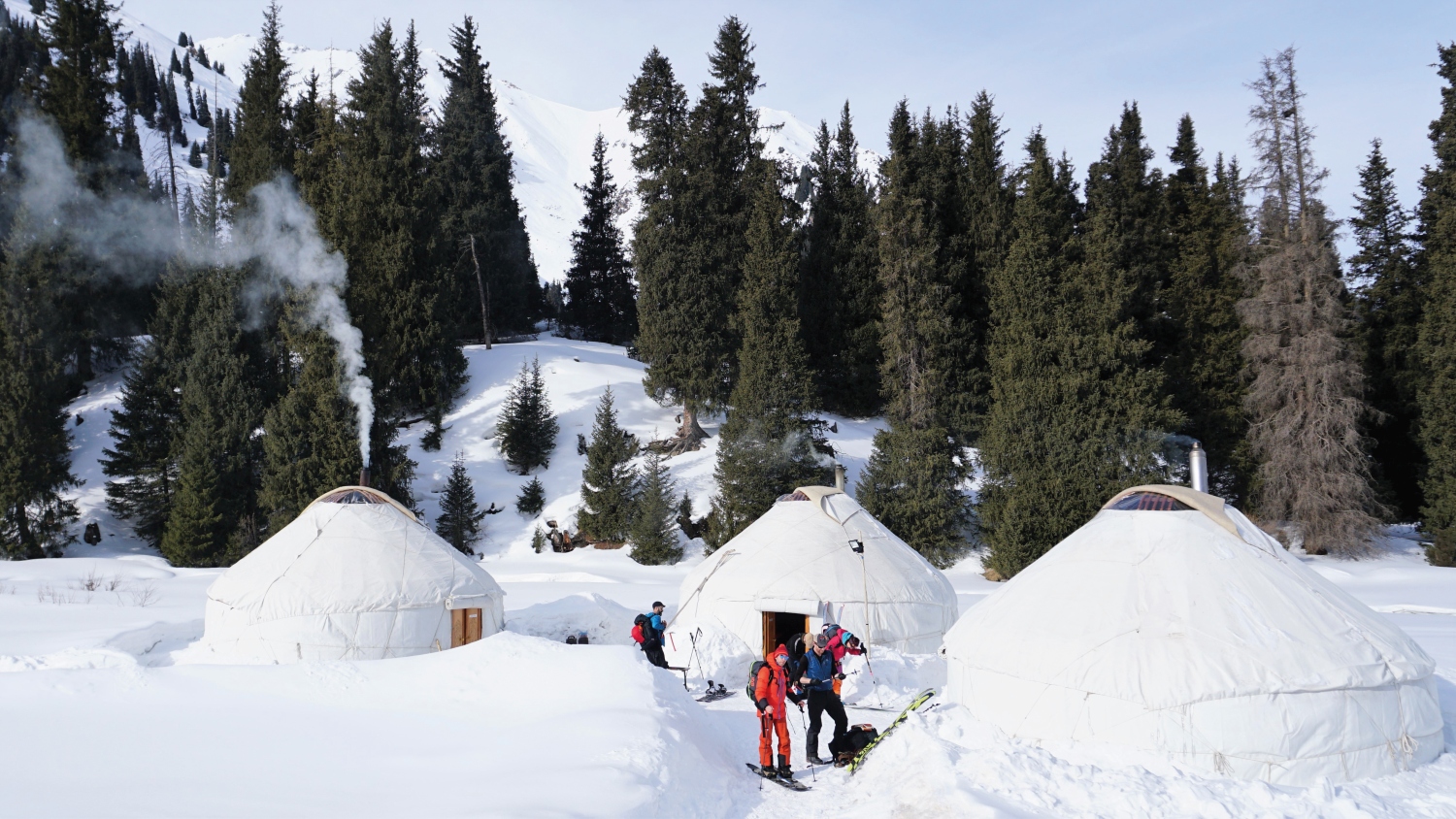 The snow in the high Tien Shan mountain range - which translates rather beautifully as 'the celestial mountains' - is known throughout the climbing world for the perfectly-shaped, 7,000 metre-high Khan Tengri peak. And unlike the Alps, where the snowpack is influenced by the sea and the precipitation level is high, here the snowpack is much shallower - often only a metre or two deep. Large temperature gradients form weak crystals, called faceted snow, which make for an unstable snowpack: this makes skiing steep angled slopes here very dangerous.
I knew all the theory, and I knew we wouldn't be skiing or riding anything above 35 degrees. But what I hadn't expected was that even though five or six people had formed a compacted skinning track in front of me, my skis would regularly suddenly sink beneath me as I skin uphill, plunging me up to my knees in snow. We progress slowly, plodding through the trees and into the high ground above.
Our yurt camp is at around 2,700 metres above sea level, with most of the peaks around us rising to the low 4,000s. As we are starting late in the day, the plan is simply to climb the small valley behind our camp and drop over into a great-looking slope to ski back to camp. Easy enough. But the going is proving slow, with none of us properly acclimatised and constantly sinking down in the snow.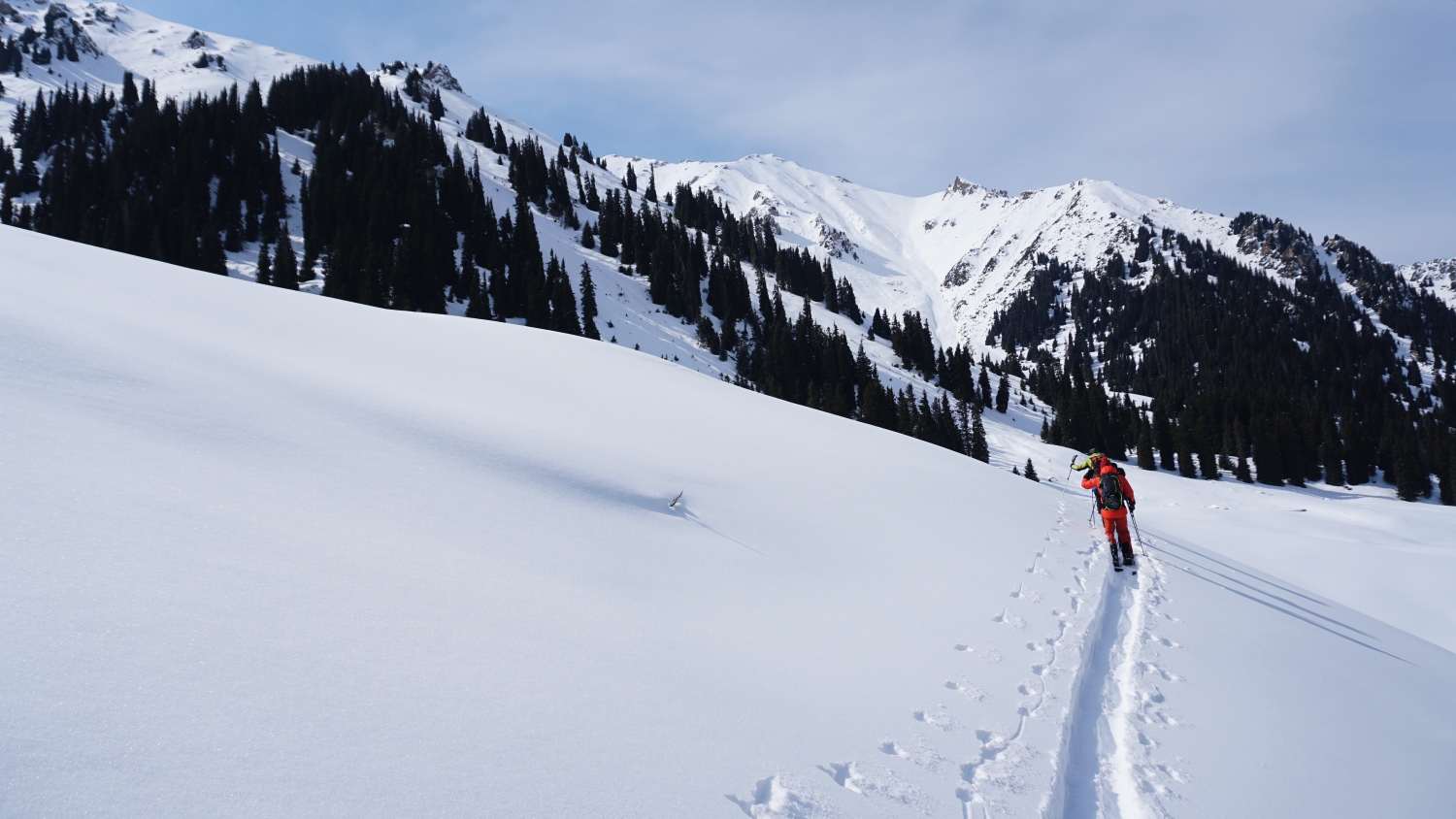 As we reach a steeper pitch, a huge whoomphing noise halts me in my tracks and makes me shout up a warning to Pasha and Ivan. 'Whoomphing' is when a weak layer buried within the snow collapses and the snow above suddenly drops - pushing out all the air with a distinctive noise. In the Alps, if you're on a shallow pitch, it's something to store in the memory bank; another thing you've learnt about the snow pack. But if you're on anything above 30 degrees, it's time to get the hell out of there.
Pasha and Ivan, however, seem unaffected and push on with a simple shrug of the shoulders. The terrain now is steep enough that we have to zig-zag our way up, and after a few kick turns, Pasha sets off a very small avalanche, setting us on edge. We decide to abandon the plan to make it to the ridge line and instead ski back the way we've come - and that's when our true incompetence shines through.
As I set off I simply can't make a turn: the snow is too deep. When I throw it in the air it turns to a fine dust, and falls slowly back to the ground like powder - yet under my board it feels like custard. I eventually make a turn or two before stopping to view the utter carnage above me. There are people on their backs with boards above their heads, others missing skis, and lots of profanities on the wind. But the funniest thing of all is the look of disgust on our two guides' faces.
Regrouping, we watch Pasha set off skiing in the strangest 1980's monoboard style: his knees almost touching as he butt-wiggles his way through the white powdery snow gloop. Clearly there is an art to this.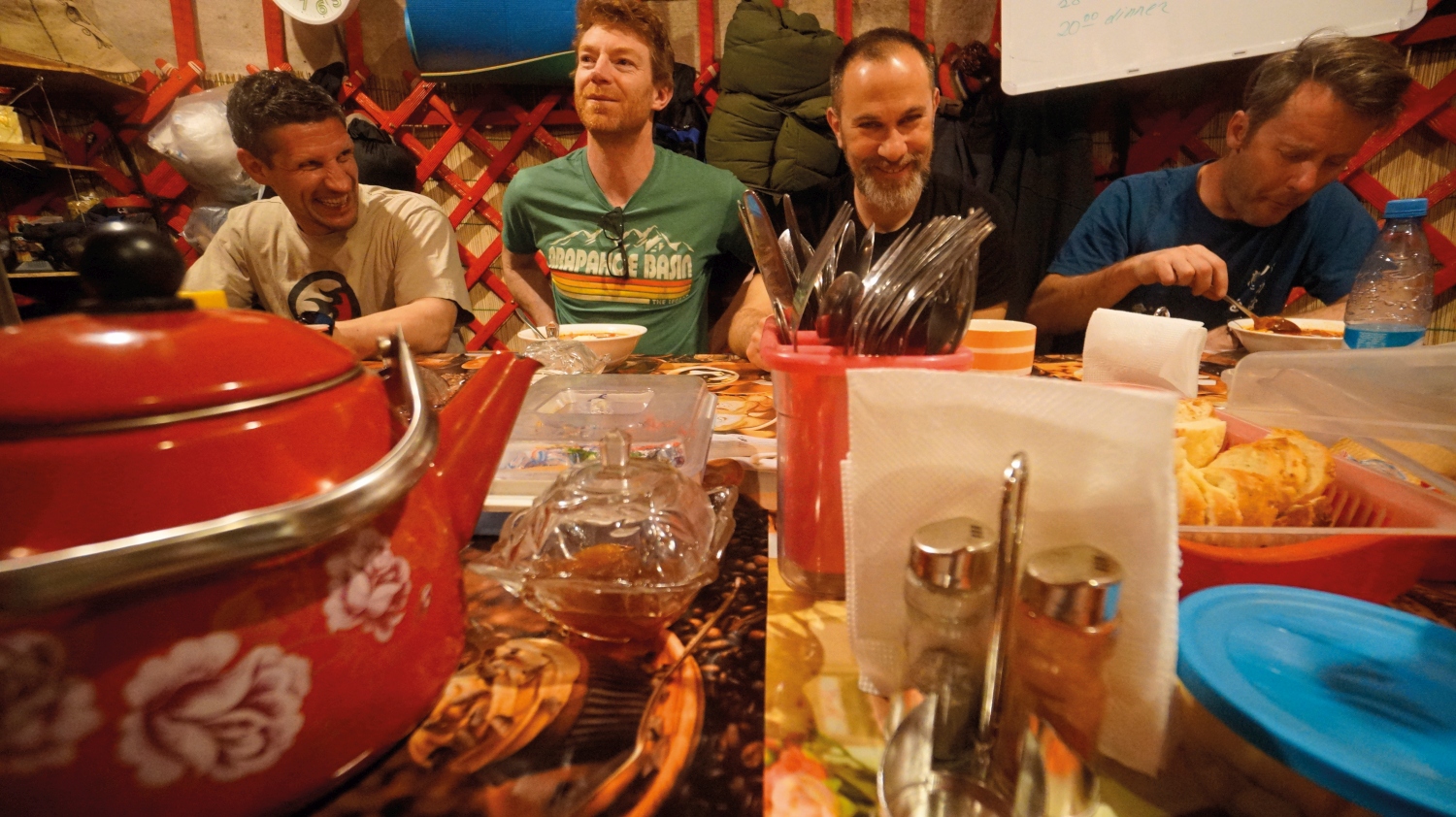 Photo credit: Zak Emerson
We make it down in one piece but the conversation over the dinner table is a little strained. The guides insist that we were in normal freeride backcountry, then disappear for their fiftieth cigarette of the day. Tails between our legs, we all head outside for a debrief in the sauna before sleeping like babies in the toasty warm yurts.
Do we master the snows of the 'Stan over the next few days? We do not. But we learn to live with them. We still fall, swear and regularly get the tips of our skis and snowboards stuck, but we also manage to make some sweet turns.
Do we master the snows of the 'Stan? No, but we learn to live with them.
It helps morale that the weather is fantastic, with bluebird days and clear, star-filled skies at night, best viewed from the hot tub with a beer in hand. Even the guides soften to us. Ivan puts it best when we are discussing Anglo-Russian diplomacy: "If we could ski together more, we would all see that we're not too different after all."
Our five nights based in the yurt camp are over far too quickly. After finally getting the first run that could possibly be described as decent under our belts, it's with great reluctance that we jump on the skidoos for the ride back to civilisation. The warm weather has turned the frozen river we'd crossed previously into a small torrent that we now have to leap - but we all make it back to Karakol in one piece, minus our wet socks.
Our plan is to spend the next three days cat skiing outside of the capital, Bishkek, but rain in the west of the country has played havoc with the snow. It's time for a Plan B. After some internet research we discover that the best ski resort in the country is just a few miles up the road, so we decide to stay put rather than face skiing on slush. We set course for the Karakol Ski Resort, which turns out to be possibly one of the most peculiarly brilliant places I've ever snowboarded.
Powder hunters
Karakol may look like a familiar alpine ski resort, but scratch beneath the surface and it's pure Kyrgyzstan. Piling out of our minibus, we all head straight to a Westernised coffee shop - only to be told after waiting fifteen minutes that the coffee is off, with the barista insisting we smell his beans as proof. Next we have to brave the grumpiest ticket sales team in the world to grab our lift passes. However, the pistes are completely deserted, and the lift ticket is £16 for a day, so things are definitely looking up.
There are only four chair lifts in the resort, with the top one not opening until around midday and the bottom one servicing a very short beginner's slope. So we head up one of the two available chairs.
We find lap upon lap of untouched powder. We're back in our comfort zone, and feel like we have our own backcountry resort
At the top we find lap upon lap of untouched powder through the trees, and the snow here rides much more like that in the Alps. We're back in our comfort zone, and feel like we have our own private backcountry resort: the meagre twenty or so other skiers we see all stick to the groomed slopes as we play off-piste.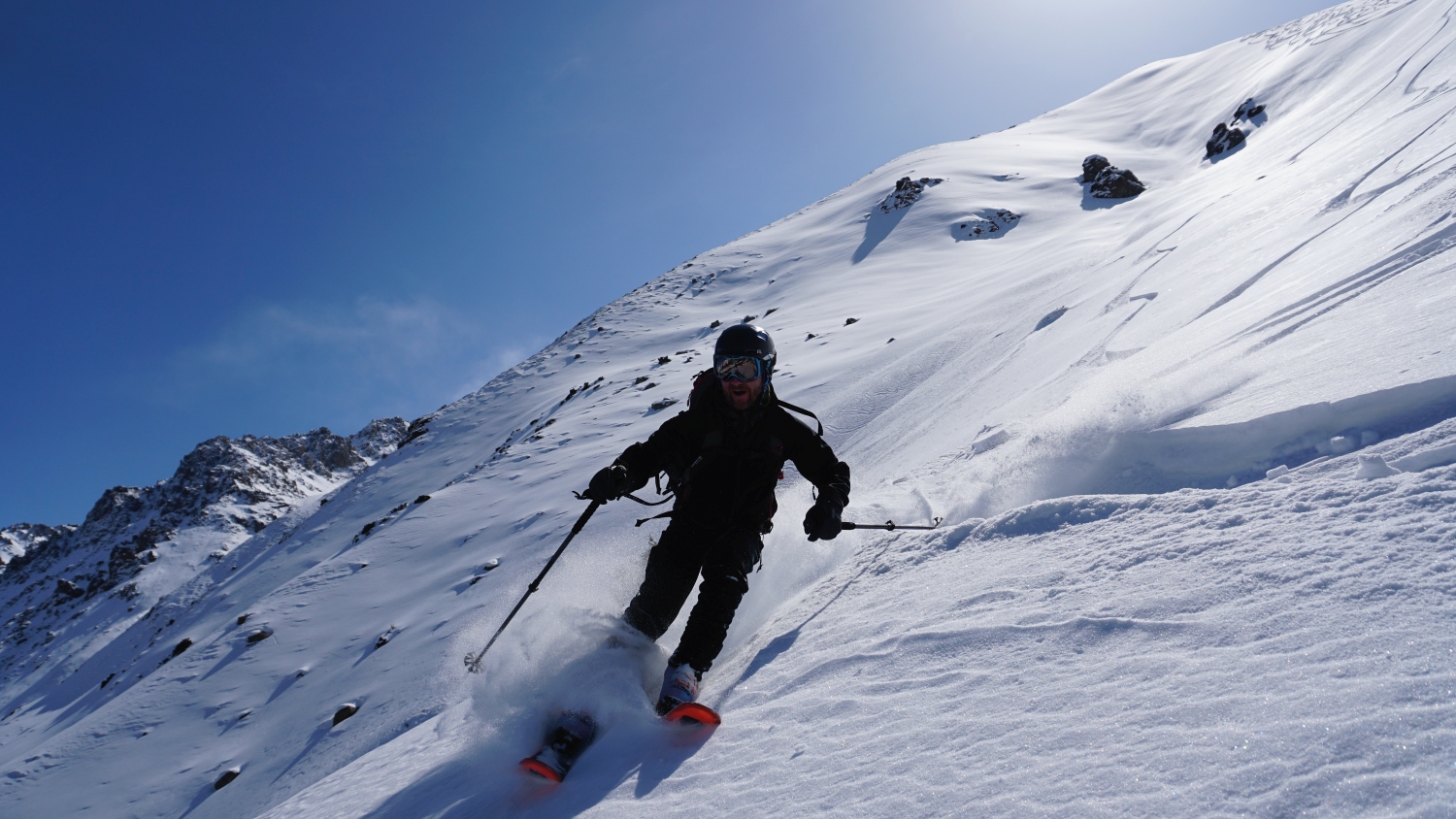 Re-fuelled after a quick slope-side lunch of sweet cheese pancakes, we race down to get the top chair, which finally opens just before 1pm, and seems to take a week to haul us up to a very respectable 3,040 metres above sea level. The view is breath-taking - as are the powder runs, which all lead down to a cat track right next to the resort.
We manage to squeeze in three very enjoyable laps before the lifts close at 4pm. Back in Karakol, another fine meal is washed down with a visit to a busy karaoke bar, where vodka is sold by the bottle at a physically and mentally staggering £2.60. And our group soon clears the dance floor with our rowdy version of the Proclaimers classic, I'm Gonna Be (500 Miles).
After all that vodka it feels like a 500-mile drive back to Bishkek. We stop off south of Lake Issyk-Kul to meet Azat, an eagle hunter. Kyrgyzstan is famed for its venerated horseback eagle hunters, so you can imagine our surprise when a tiny Honda hatchback rolls up with two golden eagles stuffed in the boot.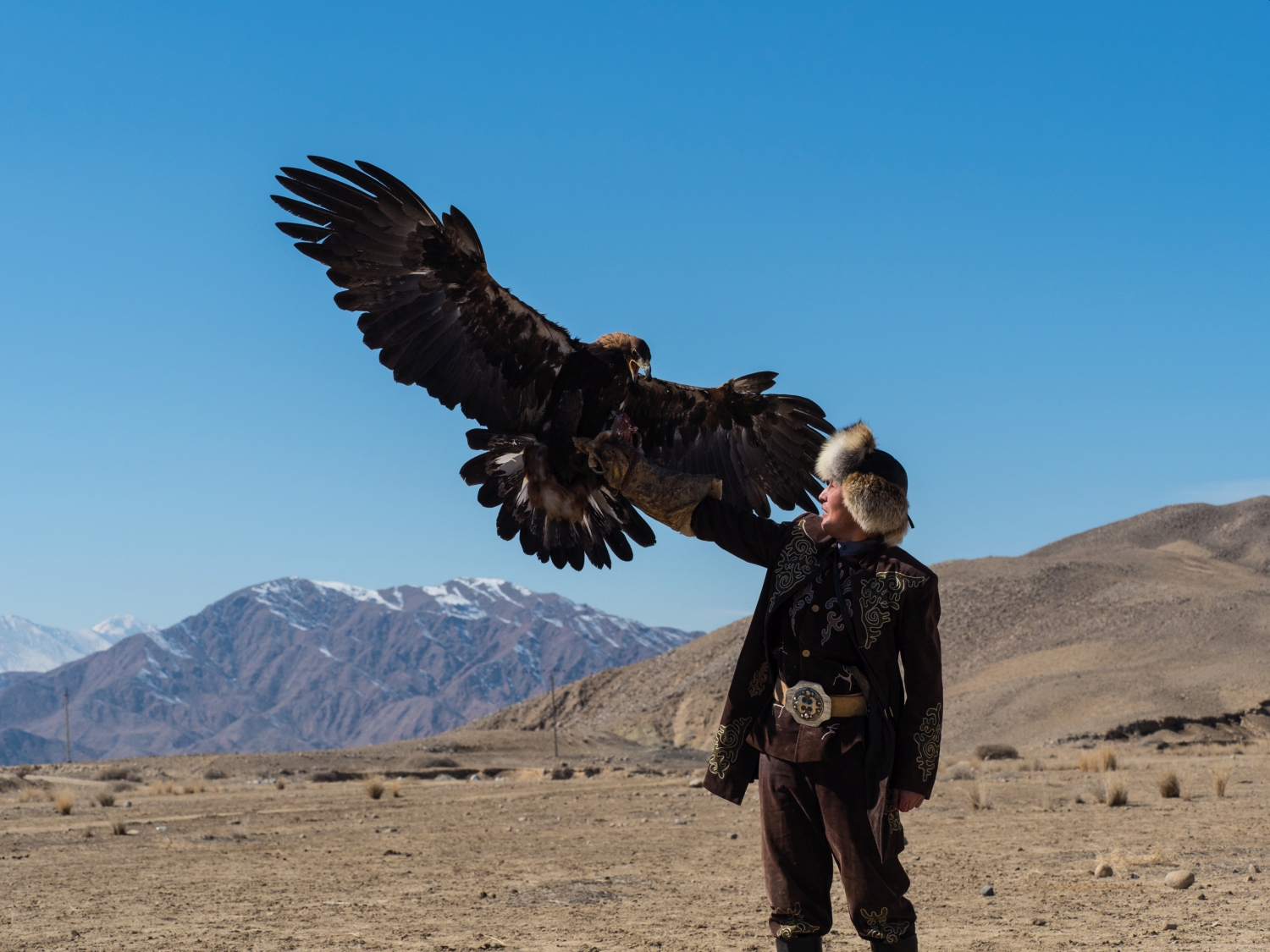 Photo credit: Mark Borland
The birds are either taken from the nest as chicks or trapped by farmers; rather than killing them, locals give them to the eagle hunters. Azat, who's wearing a fox fur hat that his mother made from an animal caught by his eagle, shows an obvious love for his birds. The eagles look healthy and are majestic in flight; Azat explains to us that once the birds reach maturity, at around seven years old, they're released back into the wild.
We reluctantly leave Azat, his eagles and his Honda and head for Bishkek and our flight home. It seems a fittingly untamed final encounter in this country. Kyrgyzstan may not offer the finest (or best organised!) skiing experience in the world, but it's definitely up there as one of the wildest, and it's one I'll never forget.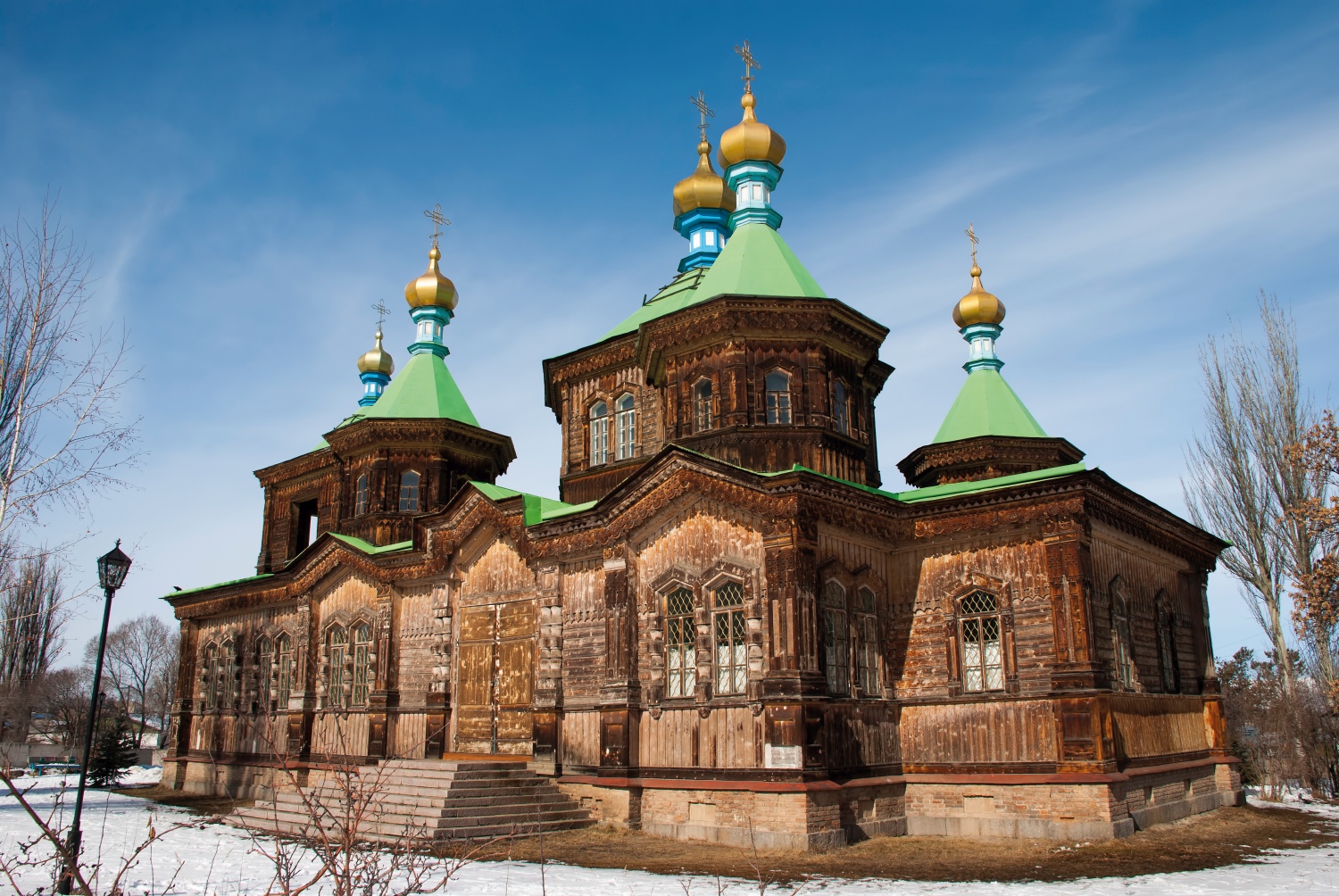 Ski in the East - three other trip ideas:
Almaty, Kazakhstan
Frozen Rocks offer ski touring lessons for complete beginners in the Kazakhstani capital. A four day trip includes instruction from a mountain guide, transfers, accommodation in cabins and mountain huts and the loan of avalanche safety equipment.
From £241 per person.


Kaçkar Mountains, Turkey
Sitting on the Georgian border, the peak of Kaçkar Dağı is the highest point in the Kaçkar Mountains, at a very respectable 3,937 metres. Kaçkar Daği and the surrounding peaks are a wonderful playground for those looking for empty slopes and home-cooked mountain feasts.
Contact Ski Ararat for bespoke ski tours of the region, prices on request.
Ushguli, Georgia
At 2,100 metres, the community of Ushguli is one of the highest continuously inhabited settlements in Europe - as such, it's reliably snow sure, and a perfect place to set out from to explore the high backcountry slopes of the Greater Caucasus range.
Alpine Guides offer an eight day trip for £1,795.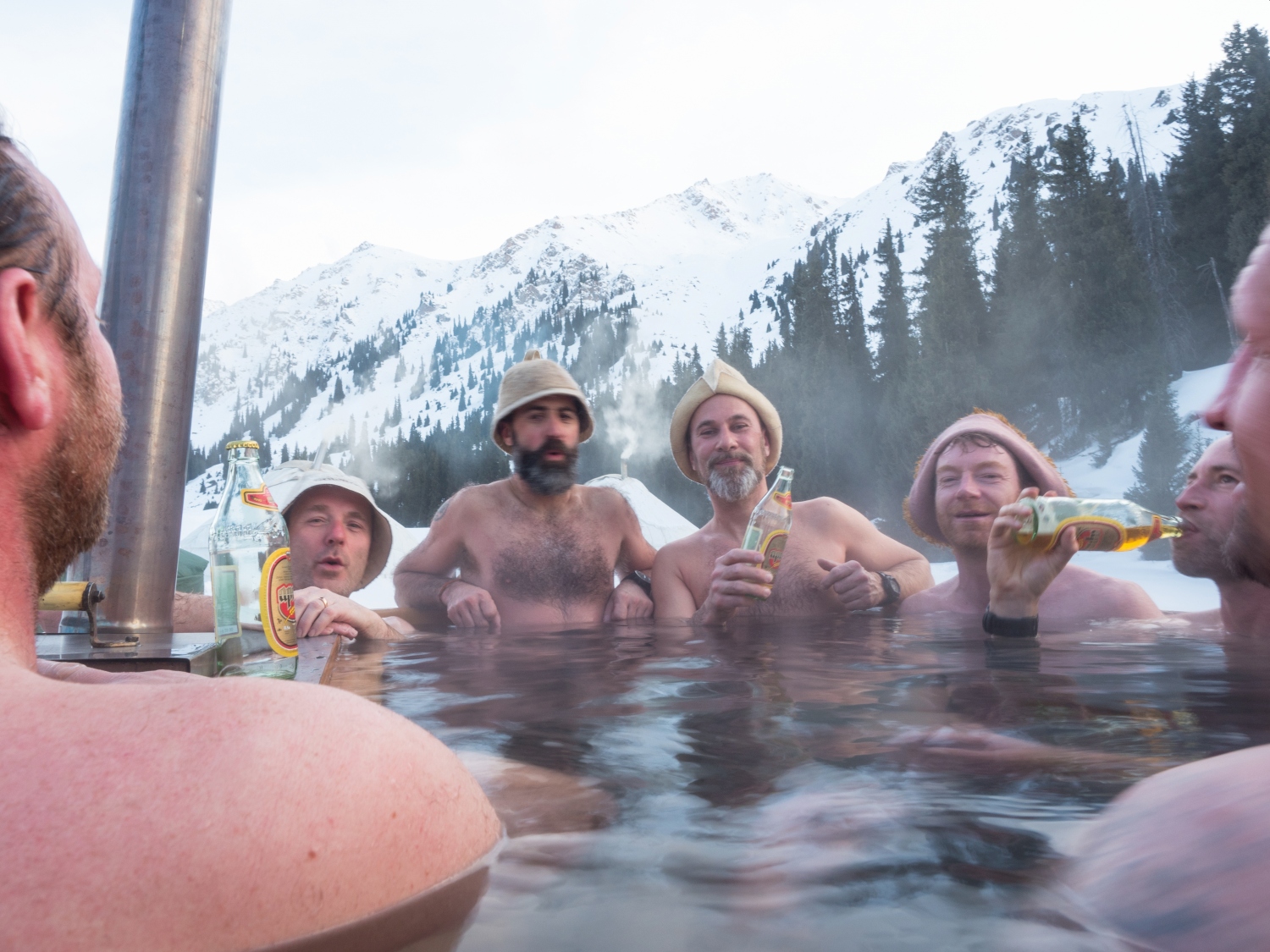 Photo credit: Mark Borland
Snowhow
Flights
Fly to Bishkek, Kyrgyzstan's capital city, from London via Istanbul with Turkish or Pegasus Airlines, from £350 return.
Airport transfers
Pete arranged transport and hotel bookings through AK-Sai Travel, who also offer heliskiing tours and and yurt accommodation.
Where to stay
Stay in a yurt camp from £74 per night per person including meals and skidoo transfers, bookable through Travel Kyrgyzstan, who can also help to organise ski and snowboarding guides for £123 per guide per day.
Ski pass
A day pass in Karakol costs £16.